Winter Daily life in Lhasa
On February 5, Lhasa city, 3650 meters above sea level, ushered in the first widespread snowfall this year.
The snow-covered the Potala Palace in Lhasa after the Snowfall
Although located on the high-altitude Tibetan plateau, the Lhasa downtown area actually does not grow snowfall.
The snowfall made the city seem quieter. But people's lives were not affected much.
The local people were still doing the kora around the Potala Palace and the Jokhang Temple.
Among the locals on Barkhor Street, there were few tourists, as winter is not the peak season for Tibet tours. However, it makes winter the best time to experience Tibet without many crowds.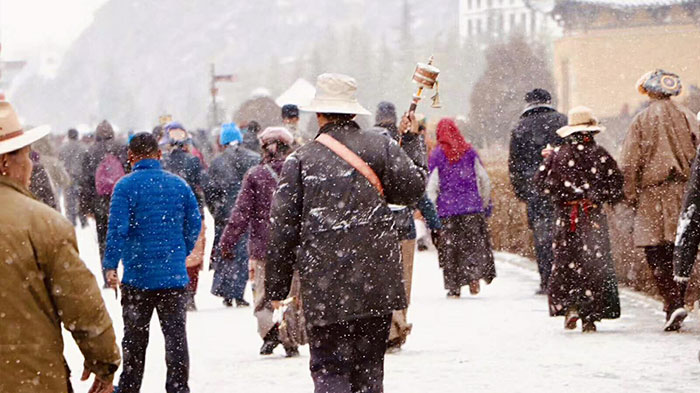 In the snow, local Tibetans were still doing the kora around the Potala Palace
As in other seasons, going to a teahouse for a cup of hot butter tea is also a daily routine for Tibetans in winter.
The Tibetan Tea House is like a small social scene for local Tibetans. Not only can you enjoy traditional Tibetan food, like Tibetan noodles, Tibetan dumplings, and drinks like yak butter tea or Tibetan sweet tea, you can also spend time chatting with friends.
And Tibetan butter tea is rich in fat, can bring energy to people in the cold winter, and play an important role in keeping them warm.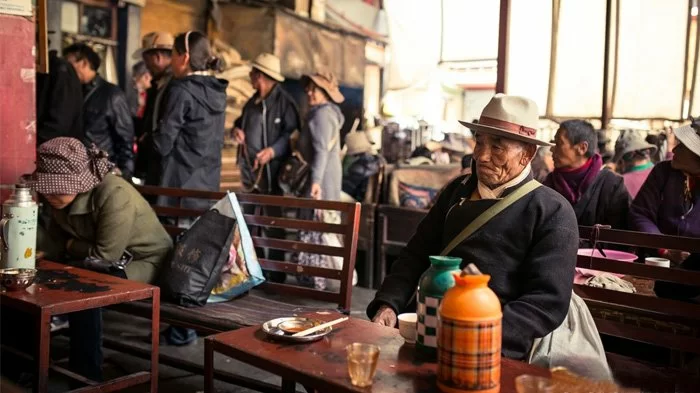 The Most Common Daily Routine for Tibetans - Going to the Tea House
In winter, outdoor activities are also concentrated in parks. In Lhasa, there are many parks, like the Zongjiao Lukang Park at the backside of the Potala Palace and the Norbulingka, which is also a favored tourist spot in Lhasa.
The seniors were walking with their grandchildren, and dogs circulate freely through the crowds. These lovely scenes all constitute the day of Lhasa.
In addition to humans, parks in Lhasa were also home to many birds in winter. On the frozen lake, there were many birds resting here. In fact, winter is also the best season for bird watching in Lhasa, Tibet.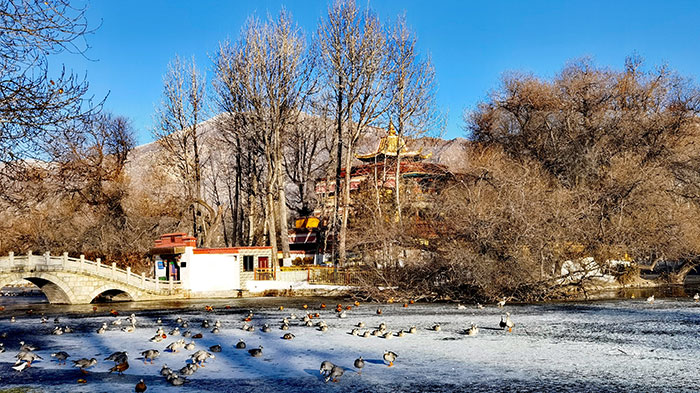 Birds relaxing in Zongjiao Lukang Park, Lhasa.