Gyirong Port Will Be Open to Global Tourists in June This Year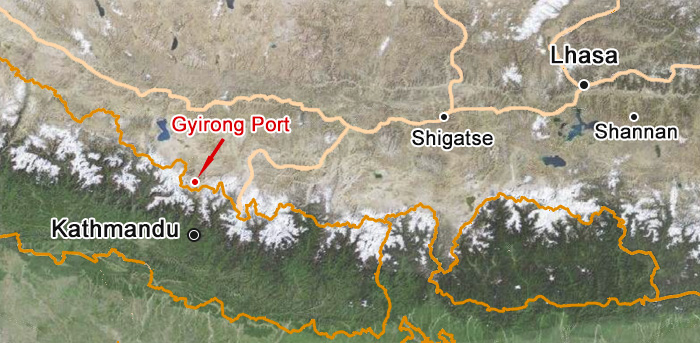 Gyirong Port, the new overland gateway from Tibet to Nepal after the Tragic Earthquake, was expected to open to other countries besides China and Nepal in June, 2016, the latest news from CCTV indicated.
Nepal Earthquake April, 25, 2015
The Nepalese earthquake, with a magnitude of 8.1, brought devastating damage to its neighboring counties of Tibet. As a result, Sino-Nepal Trade and Tourism via Zhangmu and Gyirong border were severely crippled.
Nepal Post Earthquake Tourism
With concerted disaster-relief efforts from both China and Nepal, Gyirong Port was restored and put to use again on Oct, 13, 2015, yet only available to Chinese and Nepalese citizens. So far both the Chinese tourists and transportation vehicles entering Nepal via Gyirong Port or vice versa have kept growing dramatically.
"Only in the first quarter of this year, the number of outbound tourists from Gyirong Port reached approximately 8000. And this number was expected to soar even more as Tibet Peak Travel Season came in June and July." Ardan, the head of Gyirong Port Border Patrol, proudly mentioned.
Brand-new Gyirong Port
According to the government, the status of reopened Gyirong Port will be redefined as an international Entry and Exit Border instead of the previous Sino-Nepal overland gateway. It would be a great opportunity for the development of Tibet Tourism, business survey and investment, and beyond.
Meanwhile, the Chinese products can also be transported not limited to Nepal, but also India, Bhutan, and Pakistan. In other words, the new gateway will benefit China's economic cooperation with South Asian countries.
Tibet Nepal Train
In the near future, the Qinghai-Tibet Railway will also be expected to extend from Shigatse to Gyirong, and foreign tourist will find it much easier to travel from Tibet to Nepal and vice versa.
Exclusive Interview with Kunga, Tibet Vista's Customer Service Manager
As the news of reopening of Gyirong Port rekindled the hope for many overseas tourists who wanted to travel to Nepal from Tibet or vice versa, Tibet Vista interviewed Kunga, the Customer Service Manager, and he shared with us his view on this exciting news.
"Over the past year, I saw and learned that a great number of world-wide tourists felt hopeless to abandon or postpone their dreamed Tibet Nepal Overland Tour to infinity because of the earthquake. But now their dream was finally within their reach. " Kunga told to the interviewer.
"As the leading Lhasa Kathmandu Overland Tour organizer, Tibet Vista normally had around two tour groups each week that travelled from Lhasa to Gyantse, Shigatse and toured EBC and further entered Nepal for travel via Sino-Nepal border." Kunga added.
Overall, undoubtedly the reopening of Gyirong Port will rejuvenate the tour from Tibet to Nepal overland and vice versa. For more details or to customize your Tibet Nepal tour, please feel free to contact our professional travel consultants.