On-the-Spot Investigation of Kathmandu-Gyirong Overland Tour
Shortly after ITB travel exhibition in Berlin, Tibet Vista team, headed by Mrs. Catherine Jigme, the managing director, surveyed the road condition from Kathmandu to Gyirong border in mid-March, 2018.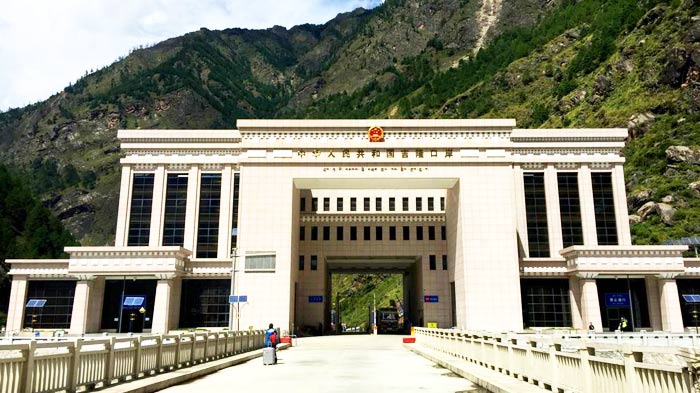 Gyirong Port
To help you make the best traveling plan for 2018 Kathmandu to Lhasa overland tour, we would like to offer you the valuable travel advice.
Current Road Condition from Kathmandu to Gyirong Port
In the first place, the Gyirong Border is about 130km distant from Kathmandu, the first quarter of Kathmandu-Gyirong Road is laid with asphalt, narrow but well-paved. The road is flanked by scattering rows of shrubs along the road. The scenery is quite enchanting. Not only can you see some little villages on both sides time and again, but enjoy also the comfortable and refreshing rustic scenery.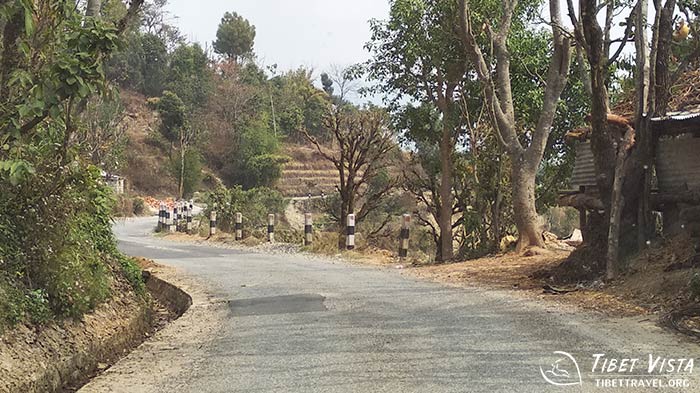 The comfortable and refreshing rustic scenery on the way to Gyirong Port
In comparison, the latter half road gradually ascends in the altitude, there is the one-fifth road that has been repairing, and among the one-fifth, 10-kilometer road is extremely bumpy in particular, the car runs slowly along the dirt road, but still safe.
The closer you drive to Gyirong Border, the more alpines, forests, and gorges you can appreciate, especially the exquisite scenery of Himalayas. At the same time, just opposite an unknown valley, a brand-new asphalt road is being built as part of China's "One Belt One Road" program to facilitate travelers in the near future.
The Video about Road Condition from Kathmandu to Gyirong Border:
The scene from 4WD taken by us
Recommended Lodging Place before Arriving at the Border
Normally, the 130km's journey from Kathmandu to Gyirong Port took around 7-8 hours. Due to the heavy traffic and bumpy ride, it was very likely that when you reached the Gyirong Port, the current Sino-Nepal border, the border and customs service had already been ended.
Insider Tips: the Gyirong border is closed at 15:00(Beijing time) on China side; 17:00(Nepal time) on Nepal side.
So, it was highly recommended for our clients to spend a night around Gyirong Border and went through the customs the next morning.
An ideal lodging place we found was in Syabrubesi Village, located inside Langtang National Park. It was about 45-minute drive or 20km away to the Gyirong border. Since the village was built in a relatively even and open area, there won't be the danger of landslides and falling rock, compared with the guesthouse right inside the deep valley beside Gyirong Port.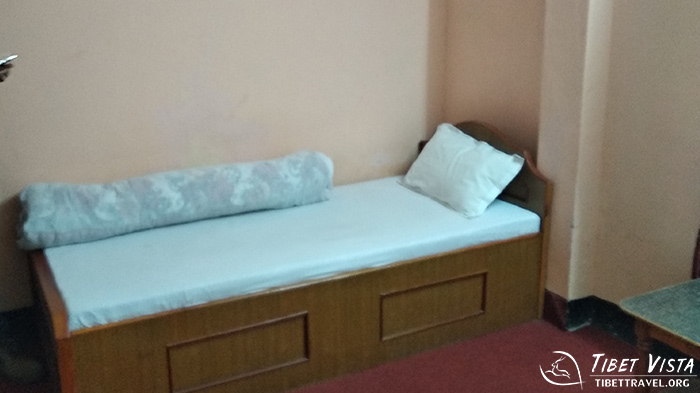 The facility of guesthouse in Syabrubesi Village
Staying in the guesthouse of Syabrubesi Village, you just need to spend 5 USD-7 USD for one bed per night. Generally, the rooms are quite tidy and equipped with the usual facilities.
There is no free breakfast, you need to pay another 5 USD, but the breakfast is quite tasty.
Besides, for better acclimatization, after you arrive at Gyirong Port (2800m), it is recommended to spend one night in Gyirong and gradually move northeastward to Tingri (4600m).
Tour Vehicles from Kathmandu to Gyirong Border
As to the tour vehicle, basically there are three choices:
The first is 7-seat 4WD costing 30 USD each person, but the car can only take 4 tourists at most, with the rest space filled with your luggage. Therefore, it is quite crowded.
The Nepali local bus to Gyirong Border
The second option is the Nepali local bus. It's the cheapest yet extremely time-consuming since the bus would make a detour to different local villages before reaching Gyirong Port. The bus ride was about 15 USD per person.
Unfortunately, the bus won't take you to your hotel in Gyirong Hotel, which could be fairly inconvenient.
The third option, by far the most hassle-free choice to our clients we believe, is to enjoy the tour vehicle offered by us.
We provide two kinds of tour vehicles for our clients. One is the 7-seat 4 WD, which can accommodate around 4 travelers and the other is 25-seat tour bus, capable of accommodating 15 -16 people. The transfer cost is around 40 USD – 60 USD/person.
Besides the comfortable ride, we ensure your safety by offering free travel insurance for each client. If you love taking photos, our tour vehicles can stop sporadically and set aside enough time for you to snap epic shots. What's more, we guarantee to transfer you from Kathmandu to your hotel in Gyirong.
Insider Tips: Sedans with low chassis are not suitable for the bumpy and uneven road close to the Sino-Nepal border. It is easy to damage car chassis.
If you plan to enjoy the Kathmandu to Lhasa overland tour in the near future, please feel free to send us an inquiry, our professional travel consultants are ready to work with you to plan the details, such as travel documents and hotel, ect.
Previous News of Gyirong Port, New Sino-Nepal Border:
According to latest press conference held by people's government of Tibet Autonomous Region, starting from Aug, 30th, 2017, international tourists with valid travel documents (i.e. "Tibet Travel Permit" and "Group Tourist Visa") can enter Tibet from Nepal or vice versa via Rasuwagadhi and Gyirong Port.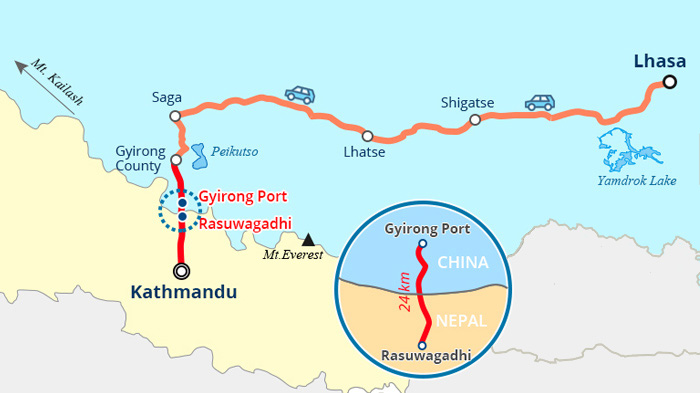 Kathmandu Lhasa Road Map: Kathmandu—Rasuwagadhi (around160km) and Rasuwagadhi—Gyirong County (24km)
The long-awaited official announcement of opening of Gyirong Port finally came as a great surprise. Due to the influence of Nepali earthquake in 2015, the Zhangmu border was completely flattened while the access from Nepal to Tibet via Gyirong was also severely crippled. With over a year and a half of continuous renovation, the facilities of Gyirong Port were finally restored and put to use again.
Now, to global tourists, instead of taking Kathmandu-Lhasa flight to Tibet, you can enjoy the adventurous Kathmandu-Lhasa overland journey, either road trip or cycling tour. And we can help you get the necessary travel documents and customize the Nepal Tibet and China tour as well. Please feel free to send us inquiry for free consultancy. Our helpful travel consultants are ready to offer you the one-stop service whenever you need.
Meanwhile, benefited by "One Belt, One Road" strategy shared by Chinese and Nepali governments, Rasuwagadhi to Gyirong Port truly became an international gateway connecting China with South Asian countries. And it was expected to play a vital role in promoting trade, tourism and cultural exchange between China and Nepal in the near future.