Yak Dung, the Unique Biofuel in Tibet for Centuries
When you are enjoying a Tibet tour, especially trekking in Tibet, you will find stacks of dried yak dung near houses in many Tibetan villages. Many travelers may be curious about why Tibetan people pile so much yak dung at their living place. In fact, it is not strange at all because yak dung is a traditional bio-fuel in Tibet for centuries.
How do Tibetans make the Yak dung cake?
The yak dung is the major fuel used by Tibetan nomads and those who live in villages. Even most Tibetan villages have been reached by modern technologies, such as electricity, the locals do not seem to be giving up their custom of burning dried yak dung as fuel because it is easily accessible and completely free of charge.
In a Tibetan family, it is usually the woman, who is responsible for collecting yak dung and making the yak dung cake as fuel.
Only two steps are needed to make these wastes bio-fuel. First, yak dung is collected, and then they are made into pieces. After they are completely dried, they can be stored for use.
During your Tibet tour, if you have a chance to visit a Tibetan village, you can see piles of yak dung cakes in their yards. In some areas, local Tibetans also dry the yak dung cakes on their roofs or put them on the exterior walls of their houses.
Watch the Video of how the Tibetan nomad family makes the Yak Dung Fuel
The Cultural Value of Yak Dung in Tibet
Yak dung is not only a kind of fuel that they can get free for hundreds of years. It is also an important part of Tibet culture.
For Tibetans, yak dung is not a dirty thing. They treat this free fuel as if it was a treasure from nature. The smell of smoke from burning yak dung is also a smell of home for Tibetans.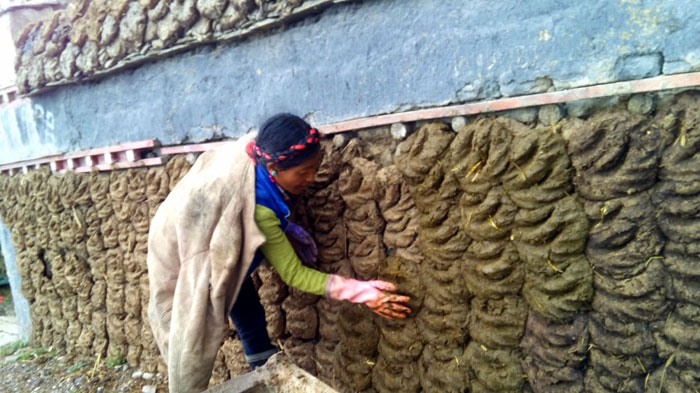 Local Tibetan build wall with yak dung.
In Tibetan culture and customs, yak dung is not only an important fuel, but also has its unique significance in some special ceremonies and festivals, which cannot be replaced by any valuable things.
For example, in Tibetan villages or Tibetan nomad's family, yak dung is used for weddings, funerals, or the New Year's celebration.
Advantages and Disadvantages of Using Yak Dung Fuel
Together with firewood and scrub, yak dung is a major source of fuel for Tibetan nomads and village people in the autonomous region for hundreds of years.
The reuse of yak dung solves the fuel problem in the vast farming and herding areas of Tibet, reduces the dependence on firewood, and protects the vegetation resources of Tibet.
However, the primitive energy utilization method of directly burning dried cow dung is polluting the air and the energy efficiency is too low to meet the increasing energy demand in the Tibetan region.
How to use cow dung more scientifically is also one of the problems that establish the development of Tibet.
More Alternative Environmental-friendly Energy in Tibet
Besides yak dung, there are other clean and environmentally-friendly energy sources on the Tibetan plateau, such as hydropower, solar energy, geothermal, wind energy, and other green energy sources.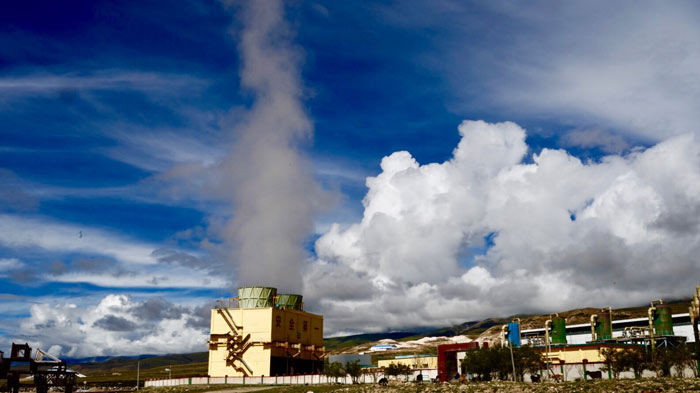 Yangbajain Geothermal Field
With the strong support of the state, the construction of a comprehensive energy system in the Tibet Autonomous Region has been developed rapidly, and the clean energy industry mainly with hydropower and photovoltaic power, and geothermal power has taken shape.
Conclusion
When you travel to Tibet, you can still see stacks of yak dung cakes in villages or herders' homes. As a unique biofuel in Tibet, after hundreds of years of history, it has also become a part of Tibetan folklore and is used during important ceremonies and celebrations.
Of course, this primitive use of burning dried yak dung cakes seems to have a certain harmful effect on the environment nowadays. In order to better protect the ecology of the Tibetan Plateau and to meet the growing demand for energy, Tibet local government is also actively promoting the development and use of new energy sources.
At present, clean energy sources such as hydropower, photovoltaic power, and geothermal power are already taking shape in Tibetan areas.