Lhasa to Nyingchi Flight: how to travel between Lhasa and Nyingchi
Nyingchi, also named Linzhi, is located in the southeast of Tibet. It is the lowest area of Tibet, with an average elevation of around 3,000 meters. Nyingchi looks just like a heaven on the Qinghai-Tibetan Plateau. It is renowned for its beautiful natural scenery, steep cliffs, crystal clear lakes, and long, flat valleys. Also, a considerable allotment of lakes, glaciers, and waterfalls makes the region chock full of breathtaking natural wonders. What's more, Nyingchi enjoys the reputations of "Switzerland of Tibet". To a large extent, for those travelers who are concerned about the altitude sickness, undoubtedly, Nyingchi would be the first option to visit from Lhasa for its lower altitude which can help you adapt to high altitude sickness. Moreover, the beautiful scenery in Nyingchi will never disappoint you.
Lhasa to Nyingchi Flight
Nyingchi Mainling Airport is known as one of the world's most difficult airports for aircraft to reach. The airline distance from Lhasa to Nyingchi is about 401 kilometers. But nowadays, there is no direct flight between Lhasa and Nyingchi. If you are expected to explore Nyingchi from Lhasa by air, you have to transfer to Chongqing or Chengdu. And it will take you 10 hours at least and cost you nearly 3000 RMB.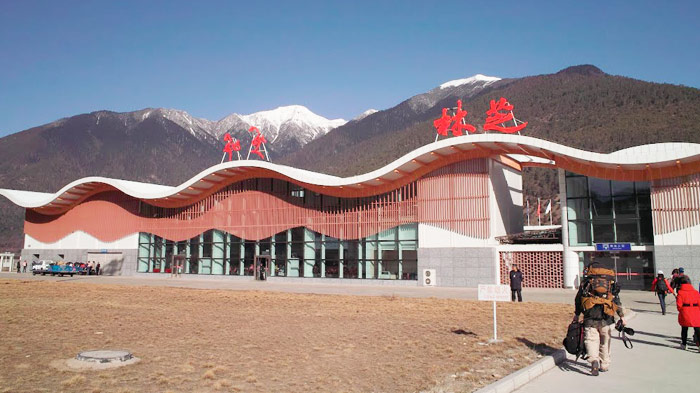 Nyingchi Mainling Airport is located in Mainling, Nyingchi, Tibet Autonomous Region.
By the way, traveling Tibet by road has become much easier than ever before. And most tourists would like to travel to Nyingchi from Lhasa by highway for the short distance and lower costs. Along the Lhasa-Nyingchi High Grade Highway, you shall never miss the opportunity to enjoy the superb vista of magnificent Namjagbarwa Peak, misty Yarlung Zangbo Grand Canyon and so on.
How to Get to Nyingchi from Lhasa
Nyingchi is a very popular tourist destination and has many amazing sights to appreciate from the sacred mountains to holy monasteries, and even the ruined palace. And it is also the perfect paradise for adventurers and naturists to do the scientific investigation and exploration. Due to the backward transportation, the bus used to be the only vehicle for Lhasa to Nyingchi trip. Currently, however, the construction of Sichuan-Tibet Highway greatly changed this traffic situation.
Lhasa to Nyingchi Highway
For tourists who want to enjoy a road trip in Tibet, the highway from Lhasa to Nyinchi would be a brilliant choice, which connects Liuwu New District of Lhasa with Bayi Town of Nyingchi City, with a total length of 409.2 kilometers. The new and attractive Lhasa-Nyingchi High Grade Highway is one of the best highways in Tibet which takes in most spectacular sights.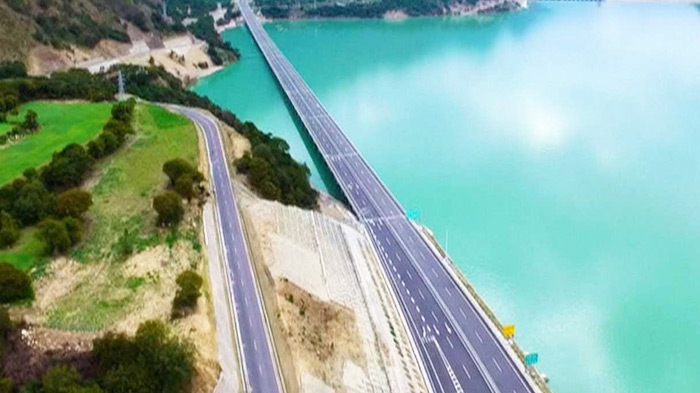 Travelers can enjoy the beautiful scenery along the Lhasa-Nyingchi High Grade Highway.
As the trip only takes 7-8 hours, travelers can stop off at many points along the way to get the most out of the breathtaking landscapes and wildlife of Tibet. The route will pass through the Mila Mountain Pass, and then goes down to the southern area of Tibet along the beautiful Niyang River, and finally reaches Nyingchi.
Insider Tips: although the road condition has improved a lot, you still need to make sure that you have to get your vehicle and yourself well-prepared before driving. Sounds difficult? No worries! We, Tibet Vista team, will provide you with convenient Lhasa Nyingchi tour service, like a comfortable and safe vehicle with reliable driver, Tibet visa and permit application, hotel and accommodation booking, etc..
Lhasa to Nyingchi Regular Bus
Taking buses to Nyingchi from Lhasa is still popular among travelers, and this mode of transportation is used by thousands of visitors every year in Tibet. There are regular buses from Lhasa to Nyingchi that depart every morning, the first starting at 8:00 am. The highway mileage from Lhasa to Nyingchi Bayi Town is 633 kilometers and takes 7-9 hours. Buses from Lhasa to Nyingchi can be divided into two categories. The regular bus, which has standard seats, carries around 60 passengers. And business-class bus, which has soft seats, and only carries around 45 passengers. The cost of the ticket is around 155 RMB for the bus or 180 RMB for the business-class bus. You'd better book the bus ticket in advance.
Lhasa to Nyingchi Railway
As we all know, the Qinghai-Tibet Railway is the first and only railway to Tibet. Nowadays, it is still impossible for visitors to travel to Nyingchi by train. Fortunately, the Lhasa Nyingchi Railway has already been under construction. As predicted, Lhasa Nyingchi train will be open to the public in 2021 and cut the duration down to 3 hours.
Top Highlights in Lhasa and Nyingchi
As the capital city of Tibet, Lhasa features in its ancient Buddhist temples and monasteries and splendid scenic spots. The magnificent Potala Palace attracts thousands of travelers to visit every day. Jokhang Temple is the haven for the pilgrims where you will see the devotion of Tibetans. You can also learn more about Tibetan Buddhism in Drepung, Sera and Ganden Monastery. Besides the amazing scenery in Lhasa, Nyingchi is also worth visiting. The landscape of Nyingchi is like a beautiful fairyland. Tourist can take a close look at the greatest Yarlung Tsangpo Grand Canyon, the vast Lulang Forest, and green Basumtso Lake and marvelous Namjagbarwa Peak.
Potala Palace
The Potala Palace, colossal architectural complex that stands on the Red Hill of Lhasa valley, is the landmark of Lhasa as well as the symbol of Tibet. This amazing palace has the honor of being the highest ancient palace in the world, with its highest point reaching 3,750 meters above sea level, towering 100 meters above the city of Lhasa. It is the religious, political and cultural center of the whole Tibet, also the residence of Dalai Lamas. The fabulous beauty of the architecture, long-standing history and great religious influence make Potala Palace world famous around the world.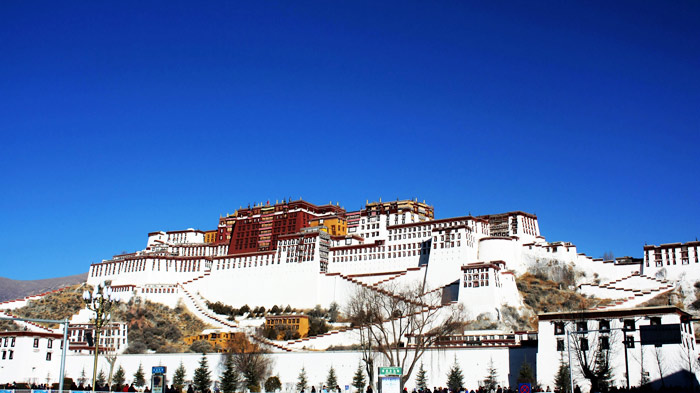 Potala Palace lies quietly on the Red Hill.
Jokhang Temple
Jokhang Temple is located within the Barkhor Street in the downtown of Lhasa city. Jokhang is the prime seat of the Gelugpa Sect of Tibetan Buddhism. The temple was first constructed during the reign of the king Songsten Gampo. It is the spiritual center of Tibet the holiest destination for all Tibetan Buddhist pilgrims. Through night and day, there are lots of pilgrims making prostration in front of Jokhang Temple. In 2000, Jokhang Temple was added to the list as part of the UNESCO World Heritage Site with the Potala Palace.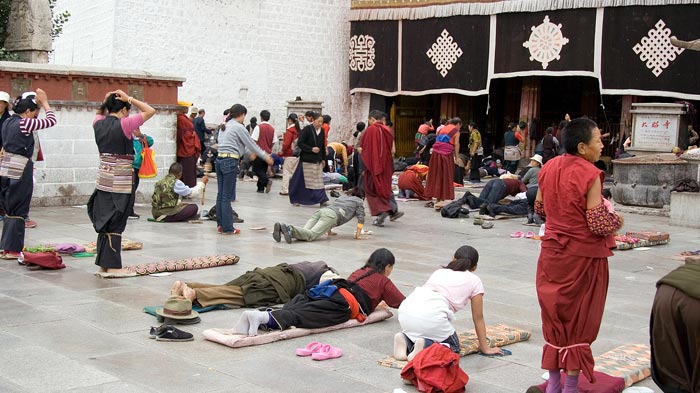 In the morning, the devout Buddhists get together in front of the Jokhang Temple to make prostration.
Barkhor Street
Barkhor Street is a historical and religious street surrounding Jokhang Temple and located in the downtown area of Lhasa. Hence, Barkhor Street is a lively combination of the marketplace, pilgrim circuit and ethnic melting pot. It is the most important and popular circumambulation road. Every day local Tibetans come here to pray and walk around the Jokhang Temple. Tourists can experience the pious "one-step-one-bow" prayer way. Moreover, a lot of shops stand on its both sides. Most of them offer the prayer wheels, Tibetan carpets, Tibetan knives, Tibetan Thangka and some religious articles for sale. So travelers can get the traditional handicrafts and religious articles they want without difficulty here.
Various shops in Barkhor street offers tourists unique shopping experience in Tibet.
Yarlung Tsangpo Grand Canyon
The Yarlung Tsangpo Grand Canyon is the world's deepest and longest canyon (being 504.6 kilometers long, the canyon is 6,009 meters at the deepest point, with an average depth of 2,268 meters). Yarlung Tsangpo Grand Canyon, also known as Brahmaputra River Grand Canyon, originates from Jiema Yangzong Glaciers at the northern foot of the Himalayas. Brahmaputra River together with Namjaparwa Peak has become the tourist honeypot for Nyingchi beauty. Whenever coming to visit Nyingchi, you are highly recommended to pay a visit to this deepest canyon.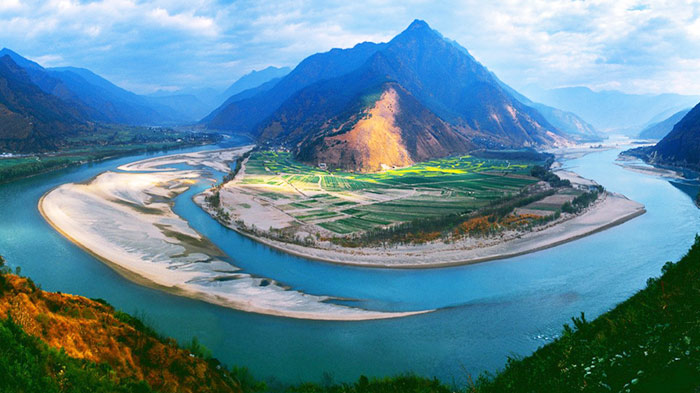 The winding Yarlung Tsangpo River looks like a painting. What a beautiful place in Nyinfchi.
Lulang Forest
The Lulang Forest is a 15 kilometers long valley full of wildflowers and old forests. In Tibetan language, Lulang means Dragon Valley, and it can be directly translated to "the place where you will not be homesick". The high and green mountains tower over the valley on both sides, covered by brush, pine trees, and spruce. Winding stream flow down past wooden houses and wildflowers in a multitude of colors fill the meadows. It is an excellent opportunity to breathe fresh air and refresh your spirit.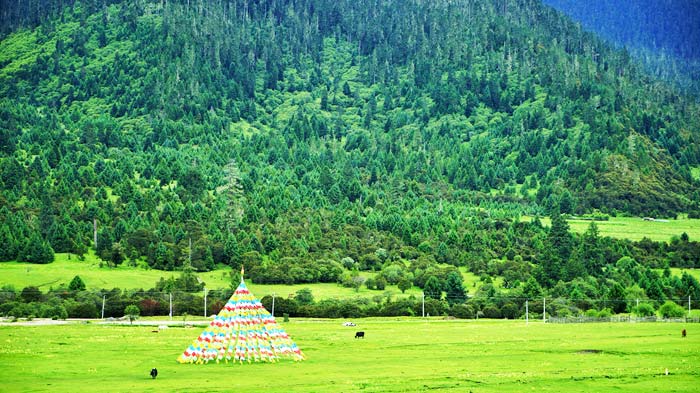 Lulang Forest is a fairyland where gods live in.
Namjagbarwa Peak
Namjagbarwa Peak, located in Nyingchi Region of Tibet, is reputed to be Paradise in the Clouds. Namjagbarwa Peak is one of the highest peaks in the world having an altitude of 7782 meters above sea level. It means "spear piercing into the sky" or "lightning fire burning" in the Tibetan language. It stands the interior of the bend of the Yarlung Tsangpo River. The sky-scraping Namjagbarwa Peak, with its majestic appearance, precipitous shape and unpredictable climate, has been an ambitious aim of mountain-climbing organizations from various countries. It also deserves a visit.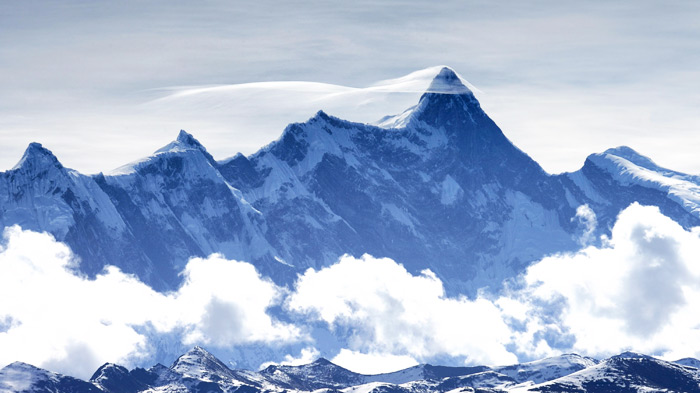 The majestic Namjagbarwa Peak in Nyingchi Prefecture of east Tibet is appraised as the most beautiful mountain.
Best Time to Visit Lhasa and Nyingchi
Generally speaking, the best time to visit Tibet is from April to October. Compared with the harsh and cold winter, late spring, early summer, and autumn are proper to tour Lhasa and Nyingchi for its authentic beauty in good weather. During these months, the average temperature in Lhasa is higher than winter and early spring. Therefore, all the tourist spots are ideal to visit. If you intend to visit Nyingchi from Lhasa, it is highly recommended to get to Nyingchi in the early April, during which you can join the famous peach blossom festival to appreciate the stunning view of the pink forests. However, there is much more rainfalls in Nyingchi than other places in Tibet. If you plan to travel Nyingchi in the latter part of summer, you need to pay much attention to the weather forecast.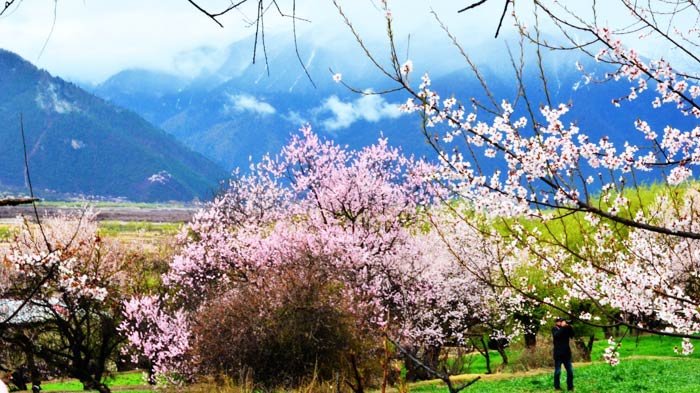 Enchanting valley of Nyingchi is dotted with rosy peach blossom.
Highly Recommended Lhasa Nyingchi Tour Packages
Tibet is regarded by travelers as their dream destination. And Nyingchi is a place like a fairyland in Tibet with the most stunning and splendid scenery. The majestic views of the Namjagbarwa Peak, the deepest Yarlung Tsangpo Grand Canyon, and other scenic spots here all can help you have a wonderful Lhasa -- Nyingchi tour. Following are our well-designed popular tour packages from Lhasa to Nyingchi. You can also contact us based on your personal needs.
Recommended Tibet Group Tour Packages