Chamdo Bangda Airport
Chamdo Bangda Airport, a civilian airport, also called Qamdo Bamda Airport, located in the narrow valley at the west bank of Yuqu River at the Banda Prairie in Chamdo Prefecture. The altitude of Chamdo Bangda Airport is about 4334 meters (14219feet), 136 kilometers from Qamdo, so reputed as "the world's farthest airport away from the city". Also, it is known as "the airport with world's worst weather", due to the high altitude, this location has bad weather. The wind speed of winter often reaches more than 30 meters per second, and the annual winter temperature is often lower than -20 degrees Celsius. In order to ascend and land safely, it is equipped with the longest publicly used paved runway with the length of 5.5km in the world.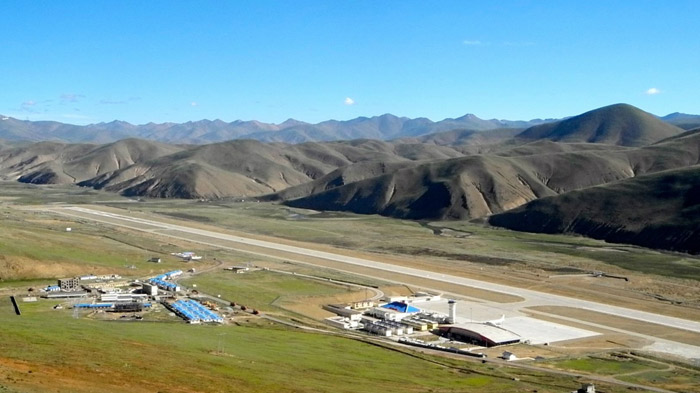 Chamdo Bangda Airport
Flights to Chamdo Bangda Airport
Most of the flights traveling to Chamdo are run by Tibet Airlines and Air China. You can easily fly from cities like Chengdu, Chongqing, and Lhasa and Tianjin to Chamdo. At present, it is not open for foreign tourists, fortunately, flying to the nearby airport to visit the scenic spots in Chamdo is an alternative, such as Nyingchi Airport, Lhasa Airport.
Nearby Airports for Visiting Chamdo
Nyingchi Airport is about 740km away from Chamdo, 16-hour drive via G318 which is the most famous China's landscape road. Another is Lhasa Airport which is about 1150km away from Chamdo. In general, Lhasa Airport is a priority option for tourists, after all, Lhasa is the capital of Tibet, covering the landmark of Tibet - Potala Palace, the Buddhist center of Tibetan Buddhism - Jokhang Monastery. No matter where you begin the journey, Nyingchi or Lhasa, it is a long journey, so we recommend you can loiter on your way to Chamdo.
How to Get to Chamdo Bangda Airport
The airport is 136km away from Chamdo, it takes about 2 hours and 50 minutes to get to Chamdo from Bangda Airport via G214. There are some shuttle buses for you to choose. Getting to Bangda Airport can take the shuttle bus at 16:00 in civil aviation Chamdo Base. The price is 60 CNY for one person. Taxi is also available, more convenient, certainly, the cost is also more expensive. The detailed price can be negotiable with the driver. If you choose to travel with us, the transportation is not a problem that you have to consider, we will offer meticulous and considerate service for you.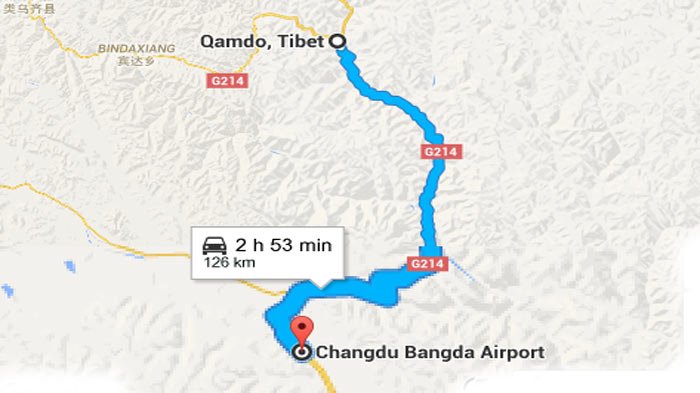 The distance from Chamdo Airport to Chamdo
Certainly, if you travel Lhasa from Chamdo to start your Tibet tour, taking the local bus is also an option, there is a bus to Lhasa Liuwu Coach Station operated by Tibet Transportation every day, but you will spend about 16 hours on the way, the cost is 58 USD each person. In general, you will stay in a hotel on the way to Lhasa due to the long distance. We also can help you manage a tour from Chamdo to Lhasa, along the way, you visit alpine lakes, stand at the Mila Pass viewing the snow-covered Nanmjagbarwa Mountian in the distance. Contact us, you just need to enjoy.
Surrounding Tourist Sites in Chamgdo:
In Chamdo, there are many scenic spots that are worth visiting, including the famous Galden Jampaling Monastery, the turquoise alpine Lake Ranwu, the Neolithic Karub Archaeological Site, the excellent and vivid Baxoi Gaxue Rock Painting and so on. Here we provide the detailed information about surrounding sites for you to choose.
Ranwu Lake
Ranwu Lake is located in the Ranwu Town, Chamdo, known as the largest lake in Eastern Tibet. The source of water is supported by ice and snow from the surrounding mountains and glaciers. Its tranquil and colorful water will lead you to travel in the fairyland. Ranwu Lake will turn to dark blue, turquoise or any other colors from season to season. Green meadows, white snow-capped peaks, grey and white water birds, and clear blue sky reflect themselves in the lake water, which constitutes a vivid landscape painting. Here, if you have enough time, staying in the local house to explore the local village life is a good option.
Midui Glacier
Midui Glacier is reputed as one of six most beautiful glaciers, located between Mimei and Midui village, Yupu Township, Bomi County, which is a natural park coexisting with snow mountains, forests, lakes, villages, and temples in harmony. The highest point is 6,800 meters above sea level, with the snowline at 4,600 meters above sea level. MiDui Glacier is a world-class ice waterfall confluence, each falls more than 800 meters high, 1,000 meters wide, and between the two waterfalls is a piece of virgin forest. It is the most important marine glacier in Tibet and one of the three largest ocean glaciers in China, as well as the lowest one in China.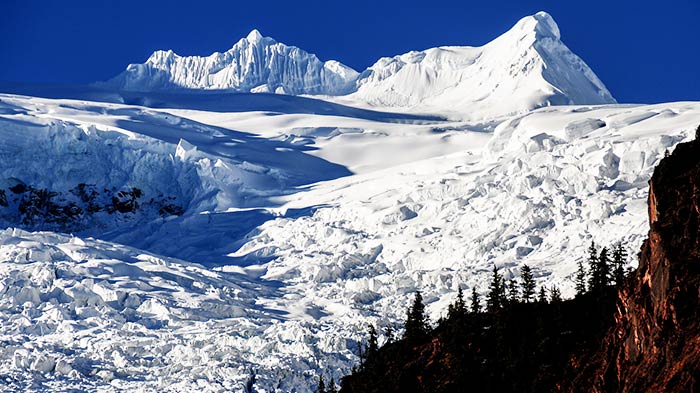 Midui Glacier
Galden Jampaling Monastery
This monastery is also known as the Changbalin or Qiangbalin Si Monastery, one of the largest monasteries in Tibet, built by a disciple of Tsongkhapa in 1444AD. It is located at the confluence of Angqu River and Zaqu River in Chamdo, beneath Hengduan Mountains connecting the southeast portions of the Tibetan Plateau with the Yunnan-Guizhou Plateau. There is a famous Byams-pa - Maitreya Buddha in the temple. Therefore, the name of the temple is called Changbalin Monastery. It houses 2500 monks, covers 5 main temples.
The buildings are well-preserved, it is worth strolling inside to appreciate the lifelike Buddha statues, exquisite Tangka, captivating fresco. The dancing show which is a religious dancing during Butter Lantern Festival is quite worthy of appreciating. Generally, it is celebrated during Tibetan New Year. When arriving in Chamdo, you can walk to Jampaling Monastery or take a car. There are a lot of hotels for you to choose.
Karub Archaeological Site
Karub Archaeological Site is located in the south of Chamdo, the highest Neolithic ruin in China. There are 28 house sites, 7968 stone tools, 366 bone tools, over 20 thousand pieces of Chinese pottery, 50 decorations, a lot of cereal, and marrowbone and so on. This site is full of regional features. Here, you will find the connection between Tibetan culture and Central Plain. After visiting here, you will have full awareness of Tibetan lifestyle in the past.
Baxoi (Basu) Gaxue Rock Painting
The Baxoi Gaxue Rock painting is located in the pasture of Dongba in Baxoi, Chamdo. The entire rock painting is carved on a huge rock, including single patterns, such as people, animals, the sun, the moon, towers, and Tibetan letters. Also, the rock is covered by some combinations of patterns, including archery, people who were riding on bulls, riding on horses, and running. Unlike rock paintings in other places, Baxoi Gaxue Rock painting reflects Buddhist thought completely. The combination patterns mostly reflect human activities such as hunting, horseback riding, and running. Not only do these petroglyphs reflect both the primitive human life in the early days, but also the understanding of nature of early Tibetan. They are the only early rock arts discovered in the Chamdo region.
Karma Monastery
Karma Monastery is located on the eastern bank of the Dzachu River in Chamdo, established in the 12th century by Düsum Khyenpa, the 1st Karmapa Lama. The Banner made of ribbon, embroideries, over one hundred Tangka, some Buddha statues, porcelain wares, and Palm-leaf Manuscripts are well-preserved in the monastery. Therefore, for tourists, especially pilgrims, wandering inside to pray is their long-cherished wishes. If you are a devout pilgrim, Karma Monastery is worth to pay a visit.
Recommended Tibet Group Tour Packages