Taking a Train to Tibet vs. Taking a Flight to Tibet
A tour in Tibet is one of the greatest adventures you can ever experience, and it has often been said that the journey is as much an adventure as actually being there. The journey to Tibet is one that can be fast and simple, or slow and exciting. But whichever way you choose to get there, you are guaranteed the experience of a lifetime once you are there.
Three Ways to Get to Tibet
There are three main ways that you can get to Tibet, and each different travel method has its own merits, and sometimes more than one option. The simplest and quickest way to travel to Lhasa, the Tibetan provincial capital, is by plane. Flights leave from several major gateway cities in China, as well as Kathmandu in Nepal, and the flight times are short, making it the easiest and fastest way to get to Tibet.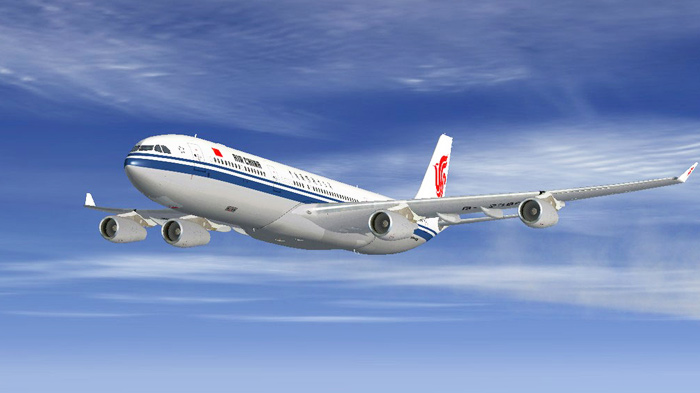 Taking flihgts is the easiest and fastest way to get to Tibet
Traveling by train across the Qinghai-Tibet Railway is another option, and again, trains leave from several major gateway cities that terminate in the Tibetan capital. While the trains may take up to three full days to get there, there is a wealth of experience to be had, and it is definitely one of the most exciting experiences of them all. It is also very practical to use the train, since it means you can get there refreshed, and well slept, having had a pleasant, relaxed journey.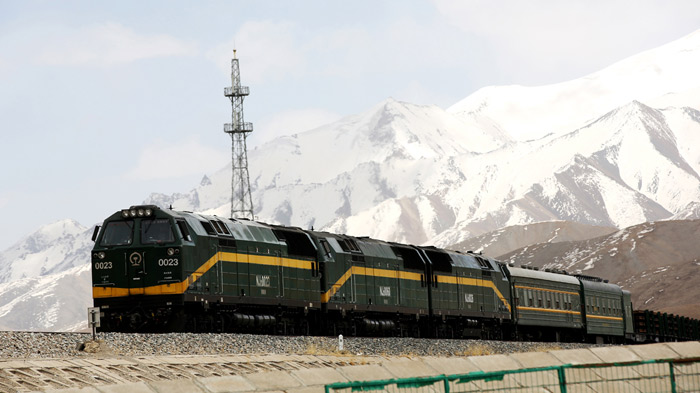 Traveling to Tibet by train is one of the most exciting experiences
The final option for travelers is to drive overland, on one of three routes to get from China to Lhasa. While this is also an exciting experience, it is fraught with danger and concerns, as the roads, albeit relatively stable with good surfacing, are arduous, and the length of the trip is extremely tiring. This is also an option that is not available to many international visitors, as you need to have a longer time for the road trip to Lhasa. Besides, to drive yourself in China requires a local, Chinese issued the driving license. For any international traveler wishing to take the road routes to Lhasa, they would need all of the relevant permits, as well as a private guide, vehicle and driver, which would be extortionately expensive.
>> Check to read more about Flights to Tibet
>> Check to read more about Trains to Tibet
>> Check to read more about Overland Routes to Tibet
Cost-effectiveness: Tibet Train vs. Domestic Flight to Lhasa
Cost is one of the major reasons travelers choose one route over another. Many travelers are working on a budget, and have to factor in the costs of the different means of transport they have available to them. In doing this, they often factor in things like travel times, customs requirements, potential inconveniences, and other things that may delay or inconvenience them along the way. When comparing flights with traveling by train, there are many pros and cons on both sides, but cost-effective travel is normally the deciding factor in most travelers' minds.
Beijing-Lhasa
Flying from Beijing to Lhasa is not cheap. Even with the world's budget airlines, many do not operate on Chinese domestic flights. The cheapest flight from Beijing to Lhasa, one way, is going to cost around US$380, plus airport taxes, etc. The train from Beijing to Lhasa, which travels along the Qinghai-Tibet Railway, costs 720CNY (US$110) for a hard sleeper berth, and 1144CNY (US$175) for a soft sleeper berth. While the travel time is a lot longer, the cost is dramatically less, making it a much more cost-effective option. How to get to Lhasa from Beijing
Shanghai-Lhasa
A similar option to Beijing is Shanghai. Again, situated on the far eastern coast of China, the travel time is long, and the cost is much more than by train. Flights from Shanghai to Lhasa start at US$388 and can go up to as much as US$860 for a one-way ticket. Conversely, the cost of the train tickets to Lhasa from Shanghai is 794CNY (US$122) for a hard sleeper berth and 1262CNY (US$193) for a soft sleeper berth. Once again, the train works out to be a lot cheaper than flying. How to get to Lhasa from Shanghai
Guangzhou-Lhasa
Flights from Guangzhou are a little cheaper than from Shanghai or Beijing though Guangzhou-Lhasa train being the long Tibet train route in China. Cheapest flights start from US$351 and can be as much as over US$800. Once more, the train works out much cheaper, with a cost of the only 865CNY (US$132) for a hard sleeper berth, and 1468CNY (US$224) for a soft sleeper berth. So even the most expensive soft sleeper berth on the longest train route to Tibet is much cheaper than the cheapest flight. How to get to Lhasa from Guangzhou
Chengdu-Lhasa
Chengdu is relatively close to Lhasa, as the crow flies, which makes the flightless costly. However, even at the lowest cost of US$185, it is still more expensive than taking the train. For the 3,360-kilometer trip to Lhasa, the train costs only 668CNY (US$102) for a hard sleeper berth and 1062CNY (US$162) for a soft sleeper berth. Once more, the train is much more cost effective than flying. Besides, the bonus is you can visit our office based in Chengdu, and meet your travel consultant in person. How to get to Lhasa from Chengdu
Xi'an-Lhasa
Flying from Xi' a has no benefit cost-wise over using the train. The lowest cost of a flight to Lhasa is around US$252, for a flight that will be at least 5 hours long, while the train costs only 612CNY (US$93) for a hard sleeper berth and 970CNY (US$148) for a soft sleeper berth. Considering the 32-hour journey time of the train, this is a very cost-effective way to get to Lhasa. How to get to Lhasa from Xi'an
Chongqing-Lhasa
Trains to Lhasa from Chongqing take around 44 hours and cost just 680CNY (US$104) for a hard sleeper berth, and 1079CNY (US$164) for a soft sleeper berth. Conversely, the cheapest available flight to Lhasa from Chongqing costs US$210, and can be as much as US$687. With such a huge difference, it is obvious that the train is, once again, more cost-effective. How to get to Lhasa from Chongqing
Xining-Lhasa
The closest station to Lhasa, Xining trains cost 495CNY (US$76) for a hard sleeper berth and 781CNY (US$119) for a soft sleeper berth. In stark contrast, the cheapest available flight costs around US$341 for a one-way ticket, making the train much less costly than flying. How to get to Lhasa from Xining
Easy Access and Convenience: Tibet Train vs. Domestic Flight to Lhasa
Anyone who has traveled around the world's major airports knows how difficult it can sometimes be getting on and off an airplane. While it is often faster than any other way to travel, it is also often more complex, and less convenient as well. Travelers normally weigh up their options based on convenience against time taken.
Beijing-Lhasa
The route from Beijing to Lhasa is a long one, whether by plane or train. By flying, the average time to travel from Beijing to Lhasa is anything from 7 hours to around 24 hours, depending on the flight schedule, how many stops it makes, how long any layovers are, and other concerns. Add to that the standard 2-3 hours to check-in before your flight, and the hassle of disembarking from the plane and getting through the flight terminal at Lhasa Gonggar International Airport (LXA), and you can be looking at anything from 10 or 12 hours, up to as much as more than a whole day of traveling, with most of it was waiting around in airport lounges. While it is still faster than the train, it can be more inconvenient.
Similarly, traveling by train takes a long time from Beijing, as it is a 40-hour trip. The train runs along a track from eastern China all the way across the country, and then up onto the plateau, before heading south to Lhasa, covering a total distance of 3,757 kilometers. This may sound like an exhausting trip, but when you consider that you have a comfortable bed to sleep in, air-conditioned cabins, and the on-site restaurant with freshly cooked meals, decent toilet facilities, and an amazing view outside the window, it does not really seem all bad. Moreover, getting onto the train, compared to boarding a plane, is relatively simple, with only a minimum of checks. So, while it may take much longer, it is definitely more convenient.
Shanghai-Lhasa
In terms of convenience, Shanghai is much the same as Beijing. The time to fly from Shanghai to Lhasa can be anywhere from 12 hours up to as much as 28 hours, with layovers in other cities along the way. The train covers the 4,373-kilometer journey in around 48 hours and has all the facilities you would have at home, while seats and facilities on airline flights are often cramped and uncomfortable.
Guangzhou—Lhasa
Guangzhou, in southern China is the longest of all the train routes, taking around 55 hours to cover the 4,980 kilometers to Lhasa. The train takes in a large loop first going north to Zhengzhou, then heading east as far as Golmud, on the Qinghai-Tibet Railway, before turning south to get to Lhasa. Conversely, a flight from Guangzhou to Lhasa can be as short as 7 hours, since the flight path can be almost straight. If time is of the essence, then flying is better, although there are also other things to consider, such as layovers, whether you can get a ticket for the shorter flights, or whether you will have to take a longer flight, which can take more than 24 hours, with long layovers in other cities. Meanwhile, the train will be constantly moving, and although it is a long trip, it is comfortable and gives you the chance to see more of the Chinese countryside along the route.
Chengdu-Lhasa
Comparing the flight to the train journey, the flight is shorter, and even with the airport security, waiting time, and check-in is more convenient than the train if getting there quickly is the main concern. However, with an increased cost compared to the train, and the lack of onboard facilities and no view of the beauty of the countryside, speed is the only thing that flying has over taking the train. Although it is a 44-hour trip, the train is more comfortable and is a less cramped option.
Xi'an-Lhasa
While the train may take 32 hours to travel the 2,864 kilometers to Lhasa, the majority of flights from Xi' an are connecting flights, instead of direct flights, which means that there is a layover at a connecting airport, some with as much as a 20-hour waiting time for the next flight. Definitely more convenient to take the train.
Chongqing-Lhasa
Chongqing airport does have some non-stop flights to Lhasa, which average around three hours of flying time, plus the time it takes to traverse the airports at either end. The train, however, takes almost 44 hours to cover the 3,641 kilometers to Lhasa, meaning that comfort is the only convenience benefit of taking the train.
Xining-Lhasa
The train to Lhasa from Xining takes around 22 hours to traverse the 1,972 kilometers of high-altitude tracks, while the flights range from 10 hours to as much as 24 hours, due to not having direct flights. Effectively, even with the shortest flight time, the train is more convenient due to the much better facilities it has to offer.
Scenery along the Way: Tibet Train vs. Domestic Flight to Lhasa
Riding the train to Tibet is one of the best choices for travelers to the region who want to get the most out of their trip. From Golmud to Lhasa, the journey by train is like having an extra little mini-tour of the region, and you will get to see some of the region's most amazing sights, even before your main tour has even started. From the Gobi Desert to Yuzhu Peak, and the Kekexili Nature reserve to the fascinating Namtso Lake, you will find that there is plenty to see on the journey.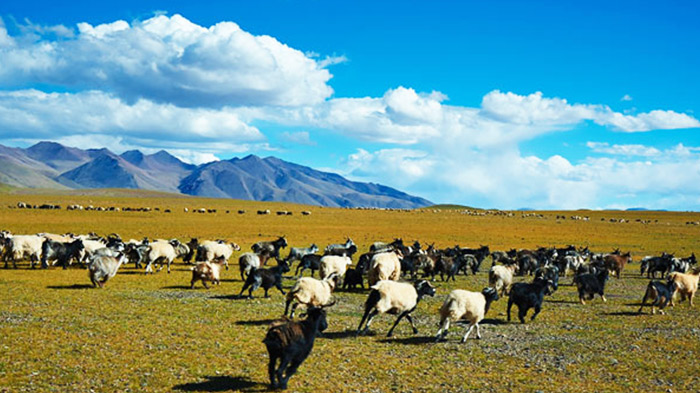 Kekexili Nature reserve along Qinghai-Tibet Railway
Conversely, the flights to Lhasa from anywhere have very little to offer in the way of scenery, unless you like the view of the back of the seat in front of you, or the guy snoring to your side. Getting a window seat is almost impossible, and there is very little to see, apart from clouds, even if you do. Overall, flights have nothing to compare to trains when it comes to the view.
Acclimatization to High Altitude of Plateau: Tibet Train vs. Domestic Flight to Lhasa
Whichever you choose to use, whether flight or train, you will need to acclimatize properly once you reach Lhasa. The main drawback of flying is that you may suffer from any ill-effects of Acute Mountain Sickness (AMS) on the journey because you will be shifting from a very low altitude to one of over 4,000 meters, without having chance to acclimatize even a little on the way. The only way to aid in countering the symptoms of AMS once you get to Lhasa is by having a good rest in hotels. While there is a slight chance of some minor symptoms when taking the train, especially during the climb from Xining to the Kunlun Mountain Pass. Besides, flying to Tibet costs much more money than other means of transportation. However, for those who have a tight schedule, it's a viable and most efficient way to reach Lhasa.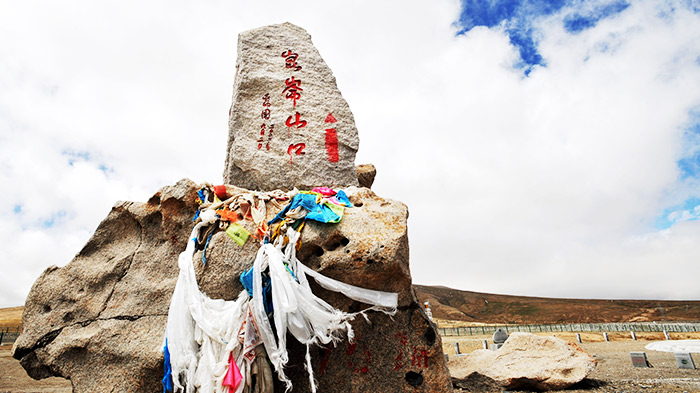 Kunlun Mountain Pass at 4,767 meters above sea level
While the train can aid acclimatization properly, it does have many benefits over flying, such as having oxygen pumped into the carriages and through personal tubes if needed. To reduce the risk of AMS on the train, you should refrain from over-exerting yourself, and take things easy, as well as avoiding cigarettes, alcohol, and eating high protein foods. And since it is a train, with big windows to look out at the amazing views, it is not hard to relax and take things easy.
Both Flight and Tibet Train are Needed during Peak Travel Season in China
Peak season in Tibet is undoubtedly the busiest time of year, and there are thousands of visitors who pass through Lhasa's airport and train station every day. With such huge numbers of travelers, there is a need for both the train and the flights to accommodate them all. And in the peak months, it can be hard to get a train ticket from the major Chinese cities. However, there is an option available to get a flight from the city you are into Xining, in Qinghai Province. From there you can get the train to Lhasa, and there is a better chance of getting a ticket, since the train from Xining is the largest of all the trains to Lhasa. You can also spend a day in Xining to help you acclimatize before you leave on the train.
Recommended Tibet Group Tour Packages