Tibetan Handicrafts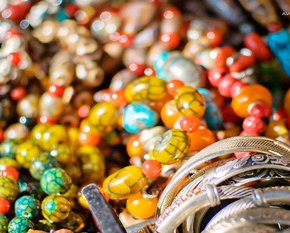 Tibetan Ornaments
Deriving from nomadic life on Qinghai-Tibet Plateau, Tibetan handicrafts have fully displayed the wisdom of Tibetan people and become a unique art form in the world. Getting a closer look at those delicate crafts, you'll catch a strong feeling of Tibetan characteristics from the selected materials, elaborate design and perfect color match.
While traveling in Tibet, you are highly recommended to buy some Tibetan souvenirs for your family and friends. As the most famous bazaar in Lhasa, Barkhor street is also a distributing center for Tibetan handicrafts and accessories. Here you can see all kinds of crafts and art works in Tibet, like Tibetan incense, knife, pottery wares, ornaments, jewelry, carpets and quilts, etc. Read more about what are the most recommended souvenirs you should buy during a Tibet tour and why Tibetan rugs are becoming more popular around the world.
Just a Reminder
Joining in a small group tour is the very BEST way for solo travelers or traveling Tibet on a budget!
As the Pioneer of Tibet Tourism for global tourists since 1984, TIBET VISTA has been the FIRST TOUR OPERATOR of running join-in group tour business in local and with ability of organizing over 5000 visitors a year. For Tibet Vista's special contribution to Tibet Tourism especially to Mt. Everest Tour, we were the ONLY company awarded by Tibet Tourism Bureau Shigatse "THE EXCELLENT ORGANIZER OF MT. EVEREST TOUR "in 2015.
View our Tibet Small Group Tour