What Are The Most Recommended Souvenirs You Should Buy During A Tibet Tour?
There are those obscure shops in little hidden parts of the world that contain undoubtedly the most amazing things. It is just about finding them. The amount of times we have walked through a shopping plaza, market or medina somewhere and just stared at all the awesome little knickknacks available- we would have a full suitcase by now, maybe even two!
It is hard to decide whether a souvenir is something that will enhance your home, or make a friend or family member happy. Do you buy that fancy hand-made fan for your mother, or leave it back in the shop in fear that she will just throw it in the attic?
What Souvenirs You Can Buy For Your Friends From Tibet
Ultimately, it comes down to luggage space. If you are able to go on your travels to a distant nation and be totally confident with what gear you have packed, resulting in plenty of space for purchases, then you are winning! So, is it any different when you visit Tibet? If you are planning a tour, you are going to come across those aforementioned shops. It will be no surprise when you find some of the cutest, delicate and well-made souvenirs you'll ever see when walking through the streets of Lhasa and other towns.
The best places to shop
There are some excellent locations within Lhasa. If you want everything in one place, then the Lhasa department store is a good place to start. You can find it on the west side of Yuthok Lu and It is the largest and most reputable store in the city. Nearly everything you need is there but for a higher price than the street shops. Simple things like toiletries and food are your best bet as well as local handicrafts, kitchenware, and clothes. You will have less of a chance to haggle, but at least you will know where to get everything quickly and efficiently.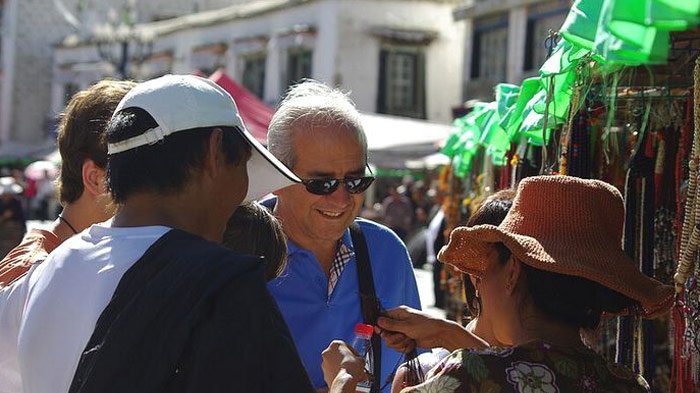 Buying Tibetan souvenirs in Barkhor Street
If you are not in a rush, head to Barkhor Square, where you will need a whole afternoon to cover the full area. Watch the locals barter for their fruit and veg, feast your eyes upon all of those colours and shiny hand-made objects, and take it all in before considering what you might be interested in buying. The whole area will have everything you could possibly want, and you will have plenty of time to haggle down those prices.
Shopping list
Tibet's markets have so much on offer. Here are a few little ideas for you to look out for:
Tibetan Rugs
Tibetan rug purchases are on the rise, and for good reason! Of course, they don't fit your luggage but it is now much easier to arrange shipping from Tibet, via the post office. They are hand-made, beautifully presented using environmentally friendly methods, and exceptionally well-detailed. If you have time to wait, you could get a custom-made rug fit for your own living room.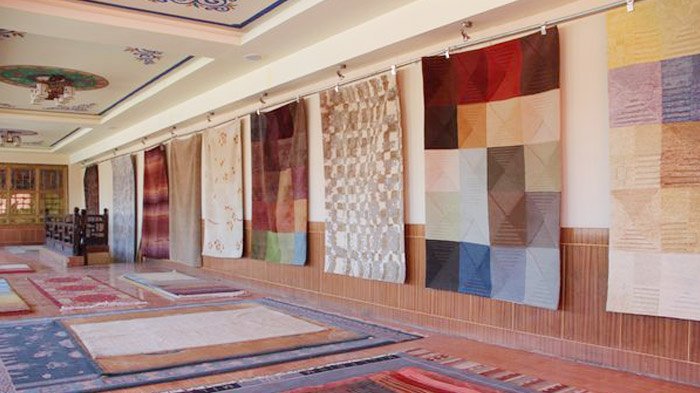 Tibetan Rugs
Jewelry
When it comes to buying jewelry anywhere, the buyer needs to have some clue how to differentiate between fake or worthless material, and quality material. Tibet has many types of jewelry available, from amulets and rosary beads to locally mined gemstones. Tibetan jewelry is beautiful and stylish, yet simple and vibrant. Turquoise and amber are found mounted onto locally made gold and silver rings and necklaces, and actually have deep religious meanings to the Tibetans. There are trustworthy jewelers around Lhasa, so you will hopefully be able to find what you're looking for.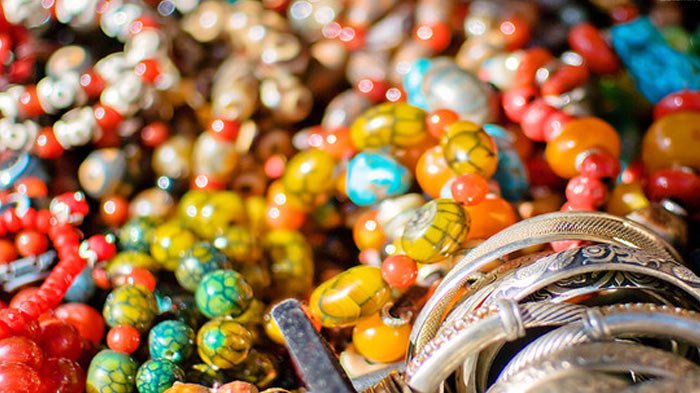 Tibetan Jewelry
Opera-wear
If you are lucky enough to be in Tibet during one of its annual festivals, you will find the streets of Barkhor laden with brightly coloured garments and masks. They are unique to Tibet, especially the opera-wear, and such festivals have been thoroughly enjoyed since the 14th century. The masks are intricately designed and have many representations of different characters from Tibetan Buddhist teachings, such as a fisherman, or a tiger. You'll fit right in during the festivities, and you will have something to hang on the wall at home after, to relive those magical moments.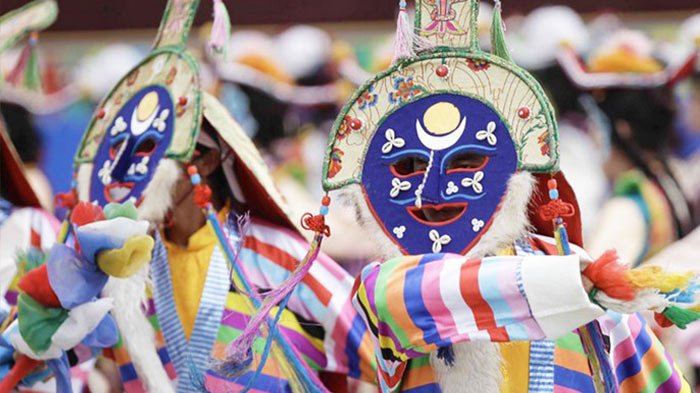 Tibetan Opera
Musical Instruments
Again, something that might need shipping home via the post office, are Tibetan-style musical instruments. There are a large range of ornamental, delicate and in some cases, very alien-looking instruments that are available. When you are in Barkhor Square, you will find many shops that sell these items, but it will take you hours to learn about each one and how they work. It might be worth doing some research on the importance of Tibetan Music beforehand. A Tungna is a popular stringed instrument used mostly in folk or street music. There are also small percussion instruments that you will find, handmade from local wood and copper that might take your fancy.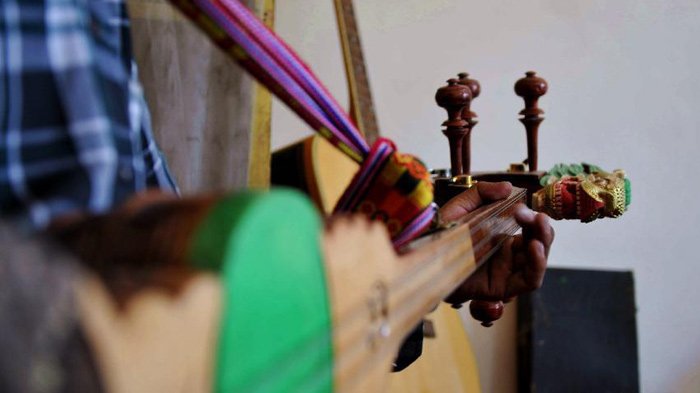 Tibetan Musical Instrument
Tibetan tea leaves and cups
Tibetans love their tea. They are quite simply tea connoisseurs. Throughout the day you will find the streets lined with Tibetans drinking homemade butter tea, and you will probably want to get involved. Not only that but after you have tasted and enjoyed it, you may want to take this experience back home with you. The Tibetans always drink tea from special tea cups, as it is part of the experience.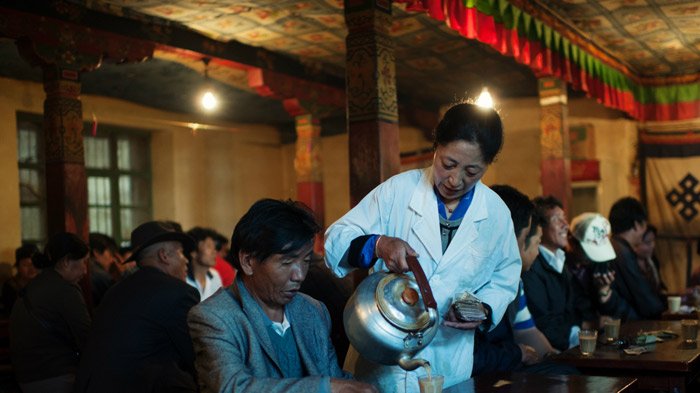 Drinking at local Tibetan Tea House
Unlike the west where any mug will do, many Tibetan customers even have their own tea cup in their local teahouse that will be used for them only. Now you can "do as the Tibetans do" It is a social and lively occasion, drinking tea with Tibetans, and it is definitely a grand idea to buy a bag of tea leaves to take home after your Tibet tour.
Practise your bartering skills
Of course, it's not just about what you buy, it's also how you buy. In the western world, it isn't common to haggle/barter for anything at all. We also usually don't have to worry about how to discern the false from the genuine due to strict regulations for sellers, so we are protected if the worst was to be discovered. However, haggling/bartering is an experience, and not only that, it is a way of life for many parts of the world, including Tibet. There will be plenty of choice, especially in the markets of Lhasa, so get some prices for similar items, and work out how much you want to spend before making a decision on anything. Naturally Tibetan sellers will start high, so prove your resilience by offering between 50 and 75 percent of the asking price. You might surprise yourself!
We would love to see what you buy in Tibet, so share with us what you find and how you found the bartering process!