Accessory and Handicraft of Tibet
One of the most exciting ways to explore a new culture is to peruse their artwork. Art is, after all, nothing if not a reflection of the current society. An incredible thing about visiting Tibet in particular is that there's such a wide array of traditional, handcrafted pieces to see. We'd go as far as saying that it's impossible to get bored here. From traditional knives, to Thangka paintings, to even the home décor, there's always something intriguing to set your sights on.
Where it all comes from: the natural resources
A land rich in natural resources, Tibet is the proud home to such valuable minerals and elements as gold, crystal, lead, chromite, silver, and uranium; in fact, there is no place else on earth where you will find more of this last mineral than in Tibet. Pretty impressive, right?
These resources are so coveted that they remain a large part of the reason that China—a nation that relies on its imports to maintain its high level of production—continues to exploit Tibet. If you're interested in this topic, we'd suggest you pick up Gabriel Lafitte's Spoiling Tibet, in which he gets into the details about the mining situation that has been unfolding in Tibet since the 80s gold rush. And if you're a numbers kind of person, he can give you the stats you may be intrigued by—like how two thousand tons of gold are currently in Tibet waiting to be extracted, and just how much this is really worth (okay, fine we'll tell you, that's close to three trillion dollars).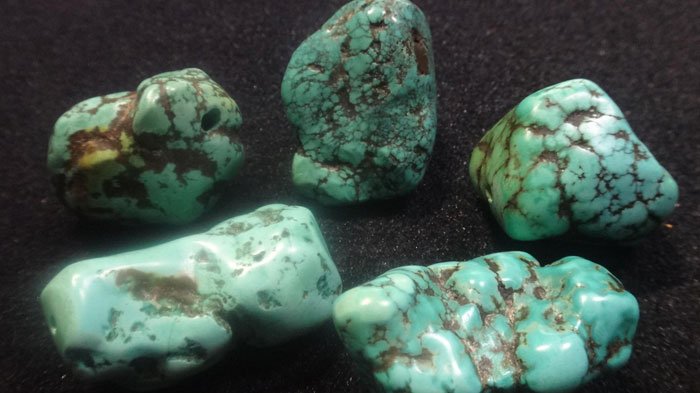 Precious minerals from Tibet
So, it's clear then that Tibet is a mineral-rich nation, but what's the use in knowing this? How does it relate to art? The answer is, quite simply, that with all these resources, the people have been well equipped over time to produce a multitude of goods. Let's put it this way: they have a lot of tools in their tool belt.
There are two other reasons though that Tibet has such a wide array of art. Their names are topography and climate. We won't bore you with a long drawn out geography lesson, don't worry. Just know, Tibet is an incredibly diverse land. Meaning it contains not only some of the world's highest altitude regions (hello, Mount Kailash), but also some of the lowest (read: Yarlung Tsangpo Canyon).
Basically, the land is divided into two main areas, lake and river, each with their own unique climate. The lake region is fairly dessert-like, meaning it is flat, windy and dry, without much animal or plant life to speak of. As you can imagine, it's known to get quite cold here. By contrast, the river region is much more fertile, with peaks and valleys—and grasslands in between!—and an abundance of exotic plants and animals. If you haven't already guessed, most Tibetans reside in the river region; although that's not to say some people don't live in the harsher climate of the lake region.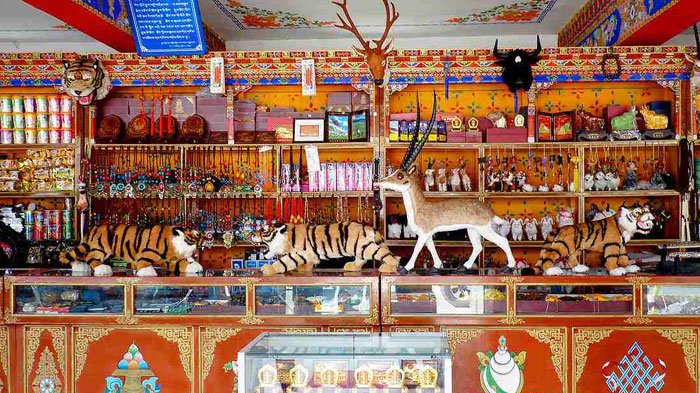 Souvenir shop
Okay, so perhaps you're wondering how this climate and topography business ties into art. Let's take a moment to connect the dots. Each culture is affected by the land it lives in. You and I both know this. When it's cold outside, we either opt to stay warm inside, or take the appropriate measures to make outside comfortable—otherwise known as bundling ourselves up. That means, our clothing and accessory choices are inevitably tied to our climate and the activities we engage in. Of course. Similarly, that which we think about is connected to that which we experience. So, with artwork being an extension of thought as it is, art reflects experiences of artists. Do you follow? What's being gotten at here is the fact that the crafts we will soon discuss, like thangka paintings, are reflections of the lives of the artists, which are shaped by the landscape they inhabit. You wouldn't expect a more isolated Tibetan living in the dessert-like lake region to produce work that is akin to that of an artist living in the river region would you? No, sir.
At last, then, let's look at what is being crafted in Tibet.
Accessories
The main purpose of an accessory for a Tibetan is to deepen his spirituality, to become enlightened. So, yes, there are far less frivolous accessories to be found here. At markets, you're sure to see prayer wheels and flags, singing bowls, statues, prayer beads (these are not necklaces), and meditation rugs. Pretty indicative of the culture isn't it? This is a clear reflection of their faith-based values.
Accessories of Tibet
Of course, there are some more earthly accessories to be discovered here, like jewelry and knives. If you're interested in the latter, read on.
Knives
Knives are a bigger part of the culture than you may expect. Most every Tibetan man and woman carries one. They're used for slaughtering animals, cutting down trees and other plants, and also, on a more decorative front, as accessories—with their silver-finished, intricately patterned sheathes, that's no shock. These daily staples of Tibetan culture are certainly a perfect example of art meets utility.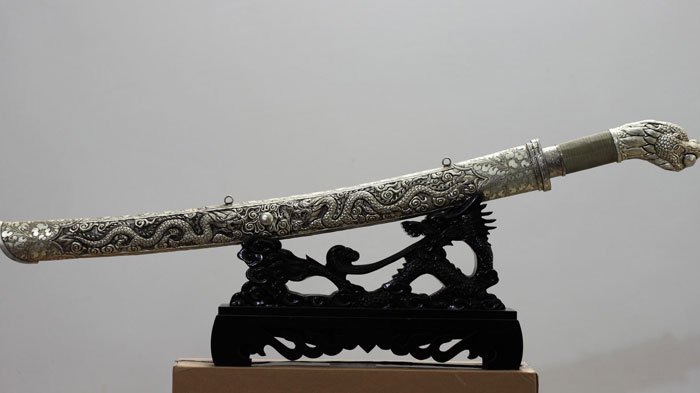 Tibetan Knife
Looking to pick up a knife as a souvenir? You should look in Lhasa; the Shigatse prefecture is known for its production of exceptionally beautiful knives. You'll see there an array of different sizes and finishings, which will factor into cost. Some of the most precious knives have gold engravings, but if you're looking for something a little more affordable, you can stick to the wooden finishings, which are still incredibly fetching.
Thangka paintings
These traditional Himalayan works of art have been created since the seventh century. Aside from being visually appealing, with their multitude of bright colours, they have a deeper purpose. They serve as devotional pieces. Traditionally, Buddhists would use them as icons, on which they may set their gaze. This visualization deepens meditation, especially if one is praying to a deity that is portrayed in the painting.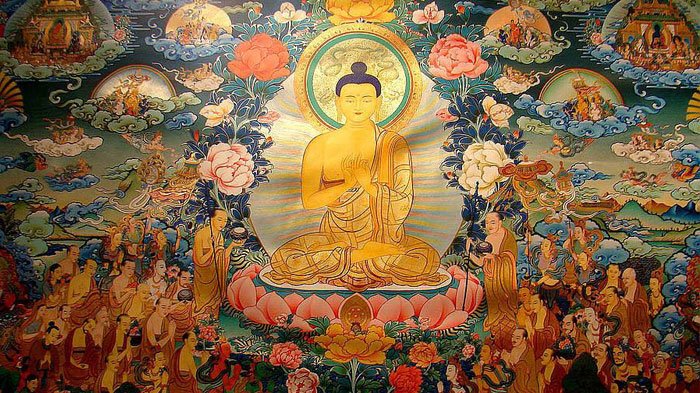 Thangka paintings
If you're looking to see them today, you can be sure to find them in monasteries, by the altars. What we most recommend though is that you partake in a thangka painting workshop in Lhasa; there you will be have the once-in-a-lifetime opportunity to learn from a master how you may create these traditional pieces for yourself.
Home décor
As you may imagine, the home of a Tibetan is designed in a very intentional way, according to Tantric symbolism. If you're familiar with the Feng Shui practice of the Chinese, you can understand the similar type of connection that Tibetans have with their interior design. To align themselves with the tantra teachings, they incorporate a number of vibrant landscape paintings that are often filled with images of flowers, and they make sure to display works of art that depict Buddhist deities—so those thangka paintings we mentioned earlier are sure to be found in their homes.
Popular symbols that decorate beloved pieces in a Tibetan home include the lotus (representing Buddha and the path to enlightenment), the vase (representing the persistent, tireless Buddha), and the dragon (representing creativity).
Essentially, the home reflects another sanctuary for Tibetans. They display icons that will strengthen their relationship with the Buddha and ultimately lead them to salvation. These icons come in the form of mini statues, paintings, tapestries, and lampshades. Some even create their own shrines, which marks a certain part of the home as being wholly dedicated to meditation.
The art-rich nation
Would you ever have guessed that Tibet is filled with such diverse, meaningful art? Maybe yes, if you're familiar with its deeply spiritual culture, but if not, now you know! So, go on, explore the markets; take a little souvenir back home to commemorate your trip, or buy something to share your experience with a loved one. You'll just have to decide what you want and what's realistic to bring onboard a plane!
What craft most resonates with you? What is your art piece of choice?