Bonri Mountain
The most famous sacred mountain of Bon Sect
About Bonri Mountain
Being as the most famous sacred mountain (Mount Kailash, Segyi La Mountain and Mount Himalayas included) of Bon Sect in Tibet , Bonri Mountain is located on the northern bank of Yarlung Tsangpo River in Nyingchi County with an elevation of 4500 meters.
   
It is said that the evil Qiaba Laqin once lived in Kongpo District. He butchered people and tortured them. The god of justice Master Dunba Qinrao could not bear his deeds and decided to punish him. He and Qiaba Laqin fought for 49 days but no one won. Eventually the Master Dunba Qinrao used his magic by setting upright a giant mountain to suppress him. This critical mountain that ended the war is Bonri Mountain.
   
Bonri Mountain is highly respected by followers of Bon religion, which has been wide-spread before Buddhism came into Tibet. Aqong Jayyo (a believer of Bon) was the first one who dared to oppose to Buddhism. Padmasambhava who became the master of Buddhism later tried to blow down the village by controlling wind with his supernatural power, yet failed. Padmasambhava then attempted to push Bonri Mountain into Niyang River to wipe out Bon completely, but Aqong Jayyo stopped him. From them on, many pilgrims of Bon would come here every year to circle the mountain to show deity and sincerity.
   
In Tibet, there is a saying goes "Circle the holy lake in Goat Year; circle the holy mountain in Horse Year." Every Aug. of Horse Year in Tibetan calendar, pilgrims would gather together to have a huge celebration.
Tips of Bonri Mountain
1. Tourists could lodge in the monasteries on Bonri Mountain or camp out.
2. It would take 3-7 days to circle Bonri Mountain and do remember to circle Bonri Mountain anticlockwise.
Attractions nearby Bonri Mountain
Recommended Tour Itineraries Including Bonri Mountain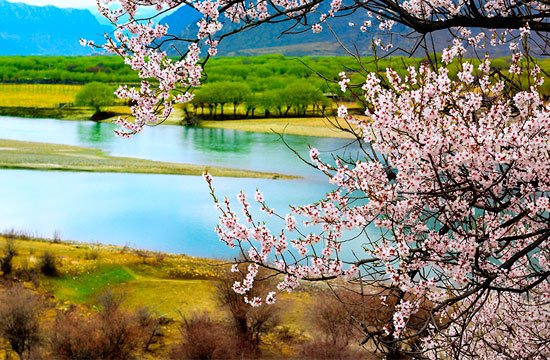 Nyingchi Prefecture is the lowest land in Tibet with breathtaking natural scenery. Every tourist who has come Nyingchi will never forget what they have seen. Tibet Vista provides more than 10 tour packages including these tourist attractions in Nyingchi Prefecture at the best price.
Popular Nyingchi Tour Deals
More Tibet Tour Packages
How to get there
Address: Bayi Town, Nyingchi Prefecture
Transportation:
1. Rental Car-- The service is available in Bayi Town or Nyingchi County.
2. Horse, Yak-- The horse and yak renting services are available in Nyingchi. Tourists could only climb up Bonri Mountain from the eastern slope.
Best time to visit it
You can visit the Bonri Mountain all year round because the sceneries of Bonri Mountain in four seasons are totally different. In Spring, there are colorful flowers everywhere. In Summer, there are breezes blowing gently. In Autumn, the mountain is covered with red leaves and wild fruits. In Winter, the mountain is covered with white snow.
Opening Hours: All day long
Admission Fee
None
Read more
Get A Quotation of this Tour