Segyi La Mountain
Paradise of rhododendrons
About Segyi La Mountain
The Segyi La Mountain lies in the east of Nyingchi County, Nyingchi Prefecture, belonging to the Nyenchen Tangula Mountain and is the watershed of Niyang River and Parlung Tsangpo RIver. At the mountain pass with an elevation of 4,728 meters above sea level, visitors can enjoy the grand sea of clouds, the endless forests and the splendid beauty of Mount Namche Barwa.
   
As one of the sacred mountains (Bonri Mountain, Mount Kailash and Mount Himalayas included) of in Tibet, Segyi La Mountain always sees many pilgrims with a devout spirit hoping to deliver their best wishes to Heaven via the prayer flags. Believers write or print sutras on the flags and streamers and hang them up in the mountain to show their sincere piety.
   
Segyi La Mountain is also famous for another reason: its rhododendrons. Every year during Apr. to Jun., the rhododendrons blossom from the foot to the peak in turn. Especially in Jun., Segyi La Mountain is a paradise of colors. The blossoms are yellow, white, purple, red and pink. When you see the breathtaking scenery, you will be amazed for sure.
   
There are about 850 kinds of rhododendrons in the world, 460 of which are in China. Meanwhile, Tibet owns 170 species of them, occupying approximately 1/5 of the rhododendrons worldwide.
Tips of Segyi La Mountain
1. When you climb across Segyi La Mountian, you reach the Lulang Forest.
2. If you visit Segyi La Mountain in Winter, the mountain will be covered with snow.
Attractions nearby Segyi La Mountain
Recommended Tour Itineraries Including Segyi La Mountain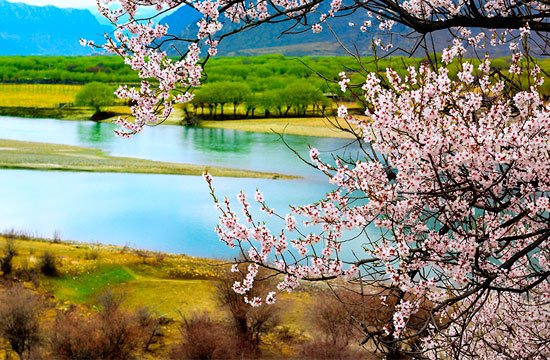 Nyingchi Prefecture is the lowest land in Tibet with breathtaking natural scenery. Every tourist who has come Nyingchi will never forget what they have seen. Tibet Vista provides more than 10 tour packages including these tourist attractions in Nyingchi Prefecture at the best price.
Popular Nyingchi Tour Deals
More Tibet Tour Packages
How to get there
Address: East of Nyingchi County, Nyingchi Prefecture
Transportation: Rental Car-- You can rent a car in Bayi Town or Nyingchi County.
Best time to visit it
Every year during Apr. to Jun., the rhododendrons blossom from the foot to the peak in turn. That's the best time when you can enjoy the amazing sceneries.
Opening Hours: All day long
Admission Fee
None
Read more
Get A Quotation of this Tour