Top Tibet Overland Tour - Lhasa to Kathmandu Tour
For those tourists wanting to visit both Lhasa and Kathmandu, an overland tour is the best option. Nepal and Tibet share a border which extends for the entire north-east edge of Nepal along the mighty Himalayan Mountain Range. They are both huge attractions for foreign tourists, which are very different in both landscape and culture, despite both being up in the highest mountain range on the planet.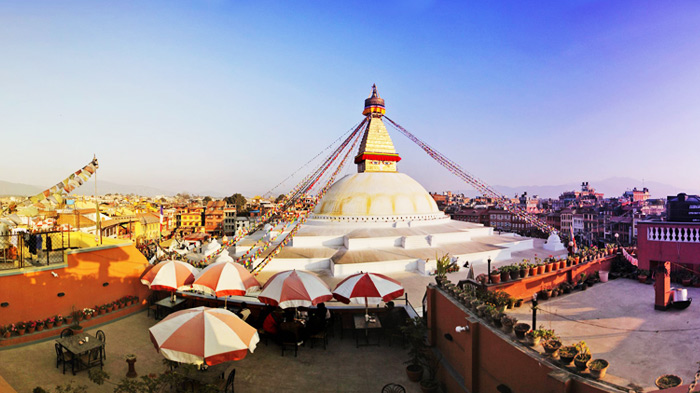 Kathmandu
The massive number of alpine lakes and glaciers in Tibet are a vital source of water for the people of Nepal, as well as those living in the neighboring areas of India, Bhutan, Myanmar, Thailand, Laos, and Cambodia. And it is this symbiosis between Tibet and Nepal that makes both places an ideal joint adventure, traveling from the arid heights of the Qinghai-Tibet Plateau, across the Himalayas, to the heavily forested lower hills of Nepal. Every part of the journey has its own attractions, and its own unique landscapes and cultures.
Why Lhasa-Kathmandu overland tour is an orthodox tour for Tibet and Nepal tour
The tour from Lhasa to Kathmandu along the 1300km Friendship Highway which connects Lhasa and Kathmandu is a classic overland journey and popular among travelers. The route from Lhasa to the Nepal border covers a majority of Tibet's most exciting attractions and historical sites. Offering up superb natural landscapes across the plateau, and culminating in a high crossing of the world's highest mountain range, the route also takes in that most majestic of mountains, Mt. Everest. This exotic adventure is a deep exploration of the landscape and culture of Tibet that will have you astounded at the sights you will see and the people you can meet along the way. Besides, the whole Friendship Highway is paved. It is quite a comfortable trip.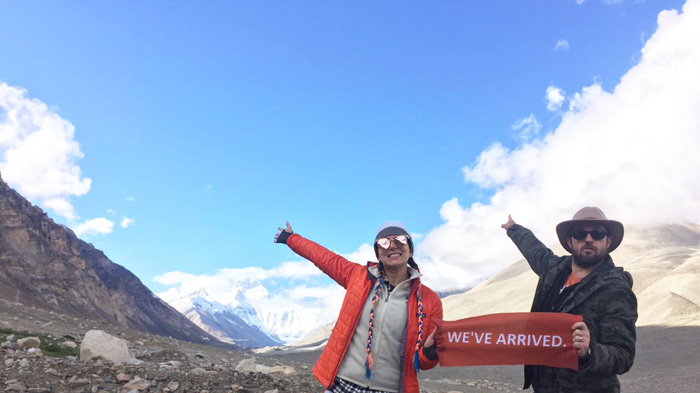 Mt. Everest
Tibetan culture is one that is unique in the world, with its people happily living at altitudes that many could not cope with for more than a couple of weeks. After centuries of close contact with other cultures, including Chinese, Indian and Nepalese, Tibet has absorbed many parts of these cultures into itself and developed a unique culture of its own, which is closely interwoven with its Buddhist religious beliefs. As the main indigenous people of the Qinghai-Tibet Plateau, they have experienced profound influence from the ancient Bon religion, as well as from Tibetan Buddhism. This has given them many unique folk customs and aesthetic religious beliefs, which can be seen throughout the culture in their history, arts, medicines, festivals, architecture, foods, and handicrafts.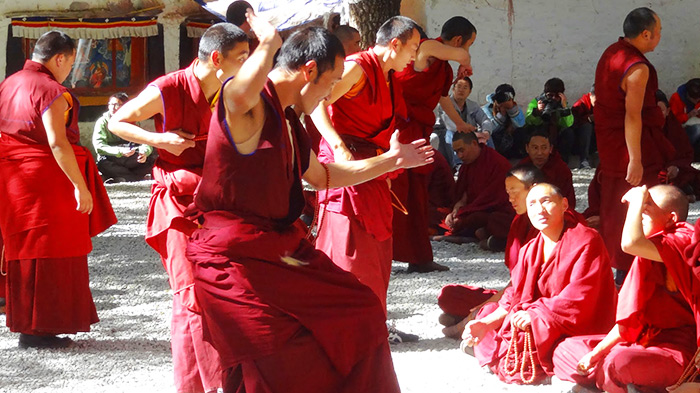 Monk-debating in the Deprung Monastery
Touring Tibet from Lhasa to Kathmandu gives you an ideal opportunity to visit some of the most influential monasteries in Tibetan Buddhism, as well as seeing the lakes and mountains that the Tibetan people hold sacred. In Tibetan Buddhism, lakes and mountains are sacred and the people believe that they are the residences of the gods. It is customary in Tibetan Buddhism to make a pilgrimage to these sacred sites, and walk in a clockwise direction around them, known as a kora. Tibetan Buddhists believe that in doing so they will attain merits towards their own enlightenment, and many thousands of people, both Tibetan and international, travel to the plateau on pilgrimages to visit and pray at these holy sites.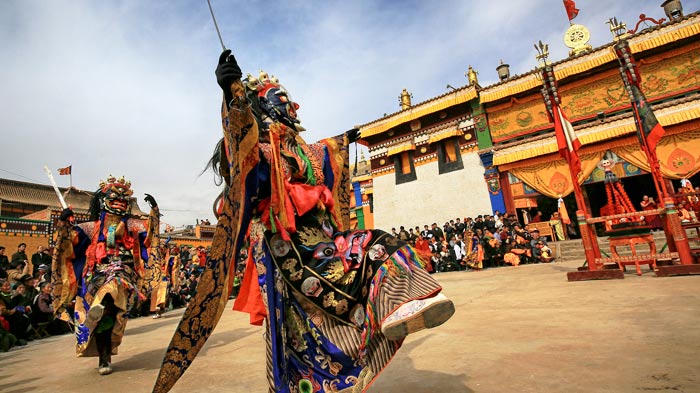 Traditional Cham Dance in Tibet
Tibetans also have a love of festivals, and there are many throughout the year, starting with the Losar Festival, which celebrates the Tibetan New Year, in February. And while there are lots of festivals that are popular across the entire region, there are many local festivals that are always worth visiting, from the Tsurphu Cham Dance Festival, at the Tsurphu Monastery in the Doilungdêqên District, to the Butter Lamp Festival in Lhasa in December. Many of these festivals can be seen during a tour from Lhasa to Kathmandu, at the right time of year.
Travel documents for Lhasa Kathmandu overland tour
Travel documents for Nepal Tibet overland tour
For those wishing to travel from Kathmandu to Lhasa, they are required to apply for a Group Tourist Visa, a form of single-entry visa, from the Chinese Embassy in Kathmandu. However, tourists to Tibet coming from Nepal are not permitted to obtain the visa documents themselves. The Group Tourist Visa is valid for 15 or 20 days, and it does not have to be for an entire group, despite the name. A single person can also apply for the visa, although they are still called "Group" visas.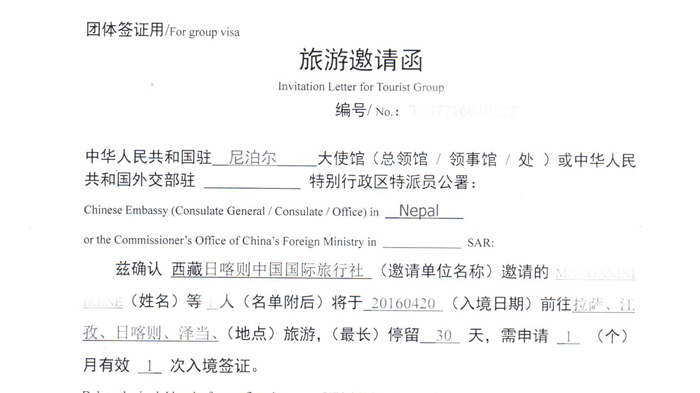 Invitation letter for tourist group
In order to obtain the Group Tourist Visa, travelers will need to apply through a local, authorized travel agency, as neither the Tibet Tourism Bureau nor the Chinese Embassy will accept applications from individuals. Once you have confirmed your tour itinerary with the travel agency, they will apply for the Tibet Travel Permit on your behalf, which is required to get the visa. A scanned copy of your passport is all that is required for this, and then they can apply for your Group Tourist Visa once you arrive in Nepal. With over 10-year Tibet and Nepal tour running experience, we can help you get all the necessary travel documents.
It is advisable to arrive in Kathmandu at least 4-5 days prior to your expected date of travel, as the Embassy requires a full three days to process the application, and will need your original passport to do so. Visa application and issuance is from Monday to Friday, so if your arrival is late in the week, you will need to stay for the weekend as well. Once it has been issued, you are free to travel, and will need to have the visa, a photocopy of the Tibet Travel Permit, and a photocopy of the visa application form with you at all times, for showing at checkpoints throughout Tibet.
Travel documents for Tibet Nepal overland tour
For visitors to Tibet who intend to continue their vacation into Nepal, there are two ways to get a visa for Nepal, whilst still in Tibet. It can either be applied for in Lhasa, or you can apply for it at the Sino-Nepal border, directly prior to entry.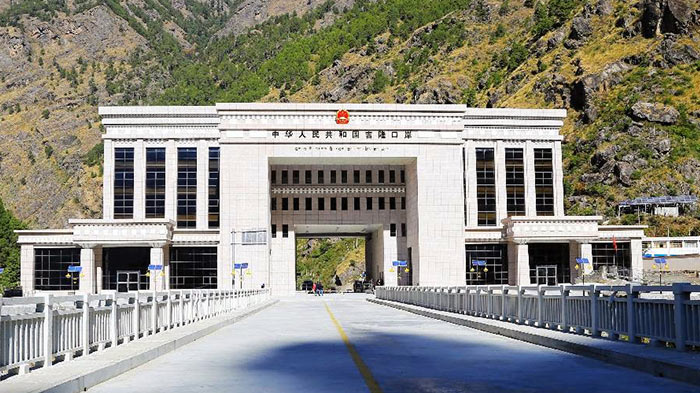 Sino-Nepal border: Kyirong Port
To apply for the visa in Lhasa makes it very convenient for those traveling on to Nepal, and as long as it is not a Friday or a Nepalese holiday, the Nepal Consulate-General's Office is open on Norbulingka Road, right next to Norbulingka Park. It normally takes only two days to get the visa after application (if materials are submitted in the morning, the visa can be collected the next afternoon), and as many tours start in Lhasa and spend 2-3 days staying in the city while visiting the local monasteries and attractions, there is usually plenty of time to organize it.
The Nepal Consulate is open from 10 am to 12:30 pm, Monday to Friday, and they will not accept visa applications at any other time. Completed visas can usually be collected at 4 pm. The visa for Nepal has certain requirements for the application, and the cost will depend on the duration of your stay in Nepal. Requirements for the visa are your original passport with at least six months remaining validity, two 2x2 inch ID photos (taken against a white background, and a completed visa application form.
There have been occasions when the visa officer has required the original passport when a visitor is already using their second or third passport. For those countries whereby you get to keep old passports once they have been renewed, it is advisable to take your original passport with you, as the visa officer may ask to see it as well, especially if the newest passport has an issue number. For countries that are required to surrender the old passport on renewal, this is not a problem, as the passports do not have an issue number. Failing to meet these requirements will mean the visa is not granted.
For those wishing to apply for their visa at the border, which is the usual choice for tourists traveling on to Nepal from Tibet, the process only takes a few minutes. The same requirements apply as for applications in Lhasa, and photos can be obtained in Lhasa before you leave if you have not already got them.
Best time to do Lhasa to Kathmandu overland tour
Travel to Tibet, and ultimately on to Nepal, is best done from spring to fall. Winter is cold and snowy in Tibet, especially over the Himalayas on the Sino-Nepal border. Most of the winter, it is impossible to cross the mountain passes, as they are blocked by snow, making it very dangerous to travel in the area.
Spring to fall is the ideal time to travel across Tibet to Nepal, although it may be best to avoid the rainy season in July and August. Heavy rains are potentially hazardous, and areas of the mountains can be prone to landslides and mudslides, which can happen with almost no prior warning.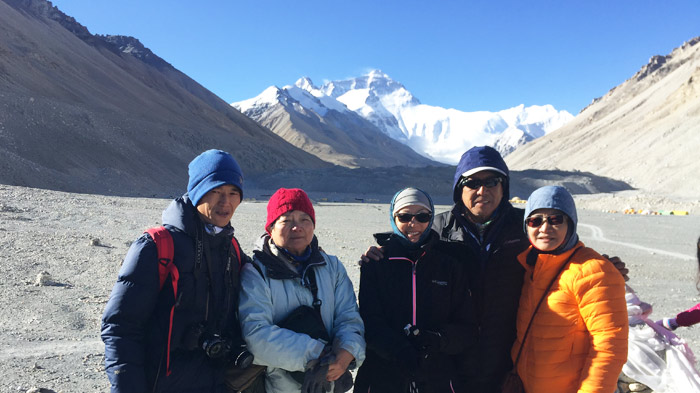 Catch a clear view of Mt.Everest in spring
From April to June is spring in Tibet, and the frozen land thaws out, and comes alive again after being covered in snow for months. For people traveling through the region to Nepal, it means that they are able to experience the rebirth of the land, and the weather is ideal for traveling and touring Tibet. Roads that were previously blocked are open again, and tourists are better able to see the peaks of the region's high mountains, especially Mt. Everest, as there are few clouds in the sky, and mists no longer cover the summit.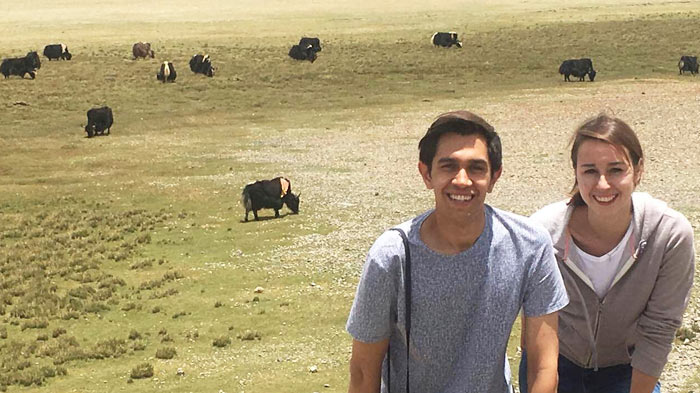 Tibetan yaks and meadows in Summer
In summer, from June to August, it is the rainy season in Tibet, and while the monsoons can make the afternoons or evenings a little wet, it is not a big problem for tourists in the rainy season. There is also a much higher oxygen content in the air, making it a little easier to acclimatize. Moreover, the land is benefiting from the rains, and lush green grass covers the meadows and prairies, while flowers start to bloom across the whole region.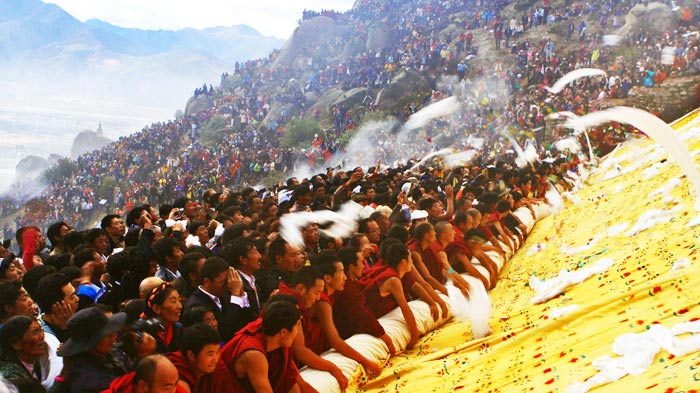 Celebrating Shoton Festival
Summer is the best time to travel to some of the more remote areas of Tibet, and enjoy the high altitude sites while the mountain passes are free from snow and ice. In addition, there are a huge number of Tibetan festivals held in the summer months, as well as outdoor markets, fairs, encampments, and sporting contests. Major festivals that are well worth seeing are the Ganden Thangka Festival, the Shoton Festival, and the Horse Racing Festival at Nagqu.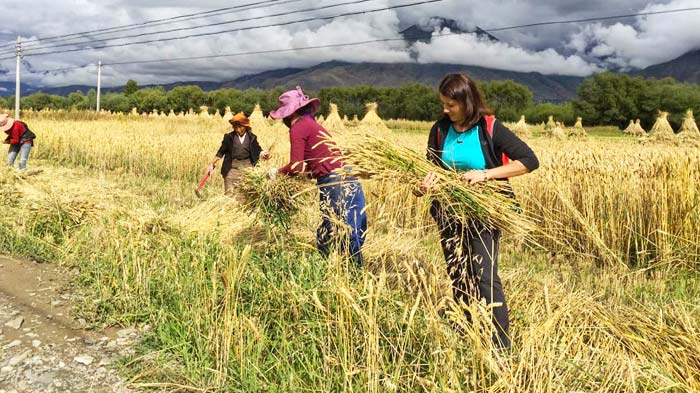 Travel Tibet in autumn
Fall runs from September to mid-November, when the weather is clear and cool after the rainy season. It is the best time to hike and trek in Tibet, and for those traveling across the region on a tour to Nepal, it is a great time to see the clear lakes and the peaks of Tibet's most famous mountains.
Insiders' tips: Currently Kathmandu-Lhasa overland tour or vice versa is not available since the Sino-Nepal border-Gyirong Port is under renovation. Taking Kathmandu-Lhasa flight is the only way in from Nepal to Tibet. We offer flight booking and other travel documents application service.
Highlights of Lhasa to Kathmandu overland tour
Any tour from Lhasa to Kathmandu is bound to take in some of the best sights in Tibet, and there are several attractions that are a must-see when traveling in the region. In Lhasa itself, before heading out on the road to Nepal, there are several monasteries and temples that you can visit. The main ones, and obviously the most popular, are the Potala Palace and the Jokhang Temple. These ancient sites date back over 1,300 years, and are the most revered religious buildings in Tibet. Walking the kora around Jokhang Temple with the thousands of pilgrims that come to the city is an experience you are never going to forget.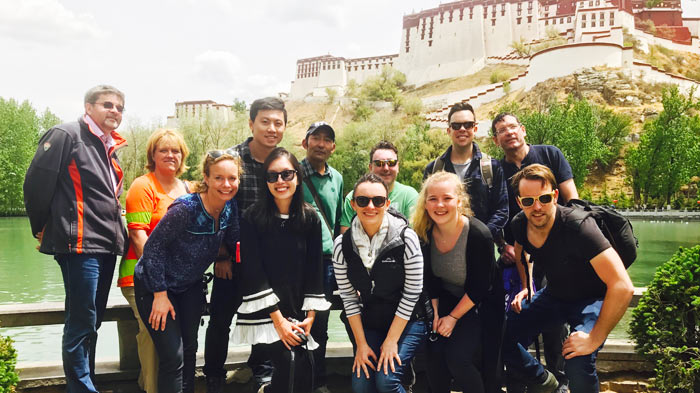 Potala Palace
Other sights that are essential to see on the way are: the beautiful Lake Yamdrok, with its scorpion-like shape; the Karola Glacier, a pristine white glacier that can be seen from the roadside on the Friendship Highway; the famous Pelkor Monastery; Tashilunpo Monastery, the home of the Panchen Lama; Mt. Everest National Nature reserve, where you can see the peak of the world's highest mountain from the Tibetan base camp; and the unique Rongbuk Monastery, with its mixture of both nuns and monks.
Classic itinerary of Lhasa to Kathmandu overland tour
According to Tibet travel org's over ten years' experience, the Lhasa to Kathmandu tour is the top Tibet overland tour as it allows excellent detours to central Tibet's famous monasteries, plus views of world's highest peak. During the overland trip from Lhasa to Kathmandu, you can head straight from Lhasa to the turquoise Yamdrok Lake and pay a visit to Samding Monastery before heading over the glacier-draped Karo-la Pass to Gyantse, an ancient Tibet town that is well worth a full day. In Gyantse, the Kumbum Chorten is a must-see site and the Gyantse Fort is also a fun scramble.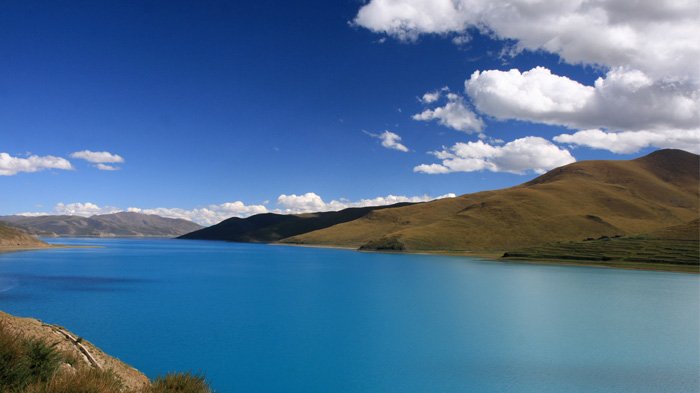 Lake Yamdrok
Then drive one and half an hour to Shigatse, Tibet's second largest city, where you can visit the impressive Tashilhunpo Monastery. If you are interested in Tibetan art, you can also make a detour to Shalu Monastery before arriving at Shigatse. After Shigatse, there is another side trip to Sakya Monastery located at a small town, about 25km off the Friendship Highway.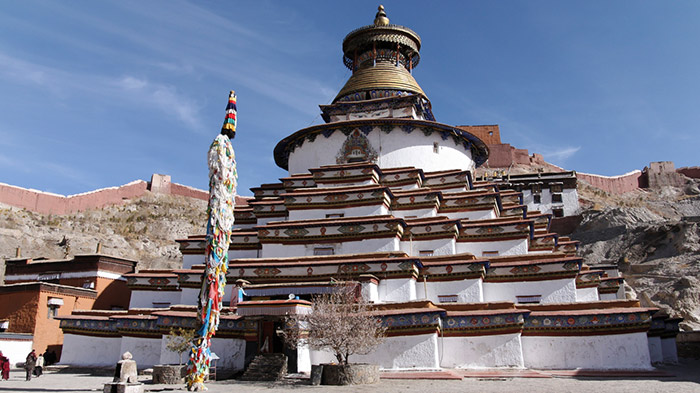 Kumbum Chorten
The last but also most exciting detour is to the world's highest temple – Rongbuk Monastery and the world's highest peak – Mt. Everest. It takes a few hours from the main highway to the Rongbuk. It is best to stay overnight at Rongbuk and enjoy both the sunrise and sunset at Mt. Everest.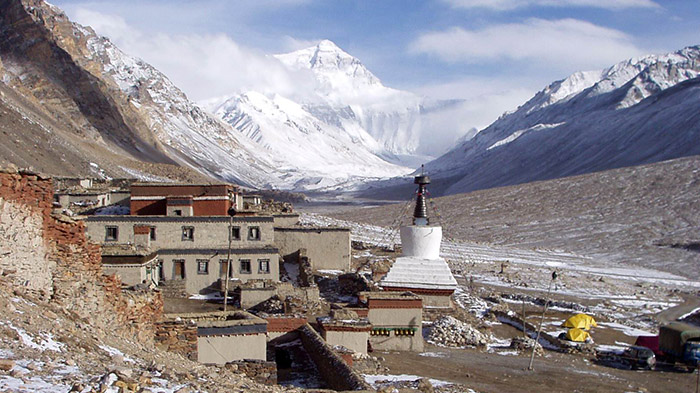 Rongbuk and Everest
If you do not wanna make the detour to Mt. Everest, you can enjoy a vista of the Mt. Everest at Old Tingri when the weather permits. Then head to the Tibet-Nepal border. The highway drops like a stone off the dusty plateau, past misty waterfalls and lush green gorges to Kyirong, a small town at the border. You can stay overnight at Kyirong before continuing to Nepal.
Packing list for the tour
Your packing list is not much different from one season to the next, as you will always need warm clothes while in Tibet. Even in summer, the temperatures can drop to freezing or below at night. Make sure you prepare sunblock and lip balm, as the sun and wind can be stronger than they appear while you are touring. Sunburn can still be a problem, even this high up, and chapped lips can be quite uncomfortable.
Ensure you have stout walking boots and thick socks, even if you do not plan to do trekking, as the terrain can be rough in a lot of places, and they will keep your feet warmer than rubber shoes. Always carry a small first aid kit, just in case, and if you are traveling in summer or winter, pack sunglasses, to prevent sore eyes or snow blindness. It is important to remember that the wind at such a high elevation can be biting, even in summer, so windproof jackets are a necessity, as is a waterproof jacket in the monsoon season, and thick jackets in winter and fall.
Other insiders' tips:
1. When traveling in Tibet there are a few things that would be advisable to remember, so that you have a great tour.
2. When walking around places like Jokhang Temple or Mt. Kailash, always remember to walk clockwise, in the same direction as the other pilgrims.
3. When visiting temples and monasteries, it is polite to ask before taking photos of the interior, and with locals it is best to ask permission before including them in your pictures.
4. Altitudes can vary a lot from the city of Lhasa to the heights of Gyirong Port at the Nepal border. Remember to take it easy when increasing your altitude, and to not over-exert yourself. Include snacks such as dried fruit, nuts, chocolate, and biscuits for a quick energy boost when you get a little weary. Altitude can affect your energy levels faster than you might think.
5. Remember to pack your warm clothes even in summer, as it can get cold at night.
6. Tibetan foods are somewhat bland, and not to everyone's taste. If you are not sure whether you will like Tibetan dishes, there is normally a Chinese option as well in most places you will eat. Alternatively, bring along some packaged foods such as pot noodles for times when you can only find Tibetan dishes.