How to Get Tibet Travel Permit and Chinese Visa from Kathmandu to Lhasa?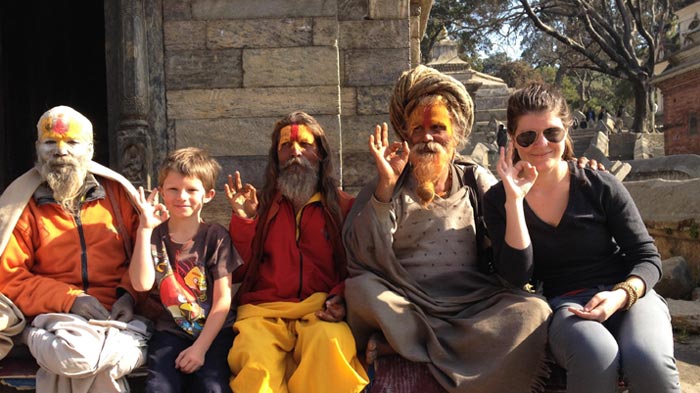 Tourists are having fun with Nepali monks.
The adjacent advantage between Nepal and Tibet makes travelling from Nepal to Tibet and vice versa a well-established itinerary for majority of world-wide tourists. Let's find out the correct steps to handle the complicated travel documents and go through all the necessary formalities?
If you have already travelled in Nepal and would like to continue to tour Tibet, the following steps are recommended:
Step 1.Contact and Discuss with Trip Consultant
Prior to your departure from Nepal to Tibet, do contact your trip consultant and sort out your specific Tibet tour itinerary and book Tibet tour with Tibet Vista. Please send your Email to inquiry@tibettravel.org
Step 2. Send the Photo of Your Passport to Trip Consultant
Take a photo of your original passport with your camera or cellphone and send it to your trip consultant via Email. Since this copy will be needed for the application of your Tibet Travel Permit, make you the image of your photo is clear and intact. The application and issue of Tibet Travel Permit at least take 7 working days, so do set aside enough time for it.
Step3. Apply for Tibet Travel Permit and Visa Invitation letter for Tourists.
Tourists need to give your travel documents (including travel itinerary and passport) to Tibet Vista for the application of Tibet Travel Permit. Normally it takes 7 working days to get the Permit. Meanwhile, Tibet Tourism Bureau will issue a Tibet travel invitation for you which will be used for Chinese Visa application in Chinese Embassy to Nepal. Later, Tibet Vista will mail the issued Tibet Travel Permit to its local office in Nepal.
Step4. Apply for Chinese Visa in Kathmandu
To apply for Chinese Visa, tourists need to arrive in Kathmandu 3-5 days earlier and contact Tibet Vista's local office. Tibet Vista will handle all the formalities of permit application, including travel documents collection, filling forms and obtaining permit. The whole service costs 20 US$ per person in cash to Tibet Vista's local office. Later, our staff will deliver the original passport and Tibet Travel Permit to tourists in hotels.
*For tourists travelling in Tibet, if they want to keep travelling to Nepal, they will apply Tibet Travel Permit in a different way, please check How to get Nepal Visa in Tibet?
Visa Matters (Please Pay Due Attention)
a. Chinese Embassy in Kathmandu deals with the application and issue of Chinese visa on Monday, Wednesday, and Friday .
b. According to the law, Tourists can only apply for Chinese Visa via a travel agency. Tibet Vista Nepal Office will help tourists apply and obtain Chinese Visa successfully.
c. Group Visa is single entry Visa, the length is based on the tour itinerary of tourists, can last maximum 30 days. If tourists want to travel elsewhere in mainland China after visiting Tibet, they have to clearly state their travel plan as they tender the visa application.
d. Foreign tourists can only keep one kind of Chinese visa. If a foreign tourist has got his newly-issued Group Visa, his previous Chinese Visa will automatically become invalid.
e. If Chinese citizens (including Hong Kong and Macao Residents with Mainland Travel Permit) want to travel to Nepal from Tibet either as tourists or on their way to another country via Nepal, all of them have to prove this by showing issued visa of at least one targeted countries to officers of Public Security Bureau on Chinese border.
f. The Payment for Tibet Group Visa
| | | | | |
| --- | --- | --- | --- | --- |
| Nationality | Times of Entry | Ordinary(US$) | Urgent(US$) | Extreme Urgent(US$) |
| Nepali Citizens | Single | 47 | 57 | 62 |
| US Citizens | Single | 160 | 176 | 197 |
| Canadian Citizens | Single | 105 | 120 | 141 |
| Israeli Citizens | Single | 62 | 80 | 100 |
| Romanian Citizens | Single | 105 | 120 | 142 |
| Serbian Citizens | Single | 35 | 60 | 72 |
| Albanian Citizens & Micronesian Citizens | Single | 35 | 55 | 75 |
| Brazillian Citizens | Single | 151 | 167 | 188 |
| Other Citizens | Single | 71 | 88 | 110 |
*This quotation is updated in June, 2015 and for the latest price please refer to Chinese Embassy to Nepal. Tourists need to pay the Chinese Visa fee for Chinese Embassy.