Guide to Self-Drive Tour to EBC in Tibet
There is nothing like planning your own trip to Tibet, and then driving across the plateau yourself. The self-drive trip from Lhasa to EBC and often beyond into Nepal is the trip you are looking for in Tibet. And since you cannot drive to the Everest Base Camp in Nepal, this is the ideal opportunity to take that epic journey across the plateau to EBC in Tibet. Please check our expert's guide and map out your long-awaited self-drive tour to EBC in Tibet.
Self-Drive Tour to EBC: Travel Documents Needed
For Tibet Entry: Chinese Visa and Tibet Travel Permit
For anyone traveling to Tibet, you will need two main documents, the Chinese Visa and the Tibet Travel Permit. The Chinese Visa can be obtained from the Embassy of the People's Republic of China in your home country, and requires a valid passport, completed application form, a passport-sized photo, and proof of onward travel and hotel bookings in China. For those traveling to Tibet from Nepal, the visa is a little different, and is known as the Chinese Group Visa. It is applied for by us on your behalf once you arrive in Kathmandu, and takes around three working days to process. We will use your original passport and the Tibet Travel Permit and other documents to process the application, and the visa comes as a separate document instead of a stamp in your passport.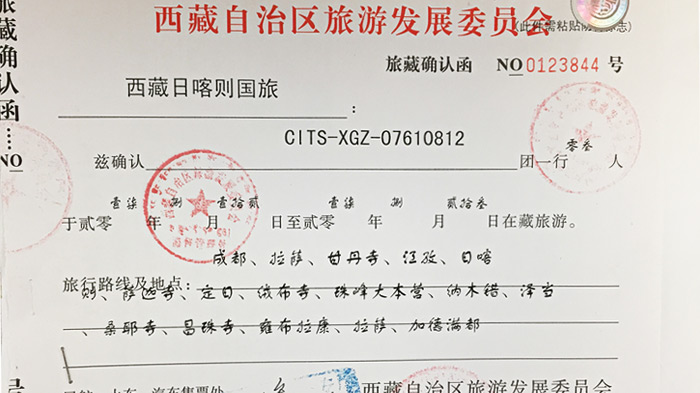 Tibet Travel Permit is essential to Tibet travel to international tourists.
The Tibet Travel Permit (TTP) can only be applied for by us once you have booked your tour in Tibet. We will use scanned copies of your passport and visa (if entering from Nepal the visa is not required) to make the application on your behalf, and the processing time can be up to 15-20 days. Once it is received, we will forward it to your hotel in China or keep it in the hands of our Tibetan guide if you fly from Kathmandu to Lhasa.
For Entering Everest Region: Alien's Travel Permit and Military Permit
There are also additional permits for visiting the Mount Everest Region, which includes the Alien's Travel Permit and the Restricted Areas Permit, also known as the "Military Permit". The Alien's Travel Permit is applied for once you reach Lhasa for those entering from mainland China, and takes around an hour to process while you are touring the local sights of the capital. For those entering from Nepal, it is applied for in advance, and brought along with your TTP when we apply for your Chinese Group Visa.
The Military Permit must be applied for in advance, along with your TTP, as it can take up to two weeks to process. The Military Permit is only used for those traveling in the sensitive areas of Tibet, such as Ngari, Nagqu, and Nyingchi, and is required for tourists traveling to Mount Kailash. Once this has been approved, we will forward the permit to your guide in Lhasa for those entering from China or bring it to your hotel with the other permits for those entering from Nepal.
Documented Needed For Self-driving Tibet
For anyone doing a self-drive tour of Tibet, there are certain other documents that you will need, which will enable you to drive in Tibet and not have any trouble with the authorities. These documents are a strict requirement, and you will not be able to drive yourself without them.
● Vehicle Entry and Exit Formalities
● Valid Chinese Driving License or a Permission Letter stating the same
● Correct and Licensed Vehicle Plate Number
● Photocopies of your passport, and your Chinese Visa
● 3 photographs of your car from all the sides – document the condition of the vehicle
● 2 photos of yourself and the people travelling with you, with a white color background
If you have the documents on hand, then you can make this incredible journey across the plateau. It is suggested that you ensure that you get a verification of the documents that you will need for a self-drive tour, and we can help with any requirements for the trip. We also offer a full car-rental service for all our clients, to make sure your trip is the best possible tour of Tibet.
Self-Drive Tour to EBC: Best Time to Enjoy the Journey
The best time to make this epic journey from Lhasa to Mount Everest is usually from around mid-April to the end of October. Spring, summer, and autumn are the best times of the year in terms of weather for taking the trip across the plateau, and while it can be done in winter, it is not recommended, as you need to be very experienced to drive in Tibet in winter. - Check the best for EBC tour.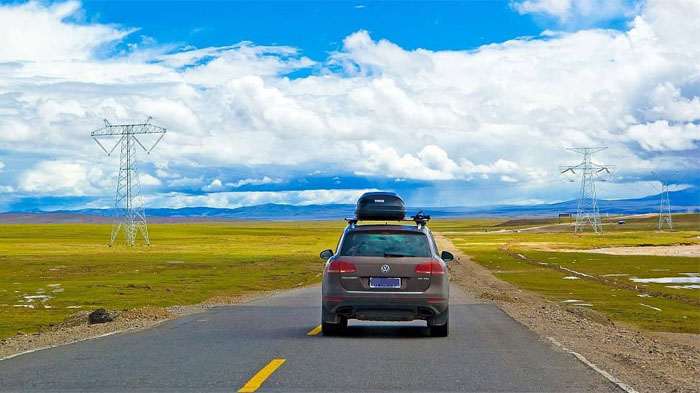 To international tourists, self-drive tour needs the company of a Tibetan guide.
Spring and autumn are great times of the year o visit Tibet, and the weather is clear and bright, with crisp clear skies and very few clouds, ideal for a long road trip. Temperatures range from around freezing at some points of the year to as high as 18 degrees in spring and autumn, though it does get colder the further west you travel. Summer may be the monsoon season in Tibet, but this high-altitude land rarely sees much rain, and what little does fall usually comes in the late afternoon and evening, leaving the days clear and bright for driving and sightseeing. Temperatures in summer are also warmer, often never getting as low as freezing, with the exception of the high mountain areas of the west.
Self-Drive Tour to EBC: How to Plan the Thrilling Journey in Tibet
Day 1-3: Tour Lhasa City and Get Acclimatized to Tibetan Plateau
Lhasa is about 3.656 meters above sea level, and is a city of beauty and scenery compared to any other part of the world. It is important to stay hydrated and well rested to stay active and healthy when at such high altitudes.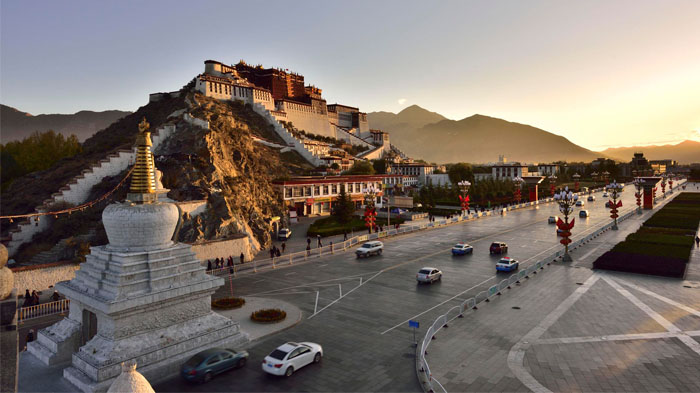 Potala Palace is one of the landmarks of Tibet.
Potala Palace is a tourist spot that has almost become synonymous to Lhasa and is one of the most popular travel highlights when in the region. Potala Palace is larger than life experience which reminds you that we are all mortal beings on this magnificent land. The architectural wonder was also considered the world's tallest and most splendid buildings before the 20th-century skyscrapers came into being.
Travel around 2km east of the Potala Palace, and you will find yourself teleported to a land of wonder and glory. This 1,300-year-old Jokhang Temple is one of the most revered Buddhist temples in the world and is indeed a sight to see. A common sight you would encounter is seeing ardent Buddhist pilgrims walking in clockwise circles on their hands and knees as a part of their worship ceremonies. Right in front of the Jokhang temple, you can still see some of the original stones preserved. These stones have become smooth with years of wearing due to the pilgrims performing their prostrations and other ceremonies. Another characteristic feature is the conical incense burners which fill the atmosphere with the smell of juniper.
Barkhor Street is one of the main highlights of this journey. It is a 20-minute hexagonal circuitous street, which has a blend of a marketplace and spiritual vibe to it. It runs clockwise around the Jokhang Temple and the other primary structures in its surroundings. The place is always bustling with a sense of energy, and it is hence often best to visit the place either at dawn or dusk. This can be an ideal place for one to buy items to take back home for oneself and loved ones. These objects can range from kata scarves, prayer flags and even the prayer wheels. This is an ideal place to see still frozen in time where its people live a simpler and humble life, which will most definitely make you contemplate your life ones here.
Built in the year 1416, Drepung monastery is known to be the largest monastery of the Gelug Sect. A lesser known fact is that this very places the second, third and even the fourth Dalai Lama once resided. It is estimated to cover an area of 250,000 square meters. It is located in the Gambo Utse Mountains, around five kilometers from the western suburbs of Lhasa.
Sera Monastery is located about 5km north of Lhasa. This monastery is known to be the first Gelugpa monastery in Lhasa. It has persisted in remaining the main seat of the Buddhist order ever since. Currently, there are about 600 monks in residence here. Founded in 1419, it remains an important Buddhist seminary. An interesting fact noticed here is that roses are planted everywhere in the monastery, and hence it is also fondly called "the court of wild rose".
Day 4: Drive from Lhasa to Shigatse via Gyantse
This is also famously known as the "Golden Route" of Tibet tour. The final destination of this trip will take you to either of the two cities near the surrounding areas of Lhasa: Gyantse and Shigatse. Gyantse is a small and humble town with a magnificent history and is also known as the "Heroic City". This is owing to its location as this was the site where a major battle during the British invasion in the year 1904. This is an ideal place for one to also experience the rural Tibetan culture and beliefs at its purest and best form. It is also optional for you to add Shigatse to your travel plans. Depending on the time constraints one can also pay a visit to this city which is the second largest town in Tibet, which is also the farming hub for all of Tibet.
Day 5: Drive from Shigatse to EBC
Your Tibet Escapade cannot be complete without you conquering the Mount Everest, the world's highest mountain. Depending on the amount of time left on your plate, on can trek through the mountains and atop gain a whole new perspective of life. Besides the trek itself, the road to Mount Everest is paved with various tourist highlights such as the holy lake of Yamdrok, the mysterious Palcho Monastery and much more. Leaving this land and heading back home will not only break your heart but take you back home with bitter – sweet memories of a place unforgettable.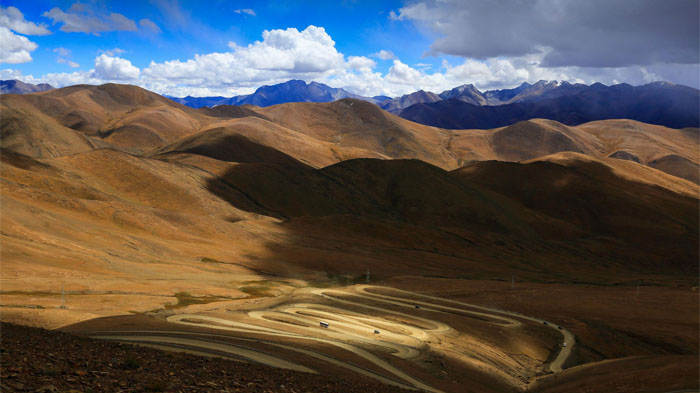 You are expected to experience many thrilling bends before reaching EBC.
Different Options to Exit Tibet
Keep Driving to Kathmandu via Gyirong Border
After you have visited the base camp at Mount Everest, you have the option to cross the border into Nepal, and continue your journey on to Kathmandu, the exotic Nepali capital. This journey requires an additional two days to travel, as you will head first from EBC to Gyirong Town, near the border with Nepal, where you will need to stop for the night, as the border is closed after 3:00 pm Beijing Time. In the morning, you will drive to the border and cross into Nepal. After exiting China, you can cross the Resuo Bridge over the Trishuli River Gorge and continue your journey on to Kathmandu. - Check the classic 7-day Lhasa to Kathmandu overland tour.
Drive Back from EBC to Shigatse and Take Shigatse-Lhasa Train Back to Lhasa
Alternatively, after you have finished at Mount Everest, you can take the return journey back to Lhasa and continue on from there, traveling to either China or Nepal by flight or train. Flights from Lhasa head to both Nepal and mainland China, with more than two dozen destinations across China that you can fly to from Lhasa Gonggar International Airport.
Alternatively, you can end your Tibet trip with an exciting and adventurous journey by train back into mainland China. Trains leave daily for the Chinese cities, which include Xining, Lanzhou, Chongqing, Chengdu, Shanghai, Beijing, and Guangzhou, from where you can continue to explore China or head back home.
Join-in Tibet Everest Base Camp Small Group Tour
Conclusion
A self-drive tour of Tibet is the ultimate driving experience, taking a vehicle across the world's highest plateau, and gaining the experience of learning how to drive at high altitudes, an experience that is second to none in the driving world. Few international travelers have had the opportunity to take a car across the plateau themselves, and this is one chance that you do not want to miss, especially if driving is one of the things you love. Come and talk to us and make that dream a reality.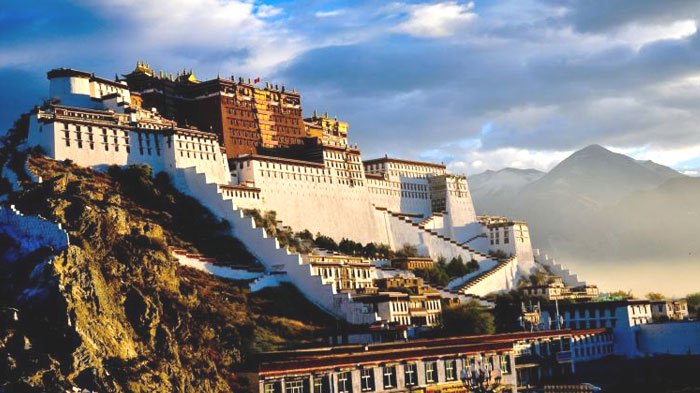 Patala Palace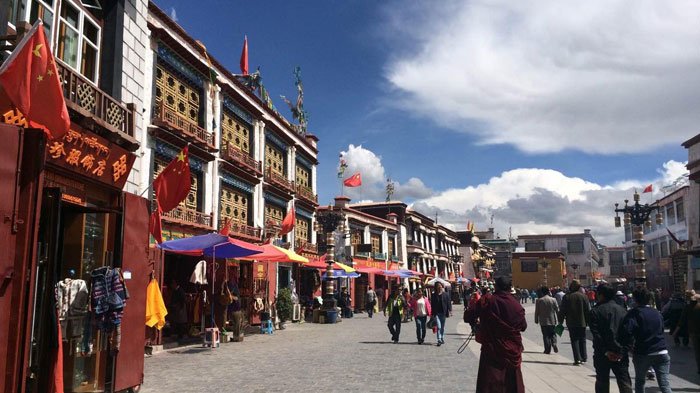 Barkhor Street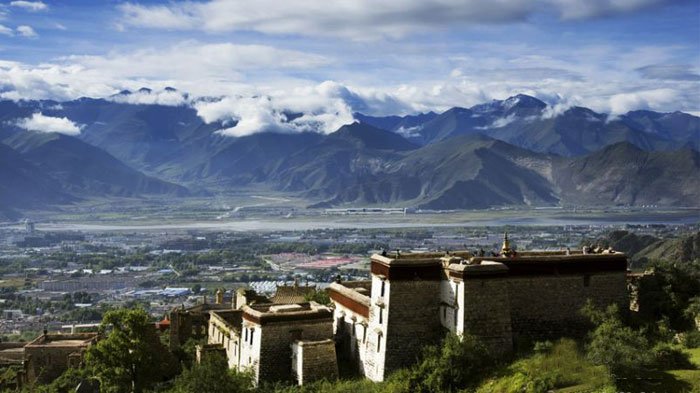 Drepung monastery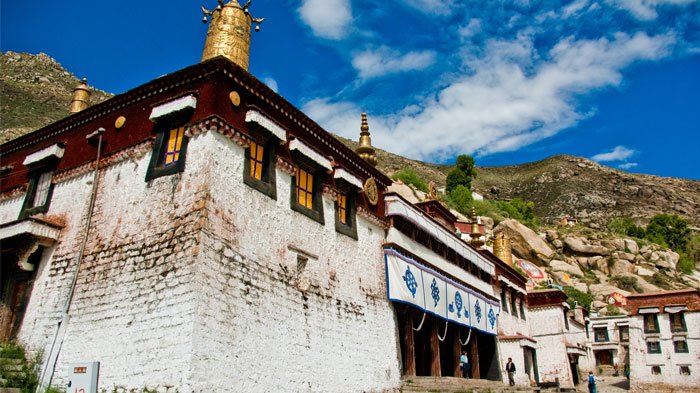 Sera Monastery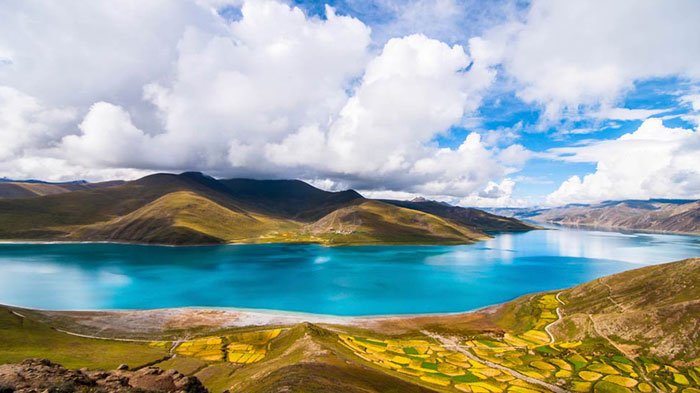 Yamdrok Yumtso Lake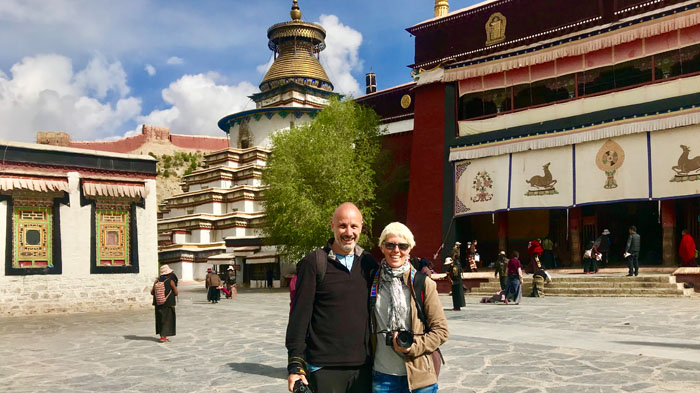 Pelkor Chode Monastery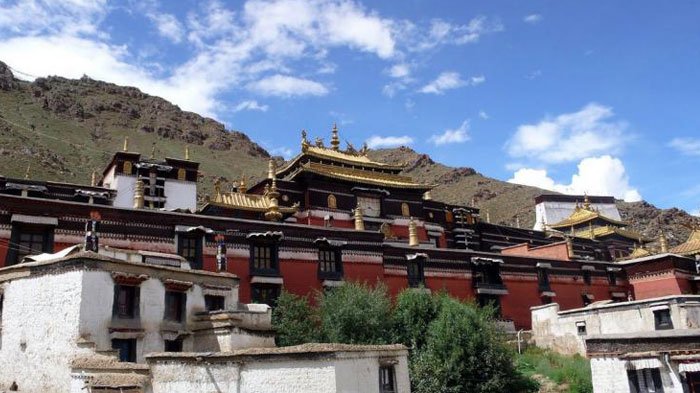 Tashilumpo Monastery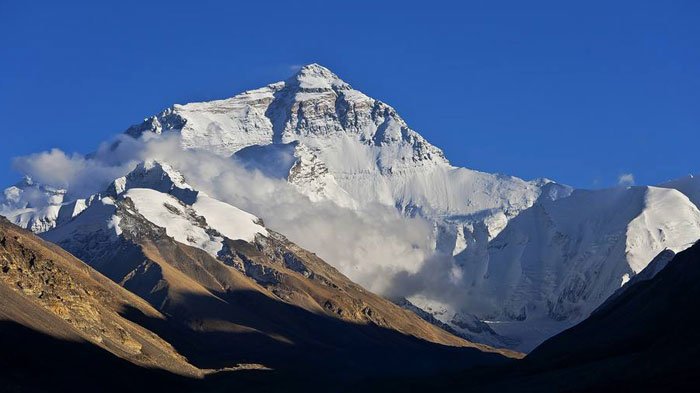 Mount Everest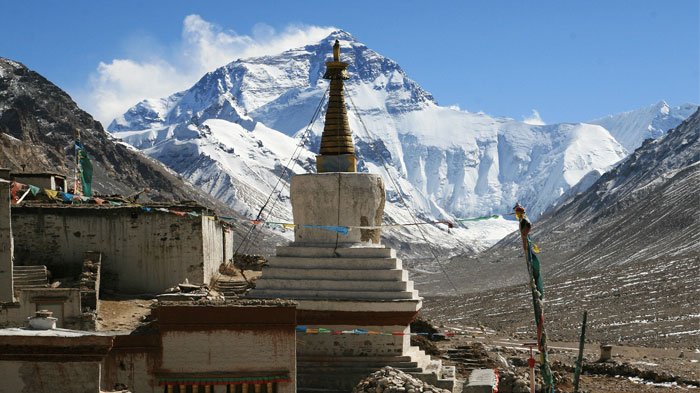 Rongbuk Monastery