Is it Safe to Travel to Tibet? Top Tourists Most Concerned Safety Issues
One of the many things people ask about Tibet is if it is a safe place to travel. The only answer possible for this question is: Yes. Tibet is as safe a place to travel as any in Southeast Asia, and much safer than many of the countries that are generally popular tourist destinations.
Most of the common misconceptions about safety and trouble in Tibet have come from misleading information on travel in the region, subjective accounts given on certain internet websites, etc. So, let's find out the correct answers from our Tibet travel experts.
Video about is it safe to travel Tibet
1. Is It Safe to Travel to Tibet in 2023 under Covid-19?
From early December 2019 until now, the whole world has been battling the new coronavirus for more than 2 years, and Tibet is the only place in China without an outbreak. Tibet has only one confirmed case so far.
So why Tibet can manage to be so safe under Covid-19? Firstly, Tibet is a vast and sparsely populated area, so the chances of being infected become fewer. Secondly, the average altitude of Tibet is above 4,000 meters, with thin air and strong ultraviolet rays, making the survival rate of the virus low.
Also, epidemic prevention measures are strictly implemented in the region. Upon your arrival in Tibet, various tests are required, and Green Health Code, Trip Record, negative nucleic acid test report etc, are essential. Meanwhile, all locals have been vaccinated, enhancing immunity against the virus.
2. Do I Need to Afraid of Altitude Sickness?
Altitude sickness is a common issue for visiting all destinations with high altitude, including Tibet. What matters is more of how to deal with altitude sickness than the fear of it. So, there is no need to panic. So long as you know how to prevent it and handle the symptoms of altitude sickness, you will travel at great ease in Tibet.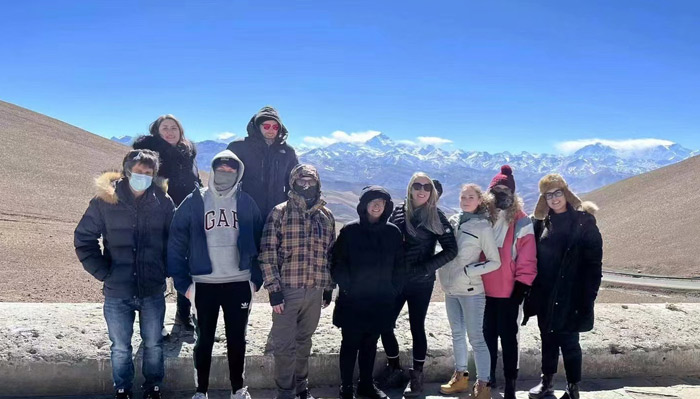 Our Clients have visited the Gawula Pass which is 5210 meters high.
Altitude sickness comes from the body not getting enough oxygen in each breath at the higher altitudes of the Tibetan plateau. Usually, you will experience headaches, dizziness, nausea, lack of appetite, and other symptoms, and has been likened to having a hangover by many travelers.
With plenty of rest, refraining from smoking, alcohol, and coffee (both of which dehydrate the body), and strenuous exercise, and drinking plenty of water, you can get through this height hangover easily and have no problems when traveling in Tibet.
If the symptoms do occur again, just let your guide know, and get rest and plenty of water, and you will normally recover. More severe altitude sickness can be serious, and you should move to a lower altitude immediately. - Check how to avoid altitude sickness in Tibet.
3. Is the Transportation in Tibet Safe?
Both Tibet train and flight to Tibet are safe
Taking the Tibet train to Lhasa from mainland China is as safe as taking the bus in your home city or town. Trains leave from seven cities across China for Lhasa, and all of the trains have police officers on board. The instances of crime or other unsafe issues on trains are relatively unheard of.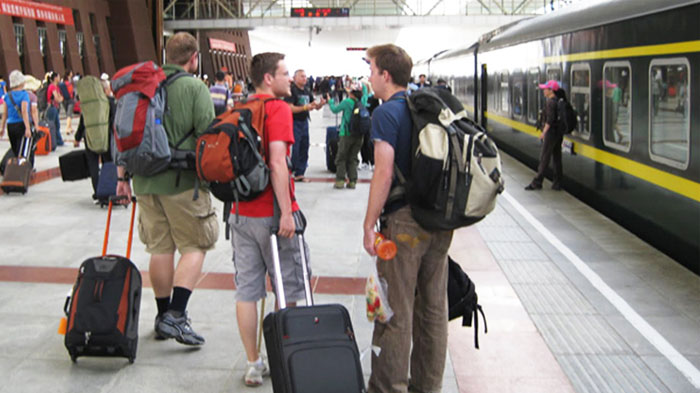 Taking the Tibet train to Lhasa is a popular way for many international friends.
Most of the people on board the trains are also traveling to Tibet as tourists, and are in the same boat as you are, looking forward to an enjoyable vacation on the roof of the world.
Additional safety comes for travelers in the form of the lockable doors on the Soft Sleeper Cabins, which are the preferred options for most international travelers heading for Tibet. And with a few precautions of your own, such as keeping valuables on your person and locking bags and cases, you can be sure that it is safe to travel by train to Tibet.
Besides, if you prefer a faster way to Tibet, like the flight, it is also a reliable choice. Aircraft flying to Lhasa are different from those normal ones, being small, light and stable, to adjust to factors such as complex air currents in the mountainous areas.
Also, the pilots on board are also skilled with many years of flying experience. In the event of dangerous weather, flights are immediately delayed and no risk is taken.
Road condition and tour vehicle are safe for Tibet travel
Roads in Tibet have greatly improved over the last few decades, and the vast Friendship Highway, which stretches from Lhasa to the Sino-Nepal Border is a prime example of that.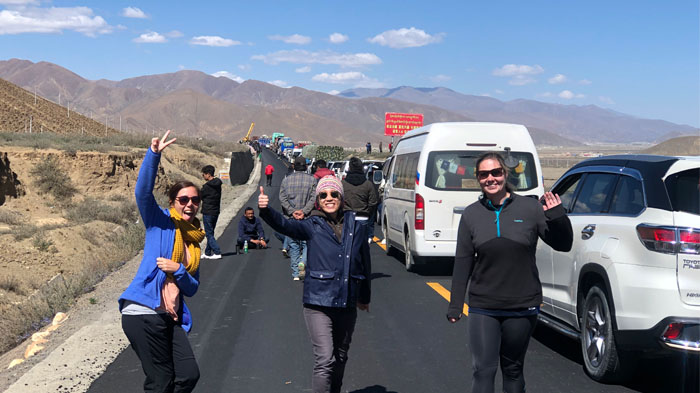 Driving on the well-paved road condition in Tibet
Not too long ago, many parts of the route to EBC in western Tibet were still gravel tracks. Nowadays, the entire length of the route to Mount Everest is paved, with the exception of the last short distance from Rongbuk to EBC itself.
Many new roads have also been built in the region, including the Airport Expressway, which links Lhasa with the Gonggar International Airport, and the brand new Lhasa-Nyingchi High-Grade Highway, which is a massive super-fast highway that will connect Lhasa with the Nyingchi Prefecture, replacing the old and worn road that has seen better days.
Tour vehicles in Tibet are as safe as your own car unless your own car is a real banger! Most tour vehicles are modern vehicles with 4-7 seats, and often with four-wheel drive to cope with those more rugged areas of the plateau.
All vehicles have airbags, strong rugged chassis, and contain a full first aid kit for emergencies. Our own vehicles for our Tibet tours include Toyota, Nissan, and Mitsubishi four-wheel-drive vehicles, and decent Quan Shun minibusses or Golden Dragon tourist buses for large tour parties.
4. Are Local Tibetans Friendly to International Tourists?
Tibetans are some of the friendliest people in the world, and it is generally believed that has a lot to do with the Buddhist religion that they all devout practice. Buddhism teaches kindness and friendship with others, and with Tibetan Buddhism teaching the "Middle Way", it is normal to greet strangers with friendship and kindness, rather than just pass by.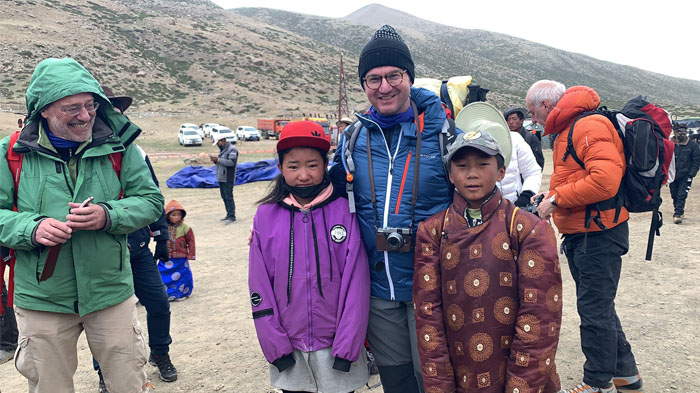 Our clients are very happy to make friends with local Tibetan children.
Do not be surprised if strangers come up to you to just say hello. Many Tibetans also just want to try out the little English they know on you, and it is common to get caught in a conversation where they will ask about your life in the west, just to hear you talk and try to learn more English while you do. There is no con or scam involved in this, and most Tibetans want to be friendly and learn more about the people outside their own world.
5. What's about the Theft and Crime in Tibet?
Consisting of 90% devoted Buddhists, Tibet is probably one of the destinations in the world with the lowest crime rate. The instances of crime against foreign visitors are few and far between, and most people in Tibet are happy to greet you and be friendly. Not all destinations in the world have people that are always looking to rip you off, and scams are not frequent in Tibet, though there are some you should be aware of.
Most crime in Tibet is opportunist, and not planned, and while these things do happen, taking a few precautions can help to prevent them. Do not wave large wads of cash around when buying things, as this can cause the most unscrupulous to take advantage of you. Few people will try to steal your money, but if they see you have lots, you may find you are paying well over the odds for the smallest trinket.
6. Is it Safe for Solo Female Traveler to Visit Tibet?
Is it safe for a solo female to travel anywhere in the world? Tibet is a safe place to travel to for both men and women, and as long as you take the same precautions as you would take in any other country, including your home country, then there is no reason why solo females should not travel to Tibet.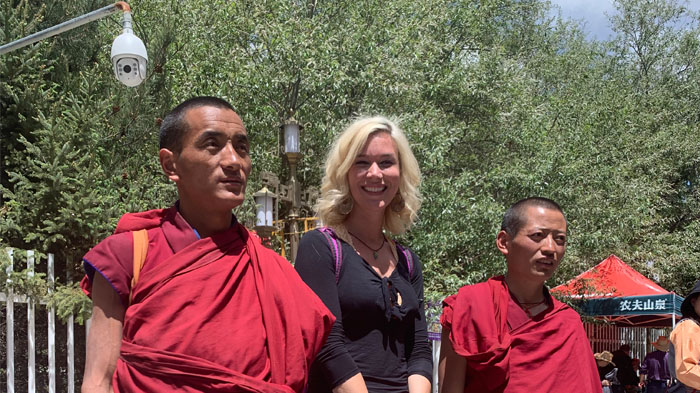 Travelling Tibet is very safe for solo female.
For instance, do not walk down dark alleys at night in areas you are not familiar with, or head off for a drink with a guy you bump into on the street. These are not things you would do at home, so refrain from doing them in Tibet. - Find out how our female travelers had great fun in our Tibet tours.
Many solo female travelers head for Tibet every year, some on private tours with their guides and drivers, others joining group tours with a number of other international tourists that are traveling to the same places on the plateau. And as you will be with your guide and driver during the day, there is added security for solo female travelers.
7. Any Religious Taboos I Should be Particularly Care With?
Tibet is a devoutly religious region, and there are certain things to remember when visiting in order to prevent any upsets with locals.
It is expected that people eat and drink quietly, and not to eat too much in one bite. Eating with your mouth open is also considered offensive, and only the right hand should be used to touch the food.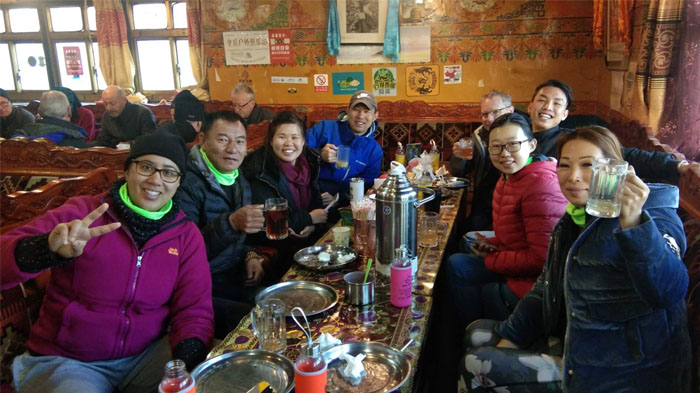 Enjoying the food in a Tibetan style restaurant in Tibet.
Tibetans will normally allow their guests to proceed first, whether it is walking or talking. You should always let the oldest go first when spending time with a Tibetan family, out of respect. It is also taboo to touch the heads of children and monks with your hands. And you should not step onto the threshold of the house of someone you are visiting.
When entering a monastery or temple, visitors should remove hats or other headgear, and arms and legs should be covered. It is disrespectful to enter any shrine or temple with shorts or a short skirt on, or when wearing skimpy tops, so make sure you cover up. This is a good tip for general use as well, as Tibetans are not as open to revealing clothes as westerners, and the sight of a barely-covered woman can often offend in the streets.
The soles of the feet should not be facing any people, altars, or sacred objects when sitting, and one should never walk in front of a person who is at prayer in a temple or shrine. And taking photos is generally not allowed, though some monasteries do for a small donation.
8. Is There Any Risk for Being Attacked by Wild Animals in Tibet?
No, there is no risk of being attacked by wild animals in Tibet. While there are a huge number of wild animals roaming the plains and prairies of Tibet, none of them have the inclination to attack people in groups in a vehicle, and the likelihood of getting attacked when trekking is just as slim.
Wild animals tend to steer clear of people, having learned that we are a danger to them. Cornered, they may attack, but why would you want to corner an angry leopard or Tibetan wolf?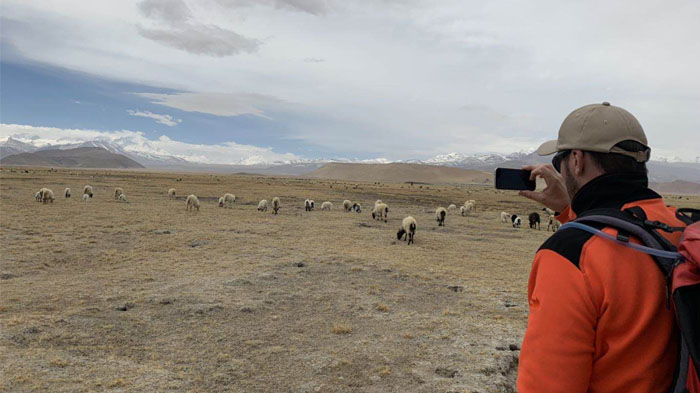 Our clients were taking pictures of the cute wild animals in Tibet.
The main thing to watch out for in Tibet are the dogs. Stray and wild dogs roam around the areas of the plateau, and have been known to attack people when they feel they are being threatened. If you do come across wild dogs, then let your guide deal with it and walk the other way. Your guide will know exactly how to deal with these situations.
You should also refrain from trying to pet Tibetan Mastiffs that are kept as pets by nomads. They are not cute and cuddly teddy bears! These massive dogs are used as guard dogs for the herds of yaks, and a couple of Tibetan Mastiffs together can bring down a full-grown Himalayan brown bear.
9. Is It Serious If I Get Sick when Visiting Tibet?
There are few medical facilities in Tibet that can handle major illnesses, though if you do get sick in Lhasa or Shigatse, both cities have hospitals for your care.
If you are feeling sick in any way, even with just mild altitude sickness, then you should let your guide know and sit down to rest. Our well-trained Tibetan guide will check you and assess things, and call our 24/7 support team, as well as an ambulance or other rescue services as necessary.
Ensure you are healthy before visiting Tibet
Ordinary people can travel to Tibet as long as they are in good health and do not have heart disease, high blood pressure, asthma, severe anemia, etc.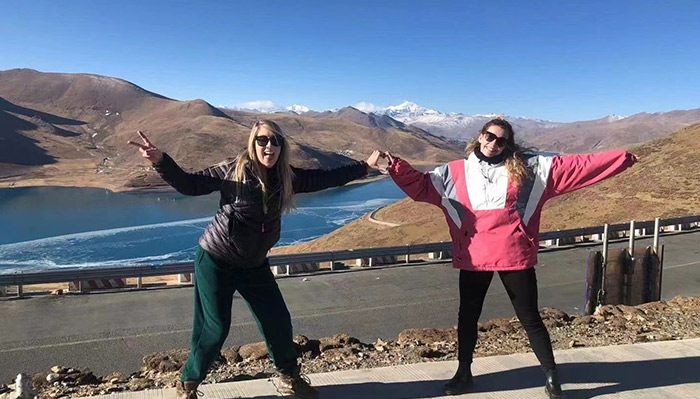 A good health is needed for a happier and smoother trip in Tibet.
There is no need to deliberately exercise if you feel physically weak, but you should take sufficient rest before entering Tibet to adjust your body to the best condition, and never bring a cold into Tibet.
If you don't have any confidence in your health, you can go to the hospital for a checkup to see if your physical condition is suitable for a trip to Tibet.
Prepare some medicines and first-aid kits
A basic first-aid kit can be useful on a trip to Tibet, as you can then handle your own bumps and scrapes. Getting medications in Tibet is possible but given the language barrier and probable lack of area knowledge, it is best to bring a broad-spectrum antibiotic like Ciprofloxacin.
Bring the usual Panadol/Tylenol (ibuprofen) for headaches, colds, and flu and Loperamide or equivalent for diarrhea, as well as medicine for stings and insect bites.
To prevent altitude sickness, you may consider using Diamox or buying Hong Jing Tian (written as 红景天 in Chinese) in the pharmacies in Lhasa. However, do remember all the medicines should be bought after consulting with the pharmacist or the doctor.
Conclusion
Generally, it is safe to travel to Tibet, as long as you do remember that this is a completely different land and culture, and you will need to respect their lifestyle and beliefs. Overall, there are few things in Tibet that are really dangerous, and most of those that are will not be there for you to encounter. For most tourists to Tibet, it is as safe as traveling in your own country.