Is It Safe to Travel Solo in Tibet?
Tibet is a dream destination for many travelers. It is an autonomous region of China visited by millions of visitors yearly. Regardless if you love mountains, or you simply love the exotic cultures that you encounter along the way, Tibet offers all of these things. Considered as the "Roof of the World" with an average elevation of 4,000 meters, one has to wonder if it is safe to travel alone in this part of the world?
Join a Tibet Tour
If you are serious about embarking a solo trip to Tibet, but you are still hesitant of the possible things that can happen along the way, it is a good idea that you join a Tibet tour.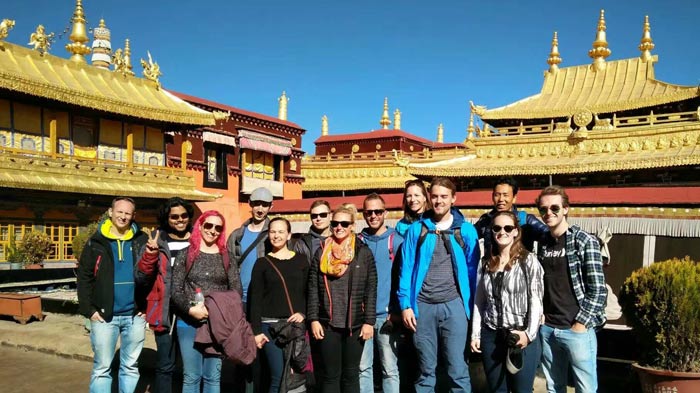 Let's discuss the safety of going with an organized tour rather than just DIY backpacking. Backpacking alone in Tibet may sound like a good idea, but if you are not really the adventurous type and you are not yet experienced about your trip's preparation, this might prove to be a bit intimidating.
However, if you are traveling solo, having an organized tour makes a huge difference. By finding a reputable travel agency, it is possible to accommodate smaller groups and individual travelers into one group. This gives you peace of mind especially if you want a non-stressful experience going to Tibet.
All foreign travelers need a Tibet Travel Permit in order to enter Tibet. Permits can only be accessed via registered Chinese tour operators. The good thing about having a travel agency that provides tours is that they can handle these concerns. Just remember that you need to book early.
By getting help from a tour provider, it is also possible to choose between different tour packages depending on your budget, schedule, and preference. Do you only have around 15 days or you have the entire month to enjoy Tibet and neighboring locations?
Lastly, a Tibet tour provider can help give you a number of tips on what to bring, and what to prepare when going on your trip. From warm clothes to the right shoes, tour providers help give tips to their clients to make their experience memorable and hassle-free.
It's safe to travel alone by train to Tibet
The fastest way to get in and get out of Tibet is via airplane. However, if you want to enjoy the scenic beauty, or if you are coming from China, then a train might be a good call. You might be asking if it is really safe to take a train to Tibet, especially if traveling solo.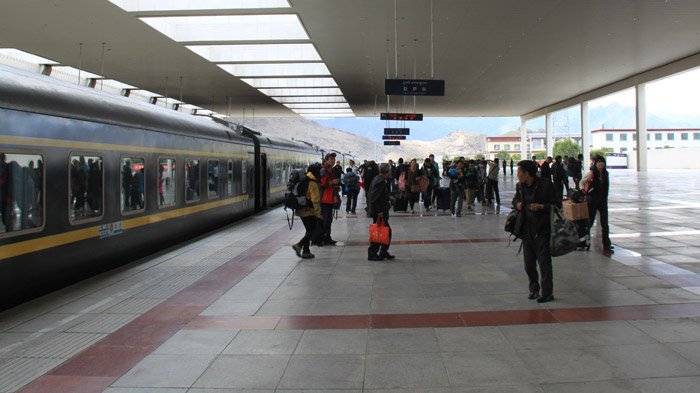 It is generally safe to travel to Tibet by train. In fact, it has even been mentioned by other bloggers that even women can travel safely alone on a train to Tibet because of China's gender equality. On the other hand, there are those that would warn travelers of not getting the cheapest car on the train to Tibet. The cheapest car has around 100 seats. The same goes for the second class car that makes you share with 5 other people in a compartment with no door for privacy.
It is suggested by some travel enthusiasts to simply take the first class train ticket especially if you are traveling with a number of valuable possessions.
In reality, Tibet trains have policemen on board and events such as theft rarely happen. But as a general rule of thumb, you want to be extra careful with your precious belongings from travel documents to your credit card and electronic gadgets.
If you decided to take a Tibet train tour, once you land in Tibet, a tour guide will immediately pick you up and travel with you. This is probably the best thing about getting a Tibet tour. If you are traveling on a tight schedule and you want to maximize your experience in Tibet, nothing can beat having your own tour guide. It's common to have local Tibetans to guide travelers and experience what their culture is all about.
Exploring Barkhor Street in a safe way
One of the places that you should visit in Tibet is Barkhor Street located in Lhasa. That's where you will be able to see the Jokhang Temple. This temple was built in 647 by the very first Tibetan King Songten Gampo. It is safe to explore Barkhor Street alone given the number of pilgrims and tourists that visit the place. It's a common sight in Barkhor Street to see pilgrims hold prayer wheels and walk in a clockwise direction of the street from dawn to dark.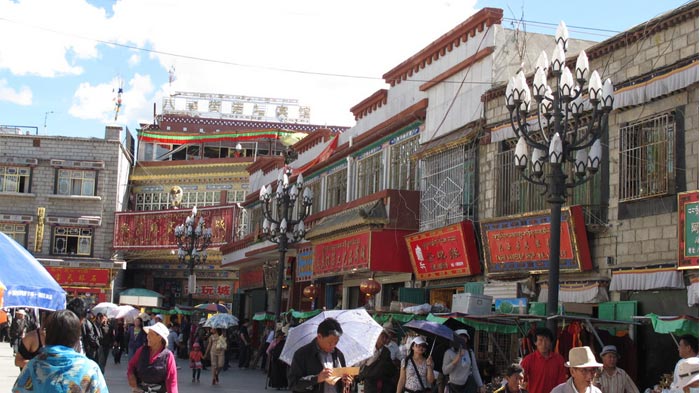 It is an interesting place to visit especially for tourists. It provides you with the original look of Lhasa. Here, you'll be able to find a number of religious articles, unique Tibetan art, and other interesting things that you can bring home. If you plan on buying these things, make sure that you compare prices with other vendors. Also, it is Tibetan tradition to give the most favorable price to the first and last customer.
However, keep in mind that you should only walk in a clockwise direction along the street. Also, though it is safe to travel to Barkhor Street alone, you don't want to stay late since it is easy to get lost at night. There are many lanes that can be quite confusing after sunset.
It's safe to have a dinner in a Tibetan, Indian or Nepal restaurant
Aside from the beautiful sights in Tibet, make sure that you also explore some of the best foods that Tibet can offer.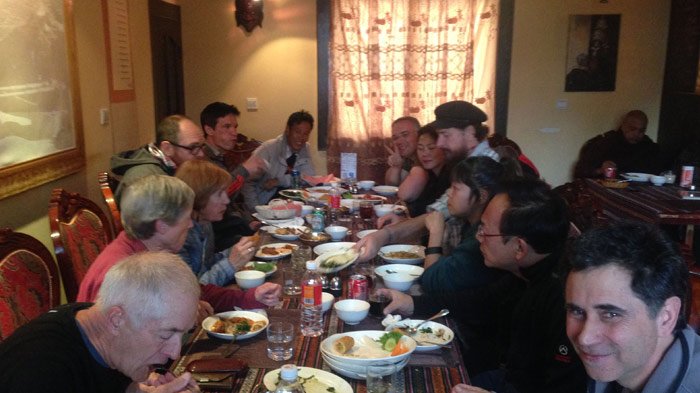 If you plan on eating in a Tibetan restaurant, keep in mind that their traditional food is composed of both barley and yak. One of the most common meals that you can try is the Tsampa which is roasted barley flour with tea and yak butter mixed in the dough. Another food that you can go for is the Thugpa which is a noodle stew with both meat and vegetables. And lastly, you want to give Momos a try. It is steamed dumplings that have meat and vegetables inside.
Tibetan Yogurt is also gaining popularity among tourists who love to taste exotic foods. Their yogurt comes from yak milk, which is why it can be a bit different from other yogurts that you may have tasted in your life.
There are also some great Nepalese and Indian restaurants that you can try. It is safe to eat alone in these places; however, it is a good idea that you don't stick to tap water whenever eating in a restaurant. Always make sure that you consider bottled water. As rule of thumb, tap water is only fine for brushing your teeth.
It's not allowed to travel outside Lhasa alone
Now that you have peace of mind getting around Tibet, you have to understand that there are still some security and safety issues that you have to be aware of. Generally, it is not safe for tourists to travel outside Lhasa alone.
There are different threats that you might encounter without a guide. For instance, if you plan to explore Tibet's outdoors, you may not want to do it alone since there are a number of wild animals roaming around the country. There are around 800 species of wild animals found in the country from snow leopards to bears and wolves. You may also lose signal on your mobile phone in isolated areas such as remote mountain areas.
Also, as a tourist, you can be targeted by pickpockets and robbers and have your money and valuables stolen. As rule of thumb especially when traveling alone, always make sure that you make a copy of your documents such as passport and credit card details. It is also a good idea to never leave anything valuable in a travel vehicle or even in a hotel room.
Generally, Tibet is a very safe place
Even though you have just read about the few things that may go wrong on your trip, compared to most other places on this planet, Tibet is extremely safe. Most of the people care more about the afterlife than about material possessions in this life, so theft is extremely rare. Buddhists also strongly oppose harming and living creatures, so you're safe from any threat in that sense. The only real danger comes from the environment, but you should have a local guide to make sure you stay safe throughout your trip.
Are you planning to take a solo trip to Tibet? Share your plans in the comments below!