Facility and Services of Hotels in Tibet
As a newly developing tourism region, the facilities, conditions and services of hotels in Lhasa and other places in Tibet may not be as good as you could expect from a hotel with this rating in other cities of China, especially in some remote places of Tibet. However, hotels and accommodations in Tibet have been greatly improved due to the rapidly developing tourism industry in Tibet.
In most cities and counties in Tibet, there are hotels and guest houses for lodging, but the equipment and service may be inferior to those of the other places of China. Even in some famous international chain hotels in Lhasa, such as the Sheraton and the St. Regis, the service standard and facilities of most 3, 4 even 5 star hotels are not what you would expect from the same rating hotels in Beijing or Shanghai.
The best hotels in Tibet are normally to be found in Lhasa or Shigatse, the two major cities on the plateau. As you move further out of these large cities, accommodations standards become lower, and in the most remote regions of Tibet, you may find that accommodation is very basic, often without electricity and running water.
Hotels in Lhasa Tibet
In general, the facility and service in Lhasa and Shigatse, starred hotels are more than other regions of Tibet. Except for the golden weeks of May Day Holiday, National Holiday and Shoton Festival, the hotels are not difficult to book. Most of the standard rooms of the starred hotels in Lhasa have private washrooms with water heaters. The guesthouses there have shared public bathrooms with fixed time service for daily use.
In Lhasa, accommodation ranges from guesthouses to five star hotels. Usually internet service is available in the business centers or the separate internet bar in the hotels, and private internet service may be offered in the luxury rooms of a hotel. However, in some remote areas of Lhasa outside the main city, the internet is not accessible due to the limited conditions. Coffee is uncommon in the rooms, but many hotels do have a separate cafe. - See Hotels in Lhasa
Hotels for budget travelers
For those budget travelers to visit Lhasa, there are a few good budget hostels available for cheaper accommodation. The Phuntsok Kasang International Youth Hostel is one of the best in town, and is located close to the Potala Palace, Barkhor Street, and Jokhang temple. With more than 200 beds in 70 different sized rooms, the hostel offers TV, telephone, air conditioner, and heat system installed in each room and has 24 hour hot water. Western and Chinese style breakfast is provided as standard in the price of the room, and the rooftop bar and restaurant is comfortable and cozy. Rooms range from 15-30 dollars per night.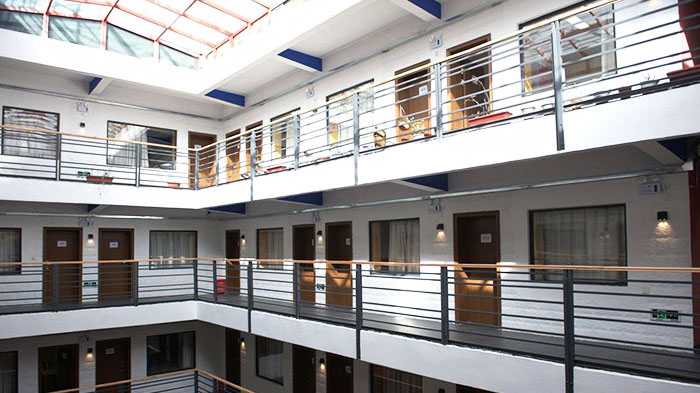 Phuntsok Kasang International Youth Hostel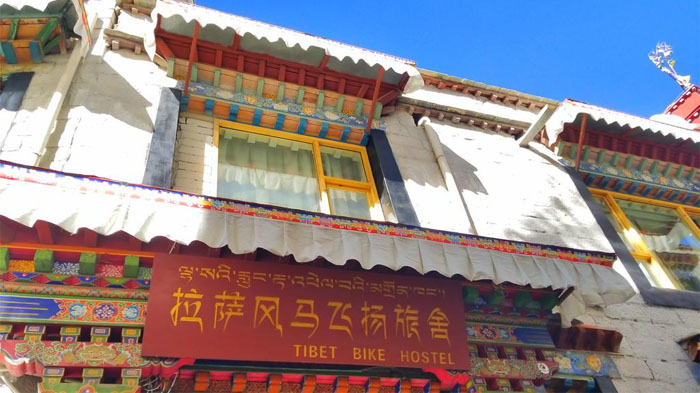 Fengma Feiyang Youth Hostel
The Fengma Feiyang Youth Hostel is another good option for budget travelers, with a good location close to the Jokhang Temple and Barkhor Street. The many dorm rooms are clean and comfortable, with heaters in each room and shared bathrooms. The rooftop restaurant serves mostly Tibetan cuisine, and the ambience is friendly and polite. Rooms start at around 10 dollars per night, so are cheap for what you get.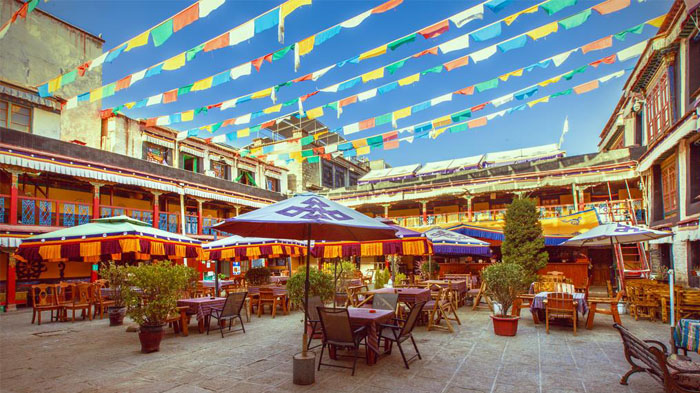 Bangdacang Compound Hotel
If price is very important, then the Bangdacang Compound Hotel in South Bakuo Street is just perfect. Rooms cost from 7 dollars per night for a dorm bed, and the hotel is located within walking distance of the Jokhang Temple and Barkhor Street. A warm and comfortable hotel, the open-air restaurant and bar are a popular place to collect for the Tibetan tea as much as for the beer and good local food.
Best-value hotels in Lhasa
For four-star hotels in Lhasa, there are a few, and some are obviously better than others. The Lhasa Thangka Hotel is just 1.6km from the Potala Palace and 2km from the Jokhang temple and the busy Barkhor Street. There are about 170 rooms and suites in the hotel, including European-style suites and Standard rooms. The Standard rooms are popular with most of the tourists and the views of the famous Potala Palace can be seen from most of the rooms. The restaurant serves delicious Tibetan, Chinese, and western meals, and rooms start at around 46 dollars per night.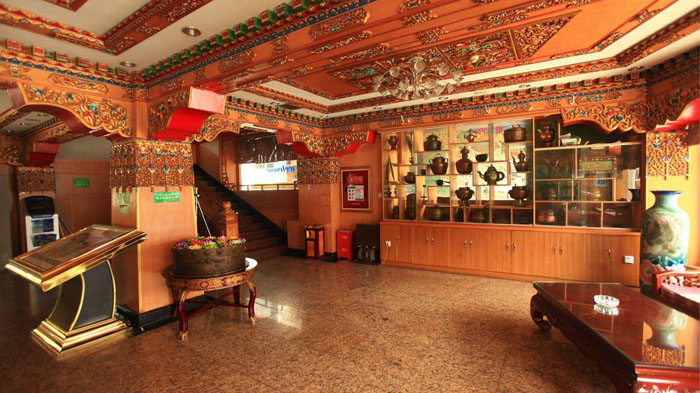 Lhasa Yak Hotel
The Lhasa Yak Hotel on Beijing East Road is close to the major attractions of the city, including Potala and Jokhang, and has good English-speaking staff that are friendly and polite. The hotel has free internet, heaters in all rooms, and an amazing breakfast buffet. The hotel has 62 rooms with 185 beds, and includes twins, doubles, and dorm rooms for a starting price of just 21 dollars per night. They also offer 24-hour hot water, car parking, car and bicycle rentals and a business center service.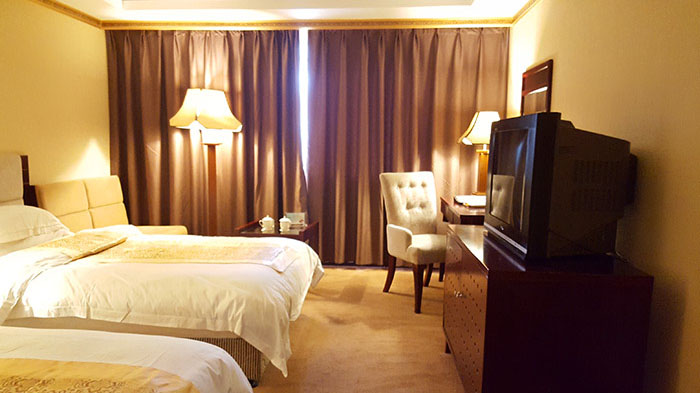 Lhasa Gang Gyan Hotel
The Lhasa Gang Gyan Hotel is located almost 2km from the Potala Palace and around 1km from the Jokhang Temple, and offers twin and double rooms, as well as local and international-style suites. There are more than 170 rooms in the hotel, and all have en-suite bathrooms with 24-hour hot water and free internet. Prices range from around 48 dollars per night for the smallest twin rooms.
Top Tibetan-style hotels in Lhasa
If you are looking for Tibetan-styled hotels, then Lhasa is the place to be. The Lhasa Dhood Gu Hotel in Chong Saikang is a delightful three-star hotel that is located close to Barkhor Street and around 2.3km from the Potala Palace. A typical Tibetan style hotel in Lhasa, it has all the major facilities including hot water, air-conditioning, and private bathrooms. The Tibetan restaurant offers Local and international cuisine, and the small bakery shop is perfect for snacks.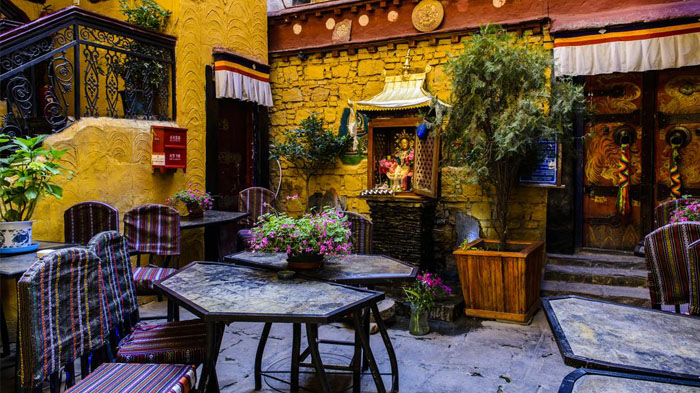 House of Shambhala
The House of Shambhala is a three-star Tibetan styled hotel just 1km from the Potala Palace and Jokhang Temple, and located in a quiet alley not far from the famous Barkhor Street. The House of Shambhala is a typical Tibetan courtyard hotel with traditional style natural wood rooms and Chinese-style beds. The hotel offers a wide range of amenities and facilities including Air-Conditioning, Chinese Restaurant, Color Television, Coffee/tea maker, Telephone, Hair dryer, Electronic locks, Bath and Shower, Broadband internet access, Laundry service, Room service, Wake Up Call, and 24hr Reception.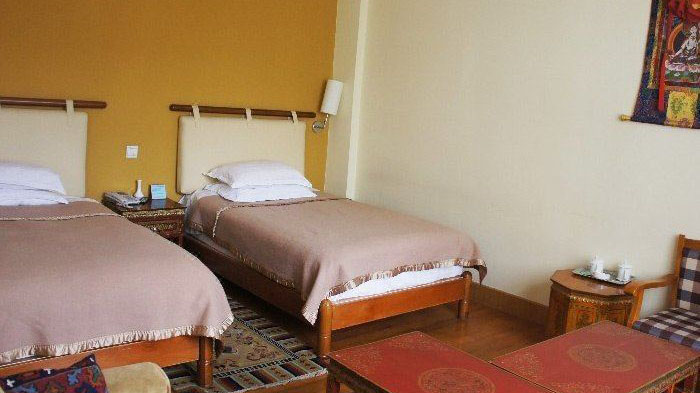 Lhasa Kyichu Hotel
The Lhasa Kyichu Hotel may be more than 2km from the Potala Palace and 1.8km from the Jokhang Temple, but it makes up for that in its traditional Tibetan styling both inside and out. Named after the Kyichu River, which in Tibetan is known as "the river of happiness", it is one of the oldest private hotels in Lhasa catering to travelers and is a cozy 52-roomed family-run hotel. The spacious rooms in traditional Tibetan décor are all provided with attached bathroom and 24 hour hot running water. The Kyichu Garden Restaurant has umbrella tables in a spacious green courtyard lawn, and serves a wide selection of Continental, Indian, Nepalese, and Tibetan dishes.
Luxury hotels you can find in Lhasa
The luxury St.Regis Lhasa Resort in Jiangsu Road is one of the best hotels in Lhasa, and while it is a good distance from the center of town, this international luxury hotel is a green international luxury hotel that uses solar and geothermal energy to save energy consumption. The St. Regis Lhasa Resort offers refined luxury and superlative service and has 150 luxuriously appointed guest rooms and 12 spacious villas and suites. The hotel also offers a wide range of international cuisine as well as authentic Tibetan, Nepalese, Cantonese and Sichuanese cuisine at its signature all day restaurant, and the Haut-Brisson wine bar has over 140 labels of wine, liquors and aged cigars, and a Tea Room offering a relaxing afternoon with different blends of local and imported teas.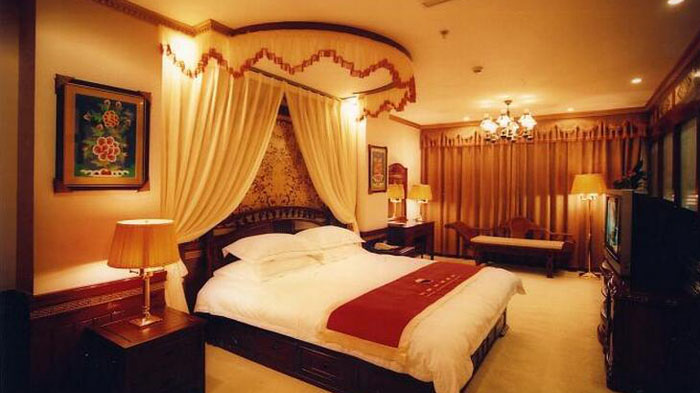 Lhasa Manasarovar Hotel
The Lhasa Manasarovar Hotel is another of the 5-star hotels in Lhasa, located in Yangcheng Square in Lhasa, opposite the beautiful Lhasa River. It is close to the railway station and the eastern bus station as well as the Potala Palace, Jokhang Temple, and Barkhor Street. The hotel has 190 five star guest rooms including president suites, deluxe Tibetan commerce suites, deluxe standard rooms and single rooms.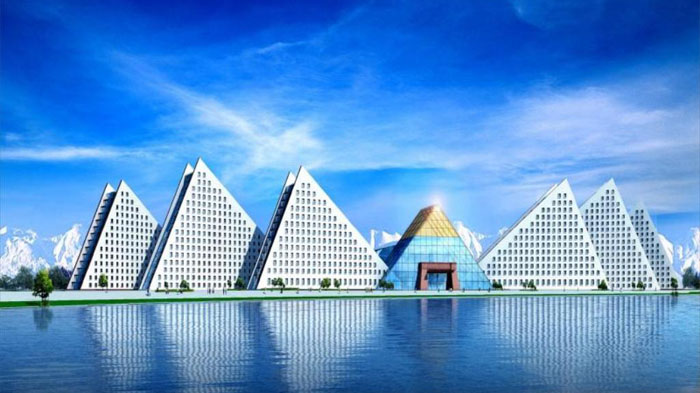 Intercontinental Lhasa Paradise Hotel
Located in downtown Lhasa, along the Lhasa River, the Intercontinental Lhasa Paradise Hotel is close to several famous attractions, including the Potala Palace, Jokhang Temple, Ramoche Temple and Tibet Museum. It is also one of the most luxurious hotels in Lhasa with 5 stars. Rooms include twin, double, and executive rooms, all with air-con, heating, showers and baths, and its own oxygen systems. The hotel has 472 rooms in total, which offer 24-hour room service, minibars, TVs with satellite channels, coffee makers, hair dryers, and phones in the room. Along with 3 restaurants, the resort has 4 bars and a coffee shop with free Wi-Fi in public areas, and a free area shuttle.
Hotels in Shigatse Tibet
As the gateway to Mt.Everest, Shigatse is the second most popular destination in Tibet, next to Lhasa. The most common accommodations in Shigatse city are three-star hotels. These hotels offer a wide range of services, similar to those in Lhasa, and many now offer good internet connections in the public areas of the hotels. Four-star hotels are also available, though there are no five-star hotels in the city.
You also have the option for other kinds of accommodations in Shigatse, from lower starred hotels to guesthouses and hostels that offer cheaper rooms and dorm rooms with basic facilities and often no hot water. These are ideal for budget travelers, and can be useful to save on the cost of your Tibet tour.
Best-value hotels in Shigatse
The Shigatse Manasarovar Hotel is built in classic Tibetan style and all rooms have air-conditioning, TV and telephone. The hotel is located in the center of Shigatse, in a convenient location for touring the ancient local Tibetan village with its trade market and the famous Tashilhunpo monastery. The restaurant provides you with a selection of Sichuan, Cantonese and local cuisine. There are only 55 guest rooms, but all are large and are designed with local Tibetan decoration. The rooms include deluxe suites, standard rooms and economy rooms, all of which are well furnished with modern amenities, such as air conditioning, televisions and IDD telephones. The hotel also offers standard onsite amenities for sightseeing, business and recreational facilities, which include special facilities for disabled guests.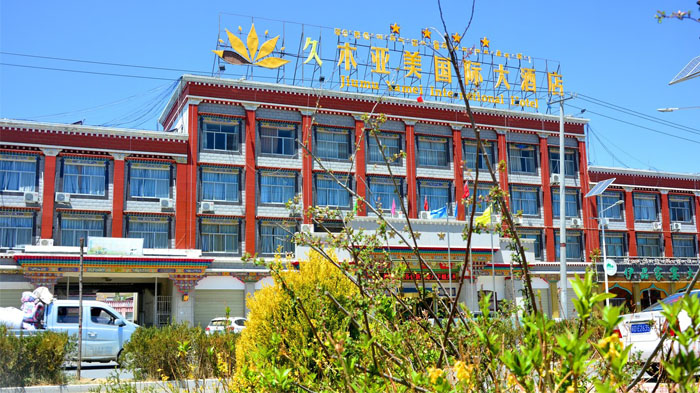 Jiumu Yamei Hotel
The Jiumu Yamei Hotel in Shigatse is an international four-star hotel in very comfortable surroundings, between the spectacular mountains and the beautiful Pearl Lake, which makes this hotel more attractive in this area. The hotel has 150 rooms, including standard rooms, luxury rooms, and luxury suites, and all of them have their own style and provide free internet. The rooms also offer adequate facilities with air conditioning, 24-hour hot water, and hair dryer. Other services include a traditional Tibetan massage and spa.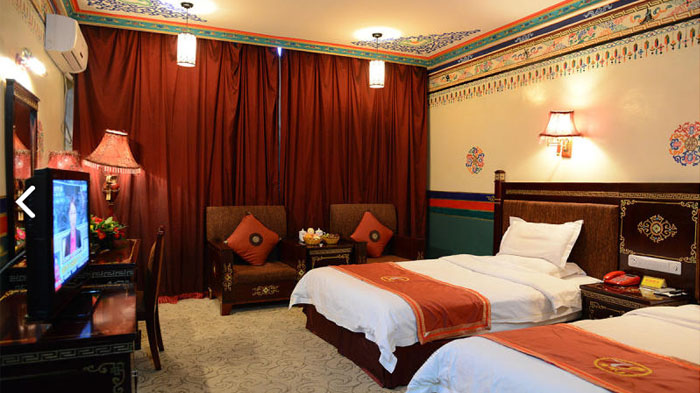 Shigatse Zanglong Grand Hotel
The Shigatse Zanglong Grand Hotel is located in the bustling downtown center of Shigatse, close to the Shanghai Square, China Post, China Customs, supermarkets, city bus terminal and the Bank of China. The hotel has 118 Tibetan-style rooms, 8 suites, and a floor of non-smoking rooms. The hotel has been built to international four-star standards, and in order to meet the varied demands of guests, rooms include general Tibetan-style standard rooms, deluxe Tibetan-style rooms, and deluxe Tibetan-style suites, all of which are equipped with digital TV, air-conditioning, IDD telephone and en-suite bathrooms with 24-hour hot water.
Accommodation Facilities at EBC
If you travel to the remote areas of Tibet such as Mount Everest National Nature Reserve in Tingri, the accommodation and facilities become extremely basic due to the inhospitable natural environment. Accommodation is mainly in guest houses such as the Rongbuk Monastery Guesthouse, usually having a public bathroom with squat toilet, or even in a yak tent with only an outdoor pit toilet at Everest Base Camp. The sanitary situation of hotels in Tingri is no comparison to western standards, so try to downplay your expectations and do prepare your sleeping bag to keep warm and clean. You can rent a tent if you would like to camp for the night at EBC or Rongbuk. This kind of accommodation is much more adventurous for the ordinary traveler, and is an experience that is well worth having. - Check the popular tours to EBC in Tibet.
Hotels in Ngari Tibet
The vast Ngari region in western Tibet is another area of the plateau that is remote with few inhabitants when compared to the Tibetan capital. An isolated area of Tibet that includes Mount Kailash, the accommodation and hotel facilities are less developed than Lhasa and Shigatse City. In most cases, home-run hostels and guesthouses are the most common accommodation you can find in small towns and villages in Ngari. However, the unparalleled scenery and divine experience will make you believe that the tour is worth the ordeal. - See All Hotels in Ngari .
Best-value hotels in Ngari
The Shi Quan He hotel in Shiquanhe Town is the only two-star hotel in the area and provides western-style rooms which are equipped with small bathrooms and 24-hour hot water. The hotel is situated beside the Shiquanhe River. Though Shiquanhe is the largest town in the west of Tibet, the hotel conditions are still not good. But the Shi Quan He Hotel stands out as one of the best in the area, with good service, a quality restaurant, and clean, spacious rooms.
The Telecom Hotel, also in Shiquanhe, has rooms that are good enough for one night's stay even though there is no hot running water. The rooms are clean and comfortable, though no heating means you will need to bring your own sleeping bag when traveling here. The hotel provides double rooms with spacious bathrooms but the water is only cold. You can taste the delicious Chinese food in the restaurant of the hotel, such as beef noodles, dumplings, etc., which are very cheap.
Accommodation facilities for Mt. Kailash kora
For those attempting to complete the Mount Kailash Kora Trek, the accommodation situation is bleak, to say the least. In this very remote area of Ngari Prefecture, the only accommodation along the route of the trek are the monastery guesthouses at Drirapuk and Dzultripuk Monasteries. Both monastery guesthouses are basic in terms of facilities, with dorm rooms that have little to no heating, no running water, and electricity until the generator goes off at night. So make sure you take a torch to find the toilet, which is outside in an outhouse beside the guesthouse bedrooms. It is also advisable to bring a sleeping bag, as the nights can still get cold and the supply of blankets in the guesthouses are limited.
Hotels in Nagqu Tibet
Nagqu in the north of Tibet is another of the more remote areas of Tibet, and the chances of finding a good three-star hotel are slim to none. Most accommodation is either 2-star or lower, and many are mere guesthouses, but most are clean and tidy with good services, often including Wi-Fi. Some do have hot water for showers, but if you are there in the peak season, or during the local horse-racing festivals, then you may not be able to book the better hotels and hostels.
Best-value hotels in Nagqu
The Nagchu Hotel is one of the best in the town, with an attractive Tibetan façade, clean lounge areas, and clean comfortable rooms. All rooms come with their own bathrooms, but only have the Chinese squat-style toilets. The hotel is popular with both tourists and locals, and does have hot showers during the day. Located on Zhejiang Middle Road in Nagchu City, this friendly hotel has a delightful Tibetan-themed restaurant that offers a range of local and Chinese cuisine.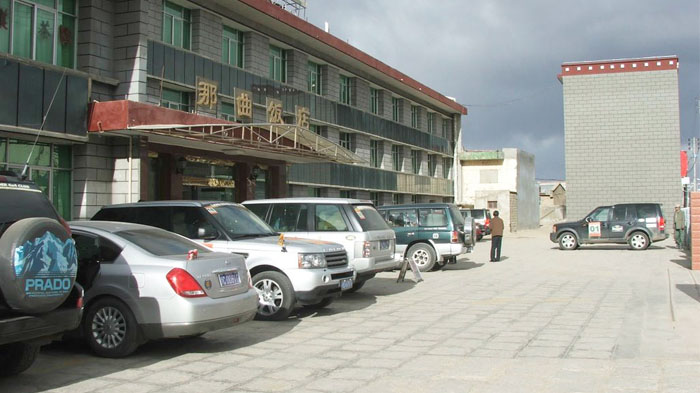 Nagchu Hotel
The Nagchu Post Hotel on the corner of Zhejiang Road & Liaoning Road is located right next to the China Post Office, and often offers discounts in the low and shoulder seasons. Rooms include twin, double, and dorm rooms, though only the twin and double have their own bathrooms. The dorm rooms have shared bathrooms, but all bathrooms have 24-hour hot water showers. Close to the Xiaodeng Monastery, it is ideal for international tourists.
The Qiangtang Grassland Telecom Hotel in Nagqu is one of the best hotels in Nagchu and is located close to the Qinghai-Tibet Highway and Railway. A modern hotel that offers good food, entertainment, bar, teahouse, hairdressing, dry cleaning and shopping for the guests, the hotel has 61 rooms, including standard rooms and deluxe suites. All guestrooms feature central air-conditioning, piped oxygen, television, and 24-hour hot water showers in the bathrooms. Its restaurant offers delicious Sichuan food, Cantonese food, Huaiyang food, Tibetan food, and snacks.
Accommodation facilities beside Namtso Lake
If you are looking for accommodation while stopping at Lake Namtso, on the boundary between Lhasa and Nagqu, then the Namtso Tent guesthouse is the perfect place to stay. Offering 3-4 beds in each room of the tent, it is a typical Tibetan-styled yak tent, but is very clean and tidy. There is no washroom in the tent, only a large tented washroom that is separate outside and there is no hot water.
Hotels in Nyingchi and Shannan Tibet
In Tsedang and Nyingchi, the highest standard is 4 star hotels. Most of the hotels are three star hotels. The hotels in these prefectures can be easily found with proper and clean facilities. Besides, the average altitude in these regions is far below than other parts of Tibet. You can have a sound sleep.
Best-value hotels in Nyingchi and Shannan Tibet
While few places outside Lhasa and Shigatse offer 4-star hotels, Nyingchi and Shannan do offer these, and you have good four-star hotels in both locations. The Nyingchi Shangbala Hotel in Bayi Town of Nyingchi is a 4-star hotel with cafe bar and restaurant that serves Tibetan, Chinese, and international cuisines. The hotel has 3 deluxe suites, 46 deluxe standard rooms, and 21 single rooms, which are all equipped with air conditioner, TV, IDD telephones, and 24 hour hot water.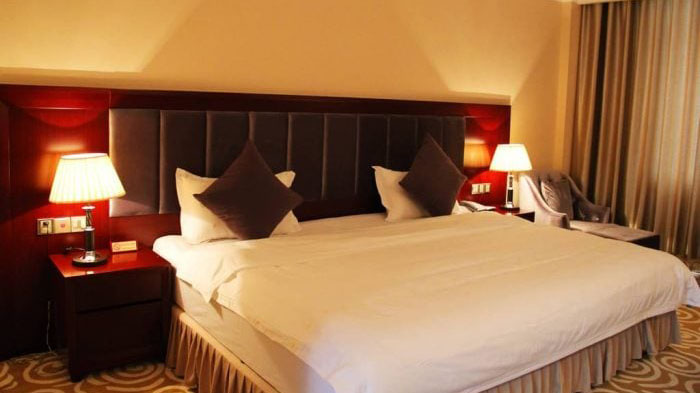 Nyingchi Shangbala Hotel in Bayi Town
In Shannan, the Yarlung River Hotel is designed according to the five-star hotel standard, but is still classed as a 4-star hotel. Located on Hubei Road in Tsedang town, the hotel has 138 well-equipped rooms, including a presidential suite, deluxe business rooms, and deluxe standard rooms. The hotel also offers Cantonese, Sichuan, Tibetan, Japanese, Korean, and Western cuisines in its beautifully decorated restaurant, and the banquet hall can accommodate up to 200 guests. The hotel also offers arrange of services that includes KTV, sauna, and full wellness spa.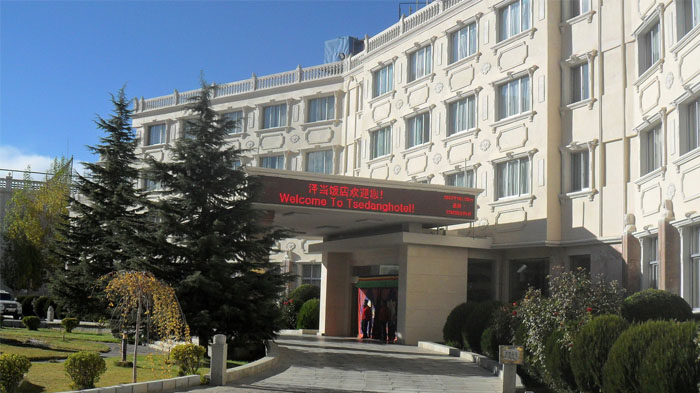 Tsedang Hotel
The Tsedang Hotel is located in the center of downtown Tsedang, and is surrounded by ancient temples and monasteries. Sitting between the majestic mountains and the graceful Yarlung Tsangpo River, it is the largest three-star hotel in Shannan and provides 233 rooms, including presidential suites, deluxe suites, deluxe standard rooms, and standard rooms. The rooms are equipped with air conditioning and heating systems, HD television, IDD telephones, and en suite bathrooms with both bath and shower. The large restaurant offers Cantonese, Sichuan, Western, and Tibetan food.
Conclusion
What kind of hotel you get to stay in on your tour of Tibet largely depends on where you are going. In Lhasa and Shigatse, as well as a couple of other places that have larger cities, you can find four and five star hotels that have all the luxury of home. However, most places outside these larger cities have only lower-rated accommodation and plenty of cheaper basic guesthouses. If you are planning a trip into the hinterlands of Tibet, in the more remote regions, then you really need to lower your expectations on accommodation in Tibet, and accept the adventure of staying in guesthouses that are little more than rooms with beds, and little else.