Gyirong Valley: A Comprehensive Guide to the Secret Garden in Tibet Himalaya
Located in the southwestern part of Tibet, Gyirong has recently grown into one of the most major connecting routes between Nepal and Tibet since the immense earthquake took place in 2005. The Gyirong port now is the only border opened to tourists traveling between Tibet and Nepal.
With more visitors coming and going, Gyirong Valley is becoming better known to more people. Although most tourists still just take it as a resting place for crossing the border, Gyirong Valley has a lot of places worth exploring.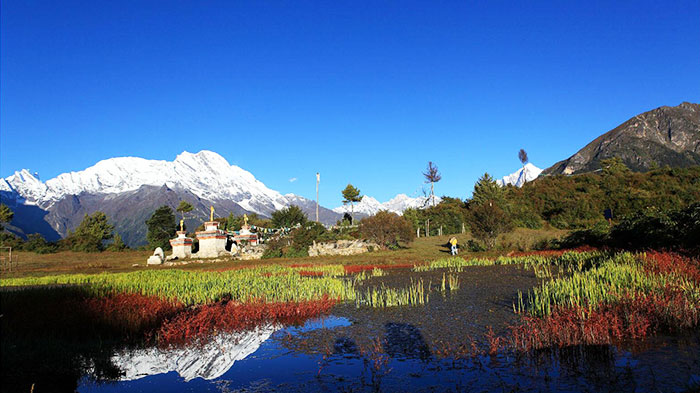 Gyirong - The Backyard of Himalayas
Here are going to show you detailed information and a useful travel guide about Gyirong Valley to help you better understand the hidden garden in Tibet Himalaya.
Location of Gyirong Valley in Tibet
Located very close to Nepal, Gyirong had come into existence due to the impact of the India Plate and the China Plate, leaving the middle portion of the Himalayas uplifted. You can get to Gyirong from either Tibet or Nepal by land.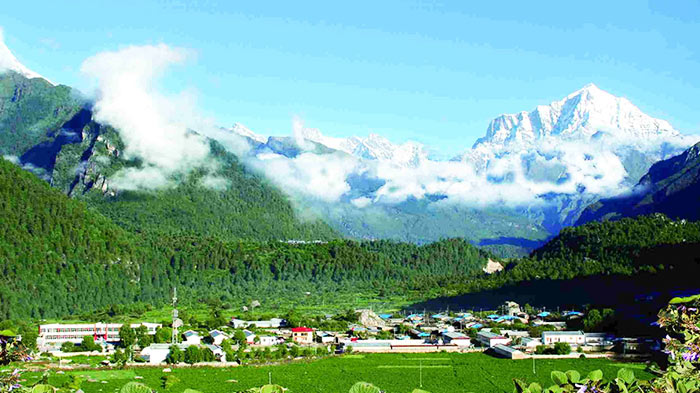 Catching a panoramic view of Gyirong Valley
As the deepest of the five mid-Himalayas Valleys, Gyirong Valley is 500 km from the city of Shigatse and involves a 12 hour trip through mountain passes, twisting descents, and rough pathways. The trip is not easy, but it truly is worth it.
In the south, the valley is only 1700 meters high, yet as you travel further northwards, it gradually increases in height throughout 100 km, eventually ending up at 7000 meters high. This is higher than you might think and means that you need to make sure to keep yourself in check to ensure you don't end up suffering from altitude sickness.
Weather and Climate of Gyirong Valley in Tibet
Like the rest of Tibet, the weather in Gyirong valley can change suddenly. Whilst it is the deepest of the mid-Himalayas valleys and is given a huge temperature advantage from its natural valley wall protection, it is still susceptible to the weather of Tibet. High altitudes mean that whilst you might find yourself too cold at the start of the day, halfway through it, the sun's heat will start to take its toll.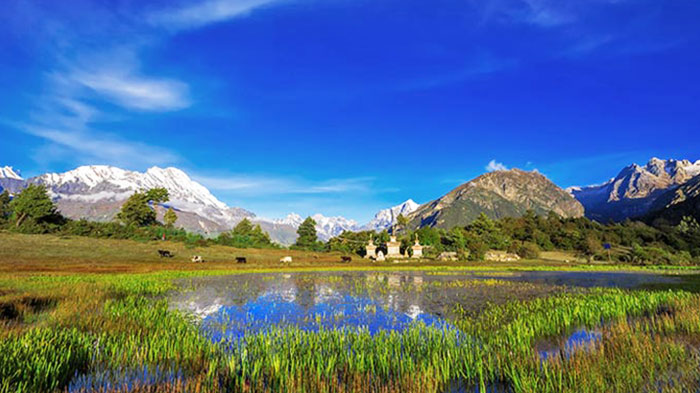 The weather of Gyirong Valley is almost always wet and humid
Whilst there is a winter in the valley it tends to be short and rainy. Winter months can find themselves as cold as -10 ℃, yet highs can reach as far as 18 ℃. The rest of the year tends to be more akin to spring, with the Valley's connection to the Indian Ocean giving it a subtropical climate at lower altitudes. It is, however, almost always wet and humid.
History of Gyirong Valley in Tibet
Because Gyirong was formed by the collision of the India Plate and the China Plate, which left the middle portion of Himalaya uplifted, it came into existence and remained a bit isolated and obscure for a large time, being embedded within the Himalayas.
Even in the seventh century, when Songtsen Gampo divided Tibet into five parts or the five 'Ru', Gyirong was still unknown. In the eleventh century, turmoil in Tibet resulted in the establishment of the empire by the warlords.
It was during this time that the hill occupied for their kingship was a portion between Zongga and Gyirong. Thus, after many more divisions and re-divisions, finally, in the early nineteenth century, the Kashag government had set up four parts in Gyirong. These four parts came directly under the jurisdiction of the town of Shigatse.
Around July 1960, the people in Gyirong formed their own government, being elected by the people.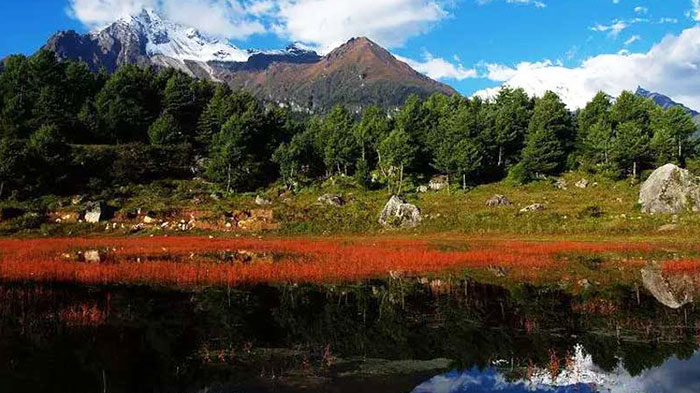 Gyirong used to be a huge trade port through which China and Nepal would exchange goods
Due to the destruction of Zhangmu, the previous Sino-Nepal Border, Gyirong has been made the new one. Therefore it is hoped that visiting this region will make people aware of its historical significance.
Top Things to Do in Gyirong Valley in Tibet
Gyirong Valley is, without a doubt, a true gem of a place for those who love nature. Due to the mild climate, Gyirong Valley features surplus vegetation of both flora and fauna. Also, it is a beautiful place with a fascinating Tibetan culture.
Visiting Gyirong valley could be a unique experience, but only a few travelers notice it. If you are going to take a Lhasa Kathmandu overland tour, it is recommended to spend some time in this lovely valley to visit the top attractions in Gyirong.
Visit the Ruins of Gogtang Kingdom
Some of the most interesting of these are the ruins of the Gongtang kingdom. From the time of the 11th century AD, the kingdom of Tibet was divided into several different factions. In the area of Gyirong, that faction was known as the Gongtang kingdom. They ruled for more than 600 years before they eventually fell into ruin, leaving behind some of Gyirong's most impressive and almost complete ruins.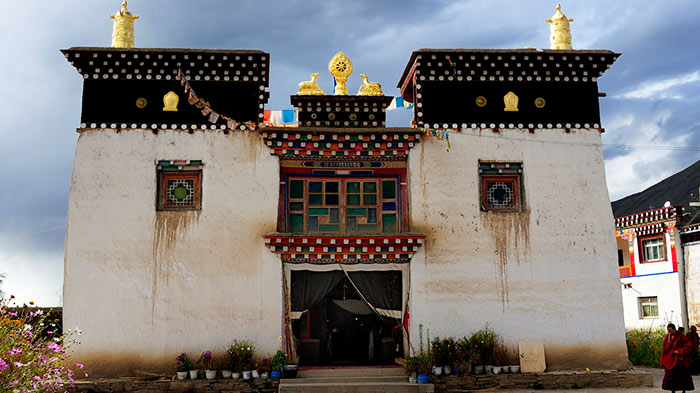 Dolma Lhakhang
Heading to what was once the Gongtang Kingdom's Palace, you'll find four remaining sections. The palace had been built by hand. A collection of natural stones and soil is used to build the structure. Within the ancient city, an old temple known as Dolma Lhakhang still stands. Visit it to see a rare glimpse of an ancient people whom time forgot. Make sure to pack appropriately for trekking through ruins though.
Enjoy the Beautiful Gyirong Valley and its Unique Fauna and Flora
Besides the previously mentioned ruins of the Gongtang Kingdom, there are many places within this lush and inviting valley to explore and visit. However, possibly the most beautiful of them all is simply the valley itself. As a great hiking location, Gyirong Valley gives you access to a piece of the world that has been hidden away for centuries. A place where hiking through its wilderness will lead to you finding and discovering new and interesting wildlife.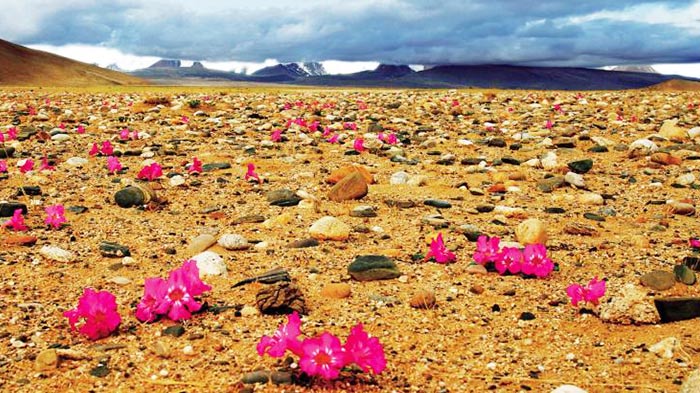 Flowers in Gyirong Valley
Keep an eye out for the blood-red Herba Rhodiola, the huge Ganoderma mushrooms, or the tiny Cordyceps which stick out of the floor. The plant life here is unique, strange and - in some cases - unlike anything you will have seen before.
Explore the Small Village of Nitsun in Gyirong
Nitsun is a small village located in the Gyirong valley. Translating to 'seat' in Tibetan, the place is seen as a 'holy place blessed by divinities'. It's truly beautiful and offers some incredible panoramas of the Gyirong Valley. This is particularly true of Tiebi Peak and the snow mountain Rawobanba. Make sure to pass through, it's an area where the people are just as interesting as the landscapes behind them.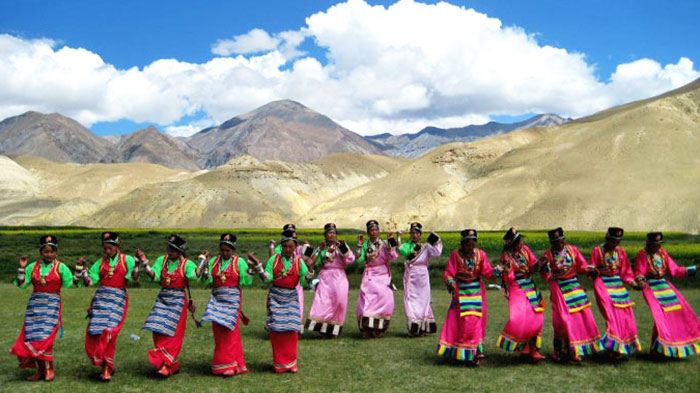 Villagers of Nitsun will greet you warmly and offer you some of their local food to try.
The Village is actually made up of many smaller 'villages' and between them, you'll find farmland aplenty. Between working and relaxing, villagers will greet you warmly and offer you some of their local food to try.
Gyirong Valley Travel Tips
If you're thinking of heading to Gyirong Valley, make sure you know the following things before you depart.
When is the best time to visit Gyirong Valley
The best time to head to Gyirong valley is in the summer months between June and September. The valley is in full bloom, with some of the most beautiful sights it offers taking place. Heading here in winter is also possible, yet the trip will most likely not be as spectacular.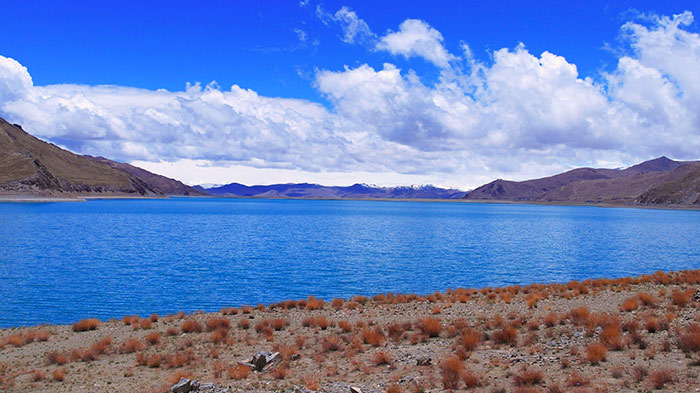 The best time to head to Gyirong valley is in the summer months between June and September.
Where to stay in Gyirong Valley
There are some places to stay in Gyirong valley including Nitsun village, the town of Zongga, and the town of Gyirong. Hotels in Gyirong are not very good, compared with hotels in Lhasa and other cities in Tibet are probably only the most basic two-star standard.
You can choose where to stay in Gyirong Valley depending on your specific itinerary.
Head into Nitsun Village and you'll find yourself immersed in the local way of life. It's a great place to stay and only will give you access to some incredible Gyirong Valley views. You'll probably need help securing a place to stay here, though. There are only 400 people living in the village.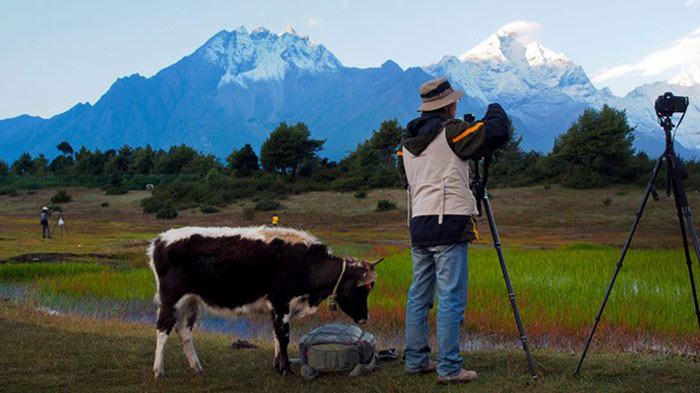 You'll find yourself immersed in the local way of life here in Nitsun Village.
If you don't have that kind of help, then you can always try somewhere a little further afield. The small town of Zongga is only 20 km from the valley, although it's quiet and small. A little larger, the town of Gyirong 73 km away. It's advisable to check with your travel consultant before heading into the region as to what type of accommodation options are available.
How to Get to Gyirong Port
You can either go to Gyirong from Tibet or Nepal. If you take a Lhasa to Kathmandu overland tour, you can get to Gyirong after visiting Everest Base Camp. Gyirong Port is actually 68 kilometers south of the town of Gyirong. It is suggested to stay overnight in the town before you cross the border.
From Kathmandu to Gyirong, you can either go by local bus or by private car. It takes around 7 to 8 hours to finish the 130 kilometers' distance to the border.
Conclusion
Gyirong can be rightly said to be a hidden beauty that waits with full surprises for you. Though Gyirong attracts lesser attention than the other important tourist spots in Tibet, in no way it is less happening and beautiful.
As a necessary route of a Tibet Nepal overland tour and where the border is, it is worth slowing down your steps to experience the culture, history, and fascinating scenery of the Gyirong Valley in Tibet.
More Pictures about Gyirong Vally and its' Attractions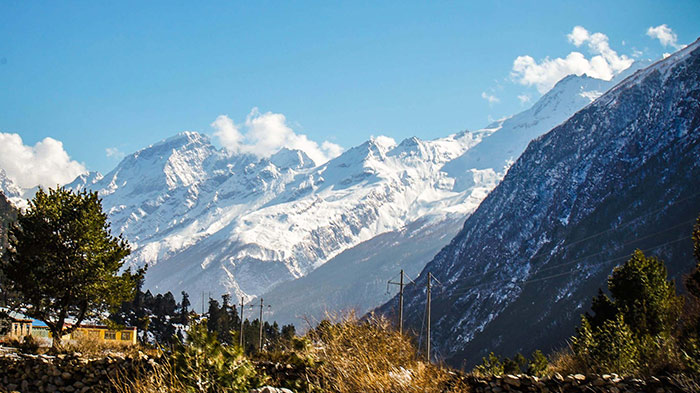 Gyirong Valley is higher than you might think.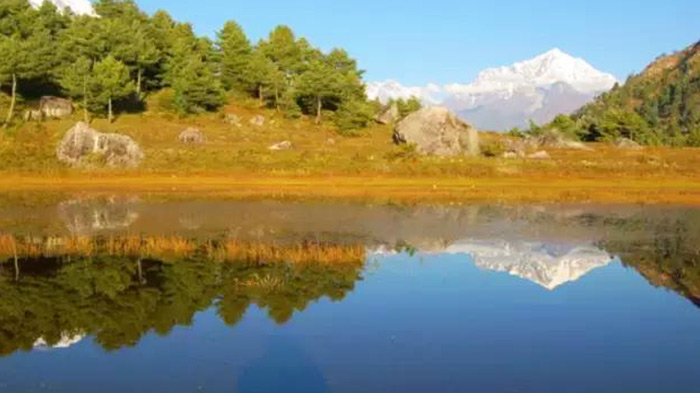 Gyirong Valley seems like a place for those who want to find mystery and explore Tibet's ancient secrets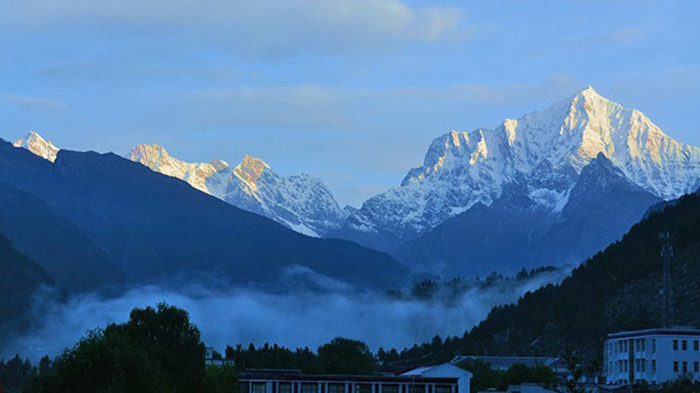 Gyirong Valley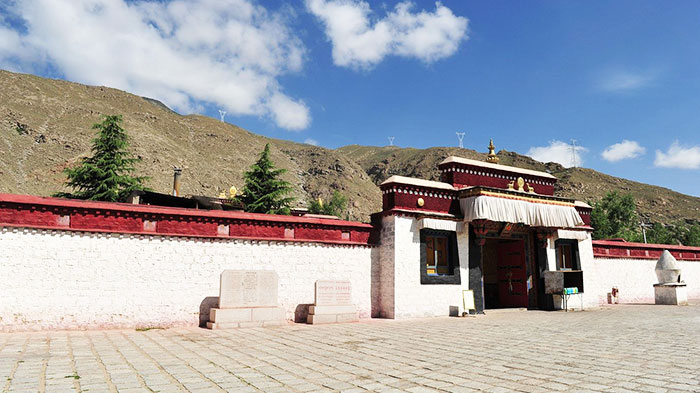 Dolma Lakhang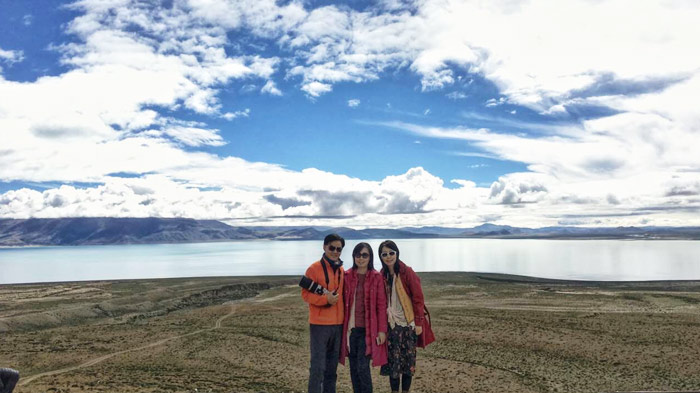 Appreciate the stunning Peikutso Lake in Gyirong