Best Time to Visit Nepal
As Nepal is a country with drastic altitude change within a limited strip of land, the temperature and climate of Nepal vary greatly from boreal and highland climates to savanna climates. So it is better to visit Nepal at the right time.
Best Time to Visit Nepal
The climate of Nepal is divided into a dry season (October to March) and a rainy season (April to September), and the peak tourist season is concentrated in the dry season.
And the best months to travel to Nepal in the peak season are October, November, and December for the clear skies and pleasant weather.
Spring in Nepal (March to May, Ave. Temperature 8-24 °C)
Spring of Nepal starts from March to late May, which is a popular season for trekking in Nepal. Since it is also the season for rhododendrons bloom, while trekking in Nepal in spring, you can enjoy a stunning view of mountains and hills covered by different rhododendron species.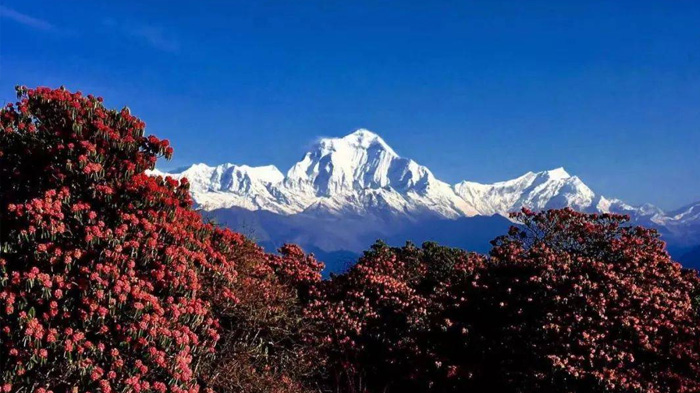 Rhododendrons in Nepal in Spring
Summer in Nepal (June to August, Ave. Temperature 18-28 °C)
From the end of May, the climate of Nepal will be gradually influenced by the monsoon. By June, the monsoon season begins and will last until August. The climate is hot and humid in summer, with average temperatures above 30 °C and frequent rainfall.
It is the time when the mountains will be shrouded in dense clouds and mist caused by the monsoon. Due to the unpleasant weather, it is not an ideal time for trekking in Nepal, and is a low season for Nepal sightseeing tours.
Autumn in Nepal (September to November, Ave. Temperature 17-27 °C)
Autumn in Nepal is one of the best seasons to visit Nepal for the fine weather. As the monsoon season in Nepal gradually leaves in September, October and November come to be the best season to visit Nepal, especially for trekking and mountaineering in Nepal.
Winter in Nepal (December to February, Ave. Temperature 4-20 °C)
The winter of Nepal takes on lovely days with clear blue skies and radiant sun. However, the temperature can go down to minus 1 Celsius. In some high-altitude mountainous areas, it could be freezing cold, especially at night. To winter trekkers or mountaineers, a full preparation before departure and with the company of an experienced guide are of utmost importance.
Best Time to Visit Popular Destinations in Nepal
Nepal is a long and narrow country, with year-round snow in the mountains in the north, hot summers and windy winters in the plains in the south, and a mild climate in the central hilly valleys, making it suitable for travel all year round. Therefore, depending on your travel destination in Nepal, the best time to travel may also vary.
Best Time to Visit Kathmandu
The best time to visit Kathmandu is from September to December, during which you will not only enjoy the pleasant weather but also experience the local festivals.
Another good time to visit Kathmandu is spring. Temperatures gradually warm up in March and April, and this is also the time when rhododendrons are in bloom. You can enjoy the beautiful sea of rhododendrons in Kathmandu valley.
Best Time to Visit Pokhara
The best time to visit Pokhara is from October to March with the most pleasant weather for sightseeing there. This is also the dry season in Nepal, when the visibility in mountain areas is good and the climate is ideal for trekking and gliding with an amazing view of the mountain peaks.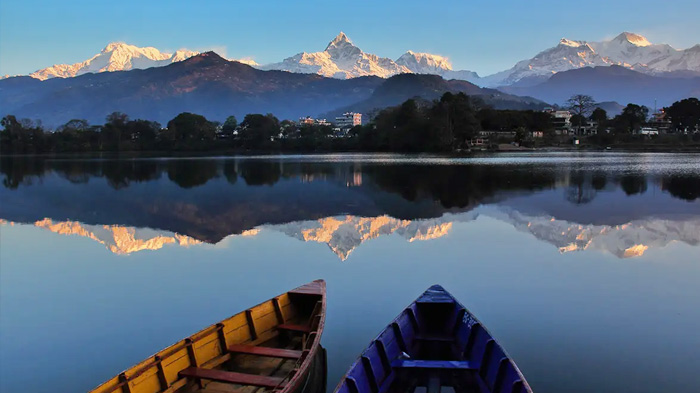 Best Time to Visit Pokhara
Best Time to Visit Chitwan
If you prefer to enjoy the diverse flora and fauna in Nepal, you are advised to visit Chitwan National Park from Oct to May when the average temperature is around 25 Celsius. You can have a safe ride on an elephant and watch closely the rarely-seen Indian rhinoceros, Bengal tiger, mugger crocodile, Indian rock python, etc.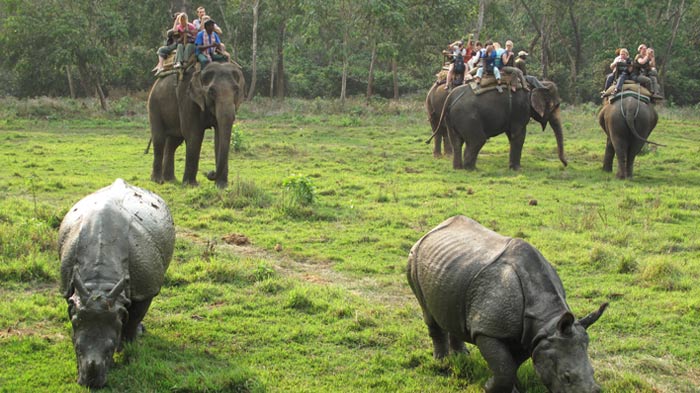 Best Time to Visit Chitwan National Park
Best Time to Trek in Nepal
The best season for Nepal trekking in Annapurna Region, Mustang, and Everest Region is from October to November. It is a time when the visibility becomes superb and blue sky, fresh air and cozy temperature accompany your travel. And there won't be any landslides or clouds that affect your tour from June to Sept.
January to February is the low season for trekking in Nepal, during which you can enjoy a quieter trekking trail in lower altitude regions, while it is not a good time for high altitude hiking because of the cold weather.
The monsoon season, from June to September, is not a good time for trekking in Nepal because there may be landslides or clouds caused by the heavy rainfall.
Best Time to Experience Festivals in Nepal
In fact, Nepal celebrates festivals all year round, just like the saying that in Nepal between two buildings must be a monastery or temple; every other day must be a festival. Exaggerated as it may sound, such a description vividly portrays how important the festivals are in the life of the Nepalese. To many foreign tourists, visiting Nepal during its traditional festivals is a great opportunity to explore the essence of Nepalese culture.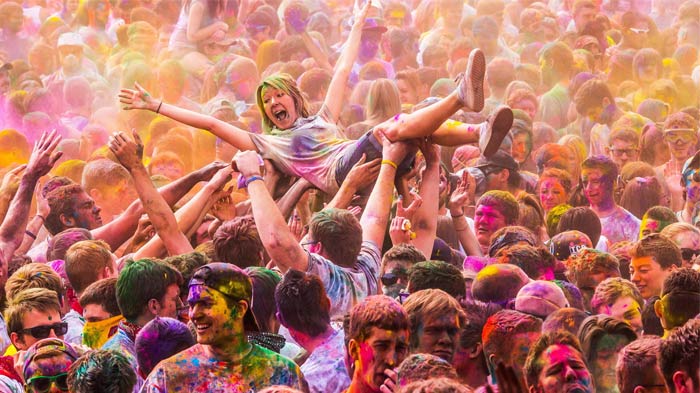 The carnival atmosphere of Holi festival is second to none in the world.
Holi Festival (Between February and March, 7 Days)
The popular Indian festival is also celebrated in Nepal on a date between February and March every year and usually lasts for seven days.
The celebration is said to commemorate the moment when the female demon Holika was killed and burnt into ashes. During the festival, people would splash colorful powers made of corn and water balloon on each other on the street. Though looking awkward, those who get splashed with colorful powers are considered to be blessed and the red color is also seen to be auspicious.
Ghode Jatra (between March and April)
Ghode Jatra, also known as the horse parade festival, is the most vibrant and entertaining festival in Kathmandu in spring. Though the celebration itself bears little religious significance, the exotic festival involves the grand display of stunning horsemanship, horse racing, motorcycle performance, etc. The highlight would be the presence of Kumari, the embodiment of the Living Goddess, the royal family, and royal horse-riding troops.
Buddha Jayanti (May)
Buddha Jayanti, also known as Buddha's Birthday, is the most impressive celebration that takes place in Lumbini and Kathmandu. Shortly before the festival, monks and pilgrims from Nepal, India, China, Thailand, Burma, South Korea and Japan, etc will flock to these places and get ready to pay their homage to the Lord Buddha. In Lumbini, monks are expected to have a parade by carrying the sculpture of Lord Buddha, made of jade, and thousands of people will celebrate the festival around Swayambhunath, a glorious religious architecture in Kathmandu Valley.
Teej (between August and September, 5 Days)
Teej belongs to the women's festival during which you can see Nepalese women dressed in red Sari, a traditional south Asian female garment, and they normally would fast and have a bath, and later move to Pashupatinath temple to worship the god Lingam and dance there. Women will pray for a stable and harmonious marriage, the health of their spouse and children, as well as their own pure soul. Nowadays, this festival also carries the subtext of the emphasis on women's rights and independence.
Dasain Festival (Late September and early October, 15 Days)
Dashain is the grandest and longest annual festival in Nepal, celebrated by all Nepalese across Nepal in late September and early October. Like the Chinese spring festival, Dashain stresses the unity of people and the spirit of universal brotherhood. Besides, it is also a grand celebration of the goddess'(i.e. Shakti) victory over evil Mahisashur. People would worship the goddess Durga and many sheep, water buffalo, and goats are expected to be sacrificed for the offering to the gods.
Tihar (between October and November, 5 Days)
Tihar is the second-largest festival only next to Dashain. The celebration is observed to worship Laxmi, the Goddess of Wealth. During the festival, Nepalese would dress themselves in traditional clothes and have a red Tika on their foreheads. Nepalese believe the Laxmi will visit those families whose houses are the cleanest. So they would do their best to make sure their houses are as clean as possible and illuminate their house by lighting candles, oil lamps, etc. Meanwhile, as the celebration goes on, animals like dogs, cows, and even crows are worshipped for their selfless service to human beings. Tourists may find themselves enchanted by this fascinating celebration of light and color.
Best Time to Visit Nepal and India
The best time to visit Nepal and India is in winter, from December to March, which is the dry season in both countries. Visiting Nepal and India in the dry season gives you better views and more comfortable temperatures for kinds of outdoor activities.
Since both India and Nepal are influenced by the summer monsoon, it is not suggested to visit Nepal and India during the summer holiday.
Best Time to Visit Nepal and Tibet
The best time to visit Nepal and Tibet together is from October to November and February to May. You can trek or hike on either side of Mount Everest during these months with clear skies and pleasant weather.
Best Time to Visit Nepal and Bhutan
Autumn is the peak season for Nepal and Bhutan tours, followed by spring, as the weather is at its optimum for a truly enjoyable vacation.
It is not recommended to travel in summer. The heavy rainfall brought by the monsoon will cause problems such as road collapse and affect travel. And the summer is too hot and humid, and outdoor travel is not very comfortable.
Conclusion
The dry season is a good time to visit Nepal, among which autumn months, from October to December are the best time to go.
Due to the large difference in climate between the north and the south of Nepal, you can choose the best travel time according to your destination before traveling.
If you want to trek in Nepal, it is recommended to choose spring or autumn, when the temperature is suitable, the weather is dry, and visibility is high, so that you can enjoy the beauty of the mountains and valleys better.
If you are looking to experience the holiday culture of Nepal, you can check the Nepal Festival calendar before you travel and choose the right time to go.
Whatever the purpose of your Nepal tour, it is advisable to avoid the monsoon season. Heavy rainfall and hot and humid weather may ruin your holiday.