Top 7 Attractions in Gyirong County in Tibet
Gyirong formerly was a beautiful district in south Tibet, but after 1960, it emerged out as a star attraction in the backyard of Himalayas. It is at the trade route between Lhasa to Kathmandu. Gyirong is well known for its wonderful tourist attractions. The exotic snow-capped mountains, epic lakes, and interesting sites prove out to be the best attractions for tourists. You can't miss the chance to embark your travels with the most epic expeditions at Gyirong whenever traveling between Tibet and Nepal. Check out the following interesting destinations for the most wonderful expedition:
Pakba Monastery
It is one of the monasteries built as a guard to border towns. King Songtsan Gampo built it for the Princess Bhrukuti from Nepal. Its architecture is mainly in accordance with the Nepali temple. It is located around 30 meters near to the east of Gyirong Town Government office, at an altitude of 2850 meters. It has a distinctive architectural style. Its shape is a storied stone pagoda with stairs going to the top through the middle of the tower. From bottom to top, there are four floors. Cornices are built on each floor, which gets smaller with an increase in height. Each floor is comprised of pot doors, little windows, rafters, flying angles, corrugated tiles etc.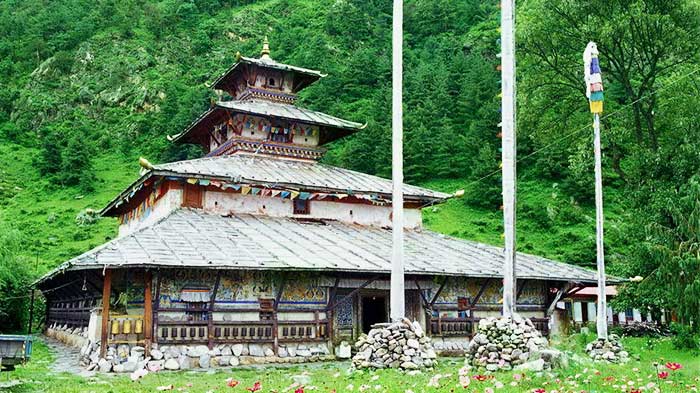 Pakba Monastery
On the top floor, there is a brass-made tower spire, connected by a circular light, upward moon, lotus canopy and a pearl. The roof is covered with sparkling red copper. The porch has a pair of round wood sculpted lions on each side. The Buddhist hall is square shaped, 3-room deep and wide with 14 columns-10 square columns and 4 round columns. 5 Dharmapalas lions are above the lintel of the hall containing the image of the founder of Dgelugspa. An image of caligraphy Master is also painted on the first column in the south east of the hall. This column also contains monastery records.
The south wall of the hall is built for lightning the east, middle and south sides of the hall. At the north wall, there is a sandalwood statue of Buddha Sakyamuni and eight Buddha statues on eastern and western walls. There is a clay sculpture of 13th Dalai Lama Terengganu, all of which are around 10 meters high. At the corner of the west wall, there is a clay sculpture of Padmasambhava. Before the main worship hall, 2 golden and 2 silver butter lamps each 30-40 meters high are provided. The best part of it is that most of the frescoes have been preserved as monastery's treasures which are of great historical and artistic values.
Pelkutso Lake
The Pelkutso Lake (Lake Piku) is located midway between Gyirong Country and Nyalam Country. It is the largest lake of Chomolungma Nature Reserve of 300 km, situated at 4590m (15070 ft.) above the sea level. It washes an area of about 2820 square kilometers. The northern part of the lake is filled with salty water while the southern part is fresh water or drinkable water.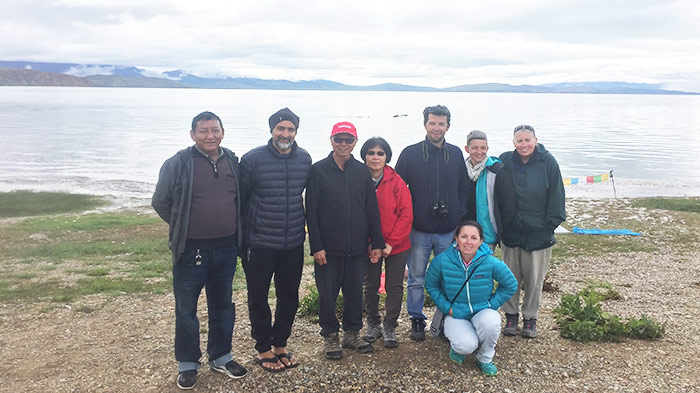 Pelkutso Lake
Lake Pelkutso is located in the ancient plateau of South-Tibetan valley. The fresh water gives it a crystal blue color which gives out a refreshing view. At the shore, there are towering snow mountains. This lake is a home to many water birds, wild horses, antelopes, cranes etc. In clear weathers, water even shows the reflection of Mt. Shishapangma, the only snow caped mountain with a height of 8000n m, ling within the Chinese territory. The lake looks like sapphire showering from heaven. The lake is free of hustle and bustle spreading prettiness. A lake is also a place for rare animals like Kiangs, and black-neck cranes.
Nitsu (Nai Village)
"Nitsun" stands for "seat" or "the holy place blessed by the divinities" in the Tibetan language. It is believed that when Atsia was invited to Tibet, he came from India to Nepal, went through Gyirong and lived in Nitsun for one year. He declared it exactly a paradise instead of a human society. This village is located at the peak of north Gyirong town, a perfect place to view the snowy mountains, morning clouds down the earth and local folk customs. There are two primitive villages situated at western and eastern sides of a flat land of more than 10 square kilometers. Those villages are named as East Nitsun and West Nitsun which are a home to nearly 70 families.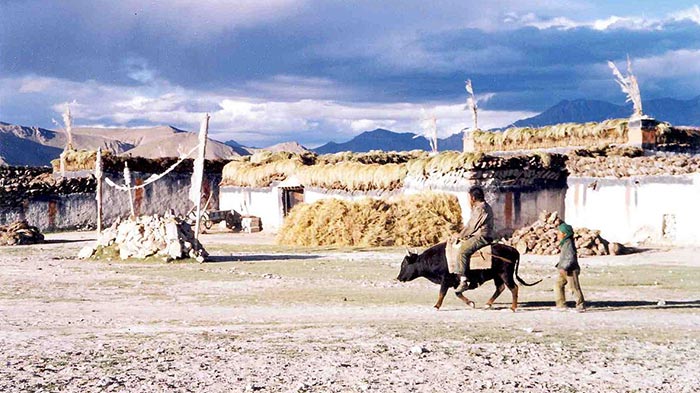 Nitsu
The framing practices include planting barley and wheat with blossoming flowers and fluttering flying insects. The southwest land is a flat land for children playing in the paradise. It can be termed as a green pastoral area with peace and silence. You may enjoy the rural scenery, a company of pure hearted villagers. You will be pleased with their hospitality and generosity offered to you. Nitsun is an ideal place to enjoy natural landscapes, glaciers, snow capped peaks like Mt. Qmagula. The snow Mount Rawobanba lies to the northwest with uneven peaks looking like a huge white screen.
The Annapurna and Lattice Rooney Peak view are worth appreciation. To the south of Annapurna, there lies a Geluni peak, which is 6977m above the sea level. It is divided into two parts just like fish tails and is also called Fish Tail Peak. The sunset tints over the snow covered mountains in a glamorous view.
Jifu Canyon
Jifu canyon is situated 2km southwest to Gyirong Town. The canyon is 15km in length, 300m deep at its deepest and 20-50m in width at an average. It has an open flat land at its edge which helps the sightseeing tourist to overlook the whole canon. A hanging bridge connects the east and west side of the canyon decorated with many colorful prayer flags. Jifu Bridge is the main passageway between Jifu village and the outside world. The bridge is 1.5m wide, 60m in length and 250m above the water level. The tourist can see the Gyirong Zangbu River and could feel the wet cold winds blowing across the bridge making your experience more adventurous. There is a paved road to the west of the bridge leading o Jifu village. Only a few people are living there.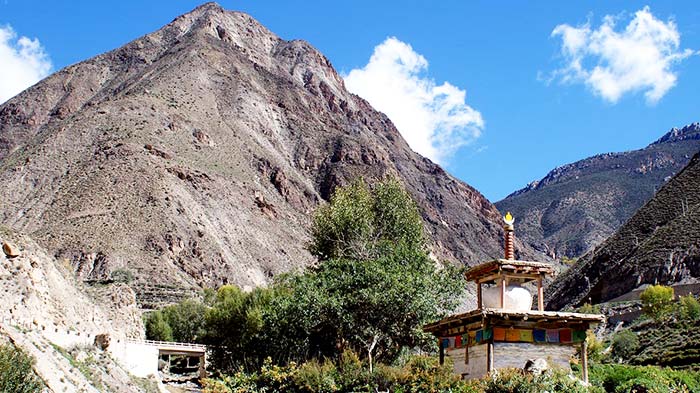 Jifu Canyon
Ri-Song-Gong-Bo Statue
"Ri-Song-Gong-Bo" statues mean "the statue of three protectors". These are carved on a huge rock lying behind the Bangxing village. This rock is about 2.2m tall, 3.2m high. The statue over it is about 1.5m high. It has a total 3 deities: in middle, there is Avalokitesvara Bodhisattva; at left there is Vajrapani Bodhisattva; at right there is Manjushri Bodhisattva. These three deities are called three protectors and together are referred to as "Ri-Song-Gong-Bo".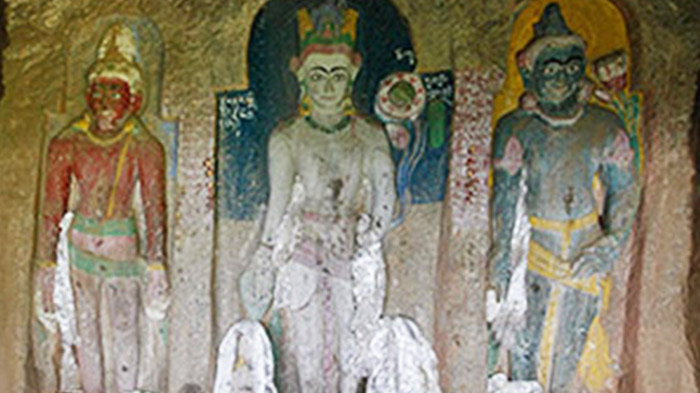 Ri-Song-Gong-Bo Statue
All three of them wore heavy jewelery crowns, had long ears touching shoulders, wearing earrings of interlined large circles. Most of the parts of statues are naked except the "T" shaped band on their waist. They are standing shoeless on lotus seat. There is pagoda in the middle. Her right hand points to the ground at the place where her left hand touches the decorative band tied at her left leg. Her body is designed in S shaped as her right hip is leaning slightly towards the right. At her left, there is lotus with decorated stem. There are two servants below the statues, all wearing the lotus crown, long earrings, necklaces, naked except that "T" shaped band tied around their waist. They have large breasts and each other were kneeling upon the lotus seat.
Vajrapani Bodhisattva has decorations like that of fire along both of his arms. His right arm is again pointing downwards towards a resting lotus seedpod with his palm facing outwards. In middle, there is a statue holding a lotus bud in her hand which is about to bloom. Manjushri Bodhisattva wears a band on the left shoulder going down to his waist. Also, there is a wide band going from right tip to right thigh beside the left thigh. His arms are resting beside him with right palm touching the pair of lotus seedpod. This statue was made by a craftsman from Nepal in the mid of 7th century. It shows sophisticated techniques of carvings and drawings. The style seems to be influenced by south Asian culture.
Monument of the Mission to India in Tang Dynatsy
"Monument of the mission to India in Tang Dynasty" is a rock inscription which was called "Awaxiaying" by Gyirong people, meaning "father of Chinese characters". The inscription was engraved on a precipice which is about 4.5km northward from Gyirong Country with an altitude of 4130m. The precipice is 1.5m wide, 4m long, and 8m high. The rock inscription is 1m long, 0.9m high and is carved in intaglio with kai style calligraphy. The title has been engraved in Lizhuan calligraphy in which each character covers an area of about 100 square centimetre.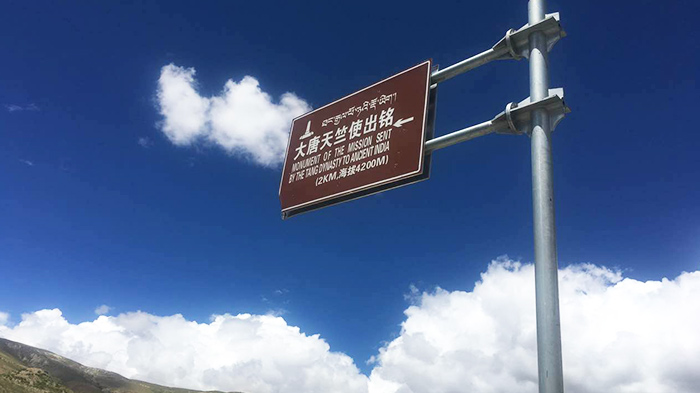 Monument of the Mission to India in Tang Dynatsy
The inscription is believed to of AD 658, the period of Emperor Gaozong of Tang. The inscriptions tell us about the hardships and dangers of Tang's government that time. It tells that the dynasty was very powerful and prosperous and legendary pilgrimage of Buddhist master Xuanzang. On 25 June 2015, this rock inscription was listed as one of the major historical and cultural site protected at the national level of the state council.
The Ruins of Gongtang Kingdom
The 11th century AD witnessed a division of Tibetan Kingdom. The descendants of Songtsen Gampo fled to Gyirong and then founded Gongtang Kingdom, whose Ruins are now in the southwest of Gyirong County. Back to that time, militaries of Tibetan Kingdom all separate to establish their own power and conflicts happened from time to time. People all lived in an abyss of misery due to fierce tribal hostilities. Gongtang Kingdom, foot on a border area, had to fight with forces of Tibet, at the same time; it must fend off the invasion of Nepal and India. The palace of Gongtang Dynasty, at the cost of three centuries building, is not so much a palace than the system of military defense.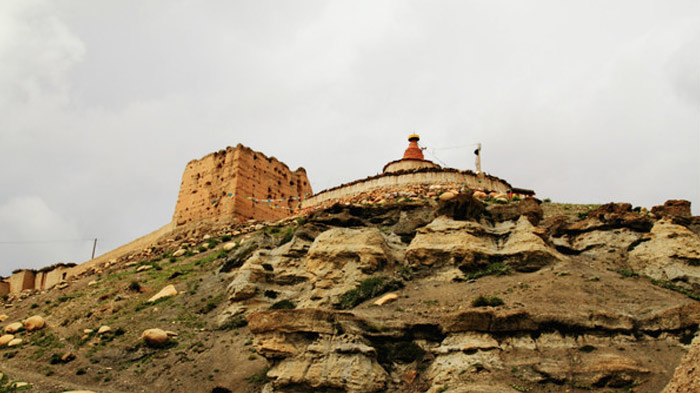 The Ruins of Gongtang Kingdom
The Kingdom finally extended to a 23rd generation and ruled Gyirong for more than 600 years. Gongtang Kingdom Palace Ruins now has four existing parts. The four corners have turrets; the middle segments are built with forts. Besides, there is an old temple named Dolma Lhakhang in the city. The incomplete barbican and the time-honored watchtower now are witnesses of history.
Now Gyirong is all ready to open its ports for international travelers now. It would be the most favored cross Himalayan overland adventure if you travel from Lhasa to Kathmandu via Gyirong.
Note: Since there is limited amount of online information introducing attractions in Gyirong County, much of the information of this article came from the Gyirong Travel Guide on www.gyirong.com If there is copyright infringement issue, please contact us for deleting.