Are There Hotels in Old Tingri? Find Hotels in Old Tingri and Nearby Places Close to EBC
Lying on the G318 National Highway from Lhasa to Zhangmu, also known as the Friendship Highway, Tingri is the stopping point for most tours that are heading to Mount Everest Base Camp (EBC) and beyond. Known now as Gangkar Town, Tingri is the county seat of Tingri County and is widely regarded as the gateway to Everest.
For travelers on the way to EBC, there are four places to stay close to the base camp region, which include Old Tingri, New Tingri, Tashi Dzom, and Basum, all of which have hotels or guesthouses for travelers to stay in. For those that are intending to stay at EBC itself, you have the choice of the tent guesthouses at the base camp or the Rongbuk Monastery guesthouse, though in the winter months, the tent guesthouses are taken down and Rongbuk is the only place to stay.
Hotels in Old Tingri (Gangkar)
Old Tingri, now known as Gangkar Town, has only one decent hotel where international tourists can stay, though it is not the only place to stay in the town. There are several small guesthouses, but in this remote location, the accommodation standard is very poor due to inadequate amenities and the lack of decent water and power supplies. The basic accommodation at this end of Tibet usually has very basic amenities, often without running water and electric and only yak-dung stoves for warmth.
Snow Leopard Hotel
The Snow Leopard Hotel which is a single story guesthouse, is the best place to stay in the area, and while the accommodation may be basic compared to Lhasa or Shigatse, it is much better than the other guesthouses in the town. The Snow Leopard is a traditional Tibetan-style guesthouse that is located on the outskirts of the town, on Zhongni Road, and is only around 48 kilometers from the Rongbuk Monastery.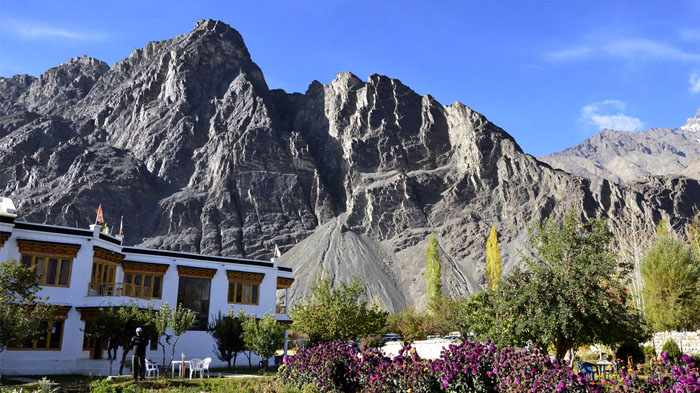 Snow Leopard Hotel
Facilities at this remote hotel are basic, but clean, and while you will find the electricity cuts out at night, it enjoys a high degree of reputability with tourists and the staff is friendly and pleasant. A basic courtyard-style hotel, the guesthouse has some newer rooms in the west wing, with better bathrooms and carpeted rooms, though they are noticeably colder than the south-facing rooms, which have better sunshine through the day.
Rooms in the hotel are either two bed or four bed, and all have private bathrooms, which is unusual for a guesthouse this far from the larger cities. The food served is basic but tasty, and while they do only serve Tibetan foods, the meals are substantial and nutritious. Décor is typically Tibetan, and the entire hotel is clean and well-kept, making it the best place to stay in the area. The hotel is also popular for the great views of Mount Everest and Mount Cho Oyu that can be had here.
Hotels in New Tingri (Shegar)
New Tingri does have some good hotels, and for those traveling to Mount Everest, they are ideal for staying for one night as you travel west to the world's highest mountain. Also known as Shegar, New Tingri is little more than a wind-raked truck stop, and is located around 12km before the turn-off to Mount Everest and Rongbuk Monastery. One of the more popular places to stay on the way to EBC, you can also take an hour or two out to visit the incredible ruins of the Shegar Dzong, a few kilometers to the west of the town. Facilities at the hotels in Shegar are pretty basic, but clean and comfortable for a single-night stay.
Tingri Qomolangma Hotel
The Qomolangma Hotel in New Tingri is a good option for accommodation in Shegar, and sits on the western side of the river on East Zhufeng Road. The hotel is just 6km from the Shegar Chode Monastery and around 17 kilometers away is the Mount Everest Viewing Platform.
The hotel has around two dozen standard rooms with private bathrooms, though the hot water can be limited at times due to the frequent power failures that occur here. If you want to take a bath or shower before heading for EBC, it is best to make sure that the power is working and hot water is available first.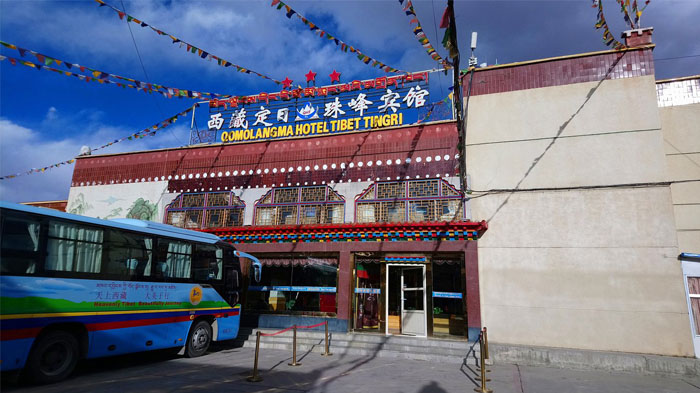 Tingri Qomolangma Hotel
The hotel is decorated throughout in traditional Tibetan style, and is relatively clean and cozy. Rooms are either double or twin, with a few dorm rooms available for a cheaper cost. The hotel has a small restaurant that is a little on the dark side, but the local Tibetan foods served is surprisingly delicious and well cooked. Also, the hotel has oxygen facilities, which is unusual, and you can use them for around 60 yuan per hour if you are feeling the effects of altitude sickness.
Tingri Everest Shanghai Hotel
Undoubtedly the best hotel in Shegar, the Tingri Everest Shanghai Hotel is a decent hotel with a wider variety of rooms and amenities. The hotel has several different types of rooms available, including standard cabins, Tibetan-styled cabins, and economy rooms, as well as standard single and double rooms and three "deluxe" suites. Amazingly, the hotel has air-conditioning in the rooms and public areas, a safe in all standard rooms, color TV, and tea/coffee makers. There are also IDD phones in the rooms, and the hotel has a 24-hour hot water supply for the private bathrooms.
Tingri Everest Shanghai Hotel
Electric blankets are also available for guests that are too cold, and while the facilities are not up to the standards in Shigatse; this is the most comfortable hotel on the way to EBC. The small restaurant is warm and cozy, with a large wood-burning stove in the center, and offers a wide range of Tibetan, Chinese, and Western dishes that are both tasty and nutritious. Located on the South Xuebao Road, the hotel is a mere 700 meters from the Shegar Chode Monastery.
Find More Accommodation in Tashi Dzom or Basum
New and Old Tingri is not the only place where you can find accommodation on your trip to Mount Everest. As you travel from Tingri along the Zhufeng Road towards EBC and Rongbuk Monastery, there are a couple of small villages where guesthouses and hotels have sprung up to accommodate tourists heading for EBC and the great views of the world's highest mountain. The two main villages with accommodation for travelers are Tashi Dzom and Basum, where you can find some basic to good places to stay, which is better for heading to EBC as you are closer and will get more time at the base camp itself.
Tashi Dzom is an alternative place for tourists traveling to EBC to stay at, and is located on the Zhufeng Road between Tingri and EBC. One of the lowest places in the area, it is good for those suffering from altitude sickness, and is closer to EBC, so less time is spent driving the following day. The small community does have several Tibetan-styled guesthouses, and the best is the Cho Mo Lang Ma Ben Ba Guesthouse, although this is still a very basic guesthouse to stay in. rooms are either 2-bed or 4-bed, but are very clean and comfortable, though they do have the Chinese squat-style toilets. Quilts are provided in the rooms, but it is a good idea to bring your sleeping bag, as it can get cold at night. The guesthouse has a basic restaurant for food, and only offers basic Tibetan cuisine, though it is tasty.
Basum is a small township along the road to Rongbuk Monastery and EBC, and has a couple of basic guesthouses that you can stay in to get an early start for EBC the following morning. Located just 40 kilometers from the Rongbuk Monastery Basum has only a slight view of Everest, but at 700 meters lower in altitude, is a good place for those that have struggles with altitude sickness. The few guesthouses there have only basic amenities, with no showers and no hot water, but do have Wi-Fi and comfortable rooms to stay in. Rooms are normally 2-4 bed, and it is a good idea to use your sleeping bag, as it can get very cold at night. Food offered is very basic and is only Tibetan cuisine, but is nutritious and tasty.
Conclusion
Overall, there are a good number of hotels and guesthouses to stay in the area of Tingri County, and where to stay depends entirely on you or your tour group. Amenities and facilities in the various hotels and guesthouses varies greatly, and you can choose from the cheaper basic guesthouse that has no hot water and electric and only basic accommodation to the better hotels in the region that have hot showers and a wider range of cuisines available. From Gangkar to Shegar and Tashi Dzom to Basum, the quality of accommodation varies greatly, and for those that want the best, the main locations are in Tashi Dzom and Shegar.