Dorje Drak Monastery
Most important Nyingmapa monasteries
About Dorje Drak Monastery
Along with Mindroling Monastery, Dorje Drak Monastery is 1 of the 2 most important Nyingmapa monasteries. With a remote and romantic location, it is less accessible than Mindroling Monastery and consequently gets few western visitors.
   
Dorje Drak Monastery was founded by the 1st Rigdzin Godemchen Ngodrub Gyeltsen. In 1632 the monastery relocated from Tsang to its present tranquil setting on the north bank of the Yarlung Tsangpo River, or Brahmaputra, when the young 3rd Rigdzin Ngagiwangpo and his ruardian Jangdak Tashi Topgyel were forced to flee the wrath of the kins of Tsang. Their successor, the erudite 4th Rigdzin Pema Trinle greatly enlarged the monastery before his untimely death at the hands of the Dzungar Mongolians, who sacked the monastery in 1717.
   
The main assembly hall has statues of Guru Rinpoche and Pema Trinley, the 4th Rigdzin. The Samsum Namgyel Gonkhang to the right has 5 butter sculptures representing the chapel's 5 protectors. A cabinet holds the monastery's treasures, including a fragment of a staff belonging to Milarepa that was smashed in the Cultural Revolution. The upstairs chapel sells lovely ground juniper incense.
   
A demanding 1/2 hour kora lead around the back of the dorje shaped rock behind the monastery, up to a ruined retreat atop the rock. The path overlooks some dramatic sand dunes and the views from the retreat are simply stunning.
Tips of Dorje Drak Monastery
1. There are Tibetan-style beds at the Monastery Guesthouse.
2. Soft drinks and instant noodles are available in the small shops.
Attractions nearby Dorje Drak Monastery
Recommended Tour Itineraries Including Dorje Drak Monastery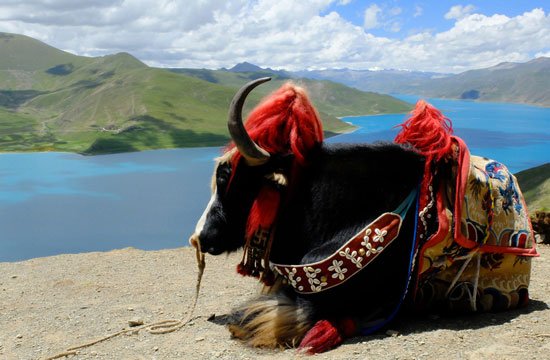 Yamdrok Lake is one of three most sacred lakes in Tibet. Tibet Vista provides more than 10 tour packages including these tourist attractions in Tsedang Prefecture at the best price.
Popular Tsedang Tour Deals
More Tibet Tour Packages
How to get there
Address: North Bank of
Yalong River
, Gongga County
Transportation:
1. Boat-- Regular boat are available in the morning and afternoon. You can also rent a boat if you like.
2. Trek
3. Car
Best time to visit it
Summer and Autumn would be the best time to go. During Jun. To Aug, the weather is the most suitable.
Opening Hours: All day long
Admission Fee
None
Read more
Get A Quotation of this Tour