Trandruk Monastery
Pearl Thangka
About Trandruk Monastery
Trandruk Monastery is one of the earliest Buddhist monasteries in Tibet, having been founded at the same time as the Jokhang Monastery and Ramoche Monastery in Lhasa. Dating back to the 7th century reign of Songtsen Gampo, it is also one of Tibet's demoness-subduing temples. In order to build the monastery here, Songtsen Gampo had first to take the form of a hawk in order to overcome a local dragon, a miracle that is commemorated in the monastery's name. Trandruk Monastery was significantly enlarged in the 14th century and again under the auspices of the 5th and 7th Dalai Lamas.

The entrance of the monastery opens into a courtyard area ringed by cloisters. The building to the rear of the courtyard has a ground plan similar to that of the Jokhang.

The principle chapel, to the rear center, holds a statue of Tara known as Drolma Sheshema, next to the 5 Dhyani buddhas. The Tuje Lhakhang to the right has statues of Chenresig, Jampelyang and China Dorje, who form the Tibetan trinity known as the Rigsum Gompo. The stove to the right is said to have belonged to Princess Wencheng, the Chinese wife of Songtsen Gampo.

Upstairs and to the rear is a central chapel containing a famous Thangka of Chenresig made up of 29,000 pearls as well as an ancient applique Thangka showing Sakyamuni.
Tips of Trandruk Monastery
1. The chapel containing the pearl Thangka is often locked when visitors are few. If you want to see it, you will have to ask for the guard.
2. It is one of the political centers, as well as 1 of 3 Holy Monasteries in Shannan Prefecture.
Attractions nearby Trandruk Monastery
Recommended Tour Itineraries Including Trandruk Monastery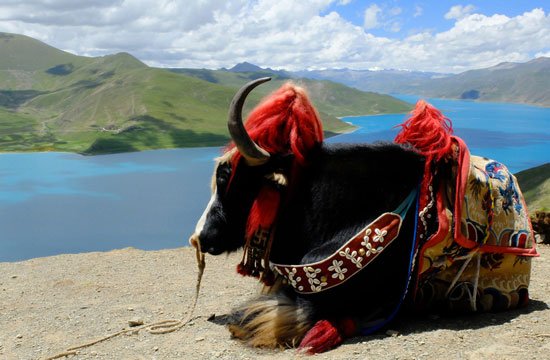 Yamdrok Lake is one of three most sacred lakes in Tibet. Tibet Vista provides more than 10 tour packages including these tourist attractions in Tsedang Prefecture at the best price.
Popular Tsedang Tour Deals
More Tibet Tour Packages
How to get there
Address: East Bank of Yarlung Tsangpo River
Transportation:
1. Bus-- Minibus runs here every 20 minutes from the main roundabout in Zetang.
3. Pedicab
Best time to visit it
You can actually visit Trandruk Monastery all year round.
Opening Hours: 9:00-16:00
Admission Fee
CNY 70
Read more
Get A Quotation of this Tour