Chim-puk Hermitage
Meditation center
About Chim-puk Hermitage
Chim-puk Hermitage is a warren of caves northeast of Samye that was once a meditation retreat for Gulug Rinpoche. After crossing through desert-like territory for a couple of hours, the path ascends into the surprisingly lush area in which the caves are found. It's an ideal route for day hike. It is said that there are 108 meditation caves, 108 spring mouths and 108 sky burial grounds. This is no doubt a popular day hike for travellers spending a few days at Samye. Were you lucky enough, you might find a pilgrim truck heading up there in the early morning. You could also hire a tractor in Samye. Ask at the reception of the Monastery Guesthouse. Otherwise the walk takes around four or five hours up and three hours down. Take plenty of water.
   
Embraced by lush hills on 3 sides and facing the broad Yarlung Tsangbo Valley, the Chim-puk Hermitage is renowned not only for being the most famous meditation place of Tibetan Buddhism, but also for its unique humane climate and beautiful scenery presented at an altitude of 4,300m.
   
Numerous small retreat caves and hermitages are located on the hills, among which those once inhabited by Padmasambhava (known as Gulug Rinpoche to Tibetans), Yeshe Tsogyal (student of Padmasambhava) and Trisong Detsen (742-798, the 5th Tibetan king) are the most prestigious. Handprints and footprints impressed on rocks can be found everywhere, and the enormous footprint on the Guruta Rock is said to have been left by Padmasambhava.
   
Currently, the caves are inhabited by over 200 Buddhists, 70% of whom are nuns. Leading a simple life which might be unbearable for the commoners, these dedicated Buddhists believe that the Chim-puk Hermitage-- the place in which Padmasambhava meditated and taught Dharma to his disciples-- will bring them more spiritual achievements in meditation.
Tips of Chim-puk Hermitage
1. There is no restaurant or hotels near Chim-puk Hermitage, but you can find a vendor just beside the guesthouse, where you can buy biscuits, instant noodle and things like that.
2. The guesthouse provides only 6 beds, costing about CNY 15 per person per night.
3. If you like, you can also camp tents nearby.
Attractions nearby Chim-puk Hermitage
Recommended Tour Itineraries Including Chim-puk Hermitage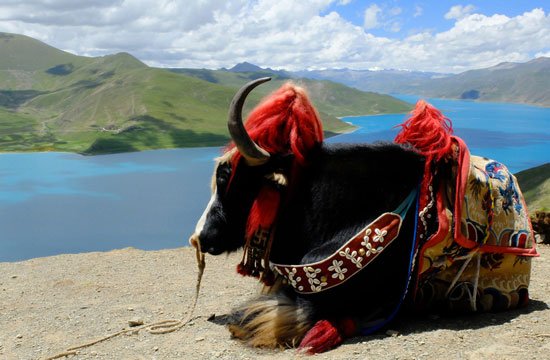 Yamdrok Lake is one of three most sacred lakes in Tibet. Tibet Vista provides more than 10 tour packages including these tourist attractions in Tsedang Prefecture at the best price.
Popular Tsedang Tour Deals
More Tibet Tour Packages
How to get there
Address: North Bank of Yalong River
Transportation:
1. Bus-- There are buses bounding for Chim-puk Hermitage at
Samye Monastery
at 6 a.m., roundtrip ticket CNY 10 per person.
2. Car-- The road condition is not very good.
3. Trek-- You may as well take some sunscreen and other sand prevention gears.
Best time to visit it
You can actually visit Chim-puk Hermitage all year round.
Opening Hours: All day long
Admission Fee
None
Read more
Get A Quotation of this Tour