Samye Monastery in Shannan, Tibet
Sitting at the foot of Mount Hepo Ri in Dranang County, Shannan Prefecture, Samye Monastery, founded in the 8th century by King Trisong Detsen, is thought to be the first Buddhist temple and college in Tibet, and has combined Tibetan, Han and Indian architectural styles altogether. Highly reputed as the birthplace of Tibetan culture as well as the cradle of Tibetan Buddhism, Samye Monastery has loads of stunning highlights and awesome tour experience for you as follows:
Explore the unique structure in Tibetan Buddhist history - Samye Monastery's layout is based on Buddhist cosmology: it is a mandalic 3D replica of the Tibetan Buddhist universe. The temple complex has been constructed according to the principles of geomancy, a concept derived from India. At the center of the Tibetan Buddhist universe lies a mythical palace on top of Mt. Meru, which at Samye is symbolized by the main temple (Utse). Surrounding this is a great "ocean", with 4 great island-continents, and 8 subcontinents; worship the 4 Large Chortens and other sacred sites - the complex is bounded by an oval wall pierced by 4 gates and topped by 1,008 small chortens that represent Chakravala, a ring of mountains that surrounds the universe. The wall itself has been hastily restored, using a large amount of concrete; observe the great debate of Samye - watching monks debating Buddhism sutras and scriptures with exaggerated gestures and logic arguments; attend Tibetan Festivals - if possible, you can also time your trip with Weisang Festival and Cham Dance Festival held in Samey Monastery; climb to Mt.Hepo Ri - capturing the stunning vista of Samey Monastery, Tsedang Valley and Yarlung Zangbo River; make a detour to Chim-puk Hermitage - visit the hermitage caves used by Buddhist lamas; trek from Ganden to Samey - the best hike takes you through some of the Yarlung Zangbo Valley's most beautiful landscapes and scenery, etc.
Just name a few above, please follow our in-depth guide below and make the most of Samye Monastery tour.
Basic Facts:
Chinese name: 桑耶寺Sāngyē Sì
Location: at the foot of Mt.Hepo Ri, north bank of Yarlung Zangbo River, Dranang County, Lhoka; or 136 kilometers from Lhasa; 49.7 kilometers from Tsedang Town
Altitude: 3,565 m (11,696 ft)
Builder: King Trisong Detsen of Tibet (775)
Type: the 1st Buddhist monastery in Tibet; a masterpiece in Tibetan Buddhism architecture
Opening Hours & Ticket: 09:00-16:00; 40CNY/Person (all year round)
How to Get There: You may either hire a private car or choose our clean and safe tour vehicle with seasoned local tour guide and driver. It often takes 3.5hrs to drive 136km from Lhasa to Samye or 1.5hrs to travel from Tsedang Town to Samye.
Samye Monastery Photo Gallery
All Articles about Samye Monastery
To make sure you can enjoy the best Samye Monastery travel experience available, we kindly prepare the latest and most easy-to-use Samye Monastery travel and tour guides below for you. From Samye Monastery history to day tour planning, etc., you can follow the insider's tip and won't miss the single moment when visiting the first Tibetan monastery in Lhoka.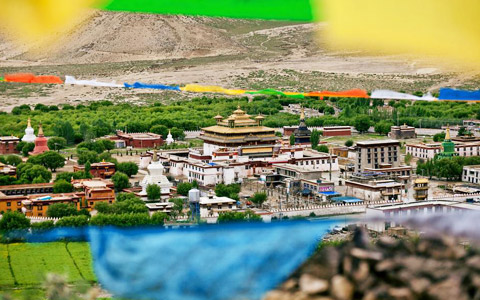 Samye Monastery Tour: how to plan the day tour in Samye Monastery
Lying in the Lhoka Prefecture of Tibet, to the south of the Tibetan capital of Lhasa, Samye Monastery is one of the most stunning buildings in Tibet, and has been around for more than 1,200 years. For cultural explorers, Samye Monastery tour would be a delightful day trip from Lhasa to learn more of the ancient history of both Tibet and Tibetan Buddhism. Please follow our travel guide below and get ready to make most of your tour in ......
View More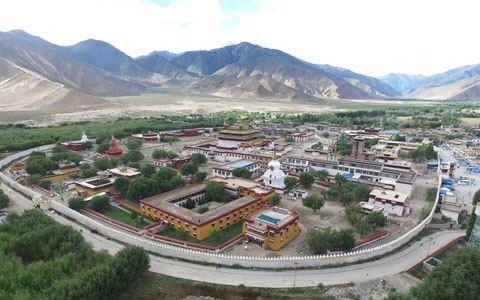 Samye Monastery History: unveil the mystery of the first Buddhist site in Tibet
Built in the 8th century, Samye Monastery was the first true Buddhist monastery to be built in Tibet, and lies in the stunning area of the Yarlung Zangbo River Valley in Tsedang County of Lhoka Prefecture. Lying around 51 kilometers from Lhasa as the crow flies, the monastery is 121 kilometers from the Tibetan capital by road, and takes around 2 hours to drive. The monastery is believed to have been constructed in around 775-779 AD, under the ......
View More
Recommended Tibet Tour Itineraries Including Samye Monastery
After visiting Potala Palace and Jokhang Temple and acclimatizing properly to the high altitude, you can travel from Lhasa to Samye Monastery to explore the mysterious Tibetan Buddhism culture and appreciate the unique buildings and precious Buddhist relics. Or trekking from Ganden to Samye Monastery is also a nice try! Check the top 4 highly recommended Tibet tours with a short visit to Samye Monastery.
Tourist Attractions Nearby Samye Monastery