Lhasa Winter Tour: best travel guide to winter tour in Lhasa
The majority of travelers like to visit Tibet from April to October. During these periods, the temperature is warm. However, winter is also the best season to take a Tibet tour. The average temperature of Tibet in winter is about 12℃ and can be even higher in the daytime because of intensive sunlight. You may not feel so cold but comfortable under the sunshine. Also, you can appreciate the splendid scenery of the snowy high plateau. Hence, winter is also a good season for travelers to start a Tibet tour, especially for you to visit Tibetan Monasteries and Temples, to enjoy the perfect weather for photography and observe the rarely-seen migratory birds on the Plateau and experience the exotic Tibetan Festivals.
What to Experience in Lhasa in winter?
Most of the travelers would choose the peak season between April to October to travel to Tibet. Some people have some misunderstandings about the winter in Lhasa, believing that Tibet would be very cold during the winter months. But actually, it is not true. On the contrary, travelers can appreciate a unique and memorable Lhasa winter tour.
Visit Tibetan Monasteries and Temples with Fewer Tourists yet More Tibetan Pilgrims
During the peak tourist season, usually from April to October, you will meet the majority of the tourists from all over the world. The major scenic spots such as the Potala Palace, Jokhang Temple, and other attractions will be crowded. You may cannot enjoy it fully. However, with winter coming, there are fewer tourists to experience the glorious regions. But, travelers will encounter more Tibetan Buddhists. Therefore, Pious Tibetan pilgrims in Tibetan monasteries and temples will become another attraction in winter for visitors from home and abroad. Moreover, there are very few people visiting the Tibetan monasteries and temples in winter. Therefore, it is a wise choice to visit the Tibetan Monasteries in winter.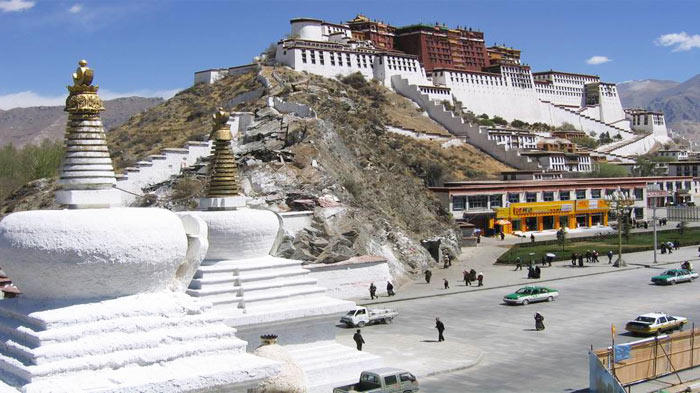 The potala palace lies quietly in winter.
Thousands of Tibetan pilgrims from all different corners of the Tibetan plateau pour into Lhasa during the winter months, because winter is the best season for local Tibetans to make their pilgrimage and travel to Lhasa and around. Tourists are able to travel to the spectacular Ganden monastery, do a kora of the hilltop with the Tibetan pilgrims, the peaceful Lhasa valleys and snaking rivers far below are some of the highlights of central Tibet.
Therefore, the temples and monasteries are very lively with local activities, such as the Jokhang Temple, Samye monastery, and the other major monasteries. What's more, you can see Tibetans from all walks of life, and experience Lhasa's devout heart - multitudes of Tibetans practicing Tibetan Buddhism. In this time exploring monasteries in Tibet enable you to experience the authentic Tibetan culture, tradition and religion. At the same time, a lot of unexpected things can be explored during such time. - See the detailed itinerary of Ganden Samye trekking winter tour
Enjoy the Perfect Weather for Photography
Winter is Tibet's low travel season. Another benefit of the low season is that you can enjoy the perfect weather for photography on the roof of the world. Especially since December and January are dry months with clear skies and abundant sunshine that really warm you during the day. It's a good time to take pictures, as visibility through the thinner air gets improved.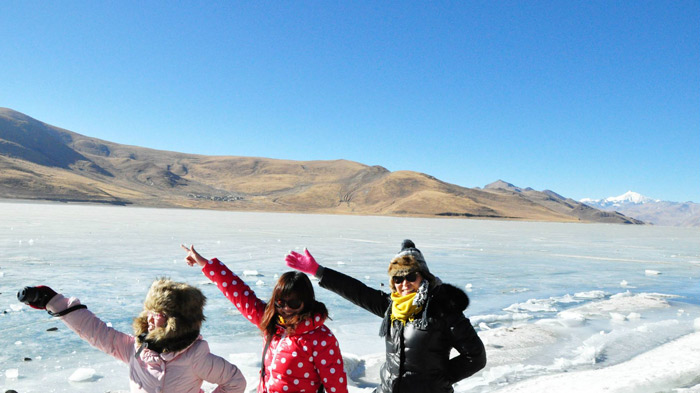 The snow-covered landscape of Yamdrok Lake in Winter is really a good place for photography.
Tibet, being the land for some of the tallest mountains in the world, has a lot of mountain trek routes from Lhasa. Capturing the mightiness of these daunting and special mountains with gray rocks and blue and white sky in winter is probably every photographer's dream. If you intend to spend several days exploring the history-laden city and its ancient gompas and palaces, some of the highlights are exploring Drepung and Sera Monastery and marveling at the powerful and sacred Jokhang Temple, and the Potala Palace will also provide a spectacular backdrop for photos of Lhasa in winter.
Observe the Rarely-seen Migratory Birds on the Plateau
Tibet is the paradise for migratory birds, because numerous migratory birds will spend their winter in the wetlands of the Damxung and Lhasa river wetlands. For it provides favorable ecological environment, wetlands, lakes, and pasture for the migratory birds, like the black-necked crane, black-headed gull, bar-headed goose, yellow duck and so on. According to our travel experts' experience, there are some best places where you can observe the migratory birds.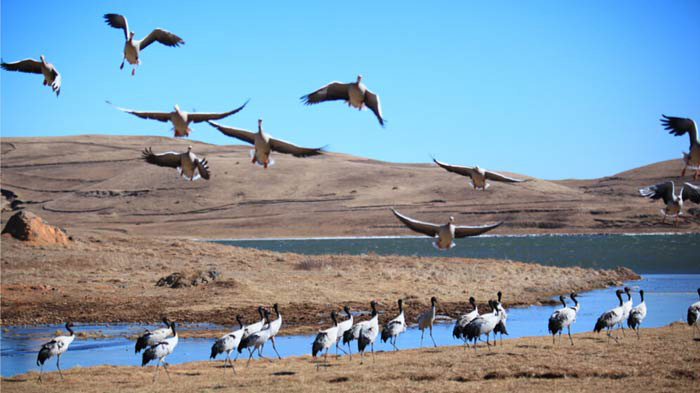 Migratory birds fly to Lhasa river to overwinter
Lhasa River with spectacular mountain views is one of the most beautiful river habitats in Tibet. With winter coming, Lhasa river wetlands begin to get busy, with thousands of migratory birds descending on the area for the winter. The black-headed gulls and wild ducks can be seen here. Maizhokunggar County is another place to watch migratory birds. It is located in 68 kilometers east of Lhasa and is a rural area of Tibet. Black-necked cranes, bar-headed geese, and many other species spend the winter in this area, with its affluent abundance of winter highland barley and winter wheat. Besides, Linzhou County, Zongjiao Lukang Park, and Lalu Wetlands National Nature Preserve are also available.
Experience the Exotic Tibetan Festivals
One big and usually overlooked bonus is the festivals in winter which can offer very unique Tibet cultural experience. These festivals are the great time to experience Tibetan culture and local customs. During winter in Tibet, there are many religious events ceremonies and traditional festivals, including Gaden Ngamcho, the death anniversary of Tsongkapa, the founder of the Gelukpa school, offering day of Palden Lhamo, the most revered female protector deity in Tibetan Buddhism and Tibetan New Year festival. Even though Tibet is a Buddhist country but the Christmas celebration and the western New Year is widely celebrated in Lhasa.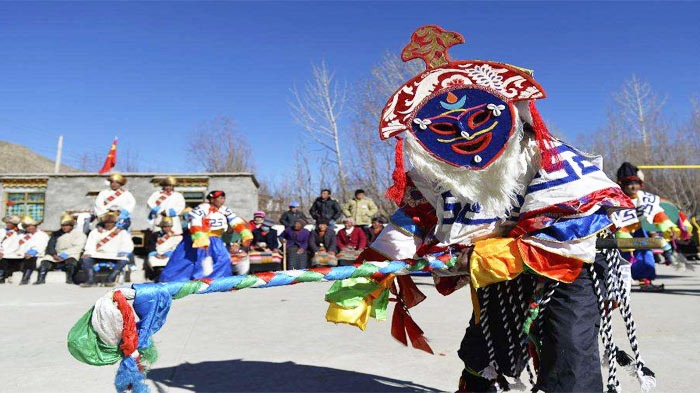 Dancer are performing to celebrate Tibetan New Year.
Tibetan New Year, also known as Losar Festival, is the most important festival on Tibetan Calendar. The festival falls in winter months and turns Lhasa into a very colorful place. Across Tibet, you might see Tibetans celebrating their New Year holidays according to their Tibetan lunar calendar at the temples and in the towns. Tibetans have their own traditional New Year holiday festivities and worship. You are able to enjoy ancient dramas, feasts, and traditional sports such as racing horses and wrestling here. Moreover, winter is their most important religious holiday season. Other festivals you can enjoy during a Tibet winter tour are Butter Sculpture Exhibition, Sera Bengqin Festival, and Spring Sowing Festival.
Other Tips for Lhasa Winter tour
1. In winter, due to changing attitudes and the nightly temperature drop, and you need to bring a jacket or coat, fur boots, thermal underwear, gloves, hats, etc. Some high altitude places will be covered with snow and ice, so you are suggested to wear antiskid shoes.
2. Due to the high altitude and thin atmosphere, the sunshine in Tibet is very harsh and the strong ultraviolet rays may hurt your eyes easily. So you'd better bring sunglasses, sunscreen, lip balm, and other protective equipment.
3. Try to keep healthy and not catch even a cold before entering and while in Tibet, as illness makes any altitude sickness feel worse. It will be better to eat many vegetables, fruits and some other foods full of Vitamin. Besides, prepare some common medicine, like cold medicine, altitude sickness medicine, and so on.
4. The poor business and low room usage rate sometimes make this hotel reduce the service quality on hot water supply, breakfast, heater or heating to cut down running cost. If you travel in winter, we strongly suggest you use the better hotel in 5-star rate.