Riduo Hot Spring
Holy spring, mystery water
About Riduo Hot Spring
According to the records of Tibetan history, Riduo Hot Spring had been used over thousand years ago. The Tibetan Buddhist sutras named Bkav-thang-sde-lnga recorded that padmasambhava once bathed in the Riduo Hot Spring and said, "Bathing in Riduo Hot Spring can wash away the past sin, purify the spirit, and arouse people to do good thing benefit to others and bring good luck, calling it "mystery water".
   
When bathing in it, people will be relaxed and raise people from death. Besides, it can adjust blood as well as Yin and Yang. If one often bath here, he will do good things benefit to others in this life and gain good luck in the next world. It can also wash away five poisonous creatures (greedy, angry, foolish, lazy and envy). Saying: "drink it, the spirit can be baptism; bathing in it, the skin can be cleaned", it has the function of curing 108 kinds of diseases including skin, joint, rheumatism, nerve, cardiovascular and pulmonary and women's diseases, being renewed as "manna of eight merits and virtues". For this reason, many people come here to bath and get water for hundreds of years.
   
In May 2002, Department of Land and Resources of Tibet Autonomous Region organized the expert to review the Riduo Hot Spring. Based on comprehensive elevation, the natural overflowing hot mineral is in accordance with the national standard GB13727-92 of hot mineral water for medical treatment, and named it as composite medical treatment hot mineral water of fluorine, boron, silicon, arsenic and lithium.
Tips of Riduo Hot Spring
1. Remember not to soak in within 1 hour before or after meals. Do not soak when you are hungry or drunk.
2. Remember to take off all your metal jewelry or accessories before bathing, preventing them from being eroded by certain minerals.
3. It is not advisable to soak for a long time. You can soak for 15 to 20 minutes at one time and rest for a while before take another bath.
4. Avoid doing active exercises when bathing, especially in highland.
Attractions nearby Riduo Hot Spring
Recommended Tour Itineraries Including Riduo Hot Spring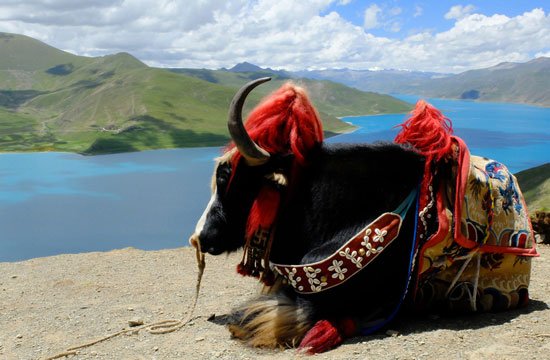 Yamdrok Lake is one of three most sacred lakes in Tibet. Tibet Vista provides more than 10 tour packages including these tourist attractions in Tsedang Prefecture at the best price.
Popular Tsedang Tour Deals
More Tibet Tour Packages
How to get there
Address: Riduo Town, Mozhugongka County
Transportation: Rental Car-- There are not buses bounding for Riduo Hot Spring, so the best way is to rent a car.
Best time to visit it
You can actually visit Riduo Hot Spring all year round.
Opening Hours: All day long
Admission Fee
CNY 40--150
Read more
Get A Quotation of this Tour