Top 10 Common Mistakes when Preparing for a Tibet Tour
Tibet is always a destination that is full of mysteries and questions. While planning your trip to Tibet, you may already do a lot of research. But there are still some mistakes that happened unknowingly. Here we have compiled a list of the most common mistakes and misconceptions about Tibet touring. We hope these will help you understand Tibet better and plan your Tibet tour.
Mistake 1: Tibet is not safe to travel
Some people who don't know about Tibet or have never been to Tibet always think that Tibet is an unsafe place. However, Tibet is one of the most peaceful places to visit in the World. The people here are Buddhist, simple, kind, and hospitable. The security in Tibet is very good, so you don't have to worry about the robbery, theft, and other crimes. The protection for tourists is also extraordinarily good. Even solo female travelers are quite safe traveling to Tibet.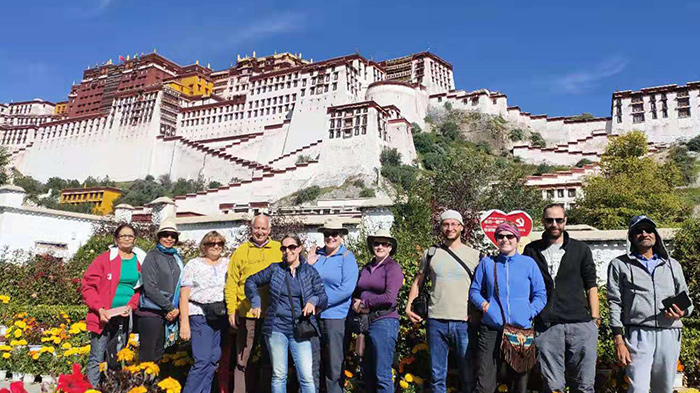 Tibet is quite safe to travel and joining in our small group tour is the best choice for solo travelers to Tibet.
Safety tips for visiting Tibet
Please stay in Lhasa for a few days at the beginning of your Tibet tour so that your body could have enough time to adjust to the high altitude in the Tibet Plateau.
For solo travelers, you can join our Tibet small group tours so that you can travel with a group of like-minded travelers from all over the world.
Please respect local religious beliefs and customs. Listen to your guide when visiting monasteries and temples.
Do not take pictures or touch the Buddha statues inside the monasteries. If you want to take pictures of monks or local Tibetans, please get their permission in advance.
Do not drink tap water directly. The food in Tibet is mainly yak meat, barley, potatoes, and other plateau food. If you have a sensitive stomach, you can prepare some medicine to prevent discomfort.
Mistake 2: Travel to Tibet with a Chinese Visa only
We always receive inquiries from our guests, asking whether they can travel to Tibet with a Chinese visa only.
The Chinese Visa is a must for all foreign tourists visiting Tibet. However, traveling to Tibet requires a little more than just a visa to China, though.
Get your Chinese Visa first
A Chinese Visa is the first thing you need to travel to Tibet. If you don't have that, you can obtain a Chinese Visa from your local Chinese Embassy.
If you don't have a Chinese Visa and plan to travel to Tibet from Nepal, you need to apply for a special China Group Tourist Visa through the Chinese Embassy in Kathmandu.
Notice: For those who already have a Chinese Visa, please don't travel to Tibet from Nepal, or your former visa will be canceled once you get the group Visa.
Tibet Travel Permit is also required for a Tibet tour
To get to Tibet from China, you also need to have a Tibet Travel Permit. It is issued by the Tibet Tourism Bureau and can be only applied through a local travel agency. Without the permit, you can not enter Tibet, or even board a train or flight to Tibet.
The required documents for your Tibet Permit include scanned copies of your Chinese Visa and your passport (with at least 6 months validity).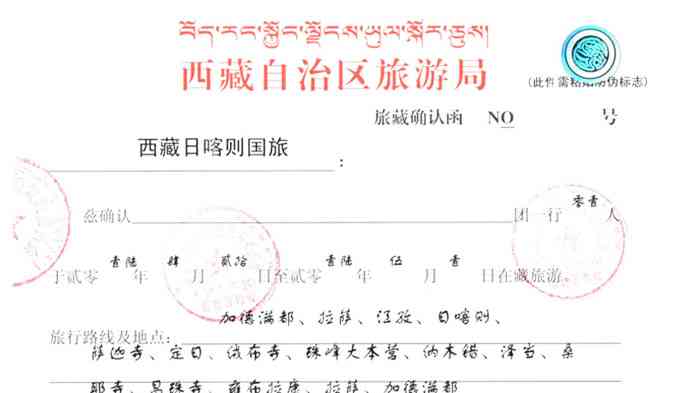 Tibet Travel Permit
Tips for getting a Chinese Visa and Tibet Travel Permit for your Tibet tour
While applying for a Chinese Visa, it is recommended that you do not mention Tibet in your travel plans, as this complicates the application for the Visa.
Only after you got the Chinese Visa can you start to apply for the Tibet Travel Permit. And please notice that no travel agencies offer Permit-only service. You need to book a tour with your travel agency so that they can apply for the permit on your behalf.
As a well-established local travel agency with more than thirty years of Tibet travel operations, we promise to offer a guaranteed Tibet Travel Permit for our customers, who book our Tibet tour.
Mistake 3: Book your Tibet tour at the last minute
One of the common mistakes for people planning a trip to Tibet is the idea that they can get a Tibet Travel Permit quickly so they wait for a last-minute deal.
In fact, last-minute deals are rarely available for Tibet tours. The later you book, the more expensive it is and you can't even get your Tibet Permit in time.
Make your booking at least 20 days in advance
It is highly suggested to book your Tibet tour at least 20 days in advance as it takes time to confirm your final travel plan, apply for the Tibet Permit and deliver it to your address.
Generally, the Tibet Permit process takes around 7 days after we submit your application to the Bureau. Once it is issued, you need to wait another 4 to 5 days for the delivery of your Tibet Permit to your address in the mainland of China.
If you travel to Mount Kailash, it is better to go a little further in advance
For those who plan to visit Mount Kailash, it is better to book your Mount Kailash tour around 30 days in advance. Because it takes more time to apply for extra documents, such as the Alien's Travel Permit and Military Permit, etc.
To make things simple, you can book our Mount Kailash tours. All the required travel documents (except the Chinese Visa) are included in our Mount Kailash tour packages. You just book your tour in time, and we will do the rest for you.
If you travel from Nepal to Tibet, you need to be in Kathmandu at least 4 days before you enter Tibet
Another common mistake that most tourists made is that they requested a Tibet tour for a close date while they already arrive in Nepal.
If you plan to travel to Tibet from Nepal, you need to apply for a group tourists Visa from the Chinese Embassy in Kathmandu no matter you already got a Chinese Visa or not.
Your original passport is required to apply for the group tourist visa. So you need to arrive in Kathmandu at least 4 days earlier before your departure day. And don't forget that it takes at least 8 to 9 working days for the Tibet Permit issued.
In short, you still need to book your trip 20 days in advance and be sure to arrive in Kathmandu at least 4 days in advance to apply for your visa.
Mistake 4: You can travel to Tibet without a Guide
Another problem faced by travelers planning a trip to Tibet is the misconception that they are able to travel around the region unaccompanied. Many travelers ask if we can arrange the permit without the tour, and the answer is always the same - Sorry, but no.
Foreign tourists cannot travel to Tibet without a guide. According to the policy, you need to book tour services from a recognized travel agency. The tour service includes a local tour guide and vehicle for the entire trip to Tibet.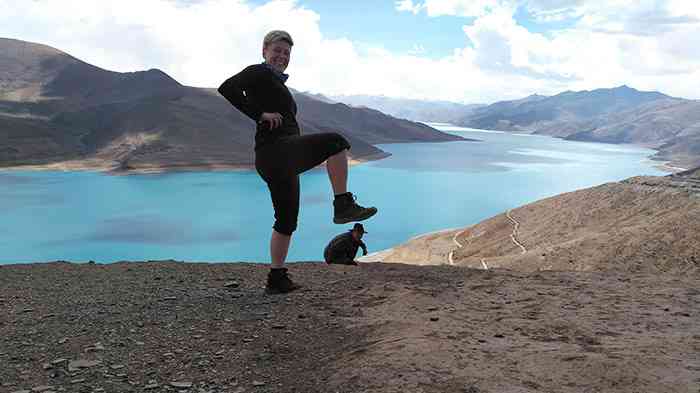 Took a funny photo with the help of our guide at Yamdrok Lake
What your guide will do during the tour
Traveling in Tibet is different from other places because of its unique climate and culture which are unfamiliar to foreign tourists. The accompanying tour guide is not only a simple guide to the scenic spots but also a bridge linking you and Tibet.
All of our Tibetan guides are local, well-trained, and qualified. They know their hometown and are happy to share the real Tibet with everyone. At the same time, our guides also have a wealth of experience, which is a strong guarantee for your travel safety.
When you get altitude sickness, when you need a companion to experience the local culture, or when you need a translation, just call your guide!
Mistake 5: Winter is too cold to travel to Tibet
It is a common misconception that it is the worst time to visit Tibet in winter as the weather is too cold. However, winter in Tibet is not as cold as you think and it is the best time for a budget tour in Tibet.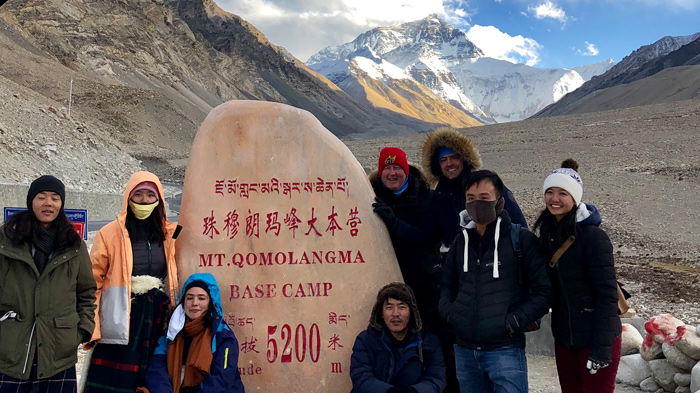 Our customers visited Tibet Everest Base Camp in December
Tibet Weather in Winter
Winter in Tibet runs from November to mid-February, among which January is always the coldest time. However, the high altitude sunny dry weather makes it feel warmer than the temperature suggests.
In Lhasa, even if the temperature reaches freezing at night, it can get as high as 12°C during the day. It is pleasant to visit Lhasa city on a sunny winter day. As you go to more remote or higher elevations, the temperature drops, like the average daytime temperature at Everest Base Camp ranges between 0°C and -5°C.
Things to do in Tibet in winter
A Tibet winter tour always focus on Lhasa and surroundings. Visiting places like Lhasa, Yamdrok Lake, and Shigatse in winter is no problem at all. Unlike the peak season, these destinations are less touristy and more peaceful in winter. The Everest Base Camp can also be visited in winter.
Winter is also a good time for birdwatching in Lhasa. From Late November to March, you can see waterfowl that migrate in winter in and around Lhasa, with black-necked cranes being the most popular bird to visit.
Notice:Mount Kailash and Lake Namtso are unable to visit during the winter season because the roads may be closed due to heavy snow.
Tips for visiting Tibet in winter
Firstly, you need to prepare enough winter clothes, like down coats, thermal underwear, gloves, hats, etc. The temperature in winter in Tibet also varies greatly between daytime and night. Be careful to keep warm and not catch a cold.
Secondly, sun protection is still needed. The sun is stronger in winter Tibet, and can more easily burn the skin. Sunglasses are also an advantage to prevent snow blindness.
Mistake 6: Tibet is a poor place to visit
Someone thinks Tibet is an undeveloped destination and the cost of a Tibet tour couldn't be high. In fact, it is a misconception about traveling to Tibet. Tours in Tibet are more expensive than you expected.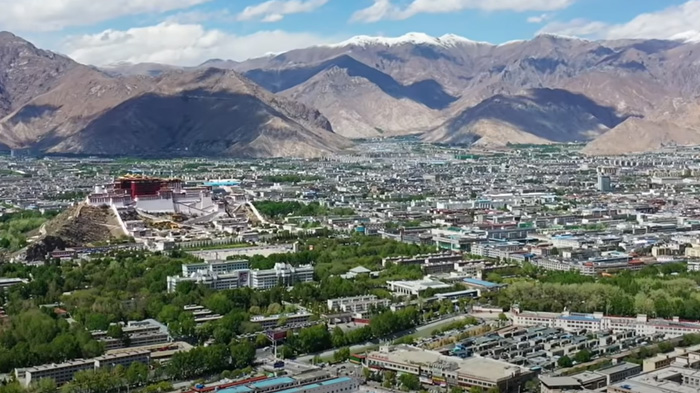 Downtown Lhasa with modern buildings
Cost of a Tibet tour
Tibet is not an ideal destination for budget tours and backpacking. A general 4 days Lhasa tour takes around 500 USD, while a popular 8 days tour to Everest Base Camp costs over 900 USD.
The major cities in Tibet are now developing rapidly, with increasing modernization, as well as an overall improvement in living standards. The daily consumption level in Tibet may be higher than even some cities in the mainland of China.
Generally, a meal in Lhasa costs around 20 USD. And you may spend at least 40 to 50 USD per day during your Tibet tour. Also, you may need to prepare enough money for other personal expenses and tips for your guide and drivers.
How much cash you should take for a Tibet tour
It is suggested to bring about 2000 RMB with you while visiting Tibet. In Lhasa, you can also use your credit card in big restaurants, hotels, and shopping malls. When you travel to some further destinations outside Lhasa, like Everest Base Camp and Mount Kailash, you can only use cash or mobile payment like Alipay and WeChat Pay.
Mistake 7: Cut down your Tibet tour cost by trekking or cycling
Since it is not cheap to visit Tibet, some of our customers asked whether they can cycle around Tibet or go trekking to cut down the tour price. However, trekking and cycling in Tibet may cost even more than a general tour.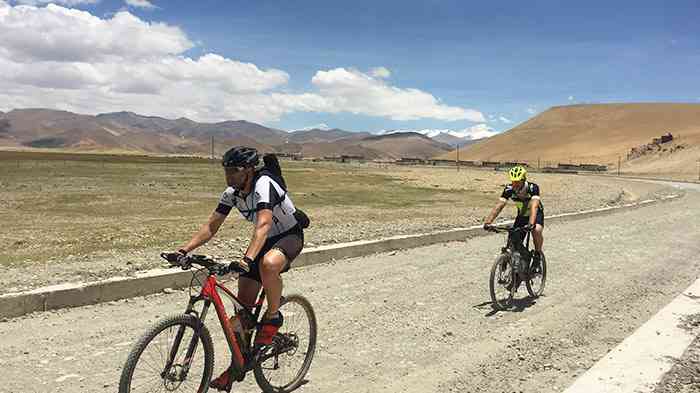 Cycling in Tibet
Why Trekking and cycling are not cheap in Tibet
For most backpackers, trekking and cycling are the best way to save money. But this doesn't work in Tibet. Since you need to travel with a local guide in Tibet, you also need to pay for the guide by the day. The longer you ride or hike, the more you add to the cost.
Ways to cut down your Tibet tour cost
If you really want to experience a trekking tour in Tibet or want to cycle in Tibet with a limited budget, it is suggested to take an easy and short trip near Lhasa or go with a group so that you can share the cost with group members.
Also, making your reservation as early as possible eliminates the need to pay expedited fees and avoids the need for a rate increase.
Traveling in the low seasons, like winter, is also a good way to cut down your travel cost. You can get a great deal on hotels, flights, and attraction fees. It is the best time for a cheaper Tibet tour in Lhasa, Shigatse, and Mount Everest.
Mistake 8:Try to book the Tibet Train Ticket yourself
For foreign tourists, it is hard to get a Tibet train ticket by yourself, especially during the peak seasons. As one of the most popular railway journeys in China, train ticket is easily sold out.
We can guarantee your Tibet train ticket if you book a tour with us
As the top local travel agency, we, Tibet Vista, have enabled thousands of customers to realize their dream of traveling to Tibet by train. We not only have a good relationship with the train ticket office but also have local cooperators in major gateway cities, like Chengdu, Xining, Beijing, Shanghai, etc.
Moreover, we can not only guarantee you a Tibet train ticket, but also a 100% guaranteed Tibet Travel Permit included in our Tibet train tour package. We are confident to best make your Tibet dream come true.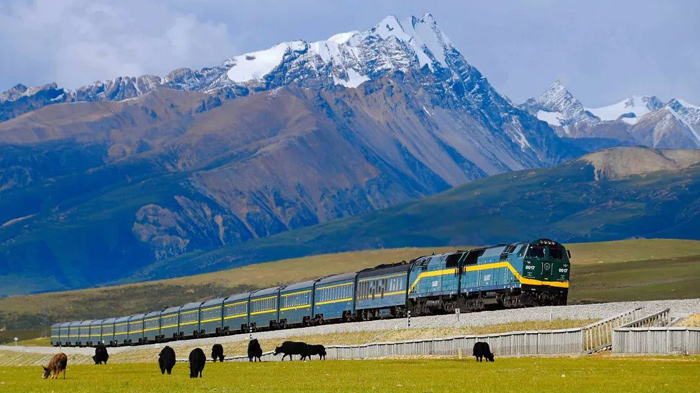 We provide you a hassle-free train tour to Tibet.
Mistake 9: Either overestimate or underestimate the Altitude Sickness
Altitude sickness is a serious concern for tourists traveling to Tibet, as it can be very detrimental to your health, and at worst, can result in death. Many people underestimate the illness and travel to high regions of the world without acclimatizing to the increased altitude.
What is Altitude Sickness
Altitude sickness is an illness caused by extreme elevations and reduced oxygen levels in the atmosphere at those elevations. Also known as Acute Mountain Sickness (AMS), altitude bends, soroche, and hypobaropathy, it can occur at levels above 1,500 meters, or 5,000 feet. At that level, it is normally only a feeling of breathlessness, but at levels above 2,400 meters (8,000 feet), it can be a little more severe.
The following are common symptoms of High Altitude Sickness.
Headaches
Loss of appetite
Nausea and vomiting
Fatigue or weakness
Lightheaded
Insomnia
Nose bleeds
Shortness of breath
Increased heart rate
Generally feeling unwell
If the symptoms persist, you should move to a lower altitude until the feelings have passed, and you have returned to normal. If it does not work, move to an altitude below 1,500 meters.
How to avoid altitude sickness in Tibet
It is suggested that you should not exert yourself until your body has acclimatized to the changes in altitude. At least a couple of days for acclimation in Lhasa is required, and longer for some people.
Maintaining a good state of mind is also helpful in relieving altitude sickness. Just relax and treat it as a normal physical reaction, give your body enough time to adapt to the altitude change, and don't worry too much.
Pay attention to keeping warm do not catch a cold, because in the plateau cold may cause High Altitude Pulmonary Edema (HAPE) or High Altitude Cerebral Edema (HACE), both of which can be fatal.
Mistake 10: Choose a Travel agency with low prices
While searching for a Tibet tour, you may find there are so many travel agencies offering Tibet tour packages. How choose the best one for your first trip to Tibet is not easy.
A Cheaper price doesn't make sense for traveling to Tibet
Comparing pricing is important but choosing the cheapest one is not wise for traveling to Tibet. The cheap price may be due to the omission of some services. Or not all the costs are included in the quote and you will be asked to pay back when you are already on the trip.
Tibet Vista is the best choice for your Tibet tour
For Choosing a Tibet travel agency, safety, professionalism, and a local base are more important. As a local-based travel agency, we never use third-party contractors and can share the most authentic Tibet with you. Through over 30 years of Tibet tour running experience, we promise you a 100% guarantee for a Tibet Permit application and a true hassle-free travel experience to Tibet.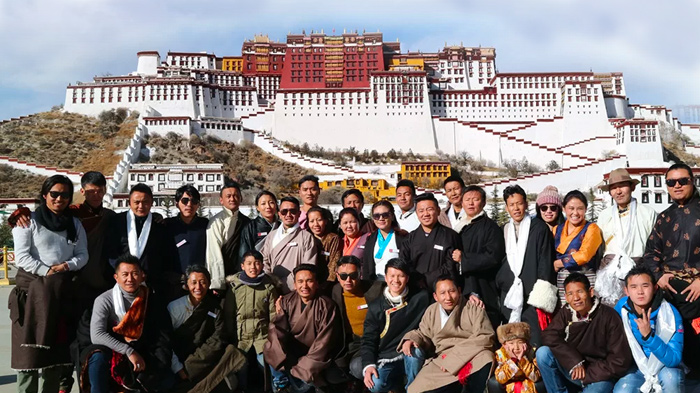 Travel to Tibet with Tibet Vista, the best local travel agency since 1984.
Conclusion
It doesn't matter if you don't know Tibet. Hopefully, after reading these common mistakes and misconceptions of Tibet touring, you can understand Tibet better and how to arrange your trip to Tibet. If you have more questions to solve, please feel free to contact us.
Most Popular Tibet Tour Packages