Tirthapuri Monastery & Hotsprings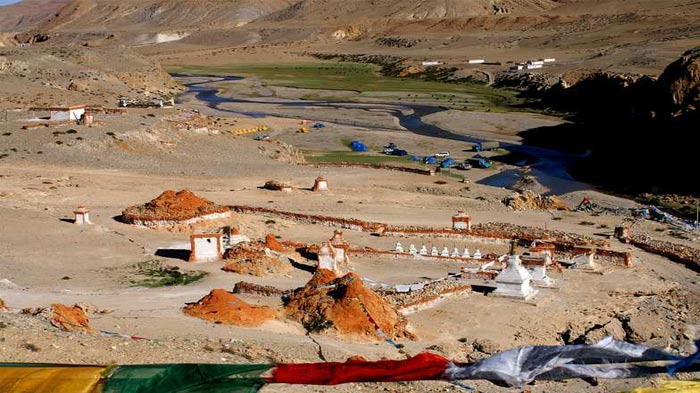 A aerial view of Tirthapuri
Following Mt.Kailash and Lake Manasarovar, Tirthapuri is regarded as the third most important Buddhist pilgrimage site in western Tibet. Situated at the northwest of Mt.Kailash and the north bank of the Sutlej River, Tirthapuri(also called zhadaburi,4310m) is famous for its sacred hot springs and Guru Rinpoche monastery(Tirthapuri monastery). Getting there, you need to drive 65km west of Darchen and then 9km south of Mensi(Moincer).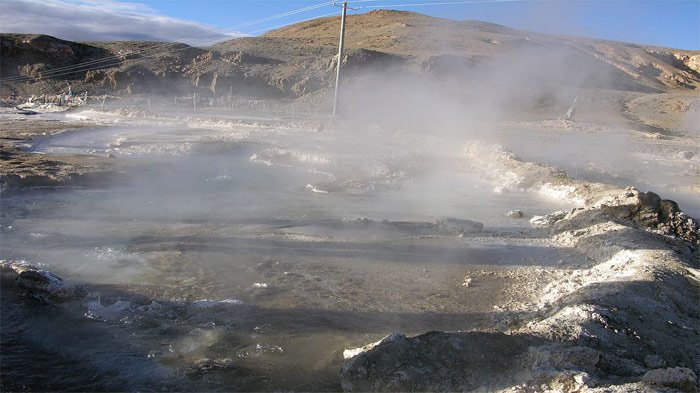 Tirthapuri Hot Springs
Typically after completing the Mt.Kailash kora, pilgrims would come here to have a bathe in pools fed by hot springs and then visit Tirthapuri monastery containing the Guru Rinpoche's footprint . On the way, you could see the colorful prayer flags flattering in the wind and chortens decorating the barren landscape. However, as time goes by, the springs are getting weaker and weaker.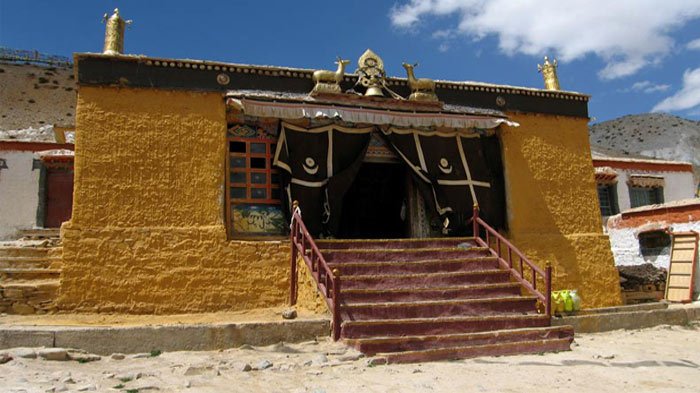 Tirthapuri Monastery
Trekking on one hour's kora around Tirthapuri, you can enjoy all the sights here. The trail starts from the hot springs and then rises up to a cremation point which has been covered in ancient clothes and rags. It winds eastwards a "sour" earth hole and there pilgrims dig for small stones which are believed to have healing properties. A "sweet" earth hole is further ahead.
Rows of chortens on the Tirthapuri kora
Then it comes to a karma-testing hole, which is in a rock beneath the prayer wheel. Here pilgrims would try and check their karma levels before proceeding the kora. Getting in the hole and taking out two stones. Two white stones stand for good karma, one white and one black signify that it's just ok and still needs to be improved, while two black stones imply bad karma. It's believed that the pilgrimage can improve one's karma. How about another trekking on the Mt.Kailash kora?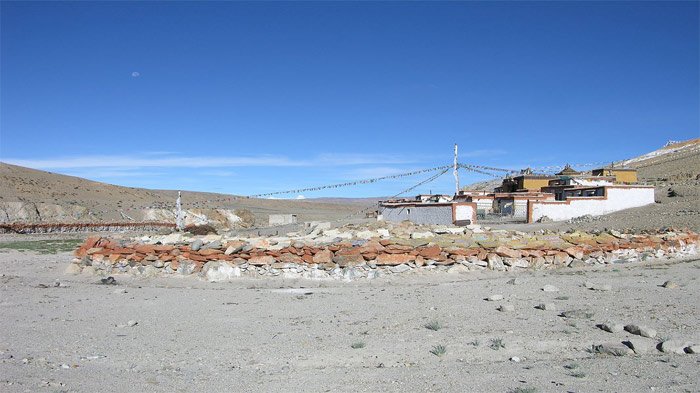 A circle of mani stones
Then you can pay a visit to Tirthapuri monastery. Stone footprints of Guru Rinpoche (Padmasambhava) and his consort Yeshe Tsogyel are enshrined in the assembly hall. A circle of mani stones is just on the south of Tirthapuri monastery . It's said that the gods were dancing here when Guru Rinpoche was enshrined at Tirthapuri. Trekking eastwards, you would see some mani walls in various sizes. Made up of mani stones, those mani walls contain yak heads and other offeriing. The longest one would be over 200 meters. Another story was told that Guru Rinpoche stopped the arrow shot by a demon on the half way and diverted it into the mani wall. Finally, you can trace the river back to the hot springs.
Just a kind reminder:
Although Tirthapuri hot springs and monastery are accessible by road, there is no public transportation for them. The most convenient way for visiting is join us Tibettravel and we'll make a customized trip for you.