Altitude of Mt. Kailash Tour or Kora and How to Avoid the High Altitude Sickness
In Tibetans' hearts, Mt. Kailash kora is not only an act of accumulating merits but also a purification for all the sins in their lives and 108 rounds would bring enlightenment for them. It is said that the zodiac symbol of Buddha Sakyamuni is the horse. One round completed in the Tibetan year of the horse is equal to 13 rounds in other years. Consequently, you can see the larger scale of pilgrims in that year.
For sincere Tibetan pilgrims, the circuit can be done within one day by getting up early at 3 or 4 o'clock in the morning and getting back to Darchen in the late afternoon or evening. But if they do the full-body prostrations, putting their hands together first and touching the head, the mouth and the heart in order, and then bending towards the ground with face down and arms stretching over the head, the kora would cost more than two weeks.
Altitude of Mt. Kailash Tour from Lhasa to Mount Kailash
Before starting your kora around this holy mountain, you should firstly get to Darchen, the village at the foot of Mt. Kailash, also the starting point of this pilgrimage. Usually, the journey starts from Lhasa, covering a distance of 1,210km, while the altitude along the path keeps gradually rising, allowing you to better adapt to the plateau environment. The whole route takes about 3 days in total.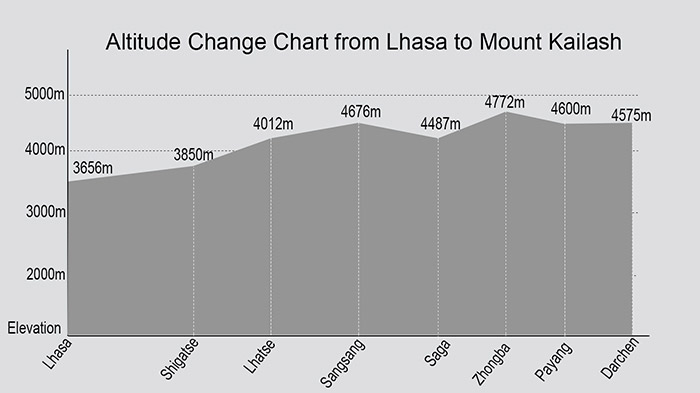 Altitude Change Chart from Lhasa to Mount Kailash
Route:
Day 1: Lhasa (3,656m) – Shigatse (3,850m) - Lhatse County (4,012m) (420 km, 7-8 h)
On the first day, we will start from Lhasa, which has a relatively low altitude of 3,656m on Tibet Plateau. After passing Shigatse, the second largest city in Tibet, we will pass the Cuola Mountain of 4,542m, and then travel to Lhatse County. Since the altitude from Lhasa to Lhatse rises within a small range, most tourists will feel little stress on the way.
Day 2: Lhatse County (4,012m) - Sangsang (4,676m) - Saga County (4,487m) (300km, 5-6 h)
The journey of the second day is from Lhastse to Saga, a border county located to the southwest edge of Gandise Mountains. We will pass through six high mountains successively, with the altitude from 4,517m to 5,089m. En route, we will also pass Sangsang, a high-altitude town at 4,676m. As the road ascends much higher on this day, tourists need to take care and avoid suffering from high altitude sickness.
Day 3: Saga County (4,487m) - Zhongba County (4,772m) - Payang Town - Darchen (4,575 m) (490km, 7h)
After the acclimation of the first two days, the last day may come easier. From Saga, we will hit the road from Zhongba County (4,772m) to Payang Town. After driving for about 100 km from Payang, we will pass the Mayou Mula Mountain (5,211m), which is the highest point for today's journey. After that, we will only travel another 200km to get to the destination, Darchen.
>> Join in the Lhasa to Kailash Pilgrimage Small Group Tour
Altitude of Mt. Kailash Kora
As the main peak of Gandise Mountains, Mount Kailash is 6,638m above sea level. The average elevation of the kora around the Mount Kailash is about 5,000m, with the highest point of Drolma La at 5,630m. It usually takes Tibetan visitors three days to complete this 56km kora in a clockwise direction. Generally speaking, the route begins at Darchen (4,560m), then you enter the Lha-chu valley, Lham-chu valley, Dzong-chu valley, and finally go back to Darchen. During the kora, you would spend one night in Dirapuk monastery and another night in Zutulpuk monastery.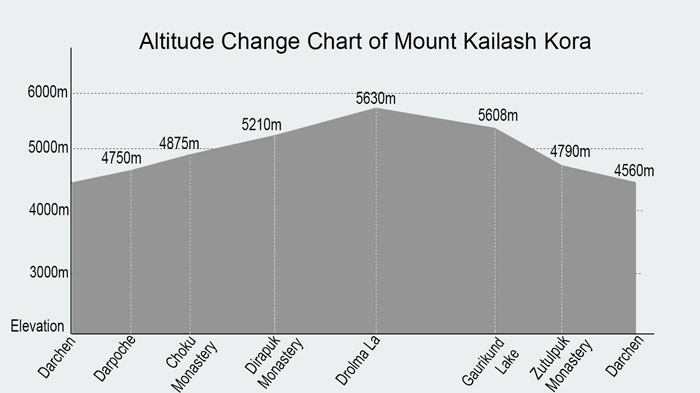 Altitude Change Chart of Mt. Kailash Kora
Route:
Day 1: Trekking: Darchen(4,560m)-Darpoche (Great Flagpole, 4,750m)-Choku monastery(4,875m)-Dirapuk monastery (5,210m) (20km, 7-9h, 200m of climbing)
Mt. Kailash kora starts in a clockwise direction. We head west from Darchen(4,560m). Only 4km later, the trail climbs up over the southwest end of the ridge to reach a cairn (4,730m) and then bends north to Darpoche (Great Flagpole, 4,750m) where Tibetans would hold SagaDawa Festival every year. Before the festival begins, the pole would be lowered down, decorated with new prayer flags and then raised again. On the north of Darpoche is Kyilkhor Teng with a sky-burial site in the center.
After passing the Lha-chu valley, Choku monastery (4,875m), the first temple in the Mt.Kailash kora, comes into view, which has three objects of interest to pilgrims Choku statue, the conch shell and the teapot. It's said that an invading army attempted to steal those three objects away in the 17th century. However, the gods exert their magic power to stop them successfully. The statu became so heavy that the army couldn't carry it away and only had to abandon it by the riverside. The conch shell with magic flew back to Choku monastery automatically. Boiled in the teapot, the tea turned to be blood. The invading army went away empty-handed. You can have a short break here.
Another 3 hours' trek along the river, you would hit the first day's stop, the Dirapuk monastery (5,210m). At the same time, the north face of Mt.Kailash is unveiled.
Day 2: Trekking: Dirapuk monastery (5,210m)-Jarok Donkhang (5,210m)-Silwutsel Charnel Ground (Shiva-tsal, 5,330m)-Drolma La (5,630m)-Gaurikund Lake (Tuje Chempo Dzingbu,5,608m)-Zutulpuk monastery(4,790m) (18km, 7-8h, 550m of climbing)
Trek along Drolma Chu and reach the Jarok Donkhang (5,210m). A little while, Silwutsel Charnel Ground (Shiva-tsal, 5,330m) comes in front. It is a rocky expanse dotted with small stone cairns and draped with piles of clothing. People who died in the kora would be given a sky-burial, a holy Tibetan burial, which is different from any other way in the world to end one's life.
Next challenge is to get over Drolma La (5,630m), the highest point of the entire kora, where you can look south for your last glimpse of the north face of Mt.Kailsh. Howere, even if snow-capped Mt.Kailash is not in sight, the scenery itself is spectacular with hundreds of thousands of colorful prayer flags dancing in the wind. After the ascent, you would experience a steep descent. Gaurikund Lake (5,608m), also named as Tuje Chempo Dzingbu, comes into view immediately. Enjoying the greenery and vegetation, you would enter the Lham-chu valley and finally reach the second day's stop, the Zutulpuk monastery(4,790m).
Day 3: Trekking: Zutulpuk monastery(4,790m)-Darchen(4,560m) (14km, 3-4h)
It's just a 3 or 4 hours' walk from Zutulpuk monastery(4,790m) to Darchen(4,560m) and begins with the easy stroll down. The Dzong-chu valley narrows into a gorge with the prayer flags fluttering across the river. Green shrubs and blue waters appear again. The road from here back to Darchen becomes rough and costs less than an hour. Finally, Mt. Kailash kora ends up at Darchen.
Travel Tips for the Kora
1. The road keeps closed during winter and spring. The best time to visit Mt.Kailash is May, June, September and October, during which you can avoid the rainy season and muddy roads.
2. In order to save time, you had better bring some food and warm water with you while trekking. One day's food is enough since there are some tents selling instant noodle and biscuits on the circuit. The price would be a little bit higher.
3. The living condition is very tough and simple on the kora. Please do not hold high expectation for the monasteries.
4. Please remember to bring the permits which would be checked on the way.
How to Avoid the High Altitude Sickness during Mount Kailash Tour or Kora
High attention should be paid to the altitude sickness during your Tibet tour, especially when taking the strenuous Kailash tour or Kora. Tourists are supposed to have trekking experience at an elevation of above 4,000m before kora around Mount Kailash. Since there are enough time for tourists to get used to the high altitude on the way from Lhasa to Mt. Kailash, one should not worry too much. And there are some tips on avoiding altitude sickness when taking an adventure around this holy mountain.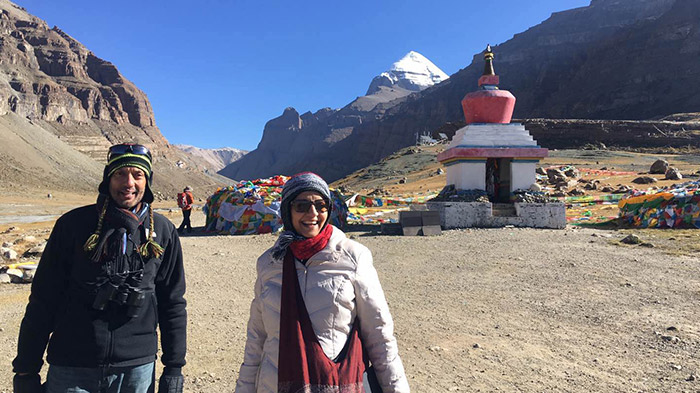 Tourists should avoid suffering from the high altitude sickness during Mount Kailash tour or kora
1. Move slowly and steadily during your kora, do not get too excited. Do not ascend too fast on the way, especially when climbing the Drolma La. Drink plenty of water before departure, since dehydration may be caused by sweating due to the dry and cold air in the high mountain.
2. Stay in Lhasa for two or three days before heading for Mt. Kailash to better adapt to the high altitude. Do not take a shower on the first two days after you enter Tibet.
3. Bring the necessary medicines in case you suffer from mild altitude sickness or catch a cold. Recommended medicine includes Ibuprofen Sustained Release Capsules (treating low fever and headache), Oral Magnesium Gluconate Solution (replenishing one's strength), multi-vitamins, anti-motion sickness drug, Quick Acting Heart Reliever etc.
4. Ensure adequate sleep and have a good rest. Do not be nervous, since the symptoms of altitude sickness will get worse once you get stressed out.
5. Prevent yourself from catching a cold. When travel around Tibet, you should attach importance to the cold, since it can be easily transformed to other serious altitude sickness, like pulmonary edema and encephaledema. If you catch a cold before entering Tibet, you'd better reschedule your trip to regain your health first.
6. If you suffer from altitude sickness during your kora, showing some symptoms as losing appetite, nausea, vomiting, insomnia, dizziness, headache, breathlessness and breathing irregularity etc, you should stop ascending immediately; otherwise more serious problems may occur and even cause death sometimes within just a few hours.
7. It is not suggested to inhale oxygen to copy with mild hypoxia symptoms, so that you can acclimatize the high altitude environment in less time. Normally, slight altitude sickness can be self cured. Do not turn to the oxygen bottle frequently in case you become dependent.
8. Do not pack too many things in your backpack. Try to travel light as possible as you can to conserve strength. If you do feel tired or exhausted during your trekking, you can also hire a horse or Tibetan yak from locals to carry your luggage.