Bhutan Visa Free: Bhutan Visa requirements for Indian and Bangladeshi citizens
Different from other countries around the world, Bhutan has a unique Visa policy. For most international travelers, the Bhutan Visa can be only applied through a licensed Bhutan tour operator that arranges the tour of Bhutan on your behalf.
Only Indian citizens, Bangladeshi Citizens, and Maldives citizens do not need a visa to visit Bhutan. But some travel documents are also required to enjoy Bhutan visa-free policy. The following information will tell you how to travel to Bhutan without a visa as Indian passport holders and Bangladeshi passport holders.
Bhutan Visa Requirements for Indian Citizens
Visa Free for Indian Passport Holders
Ever since the Treaty of Friendship was signed between India and Bhutan on August 8, 1949, freedom of movement between the two countries has been in place, allowing Indian nationals to travel to Bhutan without the need for a visa, and vice versa. This reciprocal visa-free travel system means that no visa is required for Indian nationals traveling to Bhutan, as long as they have the correct identification.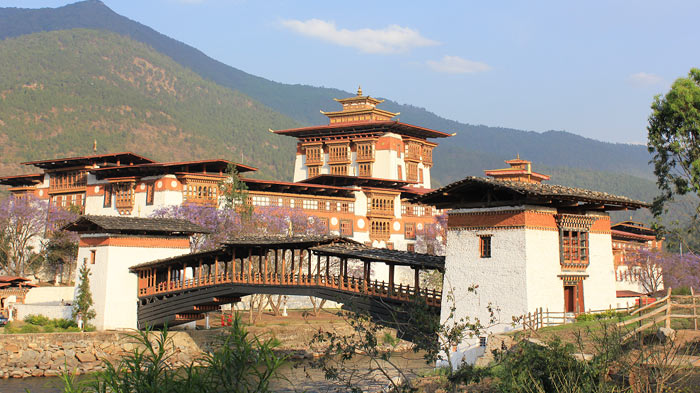 Indian tourists can visit the famous Punakha Dzong and all scenic spots in Bhutan without a visa.
An Indian citizen can travel to Bhutan by air or by traveling overland across the border at Phuentsholing, as long as they have one of the required and acceptable documents listed in the treaty.
Those documents include:
1. A valid and current Indian Passport with at least six months validity remaining
2. An Indian Voter's Identification Card, with a current photograph
3. An identification slip that can be processed and printed at the border checkpoint in Phuentsholing, provided that adequate proof of Indian citizenship has been given
Requirements for Children under 17
For those traveling with children below the age of 17, who do not have a valid passport, the birth certificate and school ID of the child is required to allow them entry. Indian nationals living permanently in another country will also not be able to use the Voter's ID for entry into Bhutan, and the standard requirement states that the passport is the only allowable document.
Q: Is Bhutan visa required for OCI (Overseas Citizenship of India)?
While Overseas Citizens of India (OCI) are valid Indian nationals, many do not hold an Indian passport anymore, and usually, hold the passport of their new country of residence. These Indian nationals also have what is known as the OCI, which grants them retained Indian Citizenship.
However, holders of an OCI card, without an Indian passport, are not eligible for visa-free entry into Bhutan, and will be required to apply for Bhutan visa by booking a tour with a registered Bhutan tour operator, the same as any other non-Indian passport holder.
Q: How to get to Bhutan from India?
For travel from India to Bhutan, the easiest option is to take a flight to Paro International Airport. Flights to Bhutan run from five cities across India, including Delhi, Bagdogra, Kolkata, Gaya, and Guwahati, and run daily from most airports. The cost of India to Bhutan flights is from around US$ 165 from Delhi, US$ 224 from Kolkata, and around US$ 125 from Bagdogra.
For those traveling overland, India has an amazing railway network, and there are very few places that do not have a railway link. From almost anywhere in India, you can get a connecting train to take you to Hasimara, the closest railway station in India to Bhutan, and from there get a local bus to take you to Jaigaon and Phuentsholing, the border crossing into Bhutan. From Phuentsholing, you will need to arrange private transport or take the bus to Thimphu.
Bhutan Visa Requirements for Bangladeshi Citizens
Visa Free for Bangladeshi Passport Holders
Similar to Indian citizens, nationals of Bangladesh do not need a visa for travel into Bhutan, as long as they have a valid passport. However, unlike Indian nationals, those from Bangladesh do not have the option of using any other form of ID to gain entry to Bhutan. The Bangladeshi passport is the only acceptable identification, and must have at least 90 days validity remaining at the time of exiting Bhutan.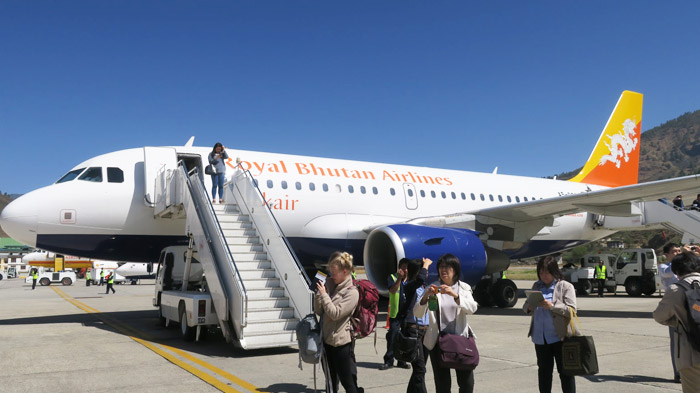 Bangladeshi citizens can visit Bhutan by flight and they do not need a visa, as long as they have valid passport.
What a citizen of Bangladesh will need to apply for are the permits for regional tourists to Bhutan, which allow travel in the unrestricted areas of Bhutan. The permits are normally applied for at entry into Bhutan at either Paro International Airport or at the border crossing in Phuentsholing. However, there has been a recent change to this process, and the permits can now be obtained in advance through the new online application system.
This online permit system, which has been set up by the Department of Immigration, Ministry of Home and Cultural Affairs, and the Tourism Council of Bhutan, facilitates the processing of the permits for regional tourists, but has to be done through a registered Bhutanese tour operator or using a TCB certified hotel. The system is optional, and applies to entry through both Paro and Phuentsholing. This system allows visitors to obtain their permits in advance, and not have to wait for processing on entry.
Q: Is Indian Visa required for Bangladeshi citizens who travel from Bangladesh to Bhutan via India by land?
An Indian visa is required for travelers from Bangladesh that are traveling overland through India to reach Bhutan. However, it is not a tourist visa that is required. Instead, Bangladesh citizens are required to have a transit visa, which allows them to travel overland to Bhutan.
Indian tourist visas are not permitted for traveling overland to Bhutan, even if you have been visiting India beforehand. You will still need to obtain the transit visa before traveling. The transit visa will be required to be shown at the border crossing checkpoint at Jaigaon, opposite Phuentsholing, by the Indian immigration authorities, and without it, you will not be allowed to exit India into Bhutan. Use of a tourist visa to travel overland into Bhutan is illegal, and carries a severe penalty.
Q: How to get to Bhutan from Bangladesh?
The easiest way to get to Bhutan from Bangladesh is by flight, and there are flights from Bangladesh's Dhaka International Airport daily to the kingdom in the Himalayas. Flights take around an hour to reach Paro International Airport, and cost from around 11,000 rupees, or about US$ 156 per person for an economy one-way ticket.
If you are planning an overland trip, then you will need to plan carefully, as there is no direct route to Bhutan from Bangladesh. The simplest and easiest route is to take the train from Dhaka to Kolkata, and then book a ticket up to Hasimara, in West Bengal. From there, you will need to use the local bus to get to Phuentsholing, and once across the border, you will need a private car or taxi to take you to Thimphu.
Visa Free for Maldivians Citizens to Bhutan
Only one other country in the world has the option for visa-free travel into Bhutan, which is the Maldives. A small island nation set far out in the Laccadive Sea, part of the Indian Ocean, the Maldives lies around 1,000 kilometers to the southwest of the Indian sub-continent.
The entry for Maldivian citizens into Bhutan is similar to that of Bangladesh, and only the passport is permitted to be used as identification. The passport must be valid for at least six months remaining at the time of entry into Bhutan, and the usual permits must be applied for on entry, or through the new online facilitation system.
What if foreign tourists get to Bhutan from India or Bangladesh?
International tourists from other locations around the world will need to have visas for both Bhutan and either India or Bangladesh, depending on which country you are traveling through.
Apply for Bhutan Visa
International travelers can only apply for a Bhutan Visa online with a licensed local tour operator, after booking a Bhutan tour with them and finishing the full payment. Once that is done, the tour operator makes the application for the visa on your behalf, using a scanned copy of your passport.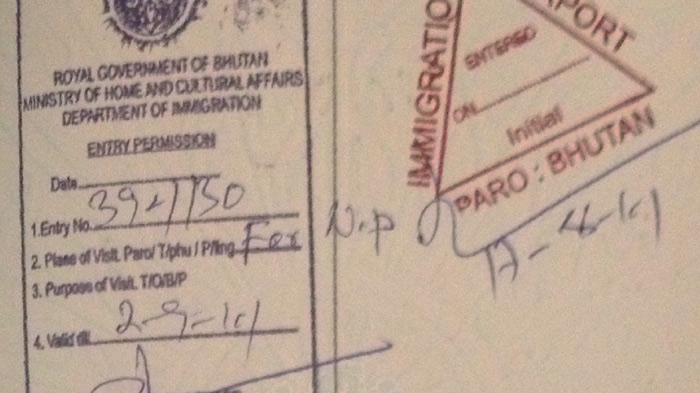 International friends can only get the Bhutan Visa online with a licensed local tour operator.
The Bhutan visa application process usually takes around 3-5 working days, and a Letter of Invitation (LOI) will be issued to the tour operator, the Tourism Council of Bhutan, the immigration desks at both Paro International Airport and the Phuentsholing border crossing, and to both national airlines. The LOI will be forwarded to you by the tour operator, and will be needed to book your flight to Bhutan, which can only be done with one of two Bhutanese airlines, as no other airline is permitted to fly into Bhutan.
Apply for Indian Visa or Bangladeshi Visa
If you are entering through India or Bangladesh, then you need to have a tourist visa for the country you are traveling through as well. The transit visa for India is not valid except for Bangladesh citizens.
Visas for both India and Bangladesh can be processed at their embassies in your home country. Only Japan and South Korea can apply for a visa on arrival in India, although an E-visa can be applied for by the citizens of 113 countries around the world, including the United States, Canada, and all citizens of the European Union (EU). This may be changed soon for British citizens, since the country is soon to exit the EU.
For entry into Bangladesh, 23 countries are eligible for visa-free transit, and a large number of countries can apply for a visa on arrival in Bangladesh at airports and border crossings. The visa on arrival system includes the citizens of the United State, the EU, Canada, and Australia, among others.
Visas applied for in advance with the Indian Embassy can take around 3-5 days to process, and all visa applications, for both India and Bangladesh, require a valid passport with at least six months validity remaining, two passport-sized photos, proof of onward or return travel, and a completed application form.
Conclusion
For Indian passport holders it is convenient to travel to Bhutan without a visa. And for Bangladeshi citizens and Maldivian citizens, they can enjoy the Bhutan Visa Free policy and just visit Bhutan with their valid passports.
For tourists from other countries, they may need to apply for a Bhutan Visa in advance and also an Indian Visa or Bangladeshi Visa for entering Bhutan from these neighboring countries.
To apply for a transit visa or a standard visa in India and Bangladesh depends on how many days you plan to stay before your Bhutan tour.
If you get confused and need help to figure out what is really required for your Bhutan tour, please feel free to contact us. You will get a detailed reply within 24 hours.