Travel to Tibet from Xining
Why travel from Xining to Lhasa?
Xining is a popular gateway city for travelling by train from Xining to Lhasa not only for it is the start of the famous Qinghai-Tibet Railway, but also for its profound cultural background and charming natural scenery. Just outside the city are many famous monasteries, national parks, and nomadic grasslands worth visiting.
How to travel from Xining to Tibet?
Option 1. Xining to Lhasa by Air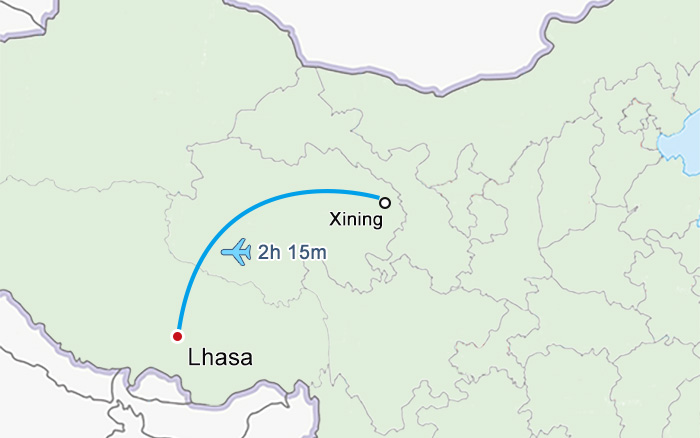 Xining Lhasa flight just takes you two and a half hours to get to Tibet from Xining.
At present, there are three direct flights from Xining to Lhasa, operated by Sichuan Airlines,Tibet Airlines and Air China. It takes off at Xining Caojiabao Airport, and arrives in Lhasa Gonggar Airport at noon. In addition, two connecting flights would stop at Chengdu Shuangliu International Airport, and then you can transfer flights to Tibet.
Option 2. Xining to Lhasa by Train
Take a train ride from Xining to Lhasa is the most popular way of travelling to Tibet from Xining because the Xining to Lhasa railway, that is, Qinghai-Tibet Railway itself is a world wonder. A train journey from Xining to Lhasa is worthy a try. There are several trains from Xining to Lhasa. Most of them start from other cities of China and stop at Xining Train Station generally for 20 minutes. There are also one direct train starting from Xining to Lhasa at 14:05 every day.
See more at Xining to Lhasa train schedule and fare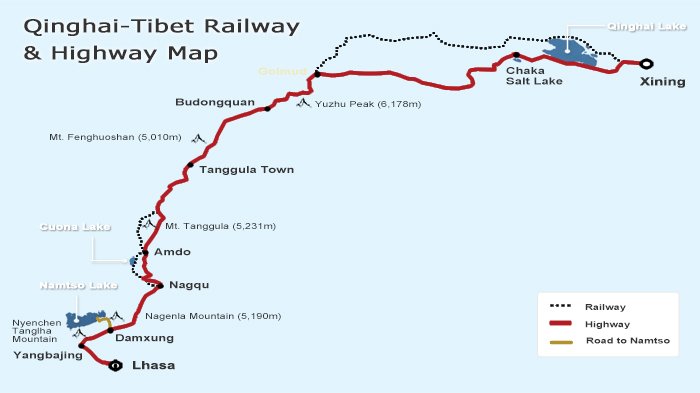 Just indulge yourself in the plateau scenery along Qinghai-Tibet Railway.
Option 3. Xining to Lhasa by Qinghai-Tibet Highway
The Xining to Lhasa overland route is one of the highest highways in the world. Qinghai-Tibet highway starting from Xining crosses four mountains, namely Kunlun Mountain (4, 700 meters), Fenghuo Mountain (4, 800 meters), Tangula Mountain ( 5, 150 meters at the mountain pass), and Nyainqentanglha Mountain, and spans three rivers, Tongtian River, Tuotuo River and Chuma'er River, averaging 4, 500 meters. The overland tour from Xining to Lhasa will cost you about 8 days. You can first take bus from Xining to Golmud, where you adapt yourselves to the plateau climate and then continue to Tibet. There are several regular buses shuttling between Golmud and Lhasa.
See more at Qinghai-Tibet Highway
Before you get to Lhasa, do plan at least one day tour in Xining.
Facts of Xining
1. Xining is the capital of Qinghai Province and located on the eastern edge of Qinghai-Tibet Plateau and the upper reaches of Huangshui River.
2. Xining is the political, economic, scientific and technological, cultural and traffic center of Qinghai Province.
3. Xining is the most common passing channel of the famous Silk Road. 4. Xining is referred to as China's Summer Resort Capital.
5. Xining is a former Tibetan city with an ethnic mix, about 37 nationalities living here, including Han, Hui, Tu and Tibetan.
6. Xining is a high altitude city on the Tibetan Plateau.
7. Xining is the east gate of Qinghai-Tibet Plateau.
History of Xining
Xining has a history of over 2100 years and the gateway to travel between Tibet and the Gansu Corridor Silk Road trade route. It was also a chief commercial hub on the Hexi Corridor caravan route to Tibet, handling especially timber, wool and salt in ancient times. The trade along the Hexi Corridor was part of a larger trade corridor along the Northern Silk Road, whose use was intensified in the first century BC after efforts by the Han Dynasty to control this route.
What to See in Xining?
The main Xining attractions are Qinghai Lake, Kanbula National Forest Park, Riyue Mountain, Taer Temple, Dongguan Giant Mosque and Qinghai Provincial Museum.
Qinghai Lake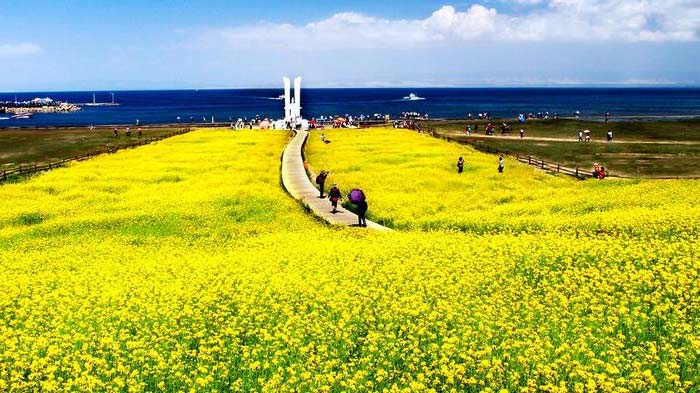 About 100 kilometers west of Xining,Qinghai Lake is the largest lake in China.
Qinghai Lake is regarded as a holy lake by Tibetans and Mongolians.You can take a boat ride on the turquoise waves of the lake or go horseback riding along the shores with Tibetan nomads on the south side of the lake. If you got an extra day, you can continue on to the northwest side of the lake to visit Bird Island. The Bird Island is a breeding ground for black-necked cranes, sandpipers, wild geese, and other bird species.
Kampula National Forest Park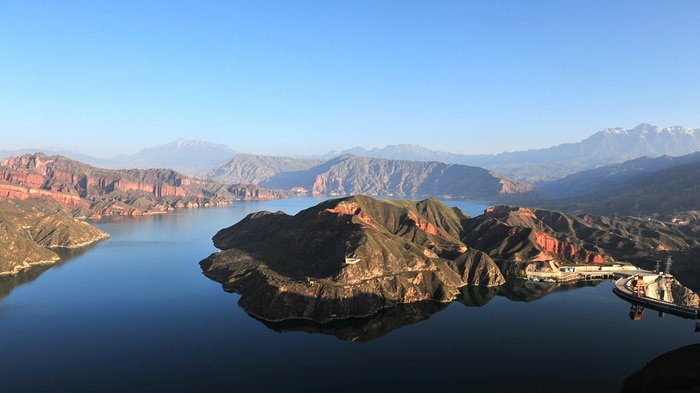 Covering an area of 152 square kilometers, Kanbula National Forest Park is located 131 kilometers east of Xining.
This is a beautiful park featuring incredible peaks, high mountains, caves, precipitous cliffs, red stone columns, forests, and turquoise rivers. You can take a hike through this park, stop by Achu Nanzong Nunnery located in a valley in the pa, then climb up a mountain peak to visit an ancient Buddhist temple and its several small caves that contain Buddha statues.
Riyue Mountain / Sun-Moon Mountain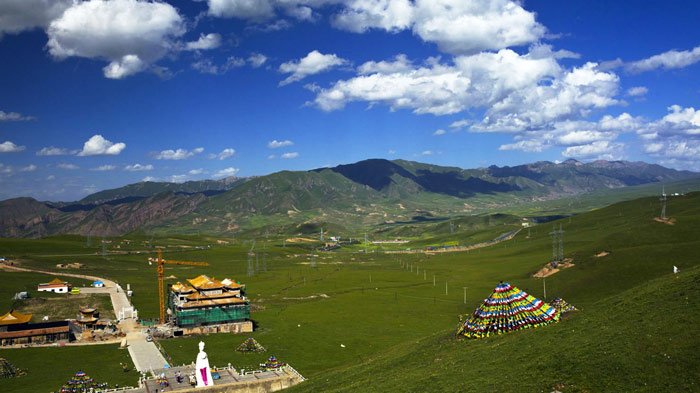 Riyue Mountain, 100 kilometers away from the city center, was the only road to Tibet in history.
Riyue mountain is called "the Curtain of Qinghai" and "the Window of the Plain" by the later generations owing to its important geographical location. This mountain divides Qinghai Province into two parts - the stock-raising area and the farming area. There are two pavilions standing on the top of the opposite peaks on Riyue Mountain, which are called Sun Pavilion and Moon Pavilion respectively. The pavilions were built for the peace-making marriage of Princess Wencheng and the King of Tibet Songtsan Ganbu, delicately decorated by murals.
Kumbum Monastery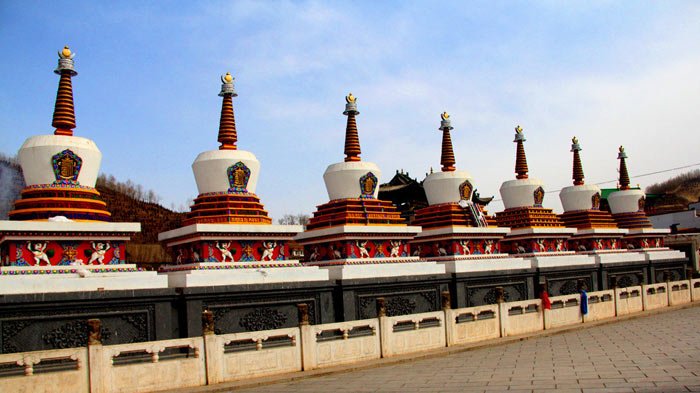 Kumbum Monastery is also know as Ta'er Temple, which is 25 kilometers (about 16 miles) away from Xining.
As one of the six great monasteries of the Gelugpa sect of Tibetan Buddhism, Kumbum Monastery is well-known for being the birthplace of the great religious reformer Tsongkhapa. There is a chapel housing a sandalwood tree which is said to have grown from the umbilical cord of Tsongkhapa. Kumbum Monastery is a great place for you to preview Tibetan religious culture, Tibetan architecture and Tibetan art before getting to Tibet.
Dongguan Giant Mosque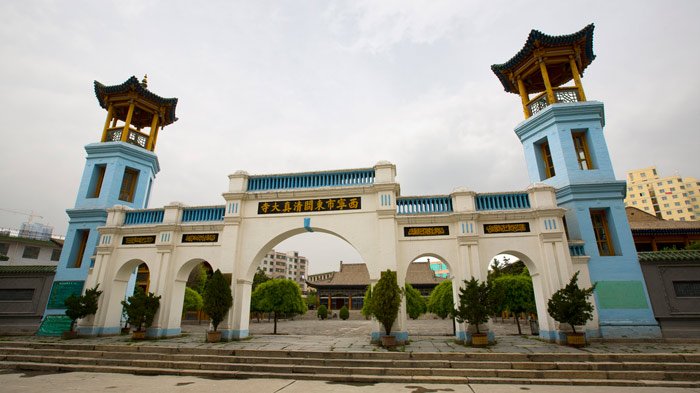 The giant mosque is fairly central in the city and so makes a visit easy.
Dongguan Giant Mosque was built in the Ming Dynasty (1368-1644 A.D.) during the 12th year of the reign of the first Ming emperor, Hongwu. It is not only the most ancient religious complex in town, but also one of the most important mosques in northwest China. The mosque is not of particularly Muslim architecture, normally easily differentiated from its Buddhist counterparts, but is more in the typical Chinese folk style. Beyond the square itself, the grand Domed Hall, housing up to 10,000 Muslim worshippers at peak times, is the highest Islamic education center in the province.
Qinghai Provincial Museum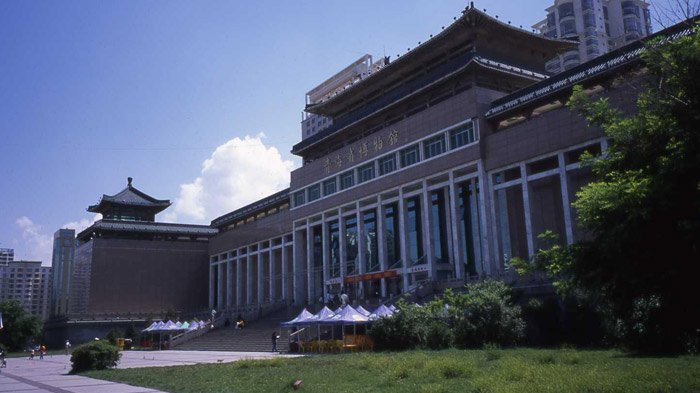 Qinghai Provincial Museum is a magnificent Tang style simulation building in Xining city.
With an area of 17, 000 square meters, Qinghai Provincial Museum contains over 47,000 well-preserved culture relics, such as the chipped stone tools from the Paleolithic Age, the pottery wares and the bronze wares from the Neolithic Age and the Bronze Age, the bronze mirror, the bronze warrior and inscriptions from the Han (206 B.C-220 A.D.) and the Tang Dynasties (618 A.D.-907 A.D.), the paper money and stone statues from the Yuan Dynasty (1,206 A.D.-1,368 A.D.), the porcelains and paintings from the Ming (1,368- A.D.1,644 A.D.) and the Qing Dynasties (1,616 A.D.-1,911 A.D.).
Recommended Day Tours in Xining
1. One day tour to Qinghai Lake and Sun-Moon Mountain
After breakfast, you will have one full day tour to Qinghai Lake, the largest salt water lake in China. You can cruise in the lake and visit Bird Island. On the way, you will have a stop to see the Mt. Sun and Moon, where the princess Wenchen threw the mirror down and married into the Tibetan area among the Tang Dynasty.
2. One day tour to Kumbum Monastery and Qinghai Provincial Museum
Visit Ta'er Monastery (Kumbum Monastery) in the town of Huangzhong 26km south of Xining in the morning, then move on a 15-minute trip to the North Hill Temple to have a bird's-eye view of the city. Finally visit Qinghai Provincial Museum with a few silk road exhibitions and some amazing Stone Age artifacts.
3. One day tour to Kumbum Monastery and Dongguan Giant Mosque
Visit Ta'er Monastery (Kumbum Monastery) where there is a large butter sculpture, murals and Finally visit Qinghai Provincial Museum with a few silk road exhibitions and some amazing Stone Age artifacts.
4. One day highlights tour to Kumbum Monastery and Qinghai Lake
In the morning, drive to visit Qinghai Lake where you will be able to find thousands of different bird species as well as other native animals, and then to visit Kumbum Monastery which is a wonderful architectural complex embracing 9,300 structures, including scripture halls, Buddha halls, lamas' residences, and Buddhist pagodas. After visiting the monastery, back to your hotel in Xining.
5. Two days tour to visit Ta'er Monastery, Riyue mountain and Qinghai Lake
Day 1: Visit Ta'er Monastery in the morning and then head to Riyue mountain pass to visit the Sun pavilion and the Moon pavilion, finally arrive at Qinghai Lake.
Day 2: Have a full day excursion in Qinghai lake and Bird Island on the western shore of the Lake. 164 species of birds have been identified at the lake, such as swan, wild geese, gulls, heron and petrel etc. Then transfer back to Xining and end tour.
6. Three days tour to visit Dongguan Mosque, Kumbum Monastery, Riyue mountain and Qinghai Lake
Day 1: Visit Dongguan Mosque and Qinghai Provincial Museum, and overnight in Xining City.
Day 2: After breakfast, drive to Ta'er monastery (Kumbum monastery) for a full day tour. Visit this famous Tibetan Buddhism Gelupa monastery, learn about 'three wonders of Ta'er Monastery'- butter sculptures, the barbolas, and the murals, visit Huangzhong county-the birthplace of Zongkapa, the sponsor of the Tibetan Buddhism Gelupa sect. Drive back to Xining for overnight.
Day 3: Drive to Qinghai lake for a full day tour. On the way, you will have a stop to see the Mt. Sun and Moon. Drive back to Xining in the afternoon, end trip in Xining.
Tibettravel.Org is a local travel operator in China, which is ready to help you arrange Xining Lhasa Tour.
Highly Recommended Shanghai Tibet Tour Packages