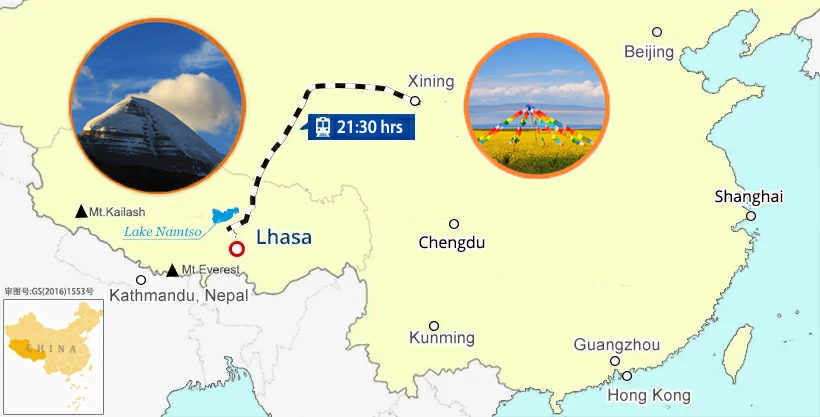 Xining Tibet Train Tour
To many living in eastern China, Xining seems to be a remote frontier city situated on eastern margin of Qinghai-Tibet Plateau. In fact, with a total area of 3456 sq km and multi-ethnic culture, the city of Xining has been a vital transport hub to western China since Tang Dynasty.
For those who opt for the scenic ride via Tibet train, Xining-Lhasa train will take you to enjoy the highlights of Tibet train from Golmud to Lhasa part. With less than 22 hours' train ride, you have no excuse to deny the most convenient access to Tibet via an exhilarating Xining Tibet train tour.
With enough time, you can easily combine your tours in Xining and hop on the Xining-Lhasa train which bounds for Tibet. And plenty of tourists prefer touring the famous Ta'er Monastery and exotic Muslim quarter around Xining City. Never miss the massive rapeseed blossoms beside picturesque Qinghai-Lake in summer before taking the Tibet train from Xining.
As a pioneer of Tibet inbound tourism, we would like to facilitate your Xining and Tibet tour by offering services ranging from Tibet Travel Permit application, Tibet train ticket booking and hand-picked Xining-Tibet tour packages, and plenty of useful insiders' travel tips. Beside, Xining-Lhasa train is not only the essence of Qinghai-Tibet Railway but the shortest Tibet train route (1,972km), highly recommended esp. during peak travel seasons.
Note:Technically, as the beginning of Qinghai-Tibet Railway, Xining is the converging city where different train routes from Beijing, Shanghai, Guangzhou, Chengdu, Xi'an, etc meet. During the travel season, it's highly recommended to fly from cities like Beijing, Shanghai, Guangzhou directly to Xining and take Xining-Lhasa train to Tibet, most convenient and time-saving (only 21:19h).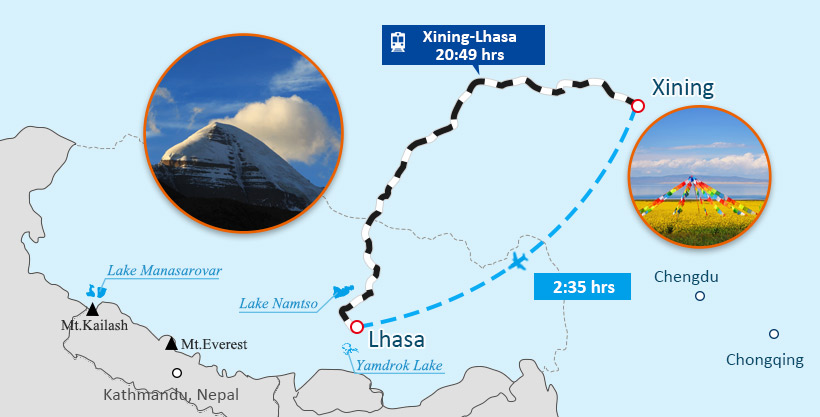 Most Popular Xining Tibet Tour Itineraries
How to Get to Lhasa Tibet from Xining
Xining-Lhasa train (Z6801 /Z6802) is the highlights of Tibet train journey. With a total length of 1,972km, the Xining-Lhasa train is the only railway that can take you from the eastern edge of Tibetan Plateau to Lhasa, the heart of Tibet within 24 hours. For those who prefer to enjoy highlighted scenery along Tibet Train ride and at the same time wont' waste too much time on the train, travelling from Xining to Lhasa by train is your best choice. Besides, the comparatively higher chance of getting Xining-Lhasa train tickets and proximity to Lhasa make Xining an ideal city to enter Tibet.

Well, given the cost and tour experience, taking Tibet train instead of flying to Lhasa from Xining is highly recommended. Tourists can acclimatize to altitude in Xining and tour must-visited attractions like Qinghai-Lake, Taer' monastery, etc, before boarding Xining-Lhasa train. Of course, if you have a tight schedule and have decent budget, you can also take flights from Xining Caojiabao Airport to Lhasa Gonggar Airport.

Take Flight to Xining and Take Train to Lhasa

During peak travel season in China (July-August; During Chinese Spring Festival in winter, etc.), the shortage of Tibet train tickets in Beijing, Shanghai, Guangzhou, etc, propel many tourists to use multiple means of public transports to arrive in Lhasa as planned. The best solution is to fly from your current cities to Xining and later take Xining-Lhasa train to Tibet. For example it only takes about 23hours if you fly from Beijing to Xining and take Xining-Lhasa train to Tibet. And you can still enjoy the best view of Qinghai-Tibet railway from Golmud to Lhasa. While taking Beijing-Lhasa train alone takes about 40:30h. Besides, it's very likely you will fail to book the ticket due to huge ticket demand during high season of Tibet tour.
Note:In addition to train and flight booking from Xining to Lhasa, we also offer bookings from other major cities to Lhasa, such as Kathmandu, Beijing, Shanghai, Guangzhou, Chengdu, Chongqing, Xi'an, etc. For budget travelers, you can sign up for a variety of small group tours in Tibet. Not only can you enjoy relatively cheaper tour price, but also will make friends with global tourists within a group. To family travelling with kids and elderly or other clients with special preference, you may work with us to customize your Tibet tour.
How to Get Tibet Permit When Traveling to Lhasa from Xining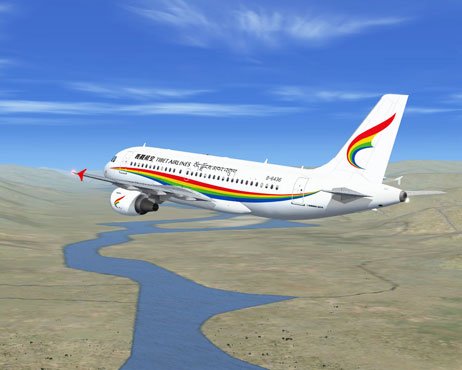 As a common practice, we will deliver your Tibet permit to your hotel in Xining by express, 1-7 days prior to your departure for Lhasa. It is common to get the permit even the night or a couple of hours before your departure to Tibet. In some extreme cases, our staff in Xining will deliver it to your hand before departure at airport or railway station. As the leading local travel agency that has organized global tourists to Tibet since 1984, we have never failed to get and deliver the Tibet permit to our clients. Please feel rest-assured.
If you take a flight to Lhasa from Xining, the original copy is required, while if getting to Lhasa from Xining by train, a printed copy is enough. Your travel consultant will handle with it perfectly according to the situation.
Why you can't get the permit much earlier?
The Tourism Bureau only accepts the permit application that is used to arrive in Tibet within 20 days. Generally, it takes 6-12 working days to issue the permit after we get the photo copy of your passport and Chinese visa. The application time depends on where you travel in Tibet, about 8-12 days to get the permit if heading to Mt.Everest and Mount Kailash, and just 6-8 days if you only travel in Lhasa City.
After we get the permit in Lhasa, we will deliver the permit to you immediately by express, and it takes around 6 days to arrive in Xining. Therefore, you will only be able to get the permit within 1 to 7 days before your departure for Lhasa.
However, your personal consultant usually asks you to confirm the tour much earlier, because the earlier you provide all the required documents, the earlier we can submit to Tibet Tourism Bureau and wait for your turn.
We promise to nail visa to Tibet for every of our clients with 100% guarantee.
More Frequently Asked Questions about Xining Tibet Train Tour
a.How to book the Xining Tibet train ticket?
Basically, you have two options: one is to book the Xining-Lhasa train ticket online by yourself; the other is via a travel agency. If you can have no language barrier or have a Chinese bank account and know how to use Apps likes Wechat or Alipay in mainland China, you may have a try. However, in reality since traveling from Xining to Lhasa is one of the most popular train routes to Lhasa, it's very likely you may end up failing to get the train ticket, esp. during the high season of Tibet travel (April to Oct. and other during other Chinese festivals), because a large number of train tickets have already been reserved by big travel agencies.
So, the best way is to book your Xining Tibet tour by train from us, the reliable travel agency. In this case, not only can your train ticket (hard sleeper) be secured but also plan your Tibet tour together. You are free from much hassle. So, Why not?!
b.How can I get my train ticket from you?
There are two situations. One is that our staff will deliver the train ticket to you in person. The other is that your travel consultant will give you the Train Booking Confirmation No. and you go the ticket office at the railway station for the ticket yourself. In this case, you are expected to arrive at the railway station much earlier (2hours will do.) because long lines occur very often in China. Get to the ticket office and show your train booking confirmation No. and Passport and Tibet Permit (or copies) to get your train ticket.
c.I'm a HK resident, do I need a Tibet Permit to take Tibet train?
Well, for the residents of HK, there is no need for you to get Tibet Permit to board Tibet train. All you need is your Home Return Permit and a Tibet train ticket. While to the non-Chinese passport holders, a Tibet permit is a must for your Tibet tour. For our clients, we offer free service for your Tibet permit application.
If you look for more privacy, soft sleeper is the best choice. The soft sleeper cabin only accommodates 4 passengers, more spacious and better equipped (such as TV, carpet, small clothes rack, etc.) You can discuss with our travel consultants to see if you need to upgrade your ticket or not. The last one is the hard seat, whose seat is not hard literally. Despite the cheapest price, it's not recommended for all you have is the seat without a bunk to sleep, esp. during the long ride.
d.Do I need to be worried about altitude sickness aboard?
Absolutely not! During the invention and construction of Tibet train, Chinese engineers have taken this issue into consideration and ingeniously solved it. The Tibet train is equipped with smart oxygen supply system. As the train reaches places with extreme altitude, such as Tanggula station (5072m), on the Tibetan plateau, oxygen will be released though the oxygen outlet in the train cabin. You may ask for the oxygen tube from the staff for the convenience of oxygen inhale. Meanwhile, the medical staff may also stay in the train for emergency.
All the travelers will respond to the altitude ascent. However, the symptom varies. And there is no need to panic. If you do feel the need to take the medication, you can buy Diamox , Rhodiola rosea (红景天) or Gaoyuanan (高原安) on pharmacist's or consult your doctor.
e.Can I have shower in the train?
Interestingly, there is no shower facilities in the Tibet train, largely due to the concern for the conservation of fresh water. Meanwhile, it can effectively reduce the chance for passengers to catch a cold, which can be a serious health issue on the Tibetan Plateau. However, hot water and water for washing face and hands and fruits are available.
f.I'm a vegetarian. Any food available to me in Tibet train?
Yes, in the dining car, you can easily check the menu and may order dishes like noodles, dumplings, and vegetable fried rice, steamed pumpkin and tomato/tofu soup, etc. Besides, during the meal times, the food trolley pulled by the staff may also sell biscuit, instant noodles and other snacks, etc.
g.Is there a restriction on the number of luggage piece one can carry?
There is no restriction on number of luggage pieces each passenger can carry. However, normally, there are some restrictions for carry-on luggage. For example: Children (refers to children whose height is shorter than 1.3m): 10kg luggage for each; Adult (common passenger): 20kg; while the width, height, length of one piece of luggage is limited within 160cm; the length of luggage in shape of pole is limited within 200cm. The weight of wheel chair of the disable does not included in luggage limitation.
Advantages about Booking a Xining and Tibet Tour Together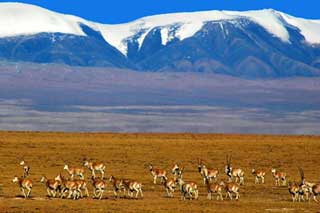 Cover the highlights of Qinghai-Tibet Railway with the shortest travel time
Even seven cities in mainland China have trains to Tibet, the Xining to Lhasa train takes the shortest time for about 22 hours. All railways to Tibet pass through Xining because the so-called Qinghai-Tibet Railway starts precisely from Xining and ends in Lhasa. If you don't have enough time, just head to Xining and start your Tibet train journey from here. You won't miss any highlights of the Qinghai-Tibet Railway.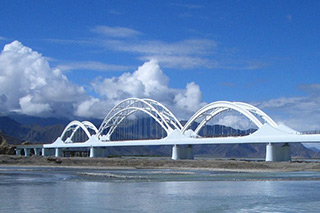 Get the most convenient transfer from Xining to Lhasa if You book together with Us
As the closest gateway to Tibet, Xining offers the shortest journey to Tibet, around 22 hours by train and 2 hours 20 minutes by air. Also, the highway from Xining to Lhasa is the shortest highway to Lhasa for around 1937 kilometers.
When you book a Xining and Tibet tour together with us, your transfer from Xining to Tibet will be included in your package. Whichever way you choose to travel from Xining to Lhasa, your travel consultant will help you arrange the most fluent way to go.
Without the hassle of communicating with different travel agencies, you can save more time and money.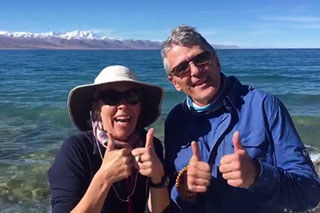 Get the Best Value of Money by a Packaged Tour from Xining to Tibet
A packaged tour always means include everything for less. Your local transfer, accommodation, travel guide and driver service, and attraction fees are all included in your Beijing Tibet tour package. As the first Tibet tour operator to run Join-in Small Group tours, we can offer you more competitive prices and guaranteed services.
Compared with booking a Beijing tour and a Tibet tour separately with different travel agencies, our packages can exempt you from the service fees charged by different travel agencies.
You only need to pay once and enjoy the same quality of high-standard service throughout your trip from Beijing to Tibet.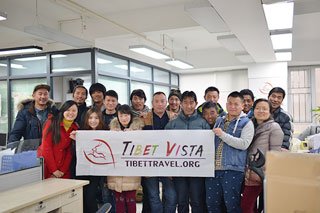 Get Stress-free Communication with Our Travel Consultant
Communication tends to consume a lot of your time and patience. If you book separate trips to Beijing and Tibet with different travel agencies, you may need to describe the same needs with different customer service.
Our China Tibet Travel Consultant will solve all your problems with your China Tibet travel plan. They are not only familiar with travel in Tibet, but also in mainland China.
You will have exclusive customer service to connect with you. Just tell your 1-on-1 travel consultant all your needs and he/she will arrange the best trip to Beijing and Tibet according to your needs.
Travel Tibet from Other Cities of China
Tailor-made your Own Tour within
24 hours

.

Simply express your tour needs, we'll customize a trip plan for you. No deposit is required until you are totally satisfied with the trip plan.

Tours departure 365 days a year !

Start Customizing Now!