Why One Should Trek in Both Nepal & Tibet
The geography
Probably one of the largest deciding factors when it comes to embarking on an expedition lies in the physical terrain. After all, aside from the people and their culture, the most impactful part of your trip will be the land that you're immersing yourself in. You want to see something new, something you've never seen before in real life, something inspiring. You want to have an unforgettable adventure. Let's look, then, at what you should expect to see in Nepal and Tibet, respectively.
Nepal
This land of extremely diverse geography is divided into four main regions: Terai, Hill, Mountain, and Trans-Himalayan—each of which has its own unique climate and ecosystem.
To begin with, the southern Terai region is characterized as flat, fertile, wet and marshy.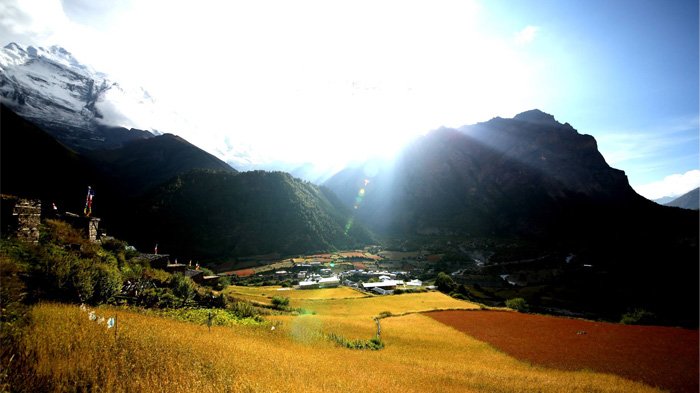 Nepal
The Hill region contains uninhabited steep escarpments and crests, as well as more fertile valleys where indigenous groups live off crops like wheat, potatoes and rice. The climate here is predominantly subtropical and tropical, perfect for the growing of strong fruits, citrus, and grains like rice.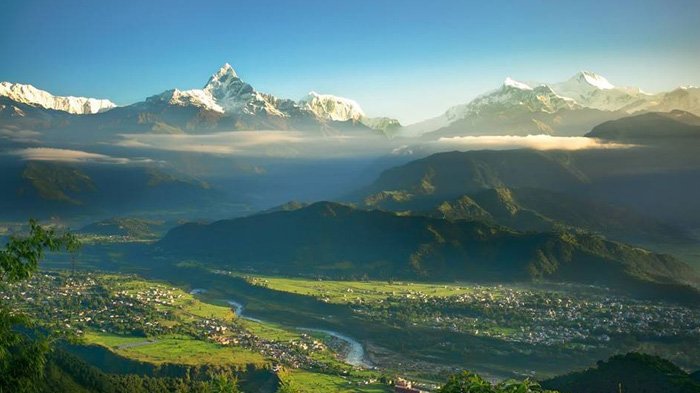 North of Nepal
Just to the north there is the Mountain region, with high snow-capped peaks—like the famed Mount Everest—that reach over three thousand metres high, into the subalpine and alpine regions. Permanent villages reside in the southern part of this region, where yaks, sheep, and goats are pastured in the warmer months, and where, in the winter, cold-weather-adapted crops grow, and medicinal herbs may be gathered.
Finally, the Trans-Himalayan region is known for semi-arid valleys; while the population density is low, there still remains a mix of Tibetan and Nepalese people that thrive here.
Tibet
Like Nepal, Tibet has a very diverse geography. Found here are extremely tall mountains that reach up to 7500 metres in height, plenty of lakes and rivers, and impressive plateaus—some of which are nearly five thousands metres above sea level. It is often divided into two dominant regions: the northwestern lake region and the southeastern river region.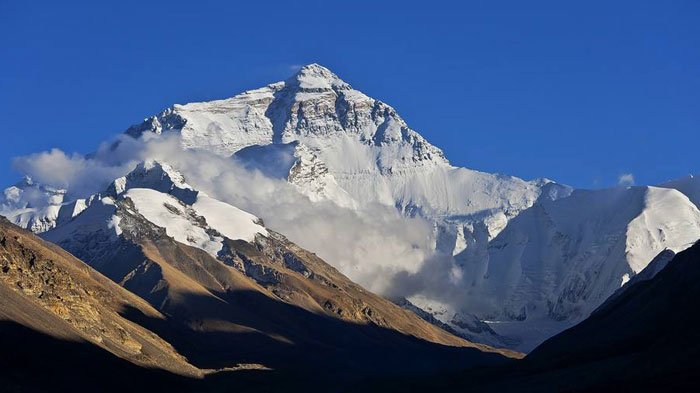 Mt.Everest
The lake region is very dry and windy. With a mere 4 inches of precipitation all year and no rivers, it is very desert-like here. While there are some hot springs found, with it being so cold, they are often frozen over. The mountains found here are all far apart from each other, and the land in between is fairly flat. The soil is also not very fruitful thanks to the permafrost.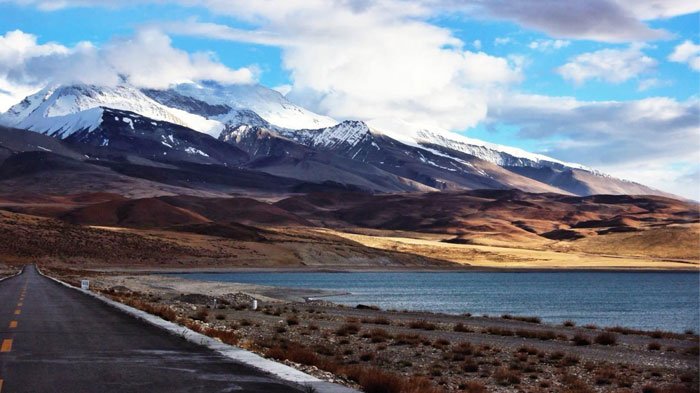 Lake Manasarovar
The river region is, on the other hand, a fertile land with many narrow valleys. These valleys are known for being void of permafrost, well irrigated, and containing rich soil. This region also features the deepest canyon in the world, the Yarlung Tsangpo Canyon.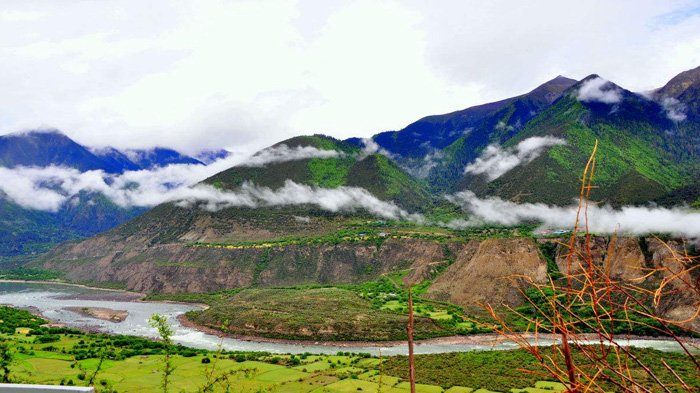 Yarlung Tsangpo Canyon
Major differences
Don't have the time or other necessary resources to journey to both Nepal and Tibet? Feel the need to prioritize? Well then read on for the main differences between the two trekking experiences to see which is most suitable for you!
Dining
Tibetan cuisine relies largely on the land's goats, mutton and yaks, which make for mouth-watering meat dishes, but also extremely fresh dairy goods—is there anything better than that first taste of whipped, creamy butter or rich, densely flavoured cheese? You can get these and more in Tibet. In terms of "more," we're talking noodles, dumplings and soups. If you're looking for a place to try, Tibetan Family Kitchen is an unparalleled experience. Found in Lhasa, the "restaurant" is actually found in the hosting family's courtyard, where you are welcomed in and treated to delectable, home-cooked meals.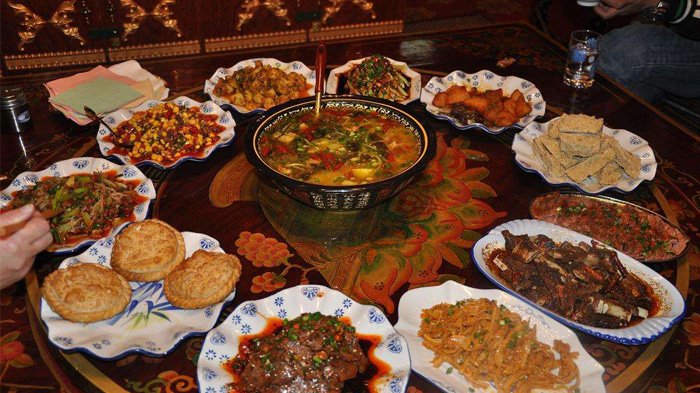 Tibetan food
As a general rule of thumb, you will find healthier dishes in Nepal than in Tibet. This is because the former is largely influenced by India. As a result meals are crafted less with heavy fats. Relied on instead? Lean meats and vegetables—fresh and probiotic-rich fermented veggies at that. Common ingredients making up Nepalese dishes are lentils, potatoes and tomatoes—all of which are often flavoured with mustard oil and deliciously fragrant herbs and spices like cumin, coriander, chilli pepper, and garlic. A must-try restaurant in Nepal? For its authentic, traditional, scrumptious food—especially its dal bhat: Pokhara. You know it's good when it's filled with locals.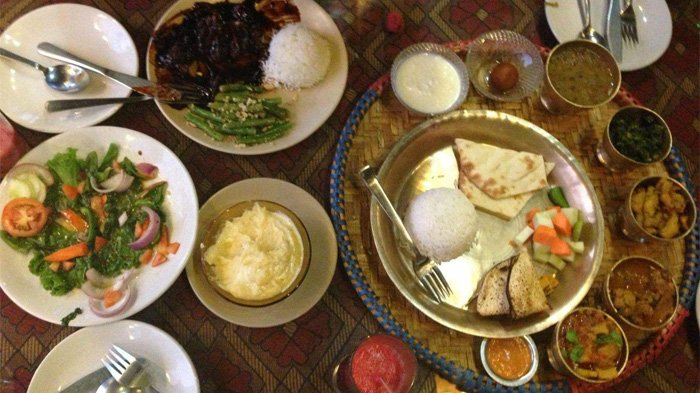 Nepal food
Hotels and Home-stays
Hotels are typically booked in Tibet through travel agencies that arrange and guide your tour. If you're interested in staying somewhere cheaper, just let them know, but this may be the place to splurge. Why?Tibet offers world-famous, luxury hotels at a relatively cheaper rate, without skimping on that sumptuous quality you'd expect of such an establishment. For instance, you can snag a room at the Shangri-La in Lhasa for under $100 USD, a fraction of the cost you'd find elsewhere. Not into spending even that? Try the cheaper, but still well-loved Jardin Secret hotel, also in Lhasa, for only about $30/night.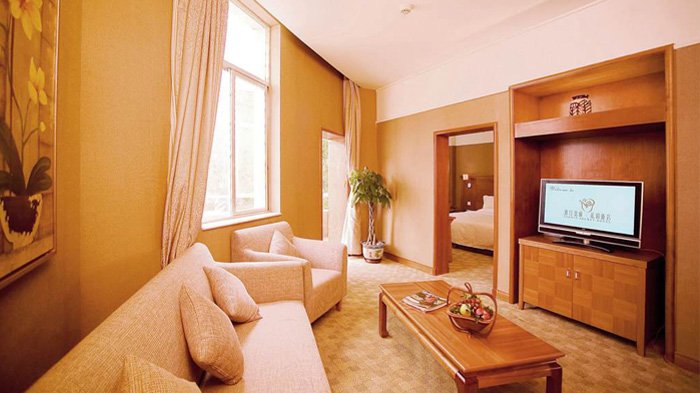 Jardin Secret hotel
In Nepal, you're bound to find many hotels for very affordable prices. Kathmandu's Hotel Tayoma and Pokhara's Hotel Lake Palace are two good examples of beautiful structures that will only charge you about $10 USD per night. While Kathmandu is a busier, more lively city to stay in, Pokhara offers a relaxing, lakeside experience, plus larger rooms.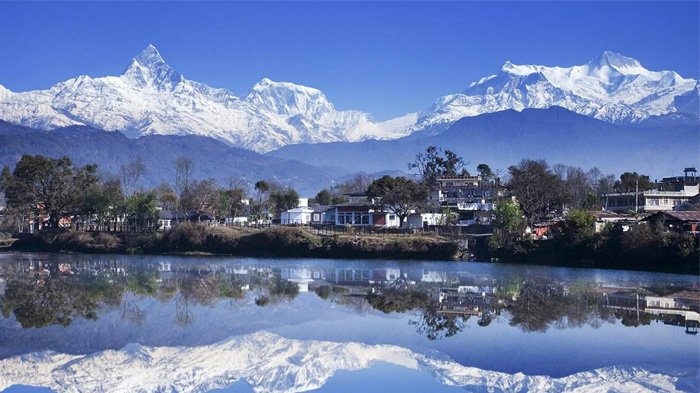 Hotle in Pokhara
If you want to have a really unique experience, we recommend you try a home-stay. This gives you the opportunity to stay in a local's home, have dinner with them and their family, and save some cash. We suggest you try this if you visit the Nepalese town Tansen, where it can be arranged easily though the main tourist office, Getup.
Religion
Tibet has a very devout Buddhist culture. This influences everything from what you will see on the streets, to the way the society is structured. Traditionally, Tibet also has a spiritual leader: the Dalai Lama. Many of the activities you will see taking place here revolve around this devout faith. Aside from the masses of pilgrims expressing their devotion, which you cannot fail to miss, you will also notice spinning prayer wheels led by elder Tibetan women and very strong juniper incense being burned.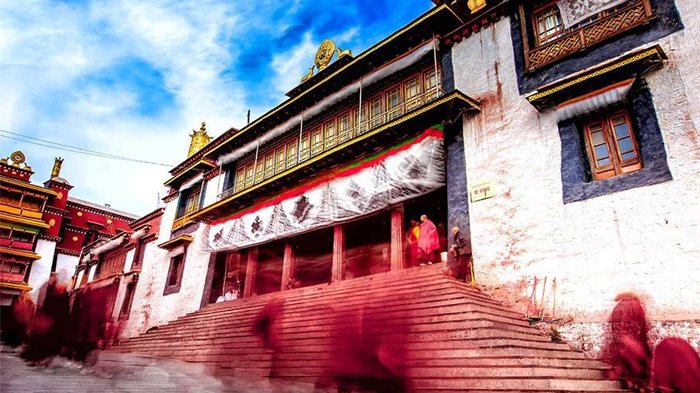 Tibetan Buddhist
Nepal on the other hand is largely Hindu, and it is solely a secular state. So there is more of a focus on tourism and secular industries such as this. Religion, though, may still be found in its temples—like the famed Pashupatinath Temple, as well as in the stories surrounding Nepal and its origins, and its flag, which is believed to have been created by Lord Vishnu.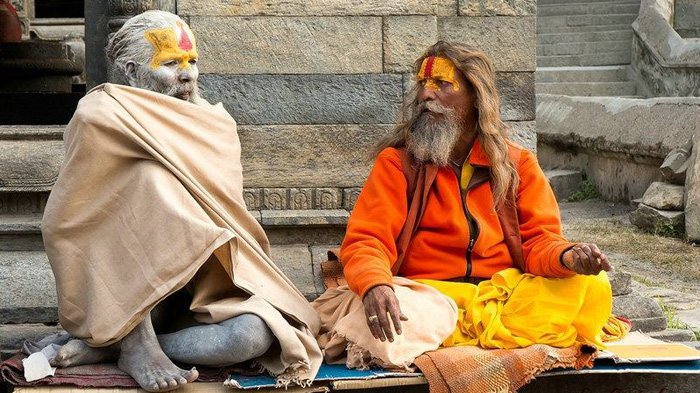 Religion in Nepal
Overall experience
As an independent and more developed land, Nepal is generally agreed to be more idyllic for tourists. Unlike the Chinese province that is Tibet, it is has an active service industry that understands how to cater to visitors. There are many more restaurants and hotels, and they are also significantly more affordable. Finally, the trekking itself is often viewed as favourable in Nepal than in Tibet—perhaps because in Nepal you can explore eight of the ten highest mountains in the world. Plus, you're free to explore Nepal without a tour guide, which is required in Tibet.
Planning your trip
Before running over here—as we know you're just dying to by now—make sure you're well-prepared. That way, when you get here, you're free to enjoy yourself without worry!
Travel documents
Traveling to Nepal necessitates a visa and a passport valid for six months. You can get your visa at the airport, as well as at some lad borders, but make sure you have the cash to pay, as cards are not accepted. If you're interested in conducting business, you can do this for thirty days on a tourist visa. If you're not from the Americas, the UK, the EU, or Australia, we advise you check with the embassy of Nepal and see if you will need any additional documents.
To enter Tibet you'll need the specific Tibet Travel Permit, which you can only get from the Tibet Tourism Bureau with the help of our travel consultants. Bare in mind, obtaining this document can take anywhere from one to three weeks, so make sure you factor this waiting period into your planning schedule. For the easiest way to get in touch with the bureau, we recommend you get in touch with travel agency Tibet Vista. They'll ensure you have everything you need before you go, and can even help set you up with tour groups or private guides.
Best time to go
Visitors are recommended to travel to Tibet and Nepal in the winter months—between November and February—when the holy sites are "active," and yet there are not too many tourists. In this way, you'll be able to witness various rituals and activities taking place and avoid fighting crowds. Also, with regards to Tibet, you'll want to ensure you go as soon as you can, because it is moving away from its rich, unique, traditional identity more and more every day.
Top Trekking Routes
There are a number of different paths that one can take when it comes to trekking in Nepal & Tibet, but here are our favourite three routes we don't think you'll want to miss.
Nepal
1.Everest Base Camp
2.Annapurna Circuit
3.Langtang
Tibet
1.Nyenchen Talgha to Lake Namtso
2.Ganden to Samye (Yarlung region)
3.Tsurphu to Yangpachen
4.Old Tingri to Everest Base Camp
5.EBC to ABC (ultimate trekking route)
Variety, the spice of life
Nepal and Tibet offer two very different experiences, and yet are so close to each other, which is why we think you should really treat yourself to touring both of these lands while you're in this part of the world. After all, our time on this planet is short, so oughtn't we to maximize every opportunity that presents itself?
What's your take, do you think you'll take your trekking to both regions? Or do you prefer one over the other?