Ultimate Guide to Mt.Kailash Trek and How to Plan a Kailash Tour
Mount Kailash trekking tour is one of the most demanding and challenging of treks for pilgrims in the world.
This trek route in Tibet is widely known as the kora around the Mt. Kailash(6638m) which is sacred to four religions and a deeply numinous place.
The average altitude of this trekking is nearly 5,000m, so it is a very great challenge and requires strong perseverance.
It is a true test of the mind and spirit. However, with a full preparation and tourist-friendly support from a professional team like us, you can enjoy the spiritual walk to your heart's content.
The most classic and popular tour itinerary is: 15 days Mount Kailash and Manasarovar Small Group Tour, with more than 90% clients taking this trip every year.
Before you hit the road, let's find out what to expect and how to plan for the Mt.Kailash tour:
What Is It Like about the 3-Day Mt.Kailash Kora?
Well, let's face the fact that we are not genetically programmed to walk at such high altitude (averaging 5000m for Mt.Kailash kora) than local Tibetans. Many Tibetans do the kora in a single day; but the most international tourists take three days to finish the 52km's walk. The important thing is to find your pace and walk steadily.
Follow Our Mount Kailash Yatra Vlog to see the real Kora of holy Kailash
Mt.Kailash Kora at a Glance
Route: around Mt. Kailash
Distance: 52km trekking
Duration: 3 Days
Permits: Tibet Permit, Alien's Travel Permit & Military Permit, Foreign Affair Permit, Froniter Pass
Start: Darchen (4675m)
End: Darchen (4675m)
Highest Point: Drolma La Pass (5630m)
Difficulty: Medium to difficult
Accommodation: Camping or local guesthouses
Food: Local simple restaurants
Highlights of Mt. Kailash Trek
Traditionally, Mt.Kailash tour is done with the 3-day trek around holy Mt.Kailash together with a visit to sacred Manasrovar Lake in Ngari, western Tibet. To many Indian tourists, a holy bath in the Manasrovaris also an integral part of the journey. Some of the highlights of the Mt.Kailash trek involve:
a. Trek with Prostrating Tibetan Pilgrims around Holy Mt.Kailash
The Mt. Kailash kora starts at the charm-free village of Darchen, and opens up unending stretches of barren land, lush green valleys, snow-capped peaks and pristine blue lakes, winding past mani walls and skirting the base of the Kailash massif. The average altitude of this trekking in Tibet is nearly 5,000m, so it is very a great challenge and requires strong perseverance. It is a true test of the mind and spirit. But simple guesthouse and food are available on the trail, so hikers can enjoy the trek to their heart's content.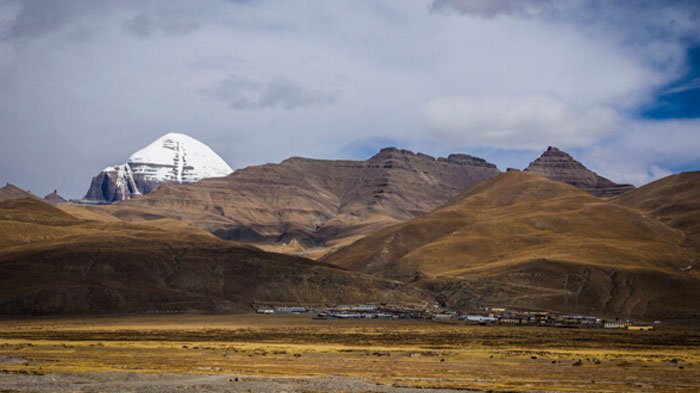 Far view of Mt. Kailash
You will be closely observing the imposing pyramid-shaped summit of Mt. Kailash, believed to be the "Abode of Lord Shiva"andwalking with devoted Tibetan pilgrims for an unbeatable spiritual odyssey around the holy mountain. For ordinary trekkers, walking in the clockwise direction is an orthodox way for the 3-day Mt.Kailash kora. The 52km's trekking around the "King of the Mountains" will push your physical limit to a whole new level.
b. Enjoy the Surreal Beauty of Manasarovar Lake
47km southeast to Mt.Kailash lies the legendary Manasarovar Lake (4588m), one of the three holiest lakes and the highest fresh lake in Tibet. As a star attraction on the way from Saga to Mt.Kailash, sacred Manasarovaris the origin of the Sutlej River, the easternmost large tributary of the Indus. The legend has it that Parvati, the wife of Lord Shiva, used to bathe here and consequently bestows the magical power in this holy water. You can take a relaxing stroll along the enchanting shore of Manasarovar Lake or enjoy the meditation here. With incredible reflection of the summit of Mt.Kailashsh own on the lake surface, the holiness of the lake is heightened.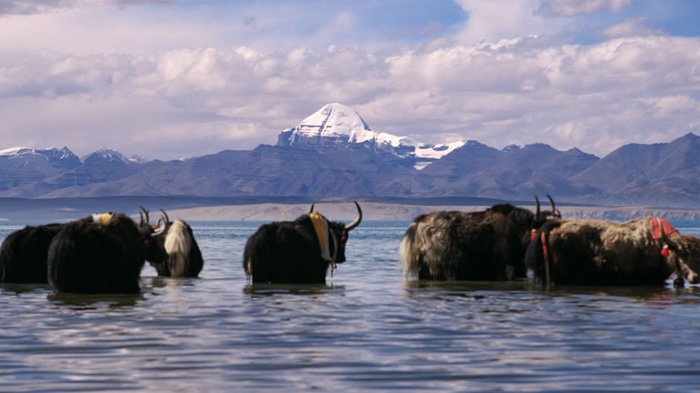 The stunning Mt.Kailash made a splendid backdrop to the Manasarovar Lake
Jiwu Temple, situated to the west bank of Manaasarovar Lake, is the best place to enjoy the spectacular sunset of Manasarovar Lake. If you find enough time, you may even visit lake Rakshastal, the sister lake of Manasarovar, a saline and mysterious lake with no vegetation on the lake bank. Locals believe that Manasarovar Lake symbolizes good and virtue, while Lake Rakshasta would be bad and evil.
c. Explore the Five Temples around Kailash
The Mount Kailash is surrounded by five monasteries, namely Nyari Monastery, Drirapuk Monastery, Dzultripuk Monastery, Selung Monastery and Gyangzha Monastery. Nyari is the first site on the Kailash Kora and the last two are located on the inner kora. Each monastery is endowed with different legendary stories and decorated by distinctive sculptures, statues, murals, thangkas and other Tibetan cultural objects. Unfortunately, all are destroyed to different degrees. But the monasteries can offer simple accommodation to pilgrims and trekkers.
Mt.Kailash Trekking Map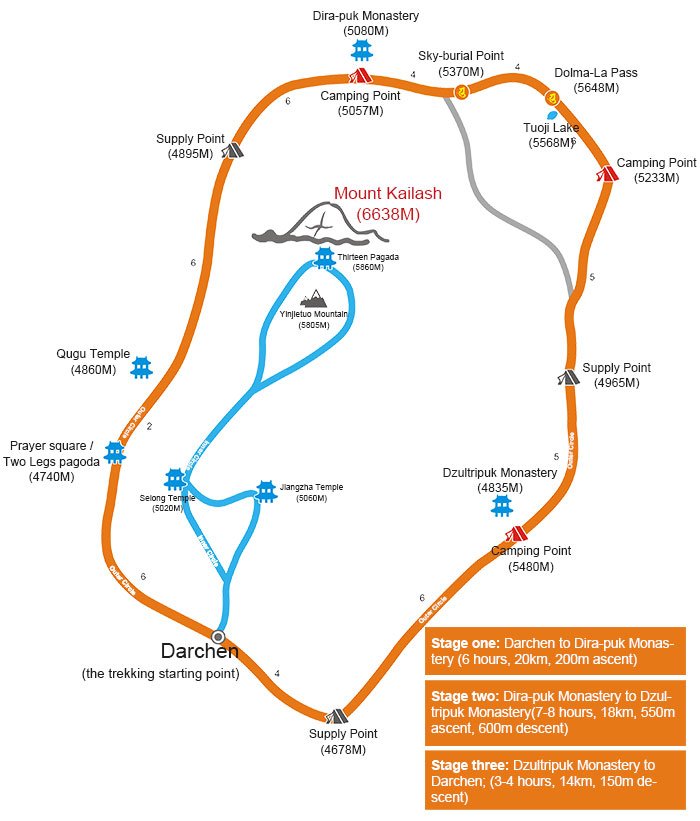 Detailed Kailash Trekking Outline Map
Check for more detailed information about the Ultimate Mount Kailash Manasarovar Tour Maps.
3-Day Mt.Kailash Kora Schedule:
Day 1: Darchen - Dirapuk Monastery (6rs, 20km, 200m ascent)
Hire Porter and Yak
You'd better begin your trek in the early morning. The tour vehicle will transfer you to the two prayer square, which is the beginning of Mt.Kailash trek. You may hire a porter and yaks to carry your day packs. Check the following cost (2018 pricing):
Porter: 210-250 CNY (above 31 USD)/ day
Yaks and Yak Herdsman: 250-300CNY (above36 USD)/ day respectively
Horse-back Riding: 300 CNY(43 USD)/ day
Groom: 210-250CNY (above36 USD)/ day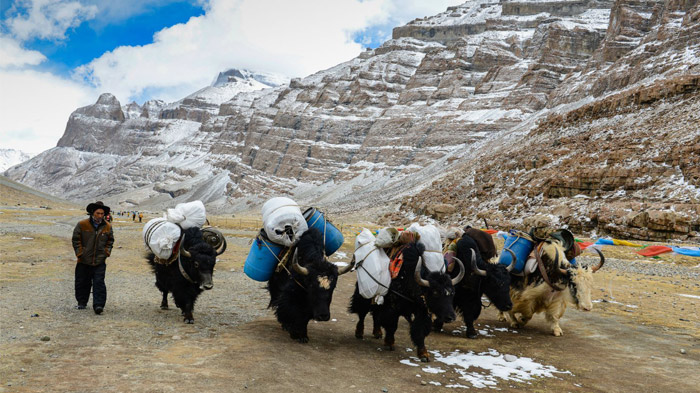 You'd better hire a porter and yaks to carry your packs.
Darchen - prayer square/two legs pagoda--Guqu Temple (2-3h,6km)
Stick together with the team; the altitude rises slowly and there are some mild ups and downs, which is easy to handle.
Guqu Temple - DirapukMonastery(3-4h, 14km)
Pretty much the same difficulty level as before; mild and moderate trek
Detailed Trekking Experience:
The Kailash kora usually begins on the western edge of Darchen. Only 4km from Darchen the trail climbs up over the southwest end of an east–west ridge to each a cairn at 4730m. The cairn is bedecked with prayer flags and marks the first views of Mt Kailash's southern or lapis lazuli face and a chaktsal gang, the first of the kora's four prostration points. Very quickly the trail bends round to the north and enters the barren Lha-chu Valley. From here on, the narrow Lha-chu River provides a steady supply of water all the way to Dira-puk Monastery.
After passing a series of ruined chörtens and a number of long mani (prayer) walls, the trail reaches a small bridge across the Lha-chu at 4710m. The bridge is about three hours' walk from Darchen and is directly below Chuku Monastery perched high above the valley floor on the hillside to the west. During the pilgrim season, a few nomad tents may be set up on the other side of the river from the monastery, with food (instant noodles and snacks) and water for sale. Chatting with nomads can be an interesting part of your trekking tour in Tibet. They will help you to know more about Tibet.
From the Chukubridge there are alternative trails along the east and west banks of the river. Either way it's about three hours to Dira-puk Monastery. The trail along the eastern bank is the regular pilgrim route, but on the western trail there are some fine grassy camp sites at DamdingDonkhang (4890m). Just take your time between Chuku Monastery and Dira-puk Monastery as this stretch has some of the best scenery of the entire kora. It's possible to overnight in the monastery's rather basic guesthouse (50CNY for each bed), though be aware that Indian pilgrims often book all the beds here, too.
Day 2: Dirapuk Monastery to Dzultripuk Monastery (7-8h, 18km, 550m ascent, 600 descent)
This is the most challenging part of the 3-day trek as you will challenge the Drolma La Pass (5630m) and you need to take it extremely careful with the drastic ascent and descent during the trek.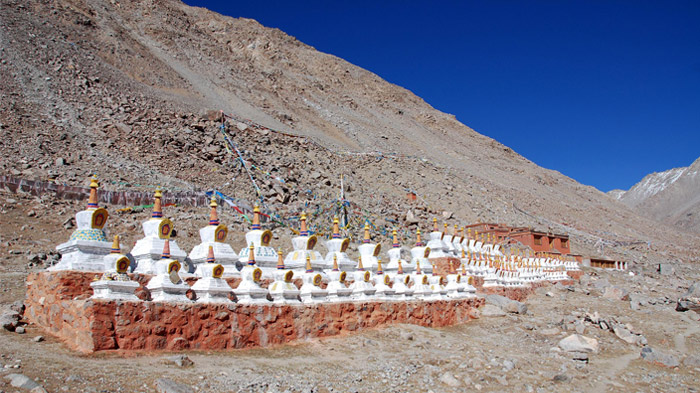 Dirapuk Monastery - with an elevation of 5080 metres.
Dirapuk Monastery (5080m) - Sky burial point (4km,2h)
treacherous and rugged terrain, steep ascent
Sky burial point(5370m) - Dolma La Pass (5648m) (4km,1.5h)
steep ascent
Dolma La Pass--- Valley ( Tuoji Lake, shiva's wife Parvati has bath there, 2km,1h)
steep descent, loose and rocky terrain, be extremely careful
Valley - Dzultripuk Monastery (8km, 3.5h)
swamps
Detailed Trekking Experience:
If you wake early in the morning, consider walking up to the Kangkyam Glacier that descends from the north face of Mt Kailash. But it takes about two hours there and back. Regularly, you will head off to the east, crossing the Lha-chu again by bridge and climbing on to a moraine to meet the trail on the east bank. It is a long ascent to Drölma-la, so bring water to last a few hours.
Walking about two hours, you will reach a rocky expanse of Shiva-tsal (5330m). Pilgrims are supposed to undergo a symbolic death at this point, entering in the realm of the Lord of the Dead, until they reach the top of the Drölma-la and are reborn again. About 30 minutes from Shiva-tsal the trail turns eastward for the completion of the ascent to the highest point of this train - 5630m Drölma-la. Weather permitting, most pilgrims and trekkers pause at the pass for a rest and refreshments before starting the steep descent. It takes approximately an hour to make the long and very steep 400m descent to the grassy banks of the Lham-chuKhir.
As with the Lha-chu Valley on the western side of Mt Kailash, there are routes that follow both sides of the river. The eastern-bank trail presents better views and there's less marshy ground but it requires crossing the river by boulder hopping. About three hours on, grassy fields appear alongside the river affording those with tents endless spots to set up camp. An hour or so from the start of the camping fields is the Dzutul-puk Monastery (4790m). The monastery has a simple guesthouse (also 50CNY for each bed).
Day 3: Dzultripuk Monastery to Darchen (3-4 hours, 14km, 150m descent)
Mild slope and easy trek; some narrow paths to pass
Detailed Trekking Experience:
From the monastery, the trail follows the river closely for an hour or so then climbs above the river and enters a narrow scanyon. When the canyon narrows look for holes gouged into the cliff walls. These are not natural but made by pilgrims looking for holy stones. Also look for prayer flags festooned across the river, and in the far distance the blue waters of the lake Raksas Tal.
When the trail emerges onto the Barkha plain, it's now an easy one-hour walk back to Darchen along a dirt road. And you will finish one of the most important pilgrimages in Asia.
How to Get to Mount Kailash and What Tours Available to Take?
The Most Popular Way to Reach Mt.Kailash and the Most Classic Tour Itinerary
Travel Route (15 days):
Lhasa (3650m) - Gyantse (4040m) - Shigatse (3836m) - Tingri (4300m) - E.B.C (5200m) - Saga (4487m) - Lake Manasarova (4588m) - Darchen (4600m) - Mt. Kailash (6638m)
(> 15 Days Kailash Manasarova Small Group Tour Package.)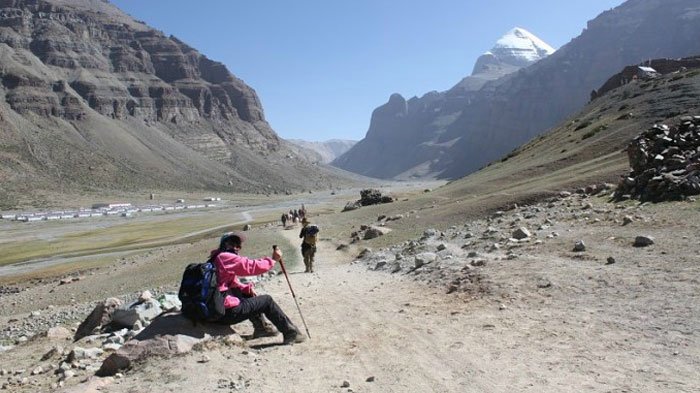 The way to Mount Kailash.
Based on our years of Mt. Kailash tour running experience, more than 90% of the travelers will choose to reach Lhasa first, either by taking flight or Tibet train from mainland Chinese cities (like Beijing, Shanghai, Chengdu, Xining, Guangzhou, Xi'an, etc.) or flight from Kathmandu (1h30m). And then after 3 day's acclimation in Lhasa and keep travelling to Gyantse, Shigatse, Tingri, and visit EBC. Afterwards, travel westward to Saga, Manasarovar Lake and Darchen, the small town and beginning of Mt.Kailash kora.
The Minimal Days to Reach Mt.Kailash by Overland
Travel Route (7 Days):
Kathmandu (1400m) - Syabrubesi (2380m) - GyirongBorder (1800m) - Gyirong Town (2700m) - Saga (4487m) - Lake Manasarova (4588m) - Darchen (4600m) - Mt. Kailash (6638m)
The proximity to Nepal makes Kathmandu the closest gateway to Mt.Kailash. Firstly you fly to Kathmandu and stay there for 3 days to get China Group Visa and sightseeing. Then you can enjoy our transfer service from Kathmandu to Syabrubesi (7-8hrs, 130km), 20km to Gyirong Border. After spending one night there, you cross Gyirong Border, Sino-Nepal border, and arrive in Gyirong Town for acclimation. Then the next day drive upwards to Saga and keep driving to Darchen via Manasarovar Lake.
Take Helicopter to Mt.Kailash
Travel Route (11 days):
Kathmandu (1400m) - flight - Nepalgunj (150m) - flight - Simkot (2910m) - flight - Hilsa (3640 m) - drive - Purang (4025m) - Lake Manasarova (4588m) - Darchen (4600m) - Mt. Kailash (6638m)
(> 11 Days Tibet Kailash Pilgrimage Tour by Helicopter from Nepal)
Take Helicopter to Mt.Kailash from Nepal.
This travel route is especially popular to well-to-do Indian tourists, given the expensive helicopter ride. And you also need to spend 3 days to process China Group Visa in Kathmandu before entering Sino-Nepal Border. After you spending one night in Purang, you can travel northward to Darchen via majesticManasarovar Lake and Jiwu Temple.
Other Ways to Get to Mt.Kailash
Besides the major travel routes, you may also choose to travel overland from Kashgar to Mt.Kailash. In this case, you need to take connecting flight from cities like Chengdu, Chongqing, Guangzhou, Shanghai to Kashgar, then drive southward to Mt.Kailash via Karghalik, 30 Li Yingfang, Rutog and Shiquanhe and Darchen. However, in reality, not only does it cost much more money but also very inconvenient, unless you have special purposes such as motorcycling, etc.
We are also often asked if one can fly from Lhasa (3650m) to NgariGunsa Airport (4274m), and drive to visit Mt.Kailash. Well, theoretically it's workable. However, considering the drastic altitude ascent, you are very likely to be hit by acute mountain sickness. And you skip all the landmark attractions from Lhasa to EBC. So, it's not recommended to do so.
If you have a tight schedule, you may take Lhasa-Shigatsetrain (Z8801, 2:53hrs) to reach Shigatse. It cuts down over 6 hours' drive to nearly half. Then you can use our transfer service and skip EBC and drive directly to Tingri, Saga, and Manasarovar to Darchen. In this way, you may save up to 3 or 4 days.
How to Plan a Lifetime Mt.Kailash Tour?
Despite the spiritually-uplifting experience and awe-inspiring Mountain View, the notoriously challenging Mt.Kailash trek is defined by extreme altitude, changeable mountain weather and huge physical demand.
You are expected to trek on the rugged mountain trials over 52km averaging5000m above the sea level. The thin air, eye-blinding sunshine, unforeseeable snow at Drolma La Pass (5630m), plus complex travel formalities and long distance of travel prompt you to have a full-fledged preparation. No worries! Please follow our insider tips and gear up for a safe and unparalleled spiritual journey.
Pre-Book Your Mt. Kailash Tour with a Reliable Travel Agency
Tibet is like no other, for its far-flung location and unique travel policy. All Tibet travels, including Mt.Kailash tour, can only be done via a pre-booked tour (at least 30 days) with a licensed Tibet travel agency.
As a well-established Tibet travel agency since 1984, our offices are located in Lhasa, Kathmandu and Chengdu, making it extremely easy to book the Mt.Kailash tour directly from us, without depending on the third party contractors. Meanwhile, we promise to offer an easy handling of your travel documents from all Tibet-entry cities, and can help you book hotel, flight, Tibet train tickets to Lhasa, etc.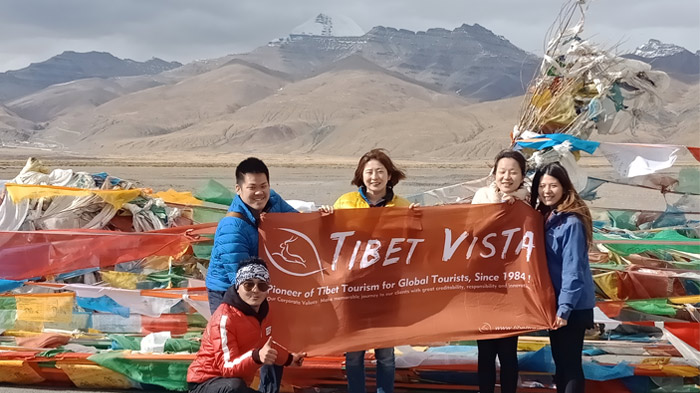 As a well-established Tibet travel agency since 1984, we have offices in Lhasa, Chengdu and Kathmandu.
For Indian citizens who intend to visit Mt. Kailash and Manasarovar in Ngari, according to the Tibet travel policy, you can only book your tour run by Pilgrim Center (non-governmental), also known as Tibet-India pilgrim Reception Center in Tibet. You can book your Mt.kailash tour through a trustworthy tour operator in India or Nepal. Other international tourists are not affected, you can book your Mt.Kailash trek directly with us.
Travel Documents Needed for Mt. Kailash Trek
The travel documents needed largely depend on where you plan to visit Mt.Kailash. If you prefer to visit Mt. Kailash from Lhasa, Tibet Permit is needed to enter Tibet, and then our Tibetan guide will help you get Alien's Travel Permit and Military Permit and Foreign Affairs Permit to visit Mt.Kailash in Burang, County, Ngari (Ali).
If you decide to visit Mt.Kailash from Kathmandu, in additionto the above three documents, you need to have China Group Visa to enter Tibet. You need to set aside at least 3 days in Kathmandu to process Group Visa with your original passport.
When is the Best Time for the Mt.Kailash Trek
To decide when the best time is for Mt.Kailash trek, it's the weather at Mt.Kailash and auspicious date of Mt.Kailash kora that you should be looking at.
Weather and Precipitation at Mt.Kailash:
Average Annual Temperature: -2.9 C/-20.2F
Average Annual Precipitation: Aug. (119 mm, Highest)/ Nov. (6 mm, Lowest)
Highest Temperature: July, 6.5 C/43.7 F
Lowest Temperature: Nov. -12.0C/10.4F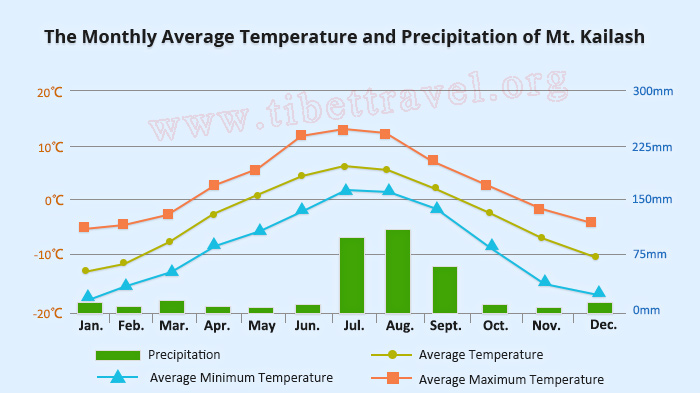 Annual Temperature and Precipitation at Mt.Kailash
April to mid-October is believed to be the prime time for Mt. Kailash trekking, esp. traveling in April, May, June, Sept. and first half of Oct. You will enjoy the incredible clear blue sky, crisp air and high visibility, with temperature staying at around 8 or 9 Celsius on average. July and August (monsoon season) see half of the rainfall in the whole year. However, the constant downpour is rarely seen here. You'd better double check a week's weather before coming.
At Drolma La Pass (5630m), the highest point for Mt.Kailash kora, the unexpected snowfall and severe gale can happen at any given time in the whole year. If you come in April, you are likely to walk on rugged mountains trail, covered with snow and ice. So, walk slowly and mind your steps.
After mid-Oct, the freezing cold weather prompts locals to temporarily close their guesthouses or tented campstill next April, which marks the end of Mt.Kailash trek in a year.
The most auspicious time to visit Mt.Kailash is in the Year of Horse (Chinese zodiac) and during Saga Dawa Festival (around the 15th day of April in the Tibetan calendar)
Local Tibetans are deeply convinced that going one circle around Mt.Kailashin the year of Horse, the blessings you get would be 13 times more than usual and the wish you made will be more likely to come true.
While Saga Dawa falls on that day which is also the birthday of Buddha Sakyamuni. During this festival, Tibetans from all over Tibet pour into this area of Mt. Kailash. The giant flagpole at Tarpoche is ritually taken down and the prayer flags along its length replaced. It is also a great time to do a Tibet tour, though it could be a bit crowded.
>> Read the detailed information about when is the best time to visit Kailash
Joining a Small Group Tour Works Best for You
For Mt.Kailash trek, both a join-in small group tour and a private tour are readily available to our clients. Nevertheless, given the pricy transportation fee from Lhasa to Mt.Kailash and travel safety, the join-in small group tour is definitely your first choice.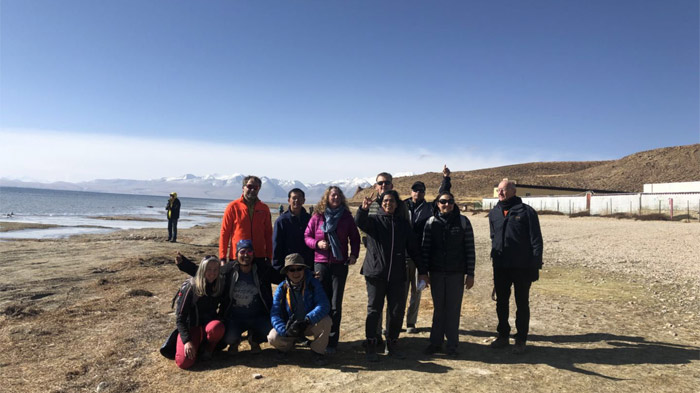 Photo of our clients of small group tour with their local tibetan guide.
You can share the tour cost with other global tourists in the group and make new friends with like-minded travelers. Most importantly, while you push your limit to pass treacherous Drolma La Pass (5630m) around Mt.Kailash, both our seasoned Tibetan guide and other group members can also keep a watchful eye on you and offer timely help along the way.
Of course, if you have a bunch of friends or family members traveling with you, you guys may consider customizing a private small group. And the entire Lhasa to Mt.Kailash tour can be more flexible, just for you.
Should I Choose Inner Kora or Outer Kora
First and foremost, the inner kora of Mt.Kailash is not available for international tourists, for safety concerns, according to the travel policy. The inner kora covers 30km and can be done in a single day. However, you have to pass treacherous cliff and extremely high passes. Locals believe only after you have circled outer kora of Mt.Kailash 13 times, you can be granted the chance to do inner kora of Mt.Kailash.
So, the outerkora is the right way and only choice to go.
Do Prepare A Good Level of Fitness
No more further ado with the difficulty of Mt.Kailash trek. You've got to prepare a good level of fitness. Swimming, hiking in mountains or hills, jogging, cycling, etc. all these aerobic exercises will help you build up a better level of fitness and stamina for the arduous trek.
So far the oldest of our client who successful finished the challenging Mt.Kailash kora without the help of oxygen was the Gerhard, the 82-year-old man from Germany (Sept, 2018). He trained himself for the ultimate trek with over 10km's walk, three times a week. What a remarkable accomplishment!
Though Gerhard might be an exception, it proves that an appropriate training over a period before Tibet travel does help you restore the energy needed for an adrenaline rush. Meanwhile, keeping a lighthearted and optimistic mood is also helpful when faced with unexpected difficulties.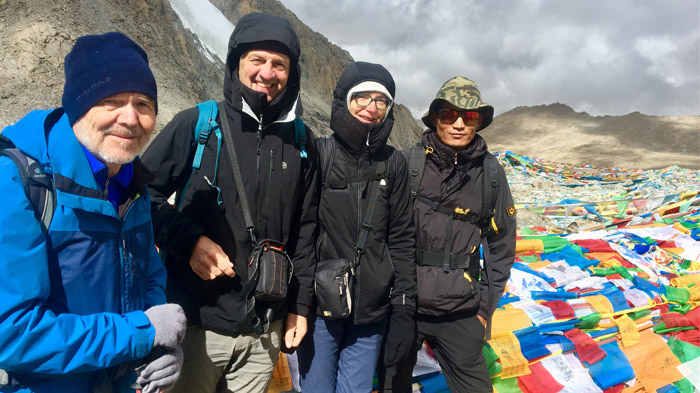 Our 82-year-old client took photo with other clients when they did Mt.Kailash kora.
The Cost of Mount Kailash Trip
Traveling to Mt.Kailash is not cheap. Take the most popular 15-day Lhasa to Mt.Kailash via EBC tour for example, on average in Tibet alone you need to prepare at least 2500 USD/ person. The travel cost is expected to cover the meals, hotel, tour transfer service, travel insurance, guide service, oxygen supply, entrance ticket, travel documents, porter and yaks for trekking (in some cases), etc.
Another big expenditure is the international flight to inland China plus the cost for either taking Chinese flight (on average 205 USD to 458 USD) or Tibet train (on average 113 USD to 167 USD) to Lhasa. For a solo traveler visiting Mt.Kailash, the total cost can be staggeringly high.
Therefore, a great choice to cut the cost is by joining group tour. In this way, in a small tour group of around 8 to 12 travelers, you can share the cost for tour vehicle, hotel and dining. It can save you roughly 400-600 USD/person in Tibet. Besides, you can meet many interesting souls. So, Why not?!
Another workable way is to visit Mt.Kailash any time between April to June, instead of July, August, Sept. and Oct, the high season of Mt.Kailsh tour. If you join the small group tour before July, the cost normally can be around 210 USD/ person cheaper that the high season.
>> For the latest Mt.Kailash tour cost, please feel free to reach our travel consultants.
Accommodation and Dining for Mt. Kailash Trek
As the accommodation facilities have been greatly improved nowadays, there is no need to camp during the 3-day kora. You can stay in the basic guesthouse at Dirapuk Monastery (the 1st night) and Dzultripuk Monastery (the 2nd night). And a few Tibetan-run tented camps down Dolma La Pass can be found, offering basic food, such as instant noodle, soup and sweet tea, hot water and some stirred fried rice, etc.
Due to the inhospitable environment, there won't be hot tap water or showering facilities. And the electric blanket and multiple sheets can be used to keep you warm during the night. A sleep bag is better if you can't deal with the filthybed sheets. During your trek, most of the time, you can find a private toilet, for ladies it can be an inconvenient small challenge. so do bring your toilet paper, wet tissue paper and toiletry, etc.
What to Pack for Mt.Kailash Trekking
Given the arduous trek at high altitude, traveling light is preferred. Your day pack should not exceed 30Kg.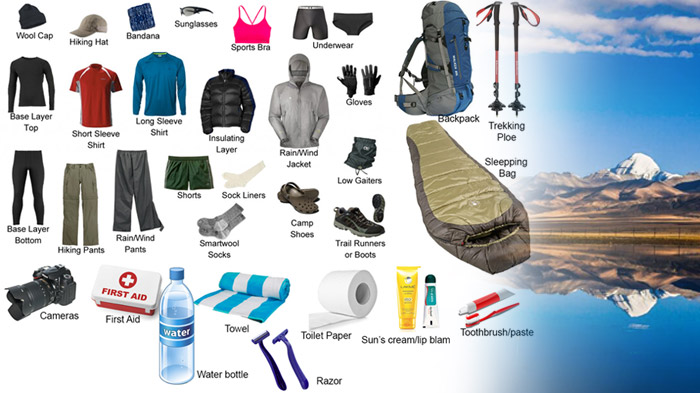 A sample of stuff to pack for Mt.Kailash trek
Though you do not have to camp during this trek, at least take a warm sleeping bag (which can be borrowed from us) and warm clothes with you, better in multiple layers not a heavy and thin clothes The weather conditions and terrain vary significantly from one region, or even from one trail to another. Seasonal changes can significantly alter any track. Moreover, the wind is very strong at some passes. Thus, wind-proof clothes, such as windproof fleece, Beanie, etc.are also recommended.
The temperature in mountain areas of Tibet may be very low even in day time. At night, the temperature will drop to below zero. Besides, the weather may change greatly in a day. Thus, down jacket and thermal trousers are necessary for Mt.Kailash trekking even in summer. Meanwhile, the sun protection like sunglasses, sunscreen, lip balms are also a must. Since no one can precisely predict the upcoming of rain and hail, a waterproof jacket or rain coat shall be taken with you. After all, getting soaked at a place of above 5000m might put you in serious trouble.
Besides, we can offer you trekking poles, which can ease the pressure of your knee and give you better balance while walking on the rugged terrain. And don't forget to bring some high-calorie snacks and refreshing coffee and tea, in case you need the energy for another round of adrenaline rush. Of course, for responsible travel, some plastic bags to collect your garbage will be so considerate.
>>Check for the detailed information about what to pack for a Mount Kailash Tour
You Can't be Too Careful with the High Altitude Sickness
The 56km kora around the holy mountain has an average elevation about 5,000m. The highest point is as high as 5,630m. Altitude sickness can be the biggest concern you should take into consideration. Actually, it is the first concern for travelling in Tibet. The initial symptoms of altitude sickness are as follows: losing appetite, nausea, vomiting, insomnia/sleeplessness, dizziness, confusion, persistent headache, weakness, fatigue, heavy legs, breathlessness and breathing irregularity, etc.
Try not exerting yourself: if you suffer from altitude sickness, please consider stopping ascending. Otherwise more serious problems may occur and even cause death sometimes within just a few hours. The only remedy for the Altitude Sickness is to walk to a lower altitude.
Diamox is generally used as useful medicine for easing altitude sickness. However, you should always follow the doctors' prescription and dosage and advice. Don't take it too much. Otherwise, the side effects of Diamox, such as sweating, tingling and numbness of hands, dry mouth, etc., might compromise your trekking experience.
Conclusion of Mt.Kailash Tour and How to Plan Mt.Kailash Trek
No matter whether you are a believer or not, it is inspiring to share the path with these pilgrims, often the most devout nomads who have saved for years to make the trip. You will enjoy the most divine experience at Mt.Kailash when gazing at the holy mountain and meeting a huge range of people here, including prostrators who will take three weeks to complete the circuit by prostrating. A few recap to help you grasp the how to plan Mt.Kailash trek:
a. Pre-Book Your Mt. Kailash Tour with a Reliable Travel Agency
b. Need Tibet Permit to enter Tibet and China Group Visa to enter Tibet from Nepal
c. The Most Popular Way to Reach Mt.Kailash is from Lhasa to Mt.Kailash via EBC
d. The Minimal Days to Reach Mt.Kailashby Overland is from Kathmandu
e. Taking Helicopter to Mt.Kailash is very expensive and is subject to weather
f. April to mid-October is believed to be the prime time for Mt. Kailash trekking
g. Join Group Tour to save Mt.Kailash cost
h. Only Outer Korais available to international tourists
i. Prepare A Good Level of Fitnessis vital for Mt.Kailash trekking
j. For most people, you need 3 days for Mt.Kailash kora
k. The most challenging trek is from Dirapuk Monastery to Dzultripuk Monastery via Drolma La Pass (5630m).
l. Basic guesthouse and simple food are available during the trek
m. Mt.Kailash is not trekking competition; find your pace, avoid AMS
n. Trekking light is the best.
If you have different ideas or have any more questions concerning Mt.Kaialsh trek, please feel free to leave your comment below or email your inquiry to us. We are expecting to hear your insight.