Family Trekking in Nepal with Kids
After being one of the premiere trekking destinations for many decades, Nepal is finally becoming one of the most popular family destinations as well. Once, trekking in Nepal meant traveling with a huge backpack, or having porters carry it for you, which contained lots of camping gear, just in case you could not get a space in the bare-bones lodges and teahouses. Nowadays, those severe and extremely basic teahouses have had a major upgrade, with "basic" meaning a lot more in the way of available amenities, which makes them more suitable for trekkers with kids.
Many of the trekking areas in Nepal are now more open to kids trekking along the trails, and several of the trails can be more than suitable for parents with kids as young as four or five years old. Adventurers now trek the regions with advanced technology, and the internet is all over the country. Roads now run up for many of the trekking areas, making access easier, especially with kids, and these latest changes to trekking in Nepal have added a form of safety net for parents that still want to trek in Nepal, but have young kids with them.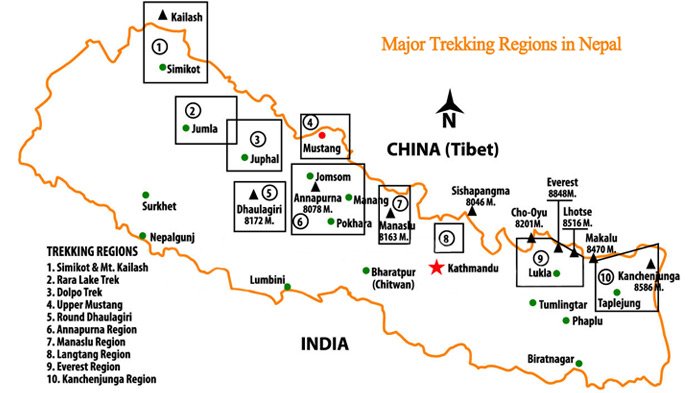 Map of trekking regions in Nepal
Popular Destinations for Trekking in Nepal with Kids
In this modern age of technology and access, there has opened a wide range of treks that you can take your kids along on, which has made it much easier for those trekkers that now have a family. Altitudes are not as high as some of the harder trekking trails, and the routes are a little easier and less rocky, with some shallower gradients and wider trails. Overall, Nepal now has a wealth of family-friendly trekking areas and is fast becoming the family trekking capital of the world.
Annapurna Region
Trekking in Nepal is more than just pushing the limits, and for family treks, the scenery and stunning landscape is one of the main attractions. In Annapurna, you get some of the country's best scenery and most stunning Himalayan vistas, alongside some trekking trails that are ideal for families with young kids.
The Poon Hill Trek (4 days, 3,210m)
The Poon Hill trek is one of the most popular treks in the Annapurna Region of Nepal, and for those little explorers, this four-day route around the Annapurna Range is an excellent introduction to the thrills of Nepali trekking. With a maximum altitude of around 3,210 meters above sea level, it means there is a reduced likelihood of your little adventurers suffering from altitude sickness. The trek does have some steeper areas that will challenge and entertain the smaller kids, and the beautiful rhododendron forests and quaint local villages are ideal for exploring and discovery for your kids. The lodges on the route are basic, but comfortable, with a wide variety of meal choices that are suitable for all but the pickiest of kids.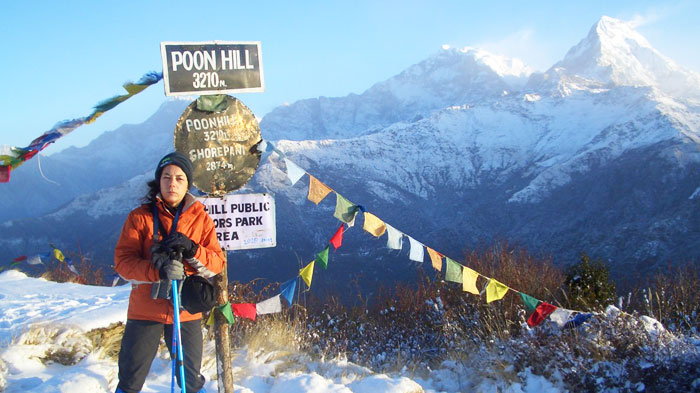 Poon Hill Trek is one of the most classic treks in Nepal.
The Royal Trek (4 days, 1,700m)
Named as the Royal trek since it was taken by Prince Charles, the British Prince of Wales and heir to the British throne, in the 1980s, it rises to a maximum elevation of just 1,700 meters, which means no chance of altitude sickness for you or the kids. A four-day trek, which starts at the northern end of the Pokhara Valley, the route passes through several local villages where the kids can experience the unique Gurung village culture. It also has some of the most stunning distance views of Mount Annapurna, constantly coated in snow, as you trek along the route. The end of the trek is the tranquil site of Begnas Lake, with its well-developed lakeside villages that cater to the many tourists that end the trail there.
Everest Region (5-7days, 4,000m)
While the full-length Everest Base Camp (EBC) trek in Nepal is probably too much for small kids, there is a shorter option that, while still being a challenge for the kids, is a more relaxing and easier route through the Sagarmatha National Park around Mount Everest. While the route does rise to an elevation of around 4,000 meters, it has some delightfully luxurious lodges where you can all get a good rest in soft beds. The trek takes five to seven days to complete, depending on which of the two paths you choose to take, and the scenery comprises of some of the best views of the Himalayas. This is also a great trek for the kids, who can boast that they walked around and saw Mount Everest, the world's highest mountain. You can also stop in the Sherpa villages along the trail, which will give both you and the kids a better experience of this amazing mountain people and their unique culture.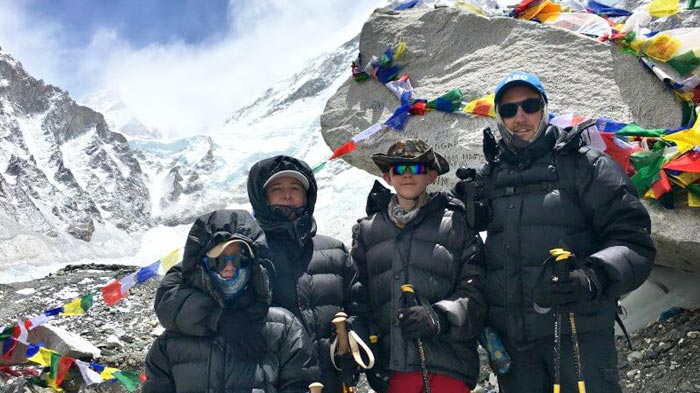 Everest Base Camp trek offers kids an excellent opportunity to enjoy the amazing Mt. Everest.
Lower Mustang Trek (3,780m)
The Mustang region of Nepal is one of the most popular places to visit for trekking, and the maximum altitude of this trek through the Lower Mustang region is around 3,780 meters above sea level. While there is an increased risk of altitude sickness in this region, there is an option to hire horses for the youngsters if the trek is too much or them. Mainly centered around the area of Langtang, the trek is ideal for mountain views, although the mountains here are only around 6,000-7,000 meters high. They are still just as impressive, especially where the Langtang Valley opens up more, and the kids will love playing yak spotting as they trek through the valley.
Shivapuri National Park (3-13days,2,400mm)
A local hike on the northern side of the Kathmandu Valley, this trek is completely within the valley itself, and is ideal as a starter trek for kids and an experience for learning about the Buddhist culture in Nepal, a mainly Hindu country. The route passes through ancient forests and past fast-flowing rivers and Buddhist monasteries, many of which have the typical small monkeys hanging around them. A great place to take kids for the funny sight of the monkeys playing around the temples, the Shivapuri National Park Trek can take anywhere from three to thirteen days, depending on how long you want to trek for. With Kathmandu being so close, you can stop and head back to the capital at any time along the trail. There are a few steep paths along the trail that kids may find challenging, but the altitude does not get above 2,400 meters, so altitude sickness is not going to be an issue.
Kathmandu Valley Sightseeing
As well as trekking the trails in the mountains, you can also spend some time with the kids sightseeing around the Kathmandu Valley. Filled with ancient monasteries and temples, a tour of the valley's stunning attractions is sure to thrill the kids after the long walks around the countryside. The sights of the valley will add to their experience of Tibet, and leave them talking about their trip for years to come. Places like Pashupatinath, Bouddhanath, and Swayambhunath are places of such stunning beauty that they will leave a lasting and positive impression on your excited and adventurous little explorers.
Facilities Available in Nepal for Hiking with Kids
While there are plenty of facilities for adults trekking in Nepal, it is useful to know that there are also several options for those that are traveling with kids, and the facilities available are such that traveling Nepal with kids for a trekking tour is now more possible than ever before.
Improved Lodges
Many of the old teahouses and lodges on the trails in Nepal were once so basic that the accommodation consisted of several bare wooden bunks in a dorm that holds twenty people in cramped conditions. These days, many of the lodges and teahouses on the trails that are suitable for kids are in much better condition, with comfortable beds that now have mattresses, and family rooms for those that do not want to sleep their kids in a dorm with strangers.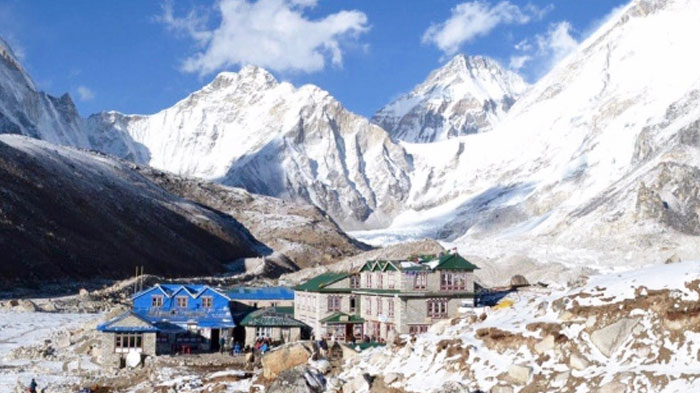 At present, the well-improved lodges are available in Nepal.
While they may not be comparable with even the most basic of motels in the western world, they are suitable for travelers with kids, and many of the lodge and teahouse owners are upgrading their places to accommodate kids. Nepali people love children, and are well known for their hospitality. Food is also much better now, and the kids are just as likely to remember the happy friendly people they met as they will remember the amazing sights of the massive Himalayan mountains.
Further Reading about Accommodation and Hotels in Nepal Trek and Travel
>> Accommodation and Dining during EBC Trek in Nepal
>> Top Luxury Hotels in Nepal
Better Transport Routes
Nepal has improved its roads over the last 30 years, and now, most of the trekking routes in Nepal have good or average roads leading to them that makes it easier for families to get there. Long gone are the days of trekking for three to four days to get to the trailhead itself, and now buses and cars run to many of the trailheads by road from Kathmandu or the nearest town. This has made it much easier for travelers with kids to get to the trails they want to trek, and means the kids are not tired out before they even start.
Horse Treks in Nepal
While you might not think of hiring someone to carry your kids for you while you trek (that is dad's job, after all!), in Nepal, it is entirely possible to hire someone to carry the kids for you. That said, it is not ideal, and instead, you can hire horses at several of the trekking areas that are suitable for kids, and the kids can ride while you walk, or all of you can ride the trail. Horse treks are a major option in areas like Mustang, and are another of the wonderful experiences for kids in Nepal. The horse treks are always assisted by guides and the handlers of the horses, and for your kids at least, the horses will be led by their handlers, so they will not have a problem handling these small mountain ponies. For the adults, you can be led or you can ride yourself, if you know how to ride a horse. It is not as easy as it looks, and if you are not sure you can manage, accept the horse being led, it is much safer.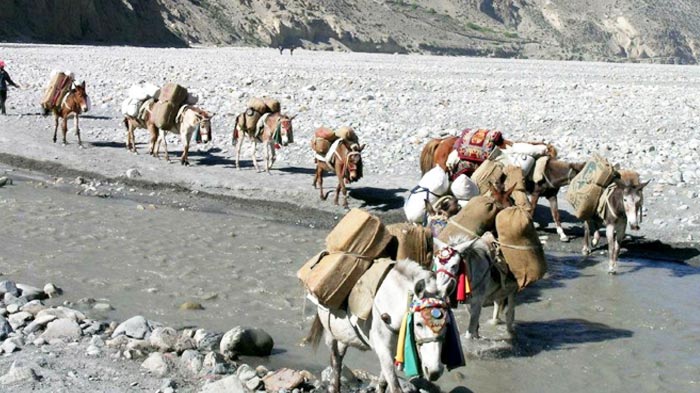 Horse treks can greatly help kids to finish their treks in Nepal.
Nepal Trekking with Babies?
For all the modernized facilities that are now available for families in Nepal, there is one thing that you will not find halfway up the mountains; baby-changing facilities. Trekking with a baby is not an advisable option, even for those lower-altitude treks around Kathmandu and Pokhara, and it is better to wait until they are a little older, toilet trained, and able to walk under their own steam.