Can You Trek in Nepal without a Guide?
There are two ways to trek in Nepal, with or without a guide, and there are good and bad things about both options. There is no requirement to have a guide when you trek, except in certain regions that are more remote and dangerous than the rest of the country, such as Dolpi and Mustang. Ideally, you should never trek beyond your limitations anyway, but if you plan to trek without a guide, then it is usually best to stick to the more popular trekking trails, which have just a single path and a lot of teahouses along the entire route, for safety's sake. You need to be well prepared for every eventuality, ensure that you know well where you are going, and make sure that you have everything you need, and can carry it all yourself.
Trek in Nepal without a Guide: Pros and Cons You Should Know
Every trek in Nepal has the option to hire a guide, and the guides usually know all of the treks, or will only hire themselves out for trekking routes they know well. And while there is normally no requirement for hiring a guide, there are a number of reasons to do so.
Pros:
On the other hand, hiring a guide for trekking in Nepal can open up trails that you would not otherwise be able to trek along, which are restricted by the Nepali government. You can also learn more about the people and culture of Nepal, especially in the mountains where most of the guides actually come from. Then you have the safety factor to consider. It is always safer to trek with another person, or in a group, and having a guide with you that knows the region and the inner workings of the area can help immensely if there is an accident.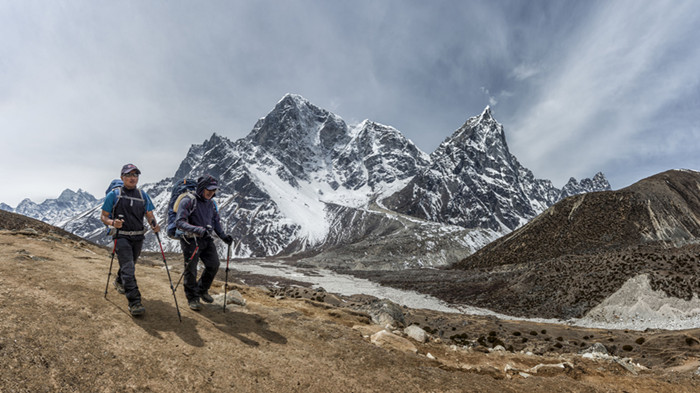 Guided trek in Nepal
There is a big difference between porters and guides in Nepal, and if you hire a guide, he will not be carrying your pack for you. If the trail is one that is well used, then you can get away with a porter to carry things for you, which means you are not trekking alone. However, if you are trekking as a group and you have several porters, the guide can be useful to manage them, and keep them moving for the daily trekking. Porters often do not speak much English, while guides usually do, so they can be very useful. Porter-guides are also common, and are usually porters aiming at becoming fully-fledged guides. And the moral dilemma of hiring someone else to do the manual work of carrying your pack is not an issue in Nepal, as it is seen as giving someone who likely has family work to do for the money he gets. Nepalese people are generally proud, and would prefer to work to make money rather than accept charity.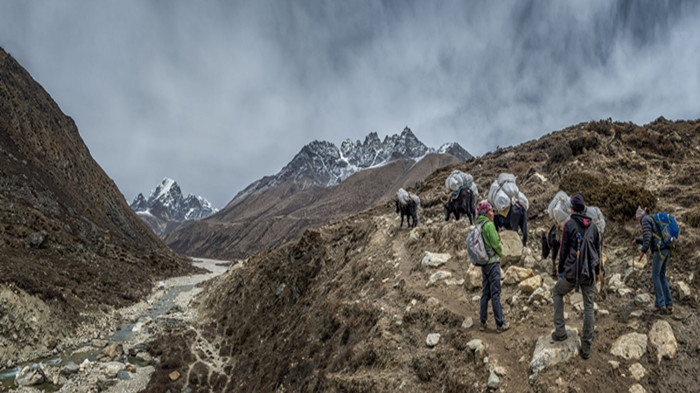 Trek with both a guide and porter in Nepal
Guides are also useful for their knowledge of the weather conditions in Nepal, as their experience can give them insights into the local weather that tourists would not have. There is also a "pro" side to the teahouse arrangements that many guides have. While they may have a little deal going on with the owners, they are usually able to get you a bed in a teahouse they use regularly, even when lone trekkers are being told there is no room left. They can also help with dealing with the teahouse, making sure you get better service and keeping your bill near the top so that you can pay quickly in the morning and head out. When it comes to teahouse treks, they are definitely better with guides than without, especially in the peak season. Check the best teahouse treks in Nepal
Cons:
The first thing to remember is that you will not be on your own, and will often have to stick to a schedule for the trek if the guide is part of a local agency that has arranged the trek for you. Guides also take the initiative in arranging the accommodation for you, and while this may be useful, it can mean they take you to the teahouse where they have an "arrangement". Privacy is another issue that has been brought up about hiring guides, and some people that want to have some along time in the mountains will not really be alone with a guide.
Who is More Suitable for Independent Trekking in Nepal?
While anyone can do an independent trek in Nepal, it is better suited for those with a little experience in high-altitude trekking, those who have a good level of physical fitness, and those with previous experience of trekking the trail they intend to take. Ideally, anyone inexperienced in high-altitude trekking should not venture into the Himalayan wilderness without a guide, as there are dangers to trekking alone for the first time in high altitudes that they may not be able to recognize. Altitude sickness is the main concern for first-timers, and if you are not properly acclimatized, and altitude sickness hits, you may not realize that you have it, as symptoms are similar to migraine headaches, colds, and flu.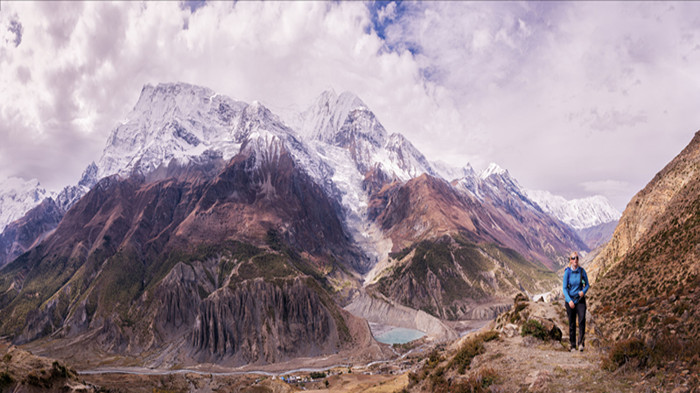 Solo trekker in Nepal
If it is not your first time trekking in high altitudes, and you have traveled the trail before, then there is no reason why you should not trek alone. And while a good level of physical fitness can help, it is not enough to just be fit alone, if you have never trekked in high altitudes before. Even the fittest person can get altitude sickness, and fitness cannot save you from accidents or natural disasters. Nor is it a substitute for experience.
Carefully Choose Your Trekking Routes for the Solo Trek
If you are planning a solo trek, as a Free Individual Trekker (FIT) in Nepal, then you should take great care in choosing the trekking route you are going to be taking for the first solo trek. There are areas where you will not be allowed to trek, which can be ruled out first, and then some of the harder and longer treks through more remote areas, such as the Manaslu Circuit Trek and Upper Mustang Trek, should really be avoided, as even experienced trekkers rarely take on these routes alone. The best treks for first time loners are the more popular and busier treks, such as the 12-day Mount Everest Base Camp trek or 6-day Ghorepani Poon Hill Trek, which usually has plenty of other trekkers on the trail. Stick to the more popular and busier treks, or gain some experience on some of the lower altitude treks first before tackling one of the high-altitude routes.
How to Prepare for Trekking without a Guide in Nepal?
Trekking with a guide often means that someone is there to make sure you have all that you need. Your guide will make sure your documents are in order, that you have the right permits, make sure you are not carrying too much or too little equipment, and even make sure that you are sorted for porters and the best accommodation of the trail.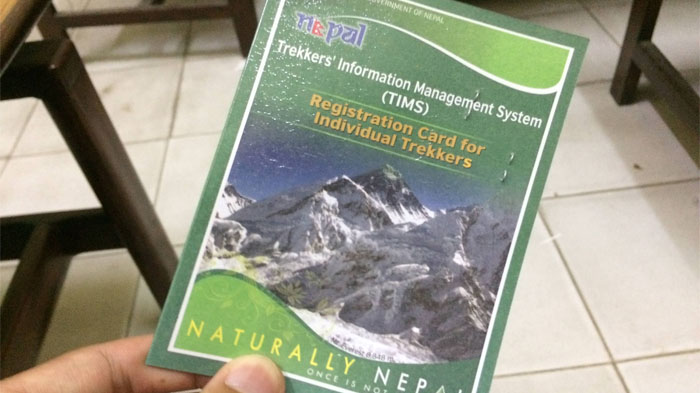 Trekkers Information Management System Card
If you are going without a guide, these are all things that you will need to make sure that you have dealt with yourself, and missing out on something can mean disaster, in some cases. The first things to think about are permits. Do you have the Trekkers Information Management System (TIMS) card and all the right permits for the area that you are trekking in? Without both, you may find that you will not be allowed to leave the trailhead, and may have to go back to Kathmandu to sort it all out. Cost of the trek is another concern. While you will not be paying for the guide, you will still need enough money to cover your expenses on the trek, such as food, water, a bed or campsite, etc. You should also not carry more cash than you need, and keep it well tucked away inside your clothing.
Knowing what you will be eating is also important, especially if you are not overly fond of Nepalese cuisine. You will need to carry food with you just in case, and you will need to know where to get hot water and other things to use for eating. You should plan your trekking days carefully, so as to be at a suitable teahouse before it gets dark, or risk getting stuck in the middle of the trail as night falls. If you are planning on using a porter, you will have to make all the arrangements for hiring, which can be hard since few speak good English.
Travel Safety for Trek in Nepal without a Guide
Insurance is the single most important thing you can have when trekking solo in Nepal, and it should be from a reputable insurance company with specific Nepal trekking cover as well as helicopter emergency extraction insurance cover. Getting stuck in the mountains after an accident can be disastrous, and calling for help can cost thousands of dollars for the helicopter airlift from the mountain site. Insurance covers this, and while it is not cheap, it is well worth it. You would not drive without motor insurance, so do not trek without emergency rescue insurance cover, which usually includes hospital cover.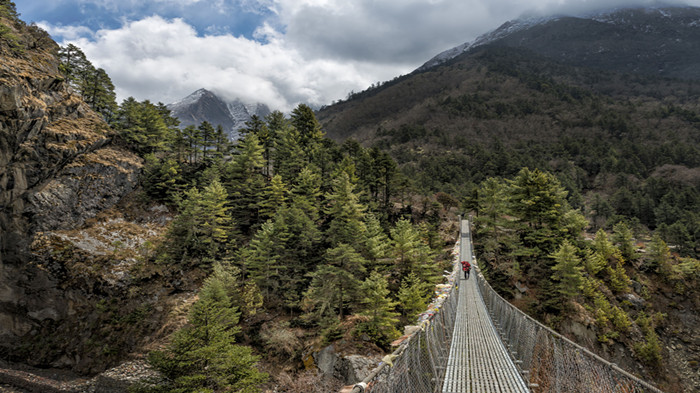 Trek across the suspension bridge
Make sure that you go along the trail that you have listed yourself as taking when you applied for the TIMS card. This way, if you are missing, the emergency services know roughly where you were heading, and have a better chance of finding you. You should also let family and friends know where you are heading, and make sure that you have a cell phone with load and either spare battery or power bank. There are plenty of places along the trails that now have pretty good mobile cell signals, which are useful for calling for aid.
Conclusion
While solo trekking is possible, and even preferable, in Nepal, there are plenty of things to be said for hiring a guide and/or porters. It can help with the whole arrangement concerns of the trek, make your trekking trip easier and more enjoyable, give you a better insight into the culture and people of this beautiful mountain landscape, and even help a family with its livelihood, helping more than just yourself on the trek. Guides often have families, and you could be making a child's life better for just a few extra dollars a day. Guides in Nepal are professional and experienced, and are registered as guides, so that you can be sure that they are reliable. Tourism is the largest economic sector in Nepal, and guides are a major part of that economy.