Best Nepal Treks for Beginners: get a taste of Himalayan trekking kingdom
Nepal is one of the most popular destinations around the world for high-altitude trekking, and with its range of the Himalayas running all along its northern border with China, there is no better place on the planet to take on an adventurous trekking trip through high mountains and lush valleys. However, many of the most famous and popular treks in Nepal do require some experience in order to complete them. From the Annapurna Massif treks to the heights of the Mount Everest Region, the majority of these treks are moderate to hard, and are not suitable for entry-level and novice trekkers.
That is not to say that an entry-level trekker with no experience cannot come to Nepal to trek. This stunning country has treks for every season and for all levels. While you may not yet be ready to take the 20-day trek around the Annapurna Massif, there are plenty of shorter, lower-level treks that you can take to gain experience and learn more about what it is like to trek in the mighty Himalayas. So here are some of the best entry-level treks for beginners to high-altitude trekking.
Best Nepal Treks for Beginners
Kathmandu to Chisapani Trek
A great option for a beginner to trekking, this short one-day trek takes you through some of the most beautiful countrysides in the Kathmandu Valley The trek is a good and popular trekking route that gives you a very memorable hike around the outskirts of the Nepali capital. The trek can be done at any time of the year, and is often included as part of a longer trip to Kathmandu, as a day excursion.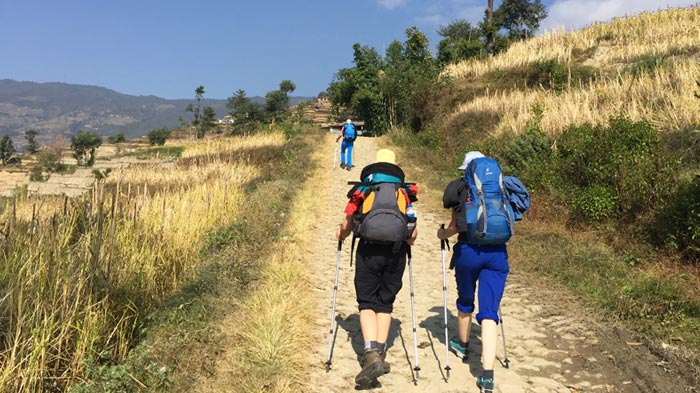 Trekking from Kathmandu to Chisapani, an easy route for beginners.
The trek starts at Sundarijal, around an hour from Kathmandu, and takes a long and beautiful trail to Chisapani. The trek heads first through the Shivapuri Watershed and Wildlife Reserve, before reaching the Sundarijal Waterfall, one of the most beautiful in Nepal. Then it is on to the Tamang Village at Mulkharka, before descending the ridge down to the settlement of Chisapani. An easy route with a leisurely pace, this is ideal for the first trek, and fitness is not really an issue for this trek.
Nagarkot to Changunarayan Trek
Another great starter trek is the trail that runs from Nagarkot to Changunarayan, which is a simple four-hour trek that is a great way to break in those new hiking boots. The trek starts at the hill station at Nagarkot, and descends gradually through the rice terrace fields to the Tamang village below, one of the few Tamang villages where you can still see and experience the ancient Tamang culture of Nepal.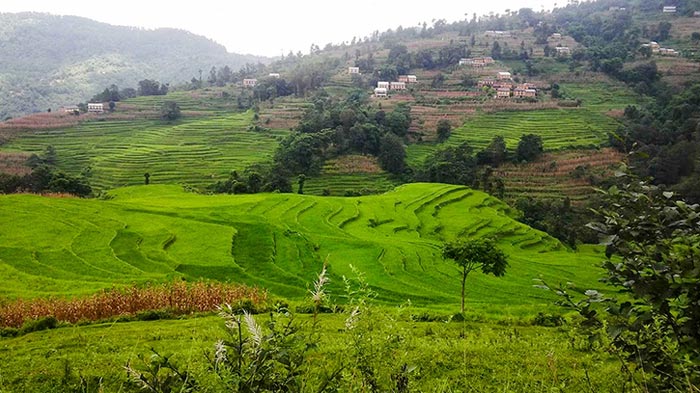 You can enjoy the beautiful scenery along Nagarkot to Changunarayan trekking route.
The latter part of the trek takes you through some of the most stunning countrysides, with scenic views of the Kathmandu Valley all the way to the capital. Rated as an easy trek, it can be done throughout the year. As the trail ends, you will discover the hilltop temple of Changu Narayan, a Hindu Temple devoted to Vishnu, and surrounded by ancient Champak trees, reputed to be the oldest surviving temple in Nepal.
Nagarkot to Dhulikhel Trek
One of the most exciting short treks in Nepal, this excellent beginner's trek is the best short hiking trail in the Kathmandu Valley. Trekking through exotic forests, traditional hamlets, and wide valleys, the trail takes you from the Nagarkot Hill Station to the beautiful region of Dhulikhel, to an ancient Newari village on the top of a hill. The trek is an easy trek that takes around 6-7 hours, and as there are no high altitudes, a high level of fitness is not required.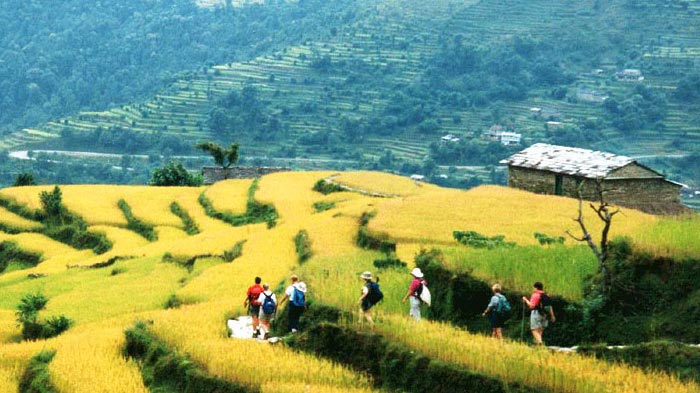 Trekking from Nagarkot to Dhulikhel takes you through exotic forests, traditional hamlets, and wide valleys.
The pace of the trek is normally leisurely, but you can pick up the pace a little if you are inclined, as the route has only a few climbs. The highest hill of the trek only reaches around 2,200 meters, so your highest increase in elevation is only around 800 meters, which is done gradually. The town around Dhulikhel is also a great place to visit, with the Buddhist Monastery nearby, and the Namobuddha and stupa being the main attractions.
Ghorepani Poon Hill Trek
The Ghorepani Poon Hill Trek is one of the easiest mid-range treks in Nepal, and one of the most popular as well. Located at an altitude averaging around 3,2000 meters, this is an ideal first high-altitude trek for a novice trekker, and a great trek to experience the flora, fauna, and landscapes of the Himalayas. The trek starts from Nayapul in Pokhara, and is a 4-5 day trek of moderate to easy walking.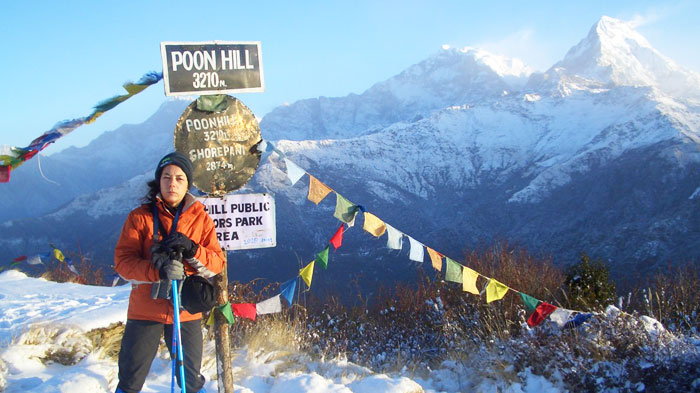 Poon Hill Trek is one of the most classic treks in Nepal.
From Nayapul, the trek heads first to Tikhedhunga, a small settlement at around 1,577 meters, climbing slowly to allow you to get used to the higher altitude to come. After Tikhedhunga, you will head on to Ghorepani on the second day, which lies at an altitude of 2,750 meters. Day three sees you reaching Poon Hill, and climbing to the summit, at 3,200 meters, to get the great views of the Himalayas and the Annapurna Massif.
Then it is on to Tadapani and Ghandruk, for the downhill run, to the small ethnic village that has an ancient history, and then on to Birethanti, the end of the trek. Located in the Annapurna Region, which lies somewhat below the main body of the Himalayas, this trek is the perfect starter trek for higher altitudes, though you should bring a guide and porter for your first attempt.
Before Trekking, What to Know for Beginners of Nepal Trekking
The trekking season in Nepal is the most important thing to know before heading off to trek in the mountains. Knowledge is power, and when you are planning a trek to the Himalayas, knowing when to go and what the weather conditions are like ca make all the difference. Preparation is the key, and without being prepared, you could find your first trek is also your last.
Nepal has two general seasons for trekking, spring, and autumn, which are when the weather is dry and clear, and where there is little chance of rain or snow. Spring runs from March to May and autumn from late September to November, and temperatures at these times are warm and comfortable for trekking.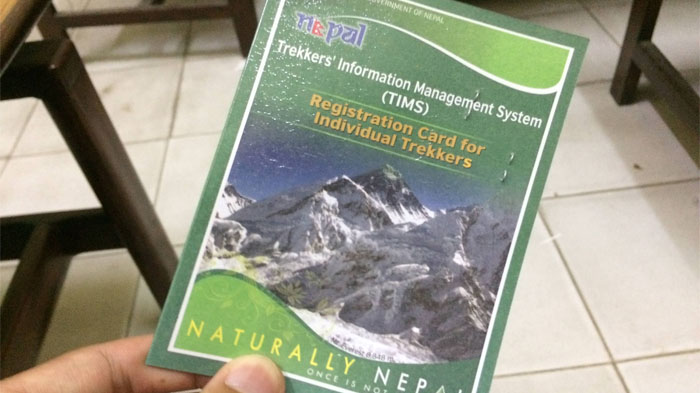 Trekkers Information Management System Card
You should also make sure that you know what documents you need: you cannot trek anywhere in Nepal without at least one permit of some sort. The main thing you will need it the TIMS Card, which stands for Trekkers' Information Management Systems. The card is mandatory for all trekkers in Nepal, to ensure the safety and security of the trekkers that come to the country. The card costs around 28 dollars, and can be obtained from the Tourist Service Center in Bhrikutimandap and Trekking Agencies' Association Nepal (TAAN) Office in Malegaon, as well as from the TIMS Counter at the National Tourism Bureau Regional Office in Pokhara.
If this is your first time to trek in Nepal, then it is advisable to find a porter or guide to go with you, or take a tour with a reputable tour company. Trekking alone is not advisable on your first trip to Nepal, as it is easy to get lost in the hills and foothills of Nepal's Himalayas. They also know where the best teahouses and spots for photos are, so you get a double bonus.
What to Pack for the Beginner's treks in Nepal
Pack only what you really need. Overpacking is a true novice mistake, but so is under packing, so where do you draw the line? Ideally, pack enough clothes for a change every day, especially underwear, although hiking pants can be worn for a couple of days at a time. You will not be able to wash clothes while trekking, so keeps non-essentials to a minimum. An ideal packing list for a first-time trek in Nepal would include:
Duffel Bag (if using a porter) or Rucksack Bag with waterproof cover
A Daypack
T-shirts
Thermal Vest
Light weight thermal tops
Fleece Jacket or Pullover
Waterproof Jacket
Under Garments
Hiking shorts or Lightweight walking pants
Fleece or tracksuit pants for warmth (if needed)
Waterproof shell pants
Thin inner socks and Thick warm wool hiking socks
Hiking boots
Camp Sandals (if needed)
Walking poles
Lightweight fleece gloves, Heavyweight gloves, or Waterproof/windproof fleece gloves
Woolen Hat, Sun Hat, Bandana or scarf, depending on the weather
Sunglasses
Sleeping bag
Pillow Case and Other Night Accessories
Sunscreen
Moisturizing skin cream and Lip balm
Water bottles
Water purifier
Head torch
Wet wipes and Hand Sanitizer
Pain reliever and First Aid Kit
Toiletries and Towel
Conclusion
Trekking in the mountains in Nepal is not ideal for a first-time trek, so it is best to take on something less arduous first. Do not be afraid to ask for help, and read as much good advice as you can to get to know where you are going well before you get there. This way you will know better what to expect, and be better prepared to make your first ever trek in the Himalayas the best time of your life.