Best Nepal Teahouse Treks: all you need to know for teahouse trekking in Nepal
Teahouses in Nepal are small lodges where you can eat and drink and stay along the trekking trails in most of the areas of Nepal. The Nepalese use the word "Bhatti", which translates as "teahouse", and the teahouses are now well established along many of the trails in Nepal. Treks in Nepal are mostly long ones, especially in the mountains, taking anything from 6-21 days. And for those that do not want to camp out in the mountains, teahouses are the perfect option for a good meal and a bed to sleep in.
The quality can vary, from nice lodges with soft beds and restaurants to stone huts with dal bhat for dinner and cold bunk rooms to sleep in with straw-filled mattresses. And in the higher areas, the basic teahouses are what you will find most. And as they say in Nepal, you haven't trekked properly until you have experienced a teahouse trek.
Best Nepal Teahouse Treks, Highly Recommended in Nepal
Nepal has some of the world's most stunning treks, and while camping is an option, why lug all that heavy gear around when there are teahouses along the trails? The most popular option for trekkers in Nepal is to use the teahouses to stay in, which does mean they can get pretty full in the peak season in autumn (Sept. to Nov).
Teahouse Trek in Everest Region: Everest Base Camp Trek
The most popular trek in Nepal is bound to have teahouses, and there is nothing better than taking the trek to Mount Everest and staying in the basic teahouses that you can find all along the route. The daily stops on the classic route from Lukla to Everest Base Camp (EBC) all have teahouses to stay in, some villages with several and some with just one, in the more remote areas of the trail.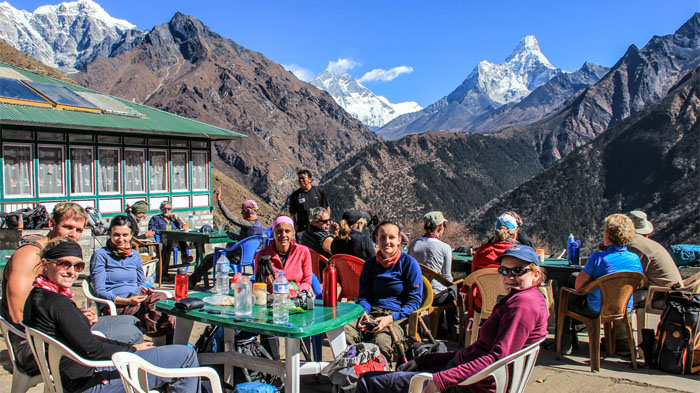 Enjoy the teahouse trek during Mt.Everest trek in Nepal
Most of the teahouses along the EBC trail are reliable, and at the lower altitudes, hot water and flush toilets can be found. As you get higher, the flush will often be a bucket of cold water, or just a drop-pit with a shed around it, and hot water gets scarcer as you get higher up. Most of the higher teahouses will be able to provide a pot of warm water to wash with, heated on a fire. Teahouse prices do vary, with costs of up to 3 dollars per night in the lower areas, and around two dollars higher up.
Best Teahouse Treks in Annapurna Region:
Ghorepani Poon Hill Trek
A unique trek in the Pokhara region of Nepal, this is a great short trek with teahouses set at all the main stopping points along the route. Starting from Pokhara, and ending at the stunning hill station at Poon Hill, the teahouses along this route are a little better than some of the higher altitude teahouses, and many have hot water and good facilities. You can also find a better range if foods, with some even serving western food such as pizza and pasta. Booking the teahouses is not usually needed, as this is not a busy trail, except in the peak season in autumn, and then most of the teahouses can be booked using your guide. The average cost of the teahouse accommodation is around two dollars per night, but some are a little higher in rice where there are better facilities. >> Know more about Ghorepani Poon Hill Trek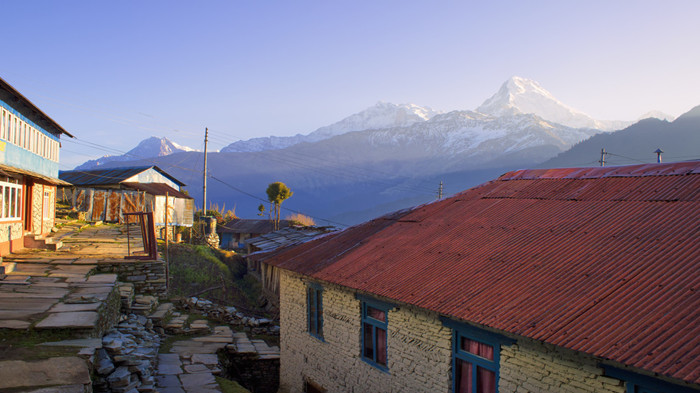 Teahouses along Ghorepani Poon Hill trek
Annapurna Base Camp Trek
One of the most popular treks in Nepal, the Annapurna Base Camp Trek is one of the best routes for a wider variety of teahouses, and this 15-day trek has good quality teahouses along most of its route. There are a few with only basic facilities, but it is one trek where you will not need to lug heavy camping gear with you. Accommodations range from basic to good, with some of the better teahouses having hot water for washing. Costs range from 2-3 dollars per night, and the teahouses do not need booking first. However, if you have a guide, you can get a better room or bunk thanks to their usual agreements with the various teahouses.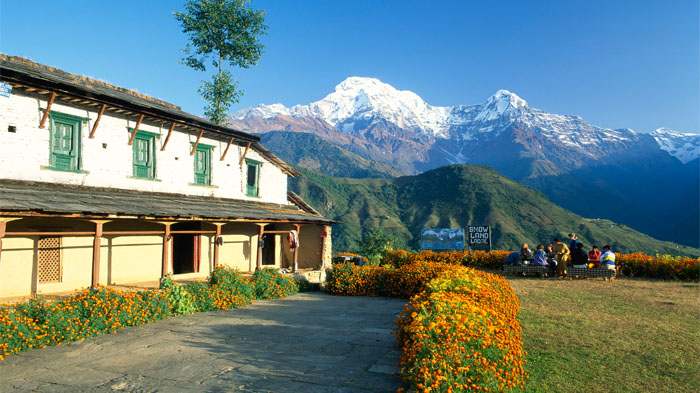 Teahouses set in Annapurna Range
Annapurna Circuit Trek
Another trek with good teahouse facilities, the Annapurna Circuit Trek has some of the better teahouses spread along the entire route. On this route, no matter how long you hike each day, you will always be able to find a teahouse within a short distance of where you are planning to stop. Prices can range from 2-4 dollars per night, though this can increase in the peak season as this is one of the more popular long treks in Nepal.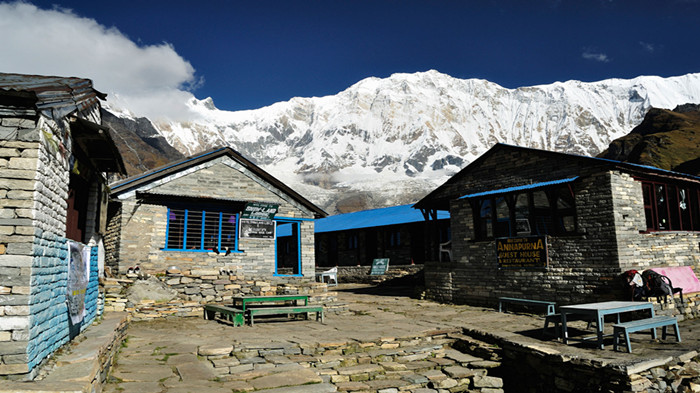 Convenient teahouses for Annapurna Circuit Trek
Teahouse Trek in Manaslu Region:
Manaslu circuit trek
While the Manaslu Circuit Trek is one of the most stunning in terms of scenery, the teahouses are not as often as on some other routes, and you may find yourself needing a tent for some of the stops. However, those teahouses that are found along the trail range in quality from basic to good, and are relatively cheap, costing only around 2 dollars per night. Bunks are used mostly in the teahouses, and most only offer local foods, such as Dal Baht.
Teahouse Trek in Langtang Region:
Langtang Valley Trek
Located in the Langtang Region, to the northwest of Kathmandu, this amazingly scenic trekking roué has a huge number of good quality teahouses, so you will not need to worry about lugging tents. Facilities are good to moderate, and many have hot water for washing and good food, both local and Tibetan, with a sprinkling of other dishes. Costs can sometimes be a little higher than in other regions, especially in the summer, though on average, 3 dollars per night is a good price for the quality you get. Some even have twin rooms instead of all bunkhouses.
Benefits of Teahouse Trekking over Camping Trekking
There are obvious benefits to taking a teahouse for the night than to opt for camping when trekking in Nepal. The first advantage is the convenience that these unique lodges offer. Being set at the locations where most people tend to stop for the night, they are perfectly located for most trekkers, unless you are following an itinerary that is not common along the routes. With most treks in Nepal now being well established, the majority of trekkers tend to follow the same daily itinerary, stopping in the same places when night falls.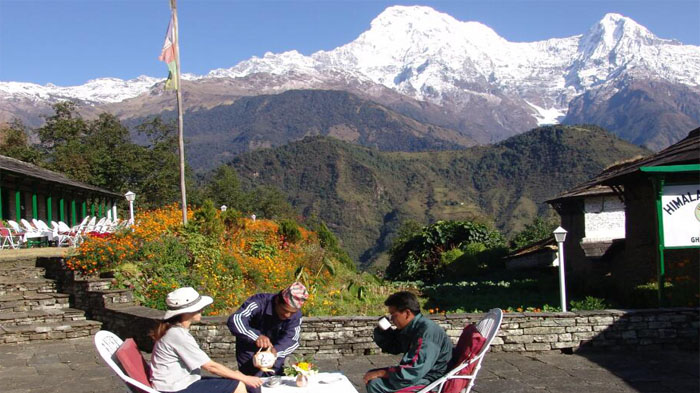 A typical cozy scene seen during the teahouse trek in Nepal
Another major advantage of the teahouses is the comfort they give you. Camping requires you to pitch your tent and you will find yourself sleeping on the ground, and in the cooler periods of the year, the ground can be quite cold. You will also need to have a good sleeping bag, as you will not have the benefits of heating. Teahouses will usually have some form of wood-burning stove running, which will help to keep you warm at night, and while they do not offer the comfort of a luxury hotel, when you have spent the day trekking through forests and up mountains, even the simplest of beds feels like the lap of luxury. And that little bit of warmth that the stove kicks out can make all the difference between a good night's sleep and not.
Then you have the fact that, when staying at teahouses, you will not need to carry a heavy tent with you along the trail. One of the downsides to camping when trekking is that you have to carry your tent with you, unless you hire a porter to carry it for you. Even if you do have a guide, they do not usually carry your gear, and will insist that you have porters for that. If you are trekking solo or as a private group with no guides and porters, then your pack will include your tent, which makes it heavier. Trekking 7-8 hours with that extra load can make you more tired, and can even leave you enjoying the experience less. Without a tent weighing you down, and the ability to sleep in a bed at night, you can enjoy the scenery more without worrying about getting too tired by the end of the day.
Conclusion
Teahouse trekking is something that Nepal has made a major industry, and this unique idea of having small lodges along the major trekking trails across the country is of major benefit to both trekkers and the local people. Most of the treks in Nepal now have teahouses along them, and while some are very basic, with minimal facilities and no hot water (unless you ask for a pot of boiled water), there are those that have hot water on tap, comfortable beds, and warm rooms, even twin rooms, which makes the trekking much more enjoyable. Teahouses are part of the whole culture of trekking in Nepal these days, and while some may opt to do the trek and camp, there is nothing like the feeling of being able to sleep in a bed at the end of a long day of trekking.