Tibet Vista - Loca Tibetan Travel Agency
As the best-known local Tibet travel agency since 1984, we have worked tirelessly to offer global tourists the widest tour choices and ultimate convenience for Tibet travel. Through over 30 years' Tibet tour running experience, now we have grown into the largest local Tibet tour operator, receiving 8000+ worldwide travelers annually.
To facilitate your Tibet tour, we are also the first to set up offices beyond Lhasa in places like Kathmandu and Chengdu, providing you with easy access for Tibet entry and maximum flexibility for extended tours to Nepal and other Chinese cities.
While taking great pride in helping our clients fulfill their bucket list in Tibet, we constantly strive to improve our services and revamp current itineraries and update hotel options, etc. for better experiences. Thanks to the joint efforts of our dedicated Tibetan guides, we were awarded "the Best Traveler's Choice" for Tibet travel on TripAdvisor.com and "Excellent Organizer of Mt. Everest Tour 2018" by Tibet local government. Such awards are the highest and the best encouragement for us to work harder and do better in the future.

Our Core Competence
Headquartered in Lhasa,
with two branches in Kathmandu and Chengdu
Though as a Tibetan owned company in Lhasa,
we see Kathmandu and Chengdu as the frontline for serving
our clients and vital gateway cities for Tibet entry. Built to
ensure you a seamless travel experience, these two branch offices
together with Lhasa head office make us stand out from other
rivals in the industry.
So, throughout your journey, you can meet us in person now.

Travel in Tibet with Us, You'll be in the Safe Hands of one of Our Specialists
We feel so grateful and lucky to have such a diverse and innovative Tibetan team working with us. Their smiles are infectious, exceedingly attentive, and humorous with multi-lingual ability and unique insight into Tibetan culture and history, traveling with them will be one of your best memories in Tibet.
Our Mission
While bringing our clients the seamless travel experience to Tibet, we lay our eyes on long-term and sustainable Tibet tour development. We do it by promoting eco-travel and responsible travel in Tibet. By preferring using local service, like Tibetan staff and Tibetan restaurants and hotels, or working with local Tibetans for travel purposes, we created more than 1,200 job opportunities for locals (both directly and indirectly, till now).
"Leave only the footprint in Tibet and bring back the great memory". In the long run, we wish more people can see the incredible beauty of Tibet and enjoy its unspoiled landscape as it was.
>> Learn more about how we promote responsible travel in Tibet.
Our Awards
Certificate of Excellence by Tripadvisor 2017-2022 - by Tripadvisor
Certificate of Top Tibet Tourist Video Contributor 2022 - by Youtube Mount
Everest Tourism Contribution Award 2020 - by Tibet Tourism Bureau
National Gold Medal Tour Guide Company 2020 - by China National Tourism Bureau
Mount Everest Tourism Dream Chaser 2019 - by Tibet Tourism Bureau
Tibet Shigatse Advanced Enterprise 2019 - by Tibet Tourism Bureau
Mount Everest Best Organizer 2018 - by Tibet Tourism Bureau
Outstanding Contribution Award 2016 - by Tibet Tourism Bureau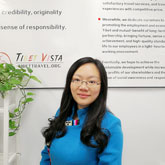 CEO of Tibet Vista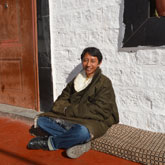 Customer Service Manager
Recommended by Press & Clients


Why Do You Prefer Tibet Vista Not Others?
Items

Tibet Vista

Other Travel Agencies
Well-established Brand
a. Biggest and Best-known local Tibet Travel Company since 1984;
b. local office in Lhasa, Kathmandu and Chengdu, easy one-stop service;
c. prestigious brand promises tour quality;
d. extensive tour resources;
e.reliable tour service booking
No Brand and individual travel agent, tour middlemen
or small tour office with a handful of staff
Tibet Permit

100% guarantee for Tibet Permit application to our clients (for free) through years of cooperation with local Tibet government

Always not sure
Service & Travel Safety
a. Never use third party contractor;
b. Quick response to your inquiry within 1-24hours;
c. 24/7 call service;
d. designated customer service manager in Lhasa;
e. reliable Tibet train booking, multi-lingual & seasoned Tibetan guide;
f. Sino-Nepal border transfer; multiple fixed small group departure per week;
g. hyperbaric oxygen chamber at EBC, Mt.Kailash;
h. value-added service;
i. pro team for diverse private tours like trekking, cycling, motorbike, mediation, photography, self-drive, etc.
a. Most of them are tour middlemen, who need to confirm the service with the local tour operator all the time;
b. unreliable and time-consuming
Well-organized
Management
a. Full-fledged system for tour quality control and Tibetan guide training;
b. systematic working guideline for emergency incidents;
c. travel insurance included;
d. keep improving current tour itineraries and hotel choice and detailed tour services through the latest client's reviews
Most of them are devoid of such practice and system, potentially putting tourist at risk
Competitive Price
a. Never allure tourists with cheap price;
b. never go for a price war at the expense of client's comfort and safety;
c. constantly strive for better tour experience;
d. depend on the large number of tours and tourists to bring down the cost of tour running
Seemingly cheap, yet with hidden cost and potential violation of tour contract
Eco & Responsible Travel
a. Focus on long-term and sustainable Tibet tour development;
b. being a staunch supporter of eco-travel and responsible travel in Tibet;
c. prefer using local Tibet service;
d. love joining in charity activities; leave only the footprint in Tibet
Profits come first