Tibetan Tea and Its Tradition
Butter tea is also known as Tibetan Tea, called Po Cha in Tibetan, and is made from tea leaves, yak butter, water, and salt. It is the favorite and traditional drink of Tibetans in Tibet and Tibetan communities in India or Nepal. People love to stay a morning or an afternoon in a tea house to spend their leisure time with friends. It seems that their conversation never ends.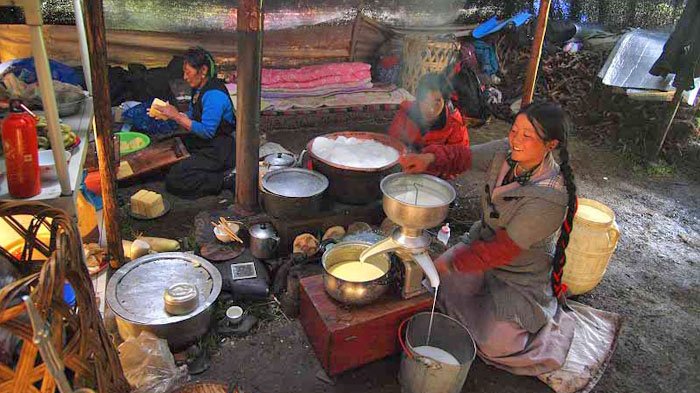 Home-made yak butter tea in nomadic area of Tibet.
To tourists, Butter tea is like a friendly companion. No matter where ever you are traveling in Tibet, cities, nomadic area or rural area, you are always treated by a cup of warm Tibetan tea by the local hospitality Tibetans.
History and Culture of Tibetan Tea
No one knows exactly when and who brought the tradition of tea drinking into Tibet. Yet, many scholars tend to give credit to princess Wencheng (AD 641) when she left her homeland and travelled all the way to Tibet to marry Songtsän Gampo, the thirty-third king of the Yarlung Dynasty of Tibet. This political intermarriage brought more than an end of conflict between two regimes and more importantly it triggered an upsurge of cultural exchange between Han people and Tibetans. As a result, many Han customs began to take root in the daily life of Tibetans. Due to the severe natural environment, there is little chance for vegetables to flourish at extreme altitude.
For years, Tibetans gradually came to realize the benefit of tea drinking and were convinced that many nutrition loss because of little intake of vegetables could be retrieved from drinking tea. Therefore, tea drinking became an indispensable part of Tibetans daily life and developed to be special Tibetan tea culture at the roof of the world.
Ancient Tea Horse Road
The growing exchange and booming trade with outside world, to a great extent, help to boost the popularity of tea drinking in entire Tibet. In this respect, Ancient Tea Horse Road, also known as Southern Silk Road, can be seen as the major driving force behind this trend. As Tibet's severe environment makes it difficult for tea to prosper, the steady supply of fine tea rests on the shoulders of venturous businessmen with their horse and mule caravans.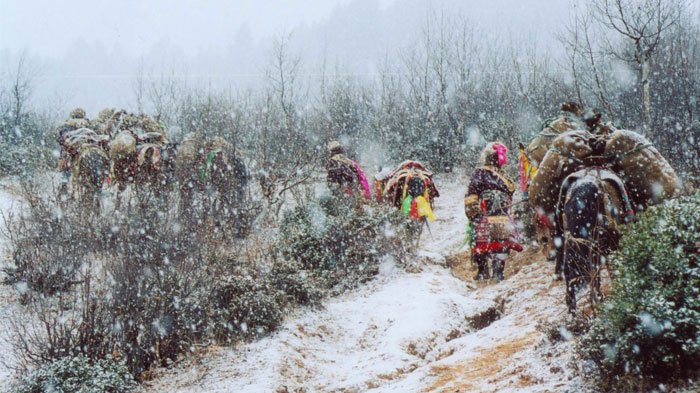 Merchant exchange goods including the tea via ancient tea horse road.
They carry tea to Tibet in exchange for sturdy horses. Because of tea business, this Ancient Tea Route also benefits the local economy along the business route. Traditionally, Ancient Tea Horse Road consists of two routes. One starts from Ya'an in Sichuang province, all the way to Lhasa through Luding, Kangding, Batang, and further across Nepal to India ( 3100 kilometers). The other begins from Pu-er in Yunnan to Tibet by crossing Dali, Lijiang, Zhongdian, Deqin, etc. and further extends to Myanmar, Nepal and India (3800 kilometers).
Arduous and unpredictable, Ancient Tea Horse Road is proved to be one of the most legendary business routes loaded with intriguing anecdotes. In some ways, it also enhances the wide spread of Tibetan Buddhism.
Yak Butter Tea
In practice, Tibetan tea falls into four categories, namely Pu-ERH Tea, Plain Tea, Butter Tea and Sweet Tea, of which the most widely drunk tea or in other words the national beverage in Tibet is Butter Tea. Traditionally, butter tea consists of tea leaves, yak butter, water, and salt. It is said that Tibetans drink up to 60 small cups a day for hydration and nutrition. To foreign tourists, your first taste of butter tea might not be a fancy delicacy, but it would be your first gateway to idiomatic Tibetan culture. And as time goes by, you may find it hard to travel without this acquired taste. Chandong is a butter tea churning device that can only be seen in Tibet. But nowadays, it can be replace with a handy churn that only takes 3 to 5 minutes to finish the churning. Normally, Tibetans often drink butter tea with Tibet tsampa and there are many more unique customs for tourists to explore while travelling in Tibet.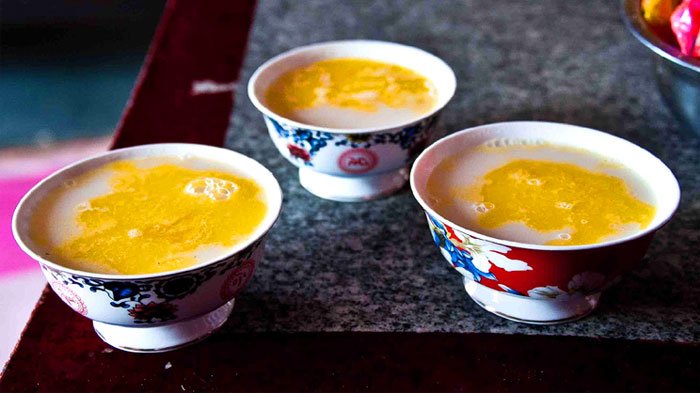 Yak butter tea is a kind of tradional tea in Tibetan culture.
To the Tibetans, tea is a beverage that is just like coffee to the westerners - a wake-up and a shake-up drink that keeps almost everyone sound and safe and leading a tea life in tibet just a daily habit. In Tibet no morning can pass without drinking some tea, usually the sweet tea; and also in Tibet no meal can be complete without some tea, almost all the time the Tibetan buttered tea. The sweet tea, prepared by mixing milk and sugar with the juice from fully boiled fermented tea leaves, serves as the refreshener.
How to Make Tibetan Butter Tea
Tibetan tea cup and pot
A bowl of highland barley wine or a cup of buttered tea is the first greeting from Tibetan people for visitors to the Qinghai-Tibet Plateau. Being an essential drink of Tibetans, buttered tea symbolizes both local life and folk culture. Thus tea pots and kettles also become livelihood necessities in Tibet. The various buttered tea utensils made of different materials, may reflect the living standards of different families.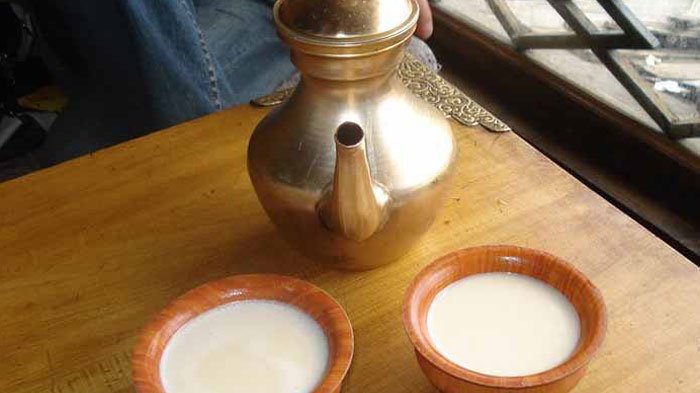 Tibetan tea cup and pot.
Ceramic tea pot is the most common ones in Tibetan families, while coppery ones, especially those made of bronze, can be only possessed by families having certain economic strength and social status. As for those legendary buttered tea pots made of gold or silver, they were rather artworks than life necessities which were used by nobilities of ancient time.
Tibetan tea recipe
Usually cow butter is preferred in making butter tea instead of all yak butter. Yaks, the important creature to Tibetans, are made full use, not only limited to a means of transportation.
Tibetan tea ingredients
- Pu-ERH tea (2-3tabs): - One big feature of Pu-ERH tea is that it can be steeped with becoming bitter. - Himalayan Salt( 2tabs) - Light cream (2/3 cup) - Cow (female yak) butter (2 tabs)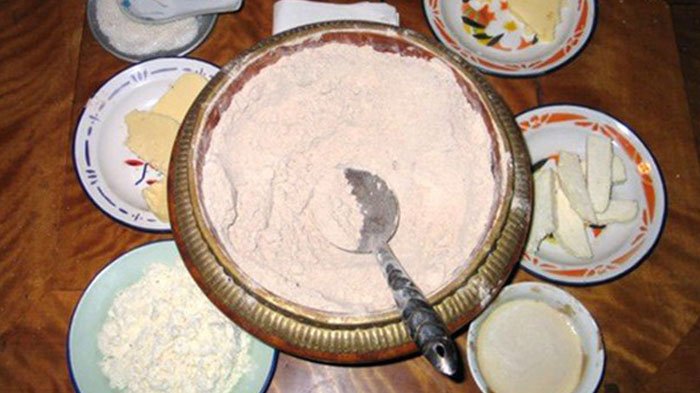 Traditional tibetan tea ingredients.
Procedure of making butter tea
There are four steps to make authentic butter tea:
Step 1: Have 2 cups of water to a boil
Step 2: Add tea to the pot and bring down to a simmer (3-5 mins)
Step 3: Traditionally this step is needed to last for hours
Step 4: Add salt and cream and stir and bring back to simmer
Step 5: Add butter and churn it with Chandong
Tibetan Teahouse
It is said that sweet tea houses of all sizes are scattered in every corner of Lhasa, well-known and little known, nameless and vice versa. Normally, a tea house sells both butter tea and sweet tea and if a traveller looks for other teas, which would depend on how lucky he or she is. One pays one dollar for a bottle of sweet tea, and that amount is large enough for one to enjoy for a whole afternoon.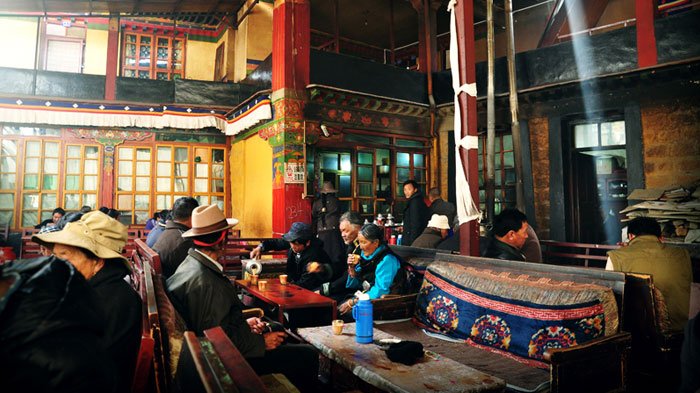 The inside of traditional tibetan teahouse.
Barkhor street, a place with the largest number of sweet tea houses, offers a panorama view of what sweet tea culture looks like. The sweet tea houses in Barkhor street usually accommodates Tibetan tea drinkers, and rarely can one see people of Han nationality. With Buddhist prayer beads held on one hand, Tibetan tea drinkers would enjoy the leisure time in a tea house for a long time while gently reciting a Buddhist mantra. Tourists may also share a joyful reunion of Tibetan families. Young and old, family members joke aside as they sip the sweet tea sporadically for the entire afternoon. Some Tibetan Buddhists may even add a bit of religious charm with their mysterious chat. It seems that time slips away quickly before you know.
Here are some of the highly recommended sweet tea houses on Barhor Street:
Tsamkhung Nunnery Tea House
Outside Tsamkhung Nunnery is the Tsamkhung Nunnery Tea House. A fence leads its way to the sweet tea house. It is a place where devoted Tibetan pilgrims with prayer wheels love to stop by and have a rest. Sweet tea sold at a reasonable price in this tea house is known for its tasty flavor and strong fragrance. It is said the the best sweet teas is sold in this tea house. Besides, the Tibetan needles and steamed stuffed bun are also a good choice. As you enjoy the street view in this semi-open tea house, your sweet tea will be served by amicable nuns. What an unusual experience!
Guangming Gangqiong Tea House
Guangming Gangqiong Sweet Tea House, the most prestigious sweet tea house in Lhasa, is located near the Barkhor street. For those who come for the first time, they are very likely to get amazed at the boisterous atmosphere in this place as they draw the curtain of the door. The enormous tea house is packed with tea drinkers, the air filled with a mixture of constant laughter and chat.
Sweet tea is sold differently from other tea houses in that the sweet tea is sold on a basis of each cup. (6 cents for a cup of tea) Waiters or waitresses may come and serve you as long as they see an empty cup and the pay on the table. Everything happens in an orderly fashion and couldn't be more harmonious. As a tradition, the tea house closes exactly at 5 o'clock no matter how profitable the business would be.
To explore the most famous Tibetan Teahouse-the Guangming Gangqiong Tea House
Snowy Happy Tea House
What is special about this tea house is that the money it made will be denoted to Dicky Orphanage, a orphanage run by an extraordinary Tibetan woman whose name is Dadron. All the money needed for the day-to-day running of this orphanage comes from Snowy Happy Tea House's contribution and the kind donation by people in the society. The 80 orphans consisting of Tibetans and children of Han nationality are adopted here, most of whom are girls. Tourists may come and have a taste of sweet tea and do the charity at the same time.