Tibetan Tea: Everything about the Most Popular Tibetan Beverage
Just like coffee to westerners, vodka to Russians, iced lemon tea to Hong Kong people, Tibetan tea plays an important role in every Tibetan's daily life. It's an inseparable part of Tibet culture.
To better immerse into the local culture, you should walk into a tea house, buy yourself a pot of Tibetan tea, and spend a morning or an afternoon there for leisure. The following article explains everything you want to know about the Tibetan tea.
A Brief History of Tibetan Tea
Tea Was Introduced to Tibet
It is believed that in AD 641, Princess Wencheng travelled all the way to Tibet to marry Songtsen Gampo, the thirty-third king of the Yarlung Dynasty of Tibet. Due to the cultural exchange between Tibet and Tang Dynasty, tea was first introduced into Tibet.
Tibetan Tea Culture Began to Develop
Gradually, Tibetans came to realize the benefit of tea drinking. They believed that many nutrition loss because of little intake of vegetables could be retrieved from drinking tea. Therefore, tea drinking became a trend in Tibet, that is, Tibetan tea culture began to develop.
Ancient Tea Horse Road Boosted Tibetan Tea Culture
The booming of Tibetan tea culture benefited from the Ancient Tea Horse Road, through which a steady supply of fine tea leaves was ensured. Tibetan Plateau's severe environment made it difficult for tea to grow, so Tibetan people had to use sturdy horses and other items to exchange tea with the outside world. This boomed Tibetan tea culture and benefited the local economy along the business route.
Popular Types of Tibetan Tea
Yak Butter Tea
Yak butter tea, also called Tibetan butter tea, is the most widely drunk tea in Tibet. Butter tea consists of brick tea/Pu'er tea, yak butter, yak milk, and salt. It is said that Tibetans can drink 60 small cups a day for hydration and nutrition. They often drink butter tea with tsampa, a staple food for Tibetans.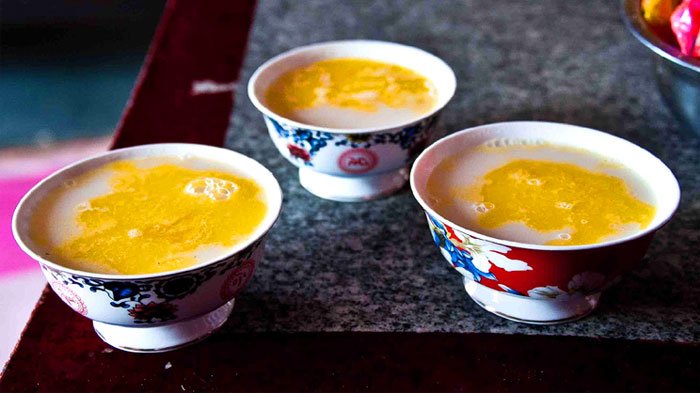 Yak butter tea is a kind of tradional tea in Tibetan culture.
To foreign visitors, your first taste of butter tea might not be a delicacy, but it would be your first gateway to idiomatic Tibetan culture.
Tibetan Sweet Tea
Tibetan sweet tea is a mix of black tea, powdered milk/fresh milk, and sugar. To Tibetans, sweet tea is as important as afternoon tea is to British people. If you are not used to drinking butter tea, sweet tea is a perfect alternative.
How to Make Tibetan Tea
Tibetan Sweet tea is easy to make on your own. Just mix the boiled black tea, milk and sugar. And then heat the mixture again for 5-6 minutes. Here we only introduce how to make Tibetan butter tea in steps.
Traditional Way to Make Tibetan Tea
The traditional way to make Tibetan tea needs a special wooden barrel and a wooden stick, and other ingredients including brick tea/Pu'er tea, yak milk, yak butter, and salt.
Step 1: Heat the yak milk.
Step 2: Boil the brick tea until it gets thick and then separate the tea leaves.
Step 3: Add yak butter and salt into the wooden barrel, followed by the heated yak milk and boiled tea.
Step 4: Stir all the ingredients in the wooden barrel until the butter, milk and tea blend together.
Step 5: Heat the butter tea in the pot again to finally get the unique-favor Tibetan butter tea.
Video about How to Make Tibetan Butter Tea with the Traditional Method
Make Tibetan Tea at Home
There is a simple alternative recipe available for you to make Tibetan tea at home. The ingredients include 2 pinches of tea leaves or 2 bags of tea, 2 cubes of unsalted butter, quarter cup milk, pinch of salt, and 2 cup of water.
Step 1: Boil the water in a pot and then turn the heat down.
Step 2: Put the two pinches of tea or tea bags into the water and continue to boil for a couple of minutes, then separate the tea leaves or take out the tea bags.
Step 3: Combine the tea, salt, butter, and milk in the blender and blend for 2-3 minutes.
Step 4: Pour it into the cup and enjoy the delicacy.
Experience Tibetan Tea Culture
Teahouse is the Best Place to Experience Tibetan Tea Culture
Traditional Tibetan teahouse is usually decorated with low wide tables and benches covered by carpets to keep visitors warm even during the cold winter time. The tea house is an important social place for Tibetan people. Inside Tibetan teahouses, you can meet the locals, enjoy Tibetan tea, and soak up in the Tibetan culture.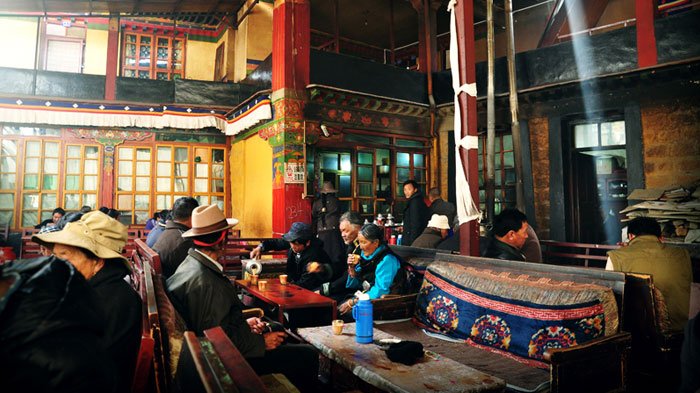 The inside of traditional tibetan teahouse.
Barkhor Street, around Jokhang Temple, has the largest number of Tibetan tea houses. Some popular tea houses usually frequented by Tibetans include Tsamkhung Nunnery Tea House, Guangming Gangqiong Tea House, Luo Qu Sweet Tea House, etc.
You can also Arrange a Family Visit to Enjoy Tibetan Tea
Tourists may also share a joyful reunion of Tibetan families. Young and old, family members sit around together to chat over a pot of butter tea or sweet tea for the entire afternoon. Buddhists hold their prayer beads in one hand and gently recite a Buddhist mantra, while sometimes take a sip of tea.
Teaware is an Essential Part of Tibetan Tea Culture as well
Traditional Tibetan teaware they used is also a part of Tibetan tea culture. That reflects the living standards of different families.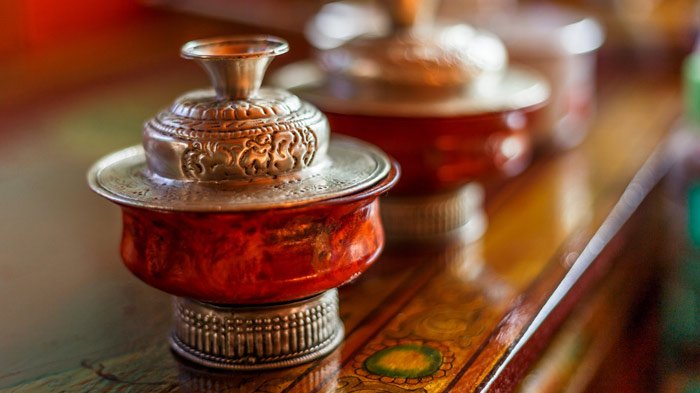 The traditional Tibetan tea cup is a part of Tibetan handicraft.
Ceramic tea pot is the most common ones in Tibetan families, while coppery ones, especially those made of bronze, can be only possessed by families having certain economic strength and social status. As for those so-called tea pots made of gold or silver, they were artworks, not life necessities used in Tibetan's daily lives.
Tibetan Tea Drinking Customs
Tibetan people are accustomed to use butter tea or sweet tea to receive guests. If you have the opportunity to visit a Tibetan's family, there are some certain rules and traditions that you might want to know in advance.
1. While drinking tea in Tibetan family, you should drink in separate sips and avoid to drain the bowl.
2. After each sip, the host usually refills the bowl. If you don't want to have more tea, use your hands to cover the bowl or leave the tea untouched.
3. When you are leaving, it's OK to leave the tea not finished to drink. That means a good wish to meet again in the future.
More Beverages in Tibetan You can Have a Try during Tibet Tours
Except for yak butter tea and sweet tea, you have more choices of Tibetan beverages, like fresh yak milk, highland barley wine and Lhasa Beer. Yak milk is the material to make yak butter and Tibetan tea, and you can have a try when you visit a Tibetan family if you are interested.
Tibetan Barley Wine
Tibetan barley wine, also known as Tibetan Chang, is the most popular alcoholic beverage in Tibet, made of barley, rice, or millet. Barley wine appears light yellow and tastes mild, slightly sweet and sour, containing low amount of alcohol. It's traditionally homemade, so the barley wine you taste in different places varies, depending on the brewing method and duration of fermenting.
Lhasa Beer
Lhasa Beer is made from pure Himalayan spring water, Tibetan barley, Saaz hops, and yeast. Beer lovers can have a try when enjoy your nightlife in Lhasa.
Conclusion
Tibetan tea, especially yak butter tea and sweet tea, is a part of Tibetan people's daily life. You can find them with a cup of tea on their hands in the morning, afternoon or evening.
As a visitor to this mysterious snow land, tea house is an important social place not to be missed during your Tibet tour to make new friends, enjoy traditional Tibetan food, and experience the fresh culture. Go and head to a Tibetan teahouse to kill time!