Yak Racing, a Spectator Sport in Tibet
As a traditional sport in Tibet, yak racing is a spectator sport held at many traditional festivals in Tibet, such as the annual Shoton Festival which usually falls in August every year. Yak race can be one of the most entertaining parts of a Tibetan horse festival, in gatherings which integrate popular dances and songs with traditional physical games.
Each of the competitors, which commonly number 10 or 12, mounts his yak, and the yaks run towards the opposite end of the race course in a sprint. Yaks can run surprisingly fast over short distances. The winner is usually given several khatag (a traditional Tibetan scarf) as well as a small amount of prize money. Yak racing is also known to be performed in parts of Kazakhstan, Kyrgyzstan and in Pamir in Pakistan.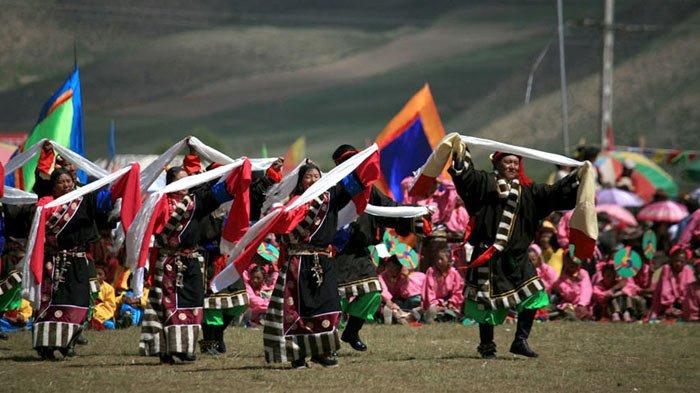 Tibetan people are dancing before yak racing.
During traditional festivals of Tibet, the people dress in their best finery and sing and dance to celebrate the banquet. At the capital of Tibet, Lhasa hugs lots of yak-racing master-hand from all around Tibet. The yaks' massive heads are adorned with red flowers, their backs caparisoned with ornamented saddles. The yak jockeys' whip hands fly as they urge their mounts still faster towards the finish line.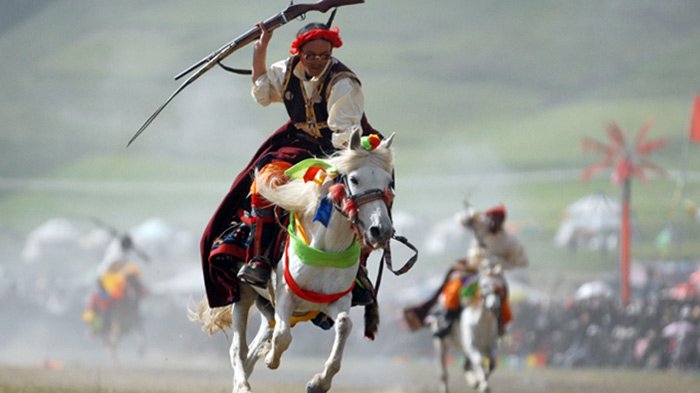 Yushu Horse Festival
At Yushu, another Tibetan area in Qinghai Province, yak racing has became an integral part of the Yushu Horse Festival and the nineteen-day Darma Festival in Gyangtse, and a comic highlight of the Damxung Horse Festival also known as the Dajyur.
Yak racing is also a common sport in the farming and stockbreeding areas on the grand Tibetan Plateau. They hold yak racing events annually to celebrate the good harvest, and they pray for good weather during the coming year.