Tibetan Tea Culture at The Roof of The World
Tibetan tea culture has a history of thousands of years. Known as the top of the world, in this highland region where the average altitude is over 3500 meters, unique teak drinks provide essential energy for Tibetan daily life, and going to the local teahouse has become an important part of Tibetan social life.
Now, we are going to take you on a tour of the distinctive Tibetan tea culture.
The Origin of Tibetan Tea Culture
Tibetan Plateau was not originally a tea-producing region.
According to historical records, the prevalence of tea drinking in Tibet began during the Songtsen Gampo period with the tea and horse trade with the Tang Dynasty.
With the marriage of Princess Wencheng into Tibet, the tea-horse trade became the main trade between Tibet and the Tang Dynasty.
At that time, the tea culture spread widely in Tibet.
During the Song dynasty, a number of tea-horse trading routes were opened up to Tibet. These were also the forerunners of the present Sichuan-Tibet highway and Yunnan-Tibet highway.
For more than a thousand years, tea culture has permeated all aspects of the Tibetan people's social customs, social rituals, and living arts.
Popular Tibetan Tea
There are two popular Tibetan tea drinks. These are salty butter tea and sweet milk tea, which are found only in Tibet.
Tibetan Butter Tea
Tibetan butter tea, also known as salty milk tea, is the most popular tea drink in Tibet plateau.
It is made from the oil extracted from yak milk and processed with tea and salt.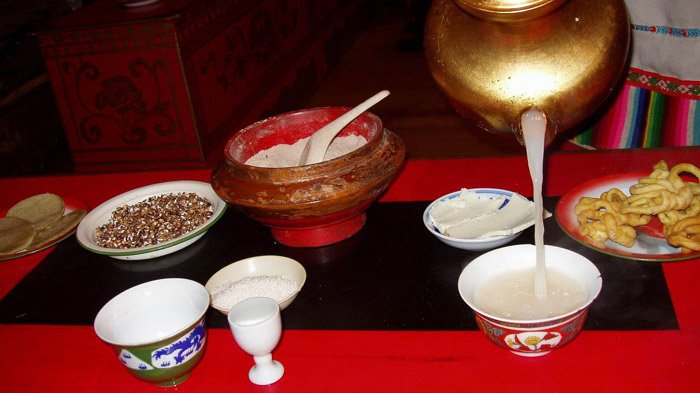 Butter tea is also used for eating tsampa by pouring onto it, or dipping the tsampa into it, and mixing well.
Drinking butter tea is a regular part of Tibetan life. Before work, a Tibetan will typically down several bowlfuls of this beverage, and it is always served to guests. Nomads are said to often drink up to 40 cups of it a day.
Since butter is the main ingredient, Tibetan butter tea is a very warming drink, providing lots of caloric energy and replenishing the nutritional deficiency caused by the lack of vegetables and fruits.
It is also particularly suited to high altitudes in Tibet and helps prevent chapped lips.
Tibetan Sweet Tea
Tibetan sweet tea is a mixture of black tea, milk, and sugar. Its taste is similar to that of milk tea, making it more acceptable to tourists.
In Tibet, sweet tea houses are everywhere. Here you can taste the authentic Tibetan sweet tea.
The Tibetan noodles and other snacks served in sweet tea houses are also a traditional accompaniment to sweet tea.
Culture of Tibetan Teaware
Tibetan people usually use wooden bowls to drink tea. The traditional Tibetan wooden bowl is also one of the representatives of traditional Tibetan handicraft.
For Tibetans, Tibetan butter tea tastes better when drunk in a wooden bowl, which is insulated against heat.
There are always beautiful designs carved on Tibetan wooden bowls.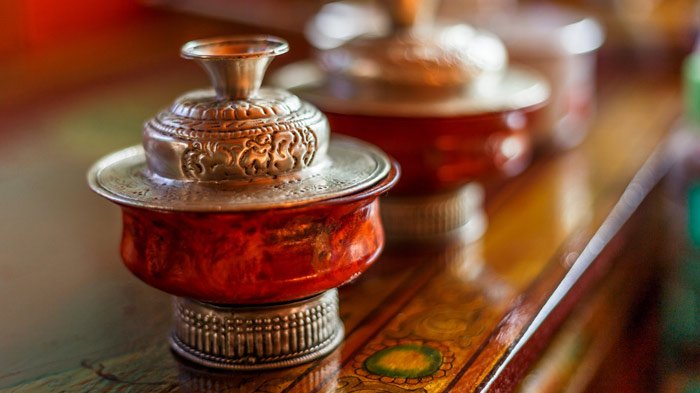 Tibetan Tea Cup
In wealthy families, each wooden bowl has a silver lid, which is carved with a symbol of good luck.
Furthermore, some Tibetan teaware is made of silver, gold, or jade in wealthy Tibetan families.
The gorgeous and expensive jade teawares are handed down from generation to generation in a family. The teawares are also regarded as status symbols in Tibet.
Tibetan Tea Drinking Customs
According to the Tibetan custom, butter tea is drunk in separate sips, and after each sip, the host refills the bowl to the brim.
Thus, the guest never drains his bowl; rather, it is constantly topped off.
If the visitor does not wish to drink, the best thing to do is leave the tea untouched until the time comes to leave and then drain the bowl.
In this way, etiquette is observed and the host will not be offended.
Experience Tibetan Tea Culture in Tibetan Teahouses
Many travelers heartily enjoy the life-filled environment of the local Tibetan teahouse, where they can relax and soak in the Tibetan culture with an up-close and personal experience.
In Lhasa, you can easily find a sweet tea house. Usually, traditional Tibetan sweet teahouses are small, with humble tables and chairs inside.
Here, whether acquaintances or strangers, you may need to share the table with others. Although the conditions are humble but always boisterous, very lively.
For Tibetans, coming to Sweet Tea House is an important social activity. This unique tea culture is something you can't miss on your trip to Tibet.
A few of the more famous teahouses in Lhasa include Guang Ming Gang Qiong Sweet Teahouse, Cang Gusi Nunnery, Laogeming Sweet Teahouse, Shan Dong Sweet Teahouse, and so on.
Conclusion of Tibetan Tea Culture
Tibetan tea culture began to take shape thousands of years ago through trade with the Tang Dynasty. According to the special natural environment of Tibet, it has evolved into a distinctive ghee tea culture.
Both tea drinking and tea making have Tibetan characteristics. For the Tibetan people, drinking tea not only provides them with the energy and nutrition they need to survive in the highlands, but it is also an important social activity.
When you visit Tibet, you can visit a local teahouse to taste the authentic Tibetan sweet tea and experience the vivid Tibetan tea culture.
You can also visit a Tibetan family and not only taste the homemade Tibetan yak butter tea, but also have the opportunity to admire the daily tea set used by Tibetans, which is a reflection of Tibetan culture.