Don'ts in Tibet: Avoid Doing Forbidden Things when Visit Tibet
Before traveling to some places, you may like to know the local dos and don'ts in advance for a better and friendlier tour, and so does your Tibet tour. Especially when you decide to visit some local Tibetan families, you should pay attention not to offend the Tibetans and show them your respect.
So, how to show your respect and avoid doing the forbidden things while visiting Tibet? Here are certain don'ts in Tibet you should know and Tibetan etiquettes you may be interested to know of Tibetan culture.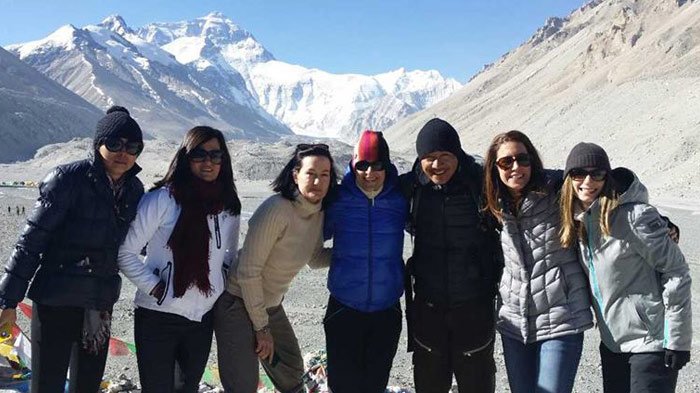 Our clients are taking photo in front of Mt.Everest.
Don't take photos of the locals without permission
When traveling in Tibet, please make sure to obtain the unity of the person being photographed when taking portraits. You can take photos from the backside of them.
Don't take photos inside Tibet monasteries
You are not allowed to take a photo of Buddha statues inside the monastery. Photography is generally prohibited inside Tibetan monasteries. In some monasteries, you can take photos with the permission of the lamas.
Please confirm the permission in advance. Do not take pictures of the inside of the temple without permission.
Don't take pictures with yaks and Tibetan mastiffs at the attraction at will
In some tourist spots, like Namtso Lake and Yamdrok Lake, you can see some dressed-up yaks or Tibetan mastiffs. There is a fee to be paid to their owners to take pictures with them. Please take pictures after confirming payment.
Don't wear a hat or sunglasses while entering a monastery
It is a respect to the religion to take off your hats or sunglasses while entering the inside halls of Tibet monasteries.
Don't touch the scriptures and statues of Buddha inside monasteries
Whether it's at the famous Jokhang Temple or a small unknown temple, you are not allowed to touch the scriptures, Buddha statues, and instruments inside the temple when you visit Tibet.
Don't wear the too-short skirt or shot pants while visiting monasteries in Tibet
Please wear properly when visiting monasteries in Tibet. Long pants and a long-sleeved jacket that is easy to slip on and off are recommended.
Don't touch or destroy other's mani stone pile
When you travel to Tibet, you will often see some piled-up stones or slates, which are called Mani piles. Some Mani stones are engraved with six-character proverbs in Tibetan, while some are just ordinary stones.
These are used by Tibetans to pray for blessings and good fortune. Therefore, if you see mani stones or mani piles, don't touch them.
Don't touch the head of a Tibetan
In Tibetan culture, it is very rude to touch someone's head. If you visit a Tibetan family, please do not touch the head of Tibetan children.
Don't approach or drive away animals
Sometimes you can see animals on the roadside, especially when you drive further outside Lhasa city.
If you come across yaks or sheep kept by local Tibetans, please do not approach them or disturb them, as they may be frightened and hurt you.
If you encounter wild animals, you can observe them and take pictures of them while keeping a safe distance.
When in the wild, please follow the instructions of the local guide to protect the wild animals and yourself at the same time.
Conclusion
In order to avoid cultural clashes, it will be good to know some local customs before you start your Tibet tour. If you have more questions about Tibet travel, you can leave your comments below and we will be more than happy to help you out.