Don'ts in Tibet
Before travelling to some places, you may like to know the local customs in advance for a better and friendlier tour, so does your Tibet tour, especially when you try to visit some local Tibetan families, you should pay attention not to offend the Tibetans and show them your respect. Then, how to show your respect and not to offend them? Here are certain don'ts in Tibet you should know or are interested to know of Tibetan culture, which might be very different from your own.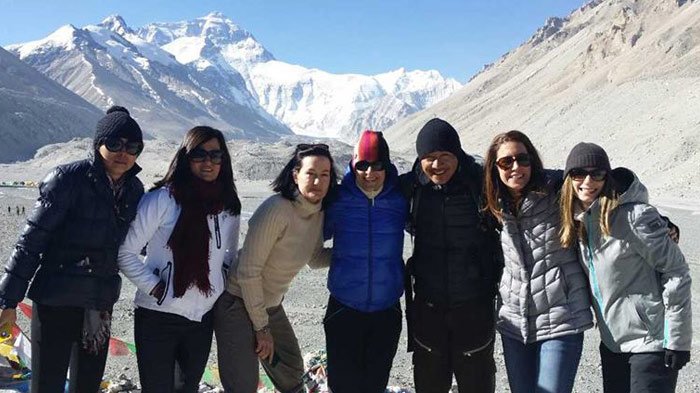 Our clients are taking photo in front of Mt.Everest.
1. One's hands are not supposed to put on the shoulder of the other one when two long-time-no-see friends greet or chat with each other.
2. Don't touch the head of a Tibetan.
3. Don't step across or tread on others' clothes or put yours upper those of others. Never step across from one's body.
4. Don't step across or tread on the tableware.
5. Don't spit or clap your palms behind the Tibetans.
6. Don't kill any animals or insects in monasteries.
7. Don't drive away or hurt eagles, for they are holy birds for Tibetans.
8. Women clothes, especially, women pants and underpants are not supposed to be aired to dry in a place where people pass.
9. Don't whistle or shout or cry inside a house.
10. One can not sweep the floor or pour out the trash after some family member goes away from home, or the guests have just left away, or at noon or after the sunset, or on the first day of Tibetan new year.
11. Non-relatives can not mention the name of the dead face to face with the relatives of the dead.
12. The work that should be done this year must be done this year, such as knitting a sweater or carpet and so on.
13. One can not go to the house of others at twilight, especially when there are women who's going to give birth to a baby or have just given birth to a baby, or heavily ill people in that house, which especially applies to strangers.
14. Any property is not allowed to take outside home after the noon.
15. Two family members are not supposed to go out at the same time if they head for opposite directions. They should go outside at different time instead.
16. Tibetan women can not comb or wash their hair in the evening, neither can they go outside with their hair not being tied up.
17. Bowls with cracks or breaches should not be used to serve dishes or tea for guests.
18. If you take some highland barley wine or butter tea to the Tibetan family as presents when you pay a visit to their home, the Tibetans may give something else from their own home to you as a present, or they'll leave some of your presents to you, and its not because they don't like your presents, it's just their custom.