The Sporty Side of Tibet
When one imagines Tibet or Tibetans, the most common things that come to mind are peaceful and serene landscapes, calm people sitting on sidewalks drinking Yak tea or extremely religious and pious individuals. This is one of the most common misconceptions one has about Tibet. But, Tibet is a place which is much deeper and vibrant than you think, and spending ample amount of time here will help you see Tibet in a better light.
In fact, Tibetans are born sportsmen. Tibetan sports and games are closely related to their unique life on the plateau. Most games are played even today as a major influencing part of their culture. Thus making it essential to understand the sports they play as it also speaks greatly about the history and culture of Tibet.
Most religious festivals are often accompanied with sports and competitions, making it a colourful and joyous occasion. The most famous festival, the "Great Prayer", marks the Tibetans, playing various sports such as gun firing, arrow shooting, pony races, wrestling, etc. to name a few. These sports are played in the concluding days of the "Great Prayer". It is presided by the master of ceremonies, who are selected among the youngest officials who are at the onset of their career. This is a grand and adventurous occasion that shouldn't be missed to understand the history of Tibet on the sports they play. Some of the major sports played by Tibetans have been mentioned below:
1. Archery
This is a very popular sport that is played even today, in modern Tibet. This sport has been inspired by the art of hunting. There are many contests and challenges held every year in the sport of archery. The unique aspect of archery in Tibet, which sets them aside from the world, is the particular type of arrows used in the event. These Tibetan arrows are said to whistle as they cut across the air when shot from the bow.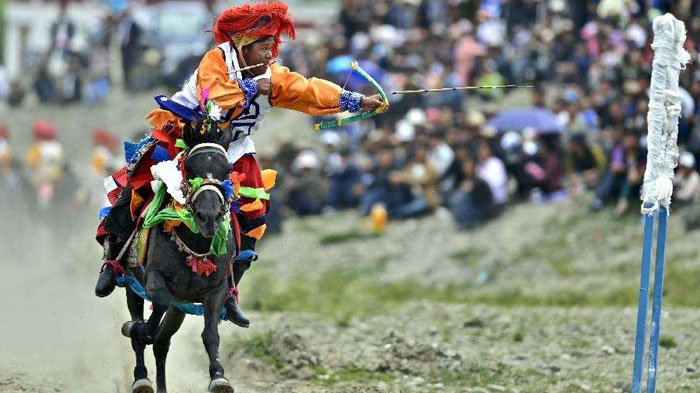 Archery
This is one of the famous festivals held in the grasslands of Tibet. Here the archers are expected to compete and shoot targets. There are various sub-contests held which are short range shooting, long range shooting, and shooting when on a galloping horse, to name a few. This festival is a grand occasion and is said to last for three days. The festival is celebrated with great pomp, and is a must watch for one to understand the culture of Tibet.
2.Yak Racing
This sport is played as a subsection of the Horse Racing Festival in Tibet. Here, the locals compete to race small distances on the back of yaks. The spirit and energy seen during this event are close to nothing you've seen before. A common sight seen is, the rider of the yak often carries a whip of sorts, to make the yak move faster so as to win the race. The yak races are often only done for short distances, as the yaks perform well only for shorter distances, and they get easily tired when made to run for longer distances.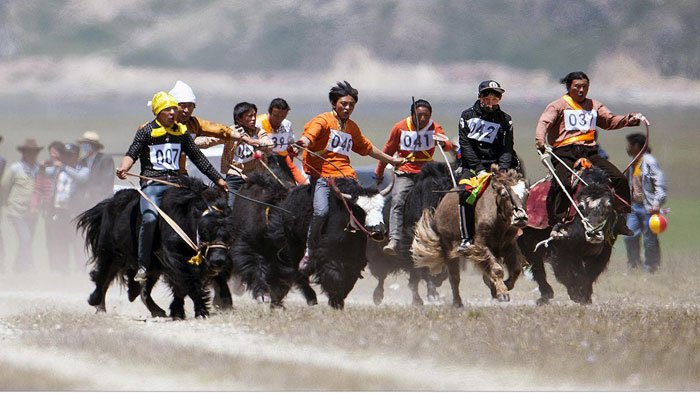 Yak Racing
This is again played in the grasslands of Tibet. The yaks' head is decorated with red and other vibrant coloured flowers; their backs are caparisoned with decked saddles. One of the festivals, where one can see this sort of competition is in the annual Shoton Festival, which falls in the month of August each year. This sport is rather famous in Tibet, where people are seen performing dances and songs alongside the competitions. The winner of the yak races is given a "Khatag" which is a Tibetan scarf and a prize money to go with it, as well.
3.Horse racing
Horse racing is considered one of the oldest and most traditional sports of Tibet. This sport is held in the grassroots and agricultural regions of Tibet. The horses are made to run for an average of ten kilometres. The riders are often young Tibetans who are known to race without saddles on the backs of horses showing extreme horsemanship. The sport is considered so vital in Tibet, that there is also an independent festival to celebrate the event. It is known to last for over ten days. When the race is happening, in parallel one can see the locals wearing unique clothing, dancing and singing – their way of encouraging their riders to win the race.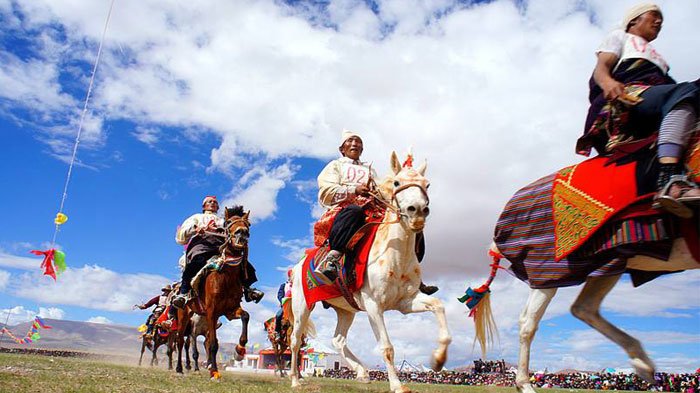 International Horse Racing Fastival
The three most famous horse racing festivals in Tibet are:
1) The Yushu Horse Racing Festival
2) The Ngachu Horse Racing Festival
3) The Litang Horse Racing Festival
During these festivals, it makes for an ideal time for one to eat the local food and buy local herbs and spices. It is also known for the little shops which allow for one to buy the local handicrafts, jewelry and other such items. It is also known as an ideal time to get to know one another. This place is also infamously known, for individuals to have found their spouses during these festivals.
4. Wrestling
Wrestling is as old as time gets in Tibet. It is dated back to the times when people wrestled without any weapons as well. Wrestling was used as a means to close combat battles between tribes facing internal and external conflict. Various matches and tournaments are held annually, throughout the length and breadth of the country so as to find the nation's best wrestler.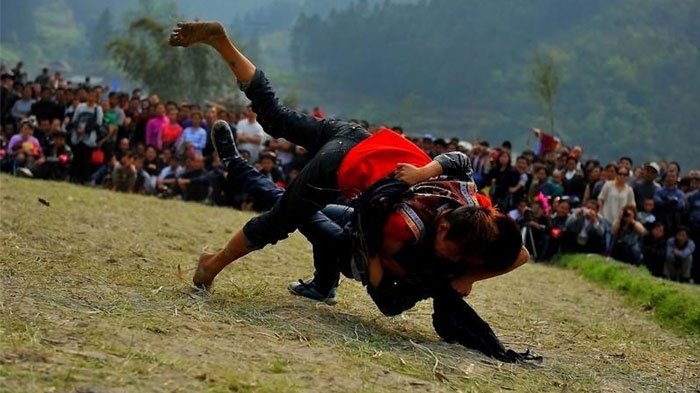 Wrestling
5.Rock carrying
Rock-carrying is an interesting Tibetan sport. Here, individuals compete to find the strongest person amongst them. Though it was started as a part of manual labour, it gained momentum and became an attention-grabbing and entertaining competition where one could get a platform to show off their arm strength. It is particularly famous in the farming and herding areas of Tibet, during festivals and other gatherings. There are various types or categories in which one can participate.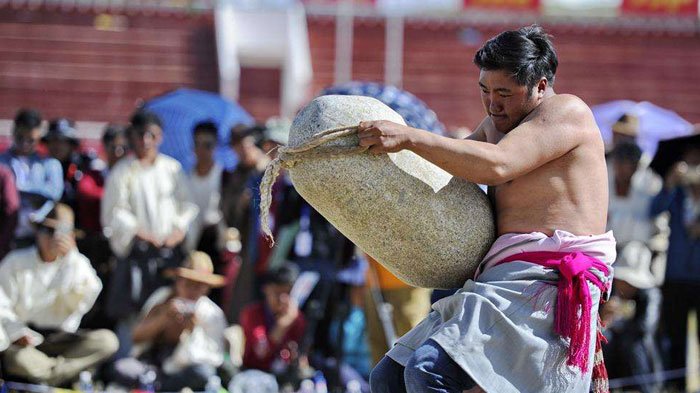 Rock carrying
According to the ancient folklore, rock-carrying first appeared in the epoch of Songtsen Gampo. It was also listed as one of the "Nine Sports" that all Tibetan men were to learn in their journey of life. Famous places, such as The Jokhang Temple, the Samye Monastery, and even the Potala Palace all contain murals and paintings portraying rock-carrying as an ancient and traditional sport.
6.Horsemanship
Horsemanship is a unique and exciting sport where riders are expected to carry or pick things off the ground while riding the horse. The objects they are required to pick are often ceremonial scarves. This presents an exceptional platform for riders to show their riding skills.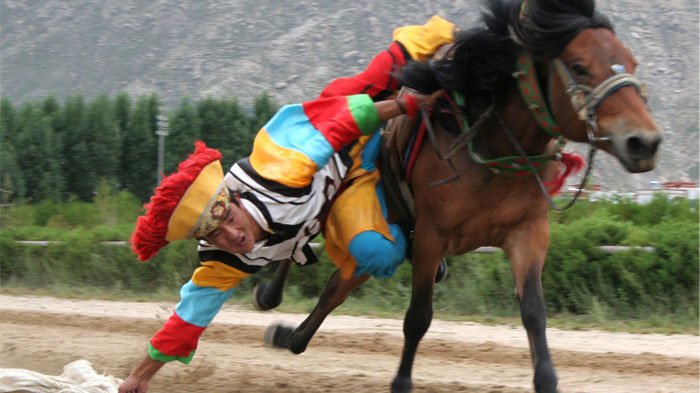 Horsemanship
The riders are often seen wearing bright and fancy clothing. They are also known to decorate their horses as well. The other variant of the same sport is when riders are asked to shoot at distant targets while still riding at high speeds. This is a very well-known and revered form of sport in Tibet.
7.Tibetan tug of war
This sport isn't taken as seriously as the other ones, as it is considered more of a game, than a sport. It is often played non-competitively and for entertainment and recreational purposes. In this sport, two participants are asked to hold two ends of a rope. They are divided in the middle with a line; they are expected not to cross this line. The victor of the game is, one who on signal, pulls the other individual across the middle line that is drawn. Adaptions of the same game are seen in many parts of the world.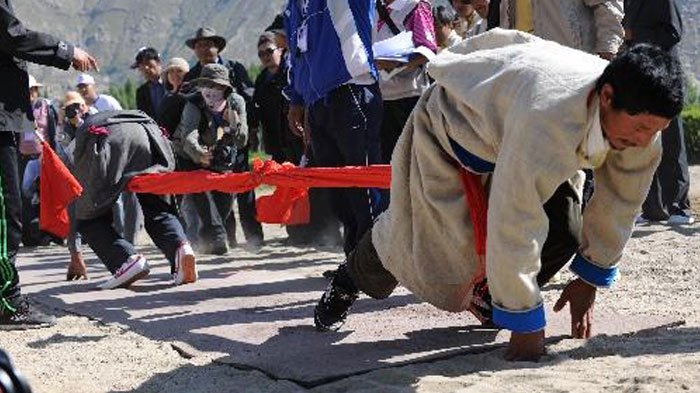 Tibetan tug of war
8.Gyiren—Tibetan Snooker
Tibetan Snooker is also termed "Given," or billiards without any ball arms. It is played without using a cue. The game originated from the lands on Kashmir, in India. Though it was considered the game of only the elite in the earlier days, the perception is slowly changing over time. The evenings are considered the best time to relax, catch up on some tea and play the game.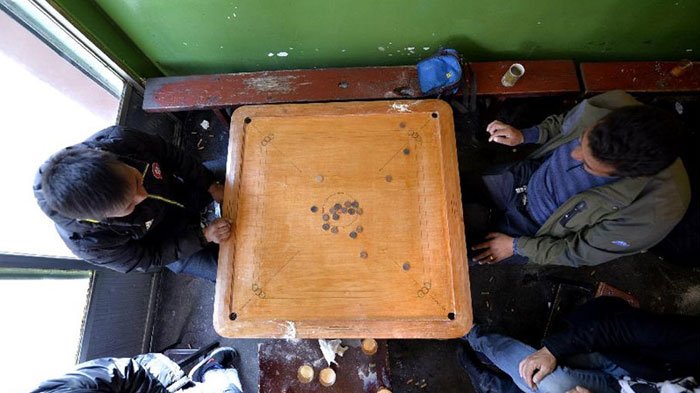 Gyiren—Tibetan Snooker
With a magnificent natural landscape, Tibet, which is known as the "Roof of the world", is indeed an interesting place for one to catch up on outdoor activities and sports such as these.