Replacing Valance on Tibetan New Year's Eve
Tibetan people use colorful valances to decorate the doors and windows of their houses. The colorful valances dance with wind and make the building more attractive. Replacing valance on Tibetan New Year's Eve also becomes a custom in Tibet.
Tibetan New Year is the most important festival in Tibet. It is usually celebrated in late January or early February at the time of the new moon. Tibetans begin preparing for New Year's Day early in the twelfth month according to the Tibetan calendar. Besides food preparation, each household has to get ready a five-cereal container which is a rich-carved colorful wooden box with fried highland barley mixed with butter inside and flowers made of butter and green shoots of highland barley above. This is done to pray for a bumper harvest and better life in the coming year. They also make fried wheat dough mixed with butter in various shapes as religious offerings and also for visiting guests.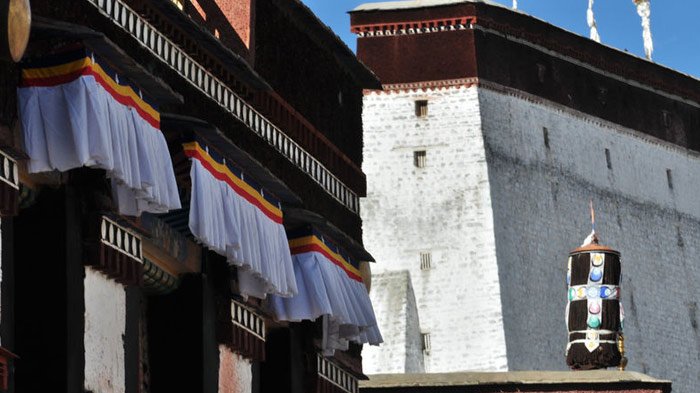 Windows and doors are decorated with new valances.
When Tibetan New Year approaches, you can find many venders on the Barkhor Street begin to sell valances. Piles of colorful valances can be seen on the floor. Replacing window and door valances implies good luck. If they do not replace the valance, it means the family is confronting with misfortune.
On the eve of the Tibetan New Year, Tibetans clean up their houses, change door and window valances, set up brand-new prayer flags on the roof and paint patterns symbolizing eternity and good luck on the gates with lime. In the evening, all family members reunite together and an "auspicious dinner" is offered. This dinner's main meal is dough drops known as Gutu in Tibetan, which include stone, wool, hot pepper, charcoal or coins inside. These items are said to be able to foretell the nature of and future fortunes of the person who eats them. The second day of Losar is a day for visiting friends and going to entertainments.