Qiema Box - Essential Mascot for Tibetan New Year
Tibetan people have the custom of making a "Qiema" box during Tibetan New Year, expressing the wish of good harvest and auspiciousness in the coming year. As an essential mascot for Tibetan people to celebrate Tibetan New Year or other important Tibetan festivals, Qiema boxes are made of wood and filled with colorful barley kernels, butter sculptures and tsamba (a type of bread mixed with ghee).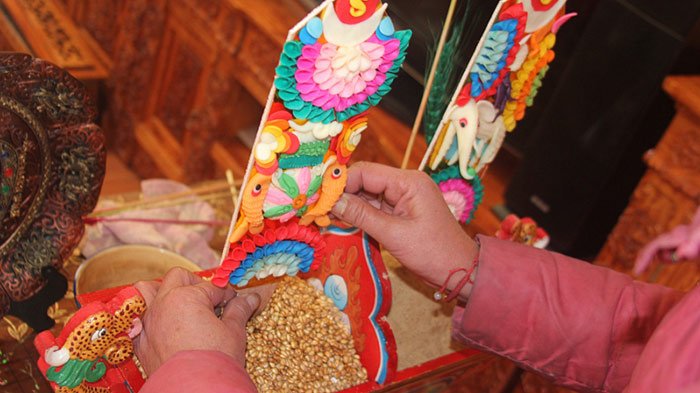 Qiema box in Tibetan family
The method of making Qiema box is to put into each side of a two-tier rectangular wooden box, barley kernels and tsamba, with Qingke spikes and butter sculptures (beautiful molded flowers covered in ghee). In the middle, colorful flowers and highland barley spikes are stuck as decorations. The Qiema box with many carvings is also painted beautifully using colored ghee, usually featuring such figures which represent longevity and harmony. The Tibetans take Qiema as a mascot. Barley kernels are a token of good luck; and tsamba symbolizes health and a bountiful harvest for the new year.
When Tibetan New Year is approaching, every household is busy making Qiema boxes. Some also purchase them on market. During New Year, a Qiema box is placed on a Tibetan cabinet in each Tibetan family. A guest would first come to the Qiema and pick several ears of wheat and some tsamba, then hurl them in the air for three times to worship God, before sampling some of the tsamba.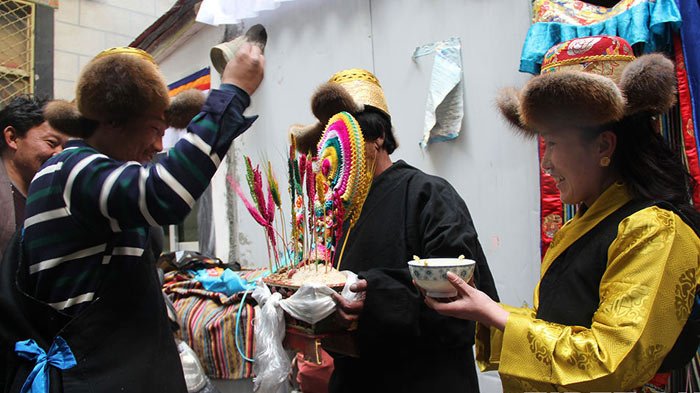 The host is treating guests with qiema during Tibetan New Year.
Qiema box is not only a kind of offerings, but also a kind of gift in Tibet. During Tibetan New Year, Tibetan people exchange Qiema boxes with friends and neighbors, expressing the best wishes. When you visit a Tibetan family, you can also receive a gift of Qiema.