Mystical Tibetan Funeral Practices
Tibet is a fascinating and unique place not just because of its charming landscape, profound culture and devoted people, but also its various mystical funeral practices. An integral part of Tibetan culture and religion, funeral rituals practiced there today are mainly the stupa burial, celestial burial or sky burial, water burial and cremation. Inhumation, cliff burial and tree burial are also occasionally practiced in some parts of Tibet.
Tibetan Buddhism, also known as Lamaism, has a history of more than 1,400 years since it was first introduced into Tibet during the reign of King Songtsan Gampo in the seventh century when Tibet was finally unified and Tibetan language created. Throughout its development, Tibetan Buddhism has absorbed features of Indian Buddhism, Tibetan Bon religion and Chinese culture, thus appearing to be far more mystical than other forms of Buddhism. Tibetan burial customs are based on Buddhist belief in reincarnation. Tibetan people are not afraid of death. They face death calmly because they believe death does not terminate a person's life, but indicates rebirth.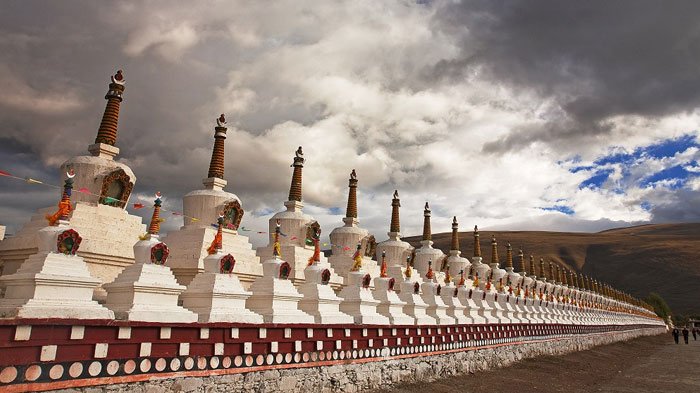 Tibetan Stupa Burial
Under different influences, Tibetan funerals present the following features:
(1) Heavily influenced by natural environment. Distribution and evolvement of different funeral practices vary very much in the natural conditions of the areas. That is, in the places where the forest resources are shout, celestial burial will be predominantly adopted, while cremation will be less practiced. In the dense woods area in Southeastern Tibet, cremation prevails. In the places full of gullies or torrential rivers, water burial will be treated equally with celestial burial.
(2) Deeply influenced by Tibetan Buddhism. The concept, ceremony, rituals and practices of funerals have changed greatly since the introduction of the Tibetan Buddhism. Influenced by such Buddhist concepts as transmigration or rebirth, the aboriginal inhumation practices have been gradually eliminated. For smoother transmigration, there should be no trace left of earthliness. The body is no exception and should be thoroughly disposed, either eaten by fish and vultures or incinerated.
(3) As for the eminent monks, who themselves are incinerated, need not go through the procedures of rebirth like the commoners. So the grand living Buddha like the Dalai Lama or the Panchan Lama will be well treated with stupa funerals. In conclusion, the history of the Tibetan funeral customs can be divided in two parts, with the later part being strongly influenced by Buddhism.
(4) All manner of funeral practices are used in Tibet. Besides the five main ways, namely celestial burial, Inhumation or entombment, water burial, incineration or cremation and mummified or preserved stupa burial, etc. There are also other ways, such as cliff burial, tree burial multi-person burial and stone coffin burial, etc. This nearly includes all funeral practices existing in the world.