History of Prayer Flags in Tibet
Where there are Tibetan prayer flags there are Tibetan people. The colorful prayer flags are the patron of Tibetan people. The history of prayer flags in Tibet can be traced back thousands of years to the Bon tradition of pre-Buddhist Tibet according to some lamas.
The primary colored plain cloth flags were used in healing ceremonies by followers of Bonpo. Each color had a different primary element - earth, water, fire, air and space which are the fundamental building blocks of both our physical bodies and of our environment. We need to keep the five elements in harmony to maintain healthy. When someone gets ill, the colored flags are properly arranged around the patient to harmonize the elements in his/her body. The prayer flags were also used to help appease the local gods and spirits of the mountains, valleys, lakes and streams which were believed to cause natural disasters and disease if provoked.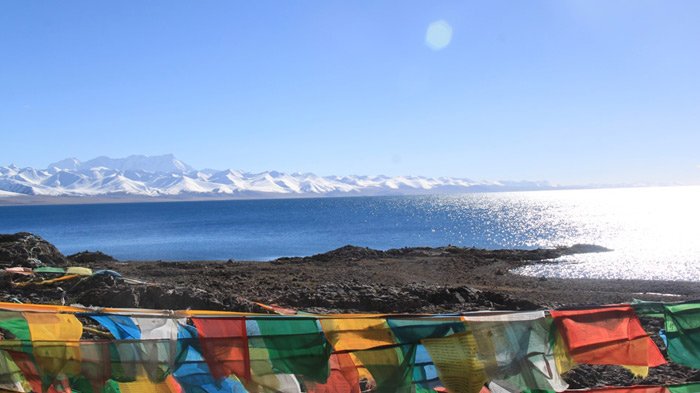 Prayer flags are floating around Namtso Lake.
We can see there are some words on the prayer flags when travelling in Tibet. It is not known whether the Bon believers ever wrote words on prayer flags. Even if no writing was added to the plain strips of cloth, it is likely that the Bon believers painted sacred symbols on them. Some symbols seen on Buddhist prayer flags today undoubtedly have Bonpo origins, their meaning now enhanced with the deep significance of Vajrayana Buddhist philosophy. Originally the words and images on prayer flags were painted by hand, one at a time. Woodblocks, carefully carved in mirror image relief, were introduced from China in the 15th century. This invention made it possible to reproduce identical prints of the same design. Traditional designs could then be easily passed down from generation to generation.
Nowadays, Tibetan people have a tradition of replacing prayer flags on Tibetan New Year, Saga Dawa Festival, etc. Tourists can make a Tibetan Festival Tour to experience such a tradition.